Welcome to Malaga port!
Nestled on the southern coast of Spain, Malaga is one of the major cities of the Costa del Sol ("Sun Coast") and the main getaway to the treasures of the Andalusia region. With its impressive architecture, rich Moorish heritage, beautiful beaches and cosmopolitan vibe, Malaga is a frequent stop in Western Mediterranean cruise itineraries together with Barcelona, Valencia and other Spanish ports.
I've had a chance to visit Malaga a couple of times while working as a shore excursions staff on cruise ships and in this article, I share with you:
Malaga port information (Malaga cruise terminal, getting around the port)
12 best things to do in Malaga cruise port and the best shore excursions
Visit our cruise port guides for Alicante, Bilbao, Vigo, Barcelona, Valencia, La Coruna, Cartagena, Cadiz, Palma de Mallorca, Gibraltar, Lisbon
Malaga Port Information
Malaga cruise port is located a 15-20 minute walking distance from the Malaga old town. The port of Malaga (Puerto de Malaga) is large and has 10 wharves in operation.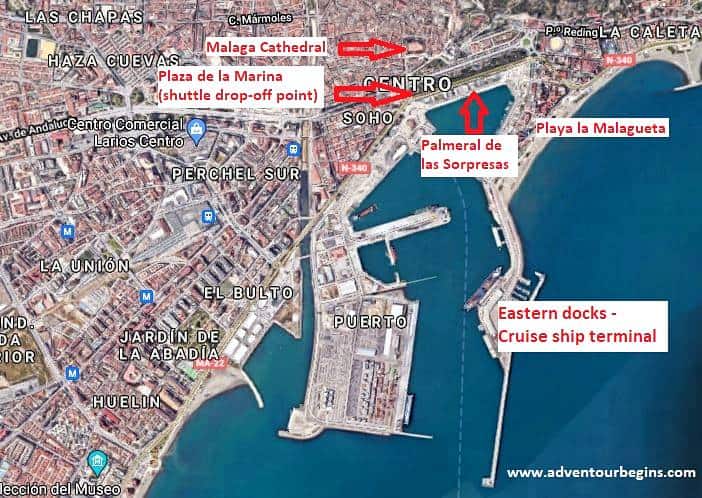 Cruise ships dock at the eastern part of the port (aka Eastern docks, Eastern Wharf) that consists of two terminals (Terminal A and Terminal B) and a long Paseo de Levante pier that can accommodate up to 4 large cruise vessels. The port of Malaga has largely invested in the cruise port infrastructure and guests can enjoy a large, modern terminal building with all necessary facilities for cruise passengers: a shopping mall with duty-free shops, souvenir stores, a tourist information center, ATM, exchange office, public phones, wheelchair assistance, Wi-Fi, elevators, toilets, etc.
There is a large parking in front of the terminal dedicated to tour buses, taxis and shuttle buses.
Guests can either take a pleasant 20-minute walk along the waterfront promenade to the city center or take a shuttle bus for an additional 3 € round trip per person. The shuttle bus ride to the city center takes 5 minutes and the drop-off/pick-up point is at Plaza de la Marina, located a 5-minute walk from Malaga Cathedral, one of the main city landmarks.
The promenade is long, offers wonderful views of the harbor and Playa la Malagueta (the city beach), and is filled with restaurants, shops and bars. The area is flat and accessible for wheelchair users.
Another docking location for smaller, exclusive vessels is Palmeral de las Sorpresas terminal, located in the inner basin, only a 5-minute walking distance from the Malaga Cathedral and the city center. It boasts an attractive terminal building featuring the same amenities as Terminals A and B and is considered one of the most attractive and exclusive cruise terminals in the Mediterranean.
Port of Malaga official website https://www.puertomalaga.com/en/
Local Transportation
Malaga city center is located a 15-minute walk from the cruise terminal and you can easily explore it on foot.
If you decide to visit Cordoba, Granada, Marbella, or other cities in Andalusia, you can also use a public bus or train.
The train service in Spain is run by RENFE, the Spanish railway company, and you can check the timetables and prices on the company's official website https://www.renfe.com/
The main Malaga train station (Estación de Málaga María Zambrano) is located around 4 km/2.5 mi or a 15-20 minute drive from Malaga cruise terminal.
Malaga bus station (Estación de Autobuses de Málaga) is located next to the Malaga railway station and you can check the timetables on https://estabus.malaga.eu/
Taxis in Malaga are available on the pier. They are metered and I suggest you inquire at the tourist information desk for some official prices. Negotiate the price in advance if you are going on a long journey.
Malaga car rental is a convenient option as the roads are well marked and connected. Renting a car in Malaga is a cheaper option than taking a taxi. Check out Malaga rent a car deals and prices
Malaga Hop on Hop off bus tours are available and you can find them around Plaza de la Marina, in the city center. These tours include stops at the major Malaga attractions, and the prices start at around 20 € per ticket, depending on the company.
Check out hop on hop off Malaga bus tours on Viator, Get Your Guide and Tripadvisor
Malaga Airport (Málaga–Costa del Sol Airport) is located approximately 12 km/7.5 miles from Malaga port and the driving distance is 30 minutes. Book a private transfer to/from the Malaga Airport
Currency in Spain
Currency in Malaga, like in the rest of Spain, is EURO (€). 1 EUR equals 1.18 US dollars. Few stores will accept U.S. dollars, although most accept major credit cards. See the currency converter
Shopping in Malaga and Opening Hours
Most stores in Malaga are open from 10 am – 1 pm, 4:30 pm – 8 pm, Monday through Saturday. Spanish siesta time is normally in the middle of the day and lasts 2-3 hours, however, some of the bigger department stores such as El Corte Ingles and Galerías Preciados remain open all day. All stores are closed on Sunday except for some souvenir stores located within walking distance of the cruise ship.
Hotels in Malaga
Hotels in Malaga near the cruise port are Hotel MS Maestranza, Gran Hotel Miramar GL, La Casa Azul B&B
Search for more Malaga hotels on Booking.com, Hotels.com, Agoda, Expedia, Tripadvisor
Do You Need a Reliable Travel Insurance? Get a Quote!
12 Best Things to Do in Malaga Port
It's really hard to decide how to spend your day in Malaga if you are a first-timer. Besides the bustling city which is beautiful and offers a variety of things to see and do, Malaga is a perfect getaway to the cities of Granada (and the majestic Alhambra castle), Cordoba, Seville, the resort towns of Marbella and Puerto Banus, and many other beautiful places in Andalusia.
I suggest you plan your time accordingly to your ship's scheduled time in port, and of course your preferences and wishes. Before I list you the best things to do in Malaga, I invite you to sign up and get my exclusive, insider Shore Excursions Guide for FREE!
1. Malaga Cathedral
The imposing Cathedral of Malaga (Catedral de la Encarnación de Málaga) is a national landmark built between 1528 and 1782. After the Giralda of Seville, it is the second-highest cathedral in Andalusia with its 84 meters (276 ft) high north tower. The magnificent cathedral features a blend of Baroque, Gothic and Renaissance architectural styles, and overlooks Plaza del Obispo, the lively square situated in the heart of the Malaga old town.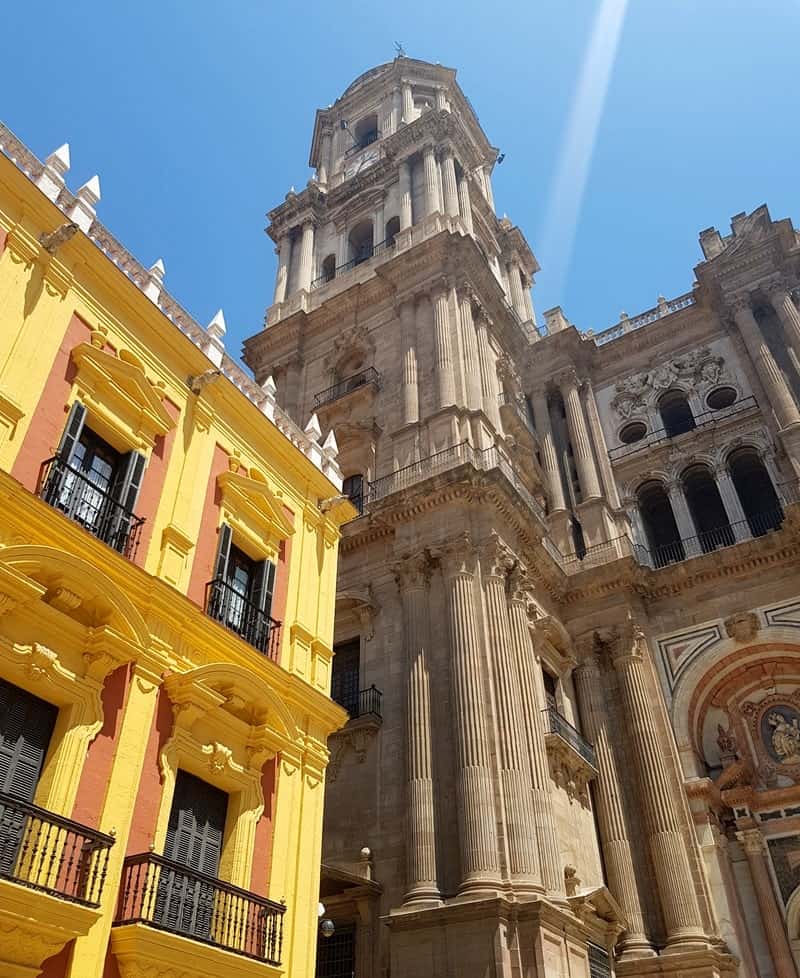 There is a general admission fee of 6 € to enter the cathedral, and this price includes an audio guide. You can also visit the Cathedral's roof and the price for both is 10 €.
Find more information on Malaga Cathedral official webpage
Check out Malaga Cathedral tours and activities on Viator and Tripadvisor
2. Alcazaba de Málaga
The impressive palace-fortress ("alcazaba" in Arabic means "citadel") was built between 1057 and 1063 as a military fortification by the ruling city's Muslims, the Hammudid dynasty which ruled this part of Andalusia in the 11th century.
The Alcazaba was constructed on the site of a former Roman bastion and adjacent to the entrance of the Alcazaba are remnants of a Roman theatre dating to the 1st century BC. This Moorish fortress was built on a hilltop overlooking the Malaga port and boasts beautiful gardens filled with elaborate fountains, gates, walls, towers that you can visit on a tour around the castle.
The admission fee to the castle is 3.50 €, but if you are planning to visit the Gibralfaro Castle located right next to it, you can purchase a combined ticket for the price of 5.50 €. Reduced prices apply for students (over 12), retired and disabled. Sunday is a free entry day to the Alcazaba and Gibralfaro Castle from 2 pm.
Find more information on Alcazaba official webpage 
Check out Alcazaba tours, reviews and activities on Viator and Tripadvisor
3. Gibralfaro Castle
Sitting on top of Mount Gibralfaro, this castle is connected by a walled corridor to the Alcazaba de Malaga and offers outstanding views of Malaga city and the Mediterranean Sea.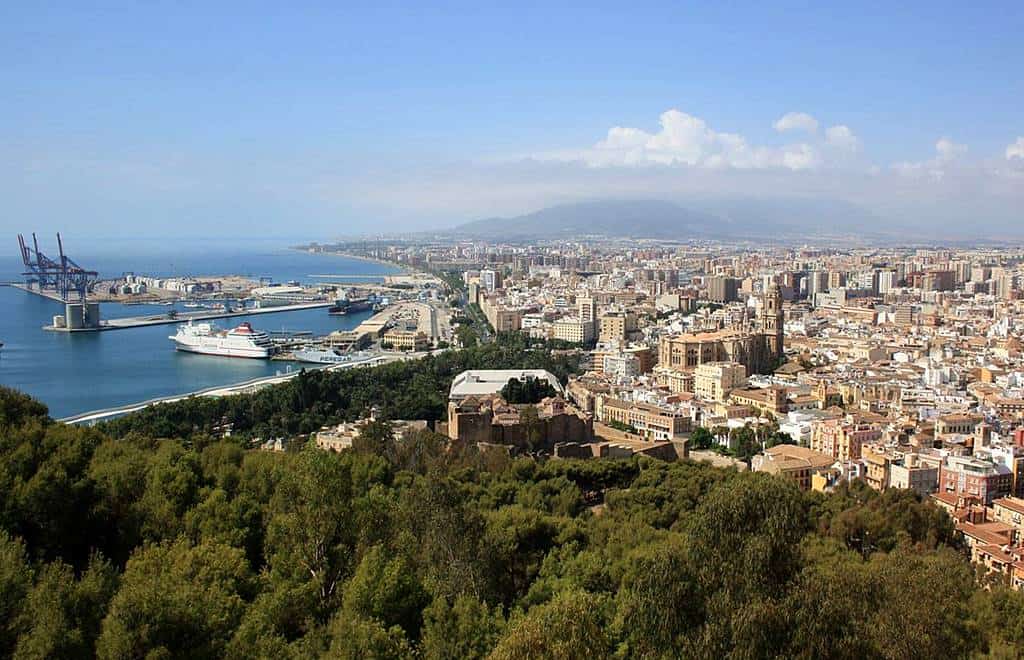 Gibralfaro Castle (Castillo de Gibralfaro) was built on the remains of an ancient Phoenician fortress and an old lighthouse dating from the 10th century, and the fortifications that we know nowadays were built by Yusuf I in the 14th century in order to improve the defense of the city.
The admission fee for Gibralfaro Castle is 2.20 €, and you can also buy a combined ticket (Gibralfaro + Alcazaba) at the price of 3.55 €. Admission is free every Sunday after 2 pm, and discounted prices are available for Malaga residents.
Check out Gibralfaro Castle tours and activities on Viator and Tripadvisor
4. Picasso Museum
The famous artist Pablo Picasso was born in Malaga in 1881, and Museo Picasso Málaga is a must-see place! It is located in the Malaga Old Town, only 300 meters from the Cathedral, and housed in a beautiful 16th century restored palace.
The museum boasts a collection of more than 200 pieces donated to the museum by Picasso's family, however, don't expect to see Picasso's major artworks in this museum. You will be able to admire his sketches, paintings, sculptures and several temporary exhibitions.
You can check the admission fees and opening hours on the museum's official webpage.
If you want to learn more about Picasso's early life, you should head to the Picasso Birthplace Museum ("Casa Natal") housed in the artist's birth house located on Plaza de la Merced, only 350 meters away from Picasso Museum.
Check out Picasso Museum tours and activities on Viator and Tripadvisor
5.

Roman Theater of Malaga
Teatro Romano de Málaga lies at the foot of the Alcazaba fortress and was built during the Empire of Augustus in the 1st century. This ancient Roman theater is located only 10 minutes walk from the city center and the entrance is free.
Check out Teatro Romano tours and activities on Viator and Tripadvisor
6. La Malagueta Beach
Playa de la Malagueta is a long public beach that you will spot in the distance upon exiting the cruise terminal. If you are looking for a beach break, you should definitely check out this amazing sandy beach packed with cafes, bars, and amenities such as chair/umbrella rentals and showers.
Explore La Malagueta beach tours and activities on Viator and Tripadvisor
7. Marbella and Puerto Banus
Marbella and Puerto Banus are two upscale tourist resorts located around 60 km/37 mi from Malaga port and a popular travel destination on Costa del Sol.
Backed by The Sierra Blanca Mountains, Marbella and Puerto Banus boast wonderful sandy beaches, golf courses, luxurious villas, prestigious nightclubs, upmarket restaurants, and bars. In Marbella, you can explore its historic quarter centered around Orange Square (Plaza de Los Naranjos) dating from the 15th century.
Read more about Marbella in my article: Ports of Spain – 20 Cities to Visit on a Cruise to Spain
It takes approximately a 1-hour drive to get to Marbella which makes it a perfect day trip from Malaga port.
Check out Marbella day trips from Malaga port 
8. Alhambra Palace
Located 142 km/88 miles (around 1 hour 40 minutes drive) from the port of Malaga, Alhambra Palace is one of the most majestic palaces in Spain and a UNESCO World Heritage Site since 1984.
The magnificent Moorish castle/palace dominates the skyline of the city of Granada and was built in the 9th century. With its splendid gardens and remarkable architecture, it represents one of the major attractions in Andalusia and the whole of Spain.
Explore the castle's turbulent and rich history while roaming its breathtaking halls, courtyards, gardens and admiring its outstanding artworks. The visit to Alhambra Palace takes at least 3 hours, so you won't have time to visit the city of Granada afterward.
I highly recommend you book a shore excursion to get there, as your ship's time in port is limited and you don't want to risk missing your cruise ship.
Check out the prices and opening hours on Alhambra Palace official webpage.
Explore Alhambra tours from Malaga
9. Granada
If you decide to visit Alhambra, keep in mind that you probably won't have time to visit the fascinating city of Granada. However, if you have already been to Alhambra, it is totally worth the trip to visit the main highlights of Granada as the city is truly breathtaking.
Nestled at the foot of the Sierra Nevada mountains, the city is known for grandiose examples of medieval architecture dating from the Moorish occupation of Andalusia in the 8th century AD.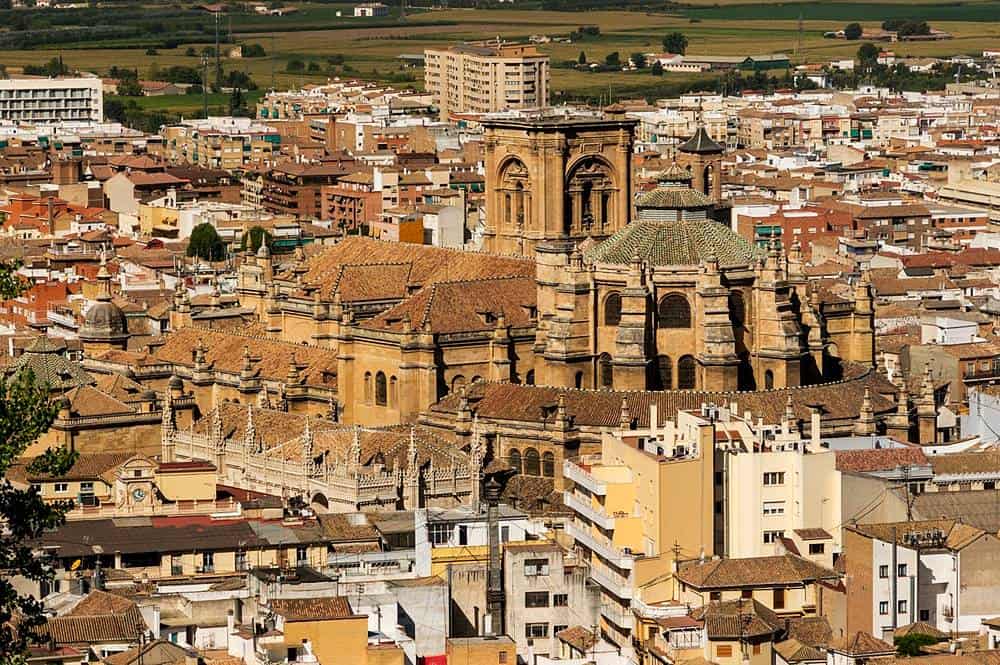 While there, make sure to visit the Albaicín, the oldest Arab district, St. Nicolas Square, Granada Cathedral and Juderia, the Jewish quarter. Read more on what to visit in Granada in my article Ports of Spain – 20 Cities to Visit on a Cruise to Spain
The distance from the Malaga port: 132 km/88 miles; or a 1-hour 30 minutes drive.
Check out Granada day trips from Malaga
10. Córdoba
Córdoba is the third-largest city in Andalusia and another architectural gem infused by Moorish influence. The medieval city is located 165 km/102 miles north of Malaga port, and it takes around 2 hours drive one way to reach it.
Back in the Middle Ages, Córdoba was an important Roman city and a major Islamic center. It is known for La Mezquita (Great Mosque of Córdoba), an immense mosque dating from 784 AD, later transformed into a Catholic church.
On your tour of the city, make sure you visit the Jewish Quarter and the Córdoba Synagogue, dating from the 14th century.
Check out Cordoba day trips from Malaga port
11. The Village of Mijas
The charming village of Mijas is located approximately 33 km/20 miles southwest of Malaga port, and it takes around 40 minutes drive to get there.
Sprawled across a mountain slope some 450 meters (1.475 ft.) above the Mediterranean Sea, Mijas is dotted with whitewashed houses and a landscape that will take you back to the Arabic era.
While strolling the medieval streets of the village, make sure you visit the centuries-old Chapel of the Virgin of the Rock (Ermita de la Virgen de la Peña), Bullring of Mijas (Plaza de Toros), and the Church of the Conception (Iglesia Inmaculada Concepción).
Soak up local history, go for a wine tasting, and get lost in the picturesque streets filled with cafes and colorful shops.
Explore Mijas day trips from Malaga
12. Caves of Nerja
Caves of Nerja (Cueva de Nerja in Spanish) are located close to the town of Nerja, 60 km/37 mi east of Malaga port, and rank among the top-visited attractions in Andalusia.
The vast cave system consists of impressive galleries divided into halls featuring stunning rock formations that you can visit on a guided tour. The caves are also a popular venue for hosting a classical and dance festival.
The general admission fee is 15 €, but there are also combined tickets and reduced prices if you book the tickets online. Find more information on Cueva de Nerja's official webpage
Explore Caves of Nerja tours and activities 
Wrapping Up
Malaga port offers a wide variety of things to do and places to see, and I highly recommend you plan your day ahead in order to get the most of this amazing port of call.
If you are planning to join one of the day trips to the nearby cities/resorts, I suggest you book an organized shore excursion as your return to the ship on time is guaranteed.
Visit our cruise port guides for Alicante, Bilbao, Vigo, Barcelona, Valencia, La Coruna, Cartagena, Cadiz, Palma de Mallorca, Gibraltar, Lisbon
---
12 Best Things to Do in Malaga
Malaga Cathedral
Alcazaba de Malaga
Gibralfaro Castle
Picasso Museum
Roman Theater
La Malagueta Beach
Marbella and Puerto Banus
Alhambra Palace
Granada
Cordoba
Village of Mijas
Caves of Nerja
You May Also Like:
25 Top Shore Excursion Packing List Items
What to Pack for a Cruise – Top 50 Cruise Essentials
Women's Cruise Wear – Top Cruise Essentials for Ladies
Mediterranean Cruise Port Guides
---
This article may contain affiliate / compensated links. For full information, please see my disclaimer here.