Welcome to Lanzarote cruise port!
Black and golden beaches, white towns standing out of the lunar landscapes, surreal natural marvels, moon-like sceneries… Welcome to Lanzarote, one of the eight main Canary Islands located in the Atlantic Ocean north of Fuerteventura, only 125 km/78 miles off the coast of Morocco. It is the northernmost and the easternmost Canary Island, and the fourth-largest one compared to the others. Although it doesn't seem to be as urban and crowded as the other Canary Islands, Lanzarote has countless things to offer. In this article, read about:
Lanzarote cruise port (Lanzarote cruise terminal, getting around, helpful info)
Top 8 things to do in Lanzarote port & best Lanzarote shore excursions
Visit also our cruise port guides to Las Palmas de Gran Canaria, Tenerife, Santa Cruz de La Palma, Barcelona, Valencia, Malaga, Palma de Mallorca, Madeira (Funchal), Cadiz (Seville), Ibiza, Gibraltar
Search the best Mediterranean cruise deals!
Lanzarote Cruise Port
Lanzarote port is located in Arrecife, a charming capital city nestled along the eastern coast of the island. Originally a small fishing settlement, Arrecife has grown into a modern port city that is connected to mainland Africa, Europe, and other islands via ferry. Lanzarote cruise terminal consists of two docks: Muelle De Los Marmoles, and La Boca de Puerto Naos.
Muelle De Los Marmoles pier is located around 4 km/2.5 miles from the Arrecife city center and the main shopping street. It takes around 45 minutes to reach downtown in case you decide to walk, which I wouldn't recommend as there are shuttle buses organized to get you to the center in less than 10 minutes. Depending on the cruise line, shuttle buses can either be free, but in most cases, you need to pay for the ticket. Taxis, car rentals, and a small tourist information desk are available at this terminal. A taxi ride costs around 10€ per vehicle one way, and it is definitely a better solution than the shuttle bus (especially for families and people traveling in a group).
La Boca de Puerto Naos is the second pier, and you are lucky if your cruise ship docks here because the downtown is around 2 km/1.2 miles away. You can either walk to the city center, which takes around 20 minutes, or you can take the shuttle bus organized by your cruise ship (free or for a fee, depending on the cruise line). The walk to the town is pleasant, although there is not much shade so make sure you bring water and a hat. There are also taxis available, as well as a tourist information desk and car rentals. The taxi ride downtown shouldn't cost you more than 6€ per vehicle one-way.
Helpful info & links:
In case your cruise line charges for the shuttle buses, I advise you to take a taxi, as it will probably cost you less than a shuttle bus. Taxi prices are normally displayed in the port and are relatively cheap. For longer distances, always negotiate the price. Also, before docking, check where your cruise ship docks. If it's closer to the city, you can also walk.
The local currency in Lanzarote is EURO (€), as the Canary Islands belong to Spain, and Spain is in the European Union. The Canary Islands are part of the special territories of the EU, however, they are an EU VAT-free zone, which means that there are no taxes and the shops are duty-free. Local currency and credit cards are widely accepted. ATMs are available in the town. See the

currency converter

Arrecife city is flat and mostly suitable for people with walking difficulties and wheelchair users. It is walkable and easy to navigate, so if you decide to stay in the city, you'll have a great time.
Lanzarote Airport is located 11 km/7 miles (a 10-minute drive) southwest of Lanzarote cruise port.

Search the best flights to Lanzarote

Lanzarote boasts a very mild, desert climate with mild winters and warm summers. For useful cruise packing tips, check out my article

What to Pack for a Cruise in 2023 – Top 60 Cruise Essentials

One of the best ways to get around the island is by car. Renting a car is quite affordable and getting around the island is easy. Roads are clearly marked and well maintained, and it's relatively easy to find parking wherever you go.

Check out Lanzarote rent-a-car deals
Top 8 Things to Do in Lanzarote Cruise Port
Lanzarote is known for its iconic Timanfaya national park and stunning natural attractions, black sandy beaches and surreal landscapes. The island is relatively small and absolutely beautiful, so it's well worth exploring. However, if you decide to stay close to the port in Arrecife – there are plenty of things you can do!
Before I share the best things to do in Lanzarote, I invite you to grab your copy of the "Mediterranean Cruise Port Guide", the most comprehensive guide to 45 Mediterranean cruise ports (including Lanzarote), packed with practical information, expert tips & unforgettable experiences! (PDF format/200 pages)

Ultimate Guide to Mediterranean Cruise Ports
Plan your Cruise Itinerary in Less than an Hour and Maximize Your Port
Experience!
1. Arrecife
The capital city of Lanzarote is a lovely place to walk around and offers a wide variety of places to visit. You can visit the main Arrecife attractions on foot, so there is no need for a public bus or transport. Some of the best things to do in Arrecife include:
A coffee at Charco de San Ginés – The beautiful marina and lagoon are one of the most scenic spots in Arrecife. The picture of countless fishing boats floating in the lagoon surrounded by old, whitewashed houses call you to take your

camera

out and take some great shots of this urban harbor. There are numerous shops, street cafes, tapas bars, and restaurants around, so you can grab a quick coffee while enjoying the views of the picturesque marina.
Church of San Ginés (Iglesia de San Ginés) – Dominating the skyline of Arrecife town with its outstanding bell tower, this charming Catholic church was built in the 17th century on the site of a former 16th-century hermitage. The church is dedicated to Saint Ginés, Arrecife's patron saint whose images were found on the site of the hermitage. The church was built from white stone combined with black volcanic rocks and is beautifully ornated inside. The interior features a distinctive wooden Mudéjar-style ceiling as well as the statue of the Virgin and the Child that you can spot upon entering.
Castillo de San Gabriel – The Castle of Saint Gabriel is located within a 5-10 minute easy walk from the Church of San Ginés. Constructed on the small Islet of the English (Islote de Los Ingleses) in the 16th century on the site of a former wooden fort, the Saint Gabriel fortress played a major role in the protection of the harbor. You can reach the fortress via two causeways (one is for traffic, one for pedestrians) – all you have to do is cross the Ball Bridge (Puente de las Bolas) known for two cannonballs on top of its pillars, and you'll reach the castle. Although very small, the fortress is scenic and houses a modest Museum of History that I recommend you visit if you want to learn about the historical heritage of Lanzarote and its people. There is a small fee to pay at the entrance (around 3€). The surrounding area offers unique photo opportunities, so make sure you bring your camera.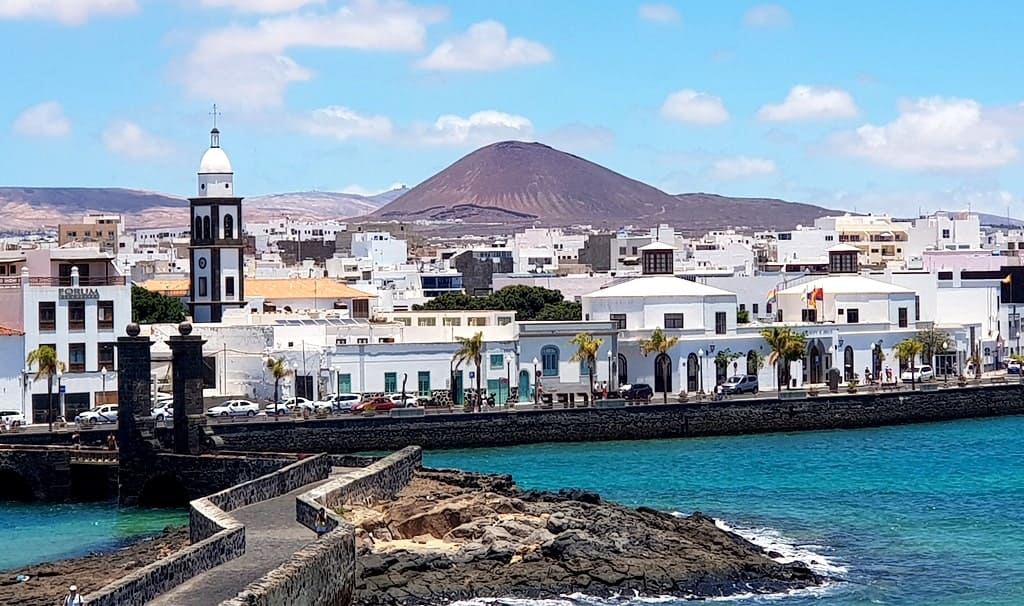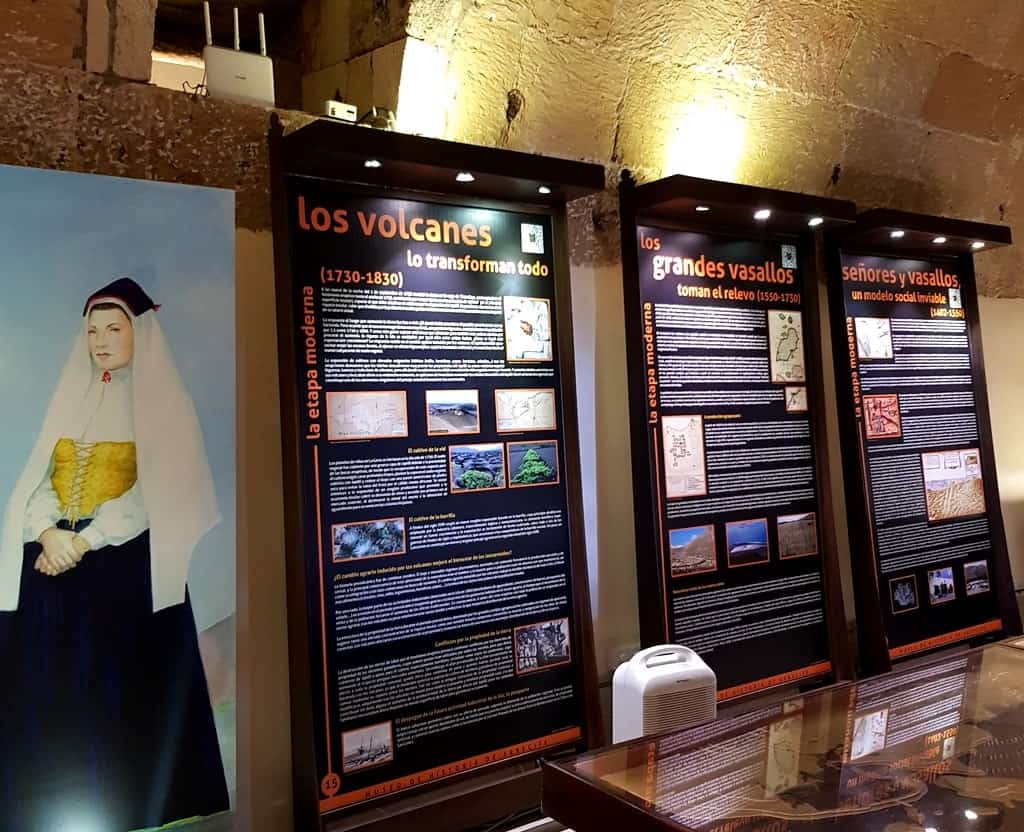 Calle Leon y Castillo – Arrecife shopping should be on your bucket list, as prices are cheap (EU VAT free area) and the offer is various. Situated across the Ball Bridge, the Calle Leon y Castillo is one of the shopping streets you can check out. It consists of a large number of brand stores, street cafes, a shopping mall, perfume stores, banks… It is my favorite street and I always save some time to go buy perfumes, as they are crazy cheap! On Saturdays, usually from 9 am to 2 pm, Arrecife Handicraft Market welcomes both locals and tourists in Arrecife's old town, in the area of El Charco de San Ginés and the Church of San Ginés.
Walk along the oceanfront promenade – The palm tree promenade is long and stretches over a mile. It offers breathtaking views of the Atlantic Ocean and along the way, there are a few beautiful parks where you can sit and relax with the sound of the ocean waves. Some of those are Jose Ramirez Cerda Park, Parque Islas Canarias, Arrecife Skate Park, and Temático Park, situated at the end of the promenade. The promenade is an ideal place to spend a relaxing day and enjoy the local atmosphere while taking in the views of the Atlantic's turquoise waters.
Sunbathe at Playa del Reducto – Located at one end of a promenade, on the opposite side, Playa del Reducto is the public beach tucked in a bay ideal for swimming and snorkeling. The beach is spacious and sandy and offers umbrella and sunbed rental facilities. If you are into water sports, you can go paddle surfing and windsurfing, or you can play volleyball and football with your friends on the nearby grounds. In the vicinity, you can find cafes, restaurants, and luxurious hotels. To enjoy the panoramic views of the town, head over to Arrecife Gran Hotel & Spa, the tallest building in Lanzarote with a rooftop offering amazing views of the whole island.
Casa De La Cultura Agustín De La Hoz – You should definitely visit this magnificent cultural center if you are an art lover and want to learn about Lanzarote's cultural heritage. Housed in a 19th-century building, the center consists of an art gallery and several exhibition rooms, displaying over 300 paintings of notable Spanish artists. The cultural center is situated only a 5-minute walking distance from the main pedestrian street Calle Leon y Castillo and the Castle of Saint Gabriel.
Explore Arrecife tours and activities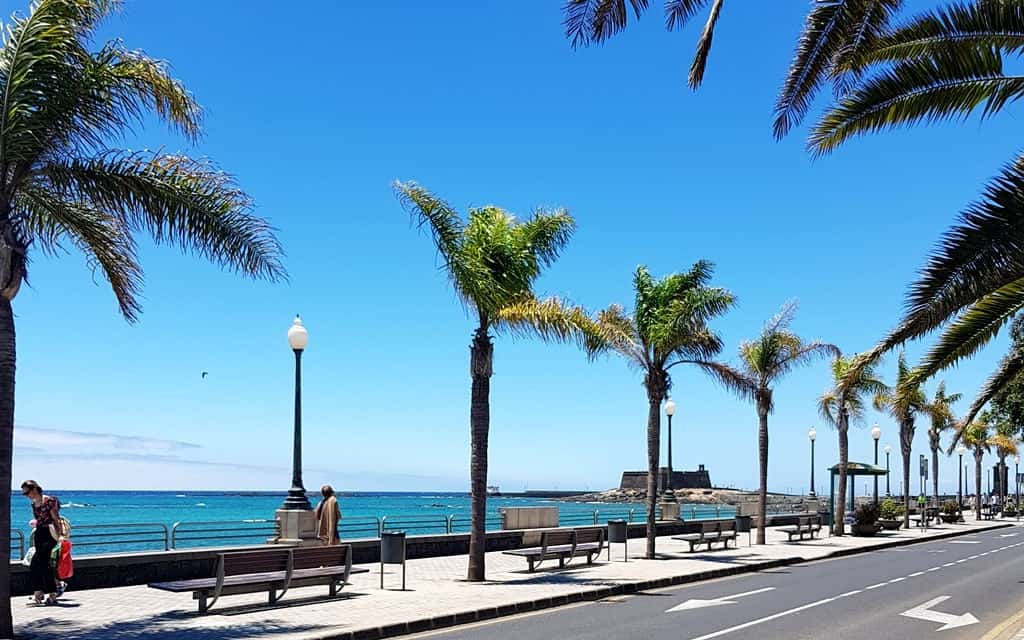 2. Timanfaya National Park
If you have never been to Lanzarote before, visiting the Timanfaya National Park should definitely be attraction #1 on your Lanzarote bucket list. It is the second most visited national park in the Canary Islands (after Mount Teide in Tenerife) and it covers a large part of the southwest of Lanzarote.
Timanfaya National Park consists of 25 volcanoes, but only one of them – the Timanfaya volcano, is still considered active. The most powerful eruptions took place between 1730 and 1736, and they shaped the landscape of the national park that we know today. The entire park is made up of volcanic soil and rocks and the scenery is absolutely surreal. The mixture of colors of the volcanic formations and the dunes gives you the impression as if you were on the Moon or planet Mars.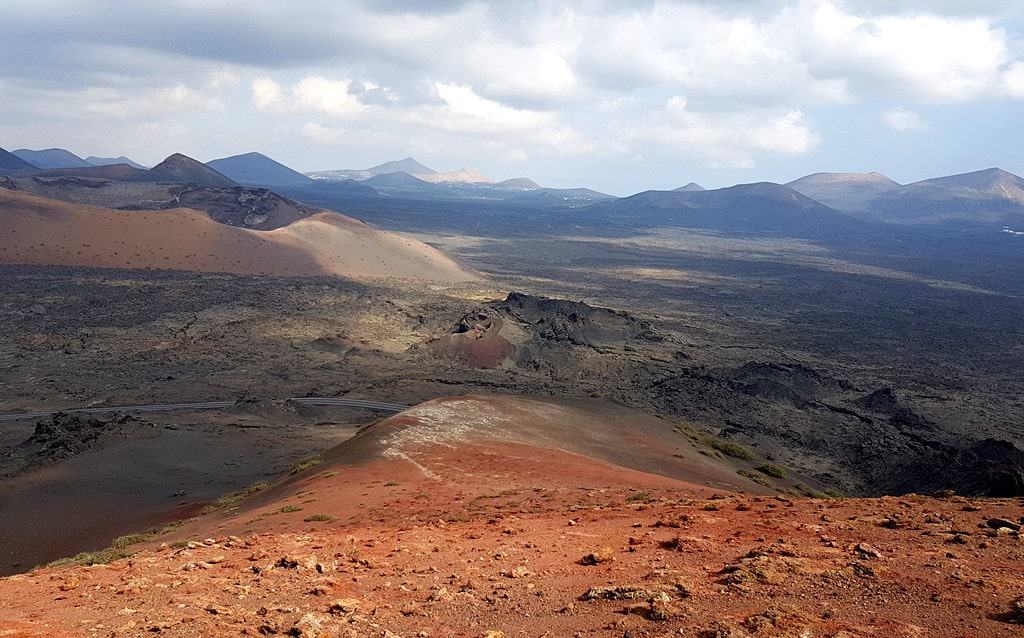 To preserve it, the large area of the national park can only be visited on a guided bus tour. There are audio tours organized in different languages, as well as various tour offers. There are several Timanfaya National Park attractions and activities you can do:
Visit Timanfaya Visitor Center in Mancha Blanca – Located a 30-minute driving distance from Lanzarote cruise port, this is the museum where you can learn about the history of the Lanzarote volcanoes, see the artifacts and demonstrations of volcanic eruptions, watch the presentations, learn about the flora and fauna of the national park. There is also an observation platform from where you can see the park so you can have an idea of what to visit on your tour.
Fire Mountains camel ride – Timanfaya National Park is also called the Mountains of Fire, due to its extraordinary blend of colors that resembles the mountains on fire. A

camel ride tour

is one of the most popular things to do, as it allows you to visit the Timanfaya National Park in the most fun and authentic way. The camel ride lasts up to 20 minutes, and is truly a unique experience that I highly recommend you try!
Timanfaya National Park trekking – There are several designated trekking paths within the national park.

Trekking tours

are normally organized in small groups and you need to book them ahead. If you are in good physical shape and looking for an adventure, this is the best option to look for! It is forbidden to go trekking without a tour guide!
El Diablo Restaurant – The restaurant is situated on an elevated spot offering spectacular views of the Timanfaya National Park. The building housing the restaurant is formed of several cylindrical one-story structures and is the work of a famous local artist, César Manrique. El Diablo restaurant is entirely enclosed in glass, and the food served there is grilled or cooked using the heat of the volcanoes. It is the only restaurant in the national park, so if you want to grab a bite, do it here. At El Diablo, you can watch the demonstrations of the fire coming out of the ground or the ones forming the steam geyser.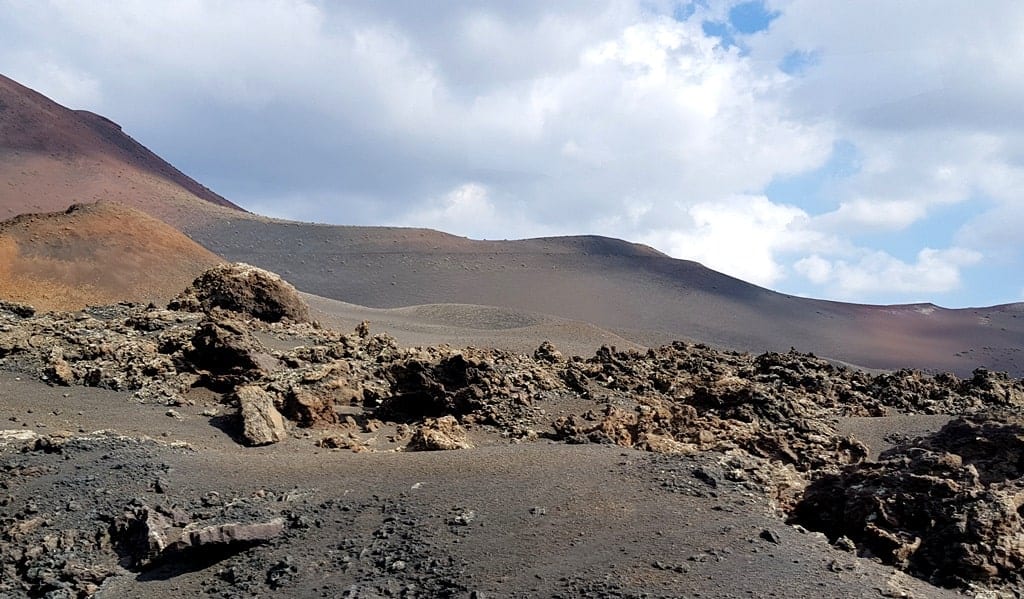 How to Get to Timanfaya National Park from Lanzarote Cruise Port?
The distance between the Arrecife cruise port and the Timanfaya National Park is around 29 km/18 miles, or a 35-minute driving distance. There are several ways to get there:
On a shore excursion

– Cruise ships usually offer shore excursions to Timanfaya National Park, but these can be fully booked as the Lanzarote volcano tour is the most popular one. If you want to book a cruise ship shore excursion, I recommend you either pre-book your tour or check the availability the first day you come onboard and book it. However, there are a couple of downsides if you join the cruise ship tour – the tour prices can be too expensive, and you travel with a large group of people, which often means you'll waste time waiting for a group to gather, and you'll spend less time in places of interest. The alternative option is to book a tour with an

independent tour operator

so they can customize the tour according to your needs and wishes.

Explore Timanfaya National Park tours and activities

Rent a car –

Lanzarote Car rental

is a great option if you feel confident driving in a foreign country. The fuel is cheap, and roads in Lanzarote are good and well-marked, so getting around by car is easy. However, only a small portion of the Timanfaya National Park can be explored independently. The largest part is forbidden for private vehicles, and you can visit it only with a guided bus tour. Upon getting to the national park, there is free parking for cars. Make sure you have your driver's license.

Check out Lanzarote car rental deals

Private transfer

– If you don't feel comfortable driving on your own, you can book a

private transfer

and everything will be arranged for you. Book a private transfer to Timanfaya National Park
3. Jameos del Agua
Located in the north of Lanzarote, 28 km/17 miles (a 30-minute drive) from Lanzarote cruise port, Jameos del Agua is another popular natural attraction that you absolutely must visit! The word "jameos" refers to the large openings in a lava tube whose roof collapsed as the result of the last volcanic eruption. The whole complex of Jameos del Agua is the architectural masterpiece of the Spanish artist César Manrique who was born in Arrecife at the beginning of the 20th century.
César Manrique wanted to put nature and art together, and he designed the artistic complex around two volcanic caves found on site. Jameos del Agua is his first center of art, culture, and tourism officially opened in 1977 and consists of unique volcanic tunnels and caverns featuring several attractions:
The subterranean salt lake – Inside the cave, you can visit the fascinating natural lake that is home to endemic species of squat lobster – tiny, blind albino crabs, the symbol of Lanzarote as they live only here. These small creatures are very sensitive to oxide and the changes in the lake, therefore, it is forbidden to make noise and throw coins into the water. It takes only 5 minutes to walk from one end of the lake to another, and there are some steps to get down to the cave and up. There is also a café by the lake.
The White Pool – One of the most photographed spots in Jameos del Agua, the stunning pool is surrounded by volcanic rocks and gardens. It is believed that only the King of Spain can swim in the pool!
Auditorium – One of the caves was designed to host concerts and the underground concert hall can accommodate up to 600 people. To build the concert hall, the architects used innovative techniques as the volcanic rocks are very delicate, and the event place was reconstructed and reopened in 2009. The tickets usually include dinner (there is a restaurant as well), and the ambiance is truly magical. If you stay longer in Lanzarote and you want to celebrate a special occasion or simply have a one-of-a-kind evening, you should definitely attend the concert in Jameos del Agua.
La Casa de Los Volcanes – Newly built, the volcano house is home to the museum and an information center where you can learn about the volcanoes in Lanzarote and all of the Canary Islands.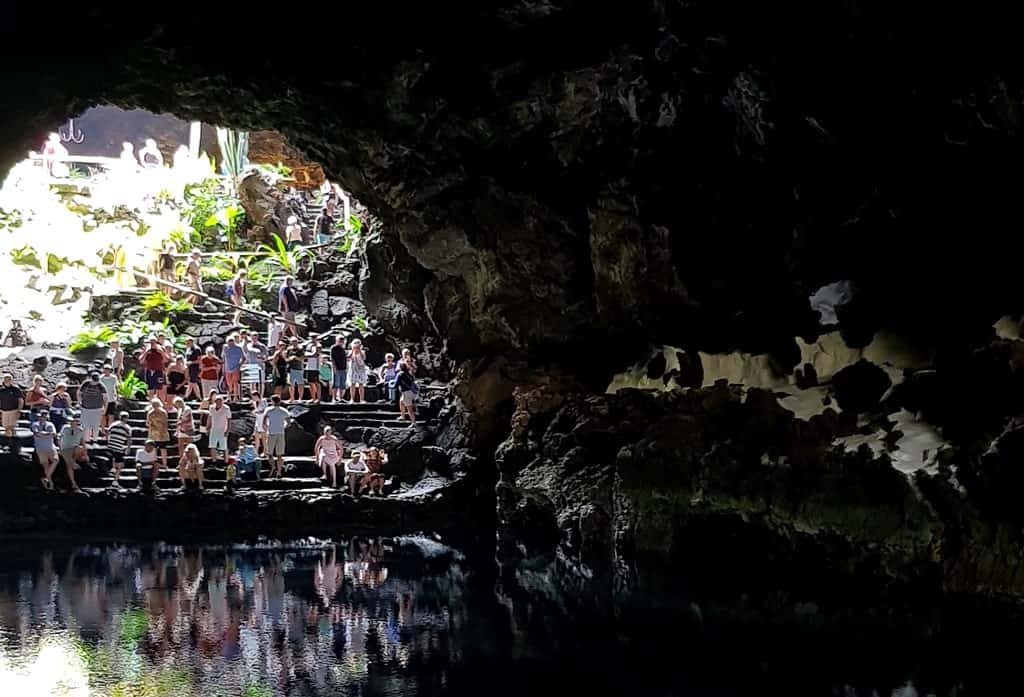 How to Get to Jameos del Agua from Lanzarote Cruise Port?
It takes around 30 minutes drive to reach Jameos del Agua from the Lanzarote cruise dock, and the tour of the complex takes from 45 minutes to an hour. There are several ways to get there:
Book a tour – Jameos del Agua guided tour is the best way to visit the site. Normally, the tours include several other places to visit, so you can visit a multitude of Lanzarote attractions at once. Explore Jameos del Agua tours and activities

Rent a Car

– Car rental is cheap, and the road from Arrecife to Jameos del Agua is good. There is a parking lot in front of the complex. Make sure you have your driver's license.

Check out Lanzarote car rental deals
4. La Graciosa from Mirador del Rio
Located in the north of Lanzarote, 34 km/21 miles (a 35-minute drive) from Arrecife cruise port, Mirador del Rio is another interesting structure designed by César Manrique between 1971 and 1973. Built on a 475-meter-high cliff (around 1.600 ft) and integrated into the lava rock like Jameos del Agua, the architectural complex of Mirador del Rio offers spectacular views of the Chinijo Archipelago that consists of La Graciosa and several other islands.
From Mirador del Rio, you can admire the view of La Graciosa island that you'll see in front of you, Montaña Clara and the tiny Roque del Oeste islands located north of La Graciosa, as well as Alegranza, the northernmost from Lanzarote. If you look down from the viewpoint, on the left side you'll see Salinas del Rio and Playa del Risco, a wild beach, located at the foot of the Mirador del Rio.
La Graciosa is the largest and the only inhabited island of all. The islands are part of Chinijo Archipelago Nature Park, as over 13 animal species and 20 endemic plant species live there. The narrow channel that divides Lanzarote and La Graciosa is called "the River", in Spanish "el Rio", which explains how Mirador del Rio got its name.
It takes 30 minutes to up to one hour to visit the complex. There are a few open-air lookout points from where you can take in the views of the islands. However, if you prefer to be in the closed space, Mirador del Rio features a large café-bar with huge glass walls offering amazing views through its widescreen windows. There is a souvenir shop as well. Bring some cash because I am not sure whether they accept credit cards in the cafeteria. There is a small entrance fee to enter Mirador del Rio (if you book a tour, the ticket is normally included).
5. Puerto del Carmen
The famous resort and the main tourist town, Puerto del Carmen is situated a 20-minute drive southeast (19 km/12 miles) from Lanzarote cruise port. It is a popular travel destination featuring a wide range of luxurious hotels, casinos, a 6-kilometer stretch of golden sandy beaches, restaurants, shopping centers, entertainment and recreational areas, and much more!
Puerto del Carmen boasts a vibrant nightlife and most of the shops, restaurants, bars, and clubs are located at Avenida de las Playas, a 7-kilometer long beachside avenue. This is the central hub of the town where the majority of events take place. For those who would like to explore the old town, head over to El Varadero, the old harbor boasting a beautiful marina and a variety of attractions to offer.
If you want to spend a beach day in Lanzarote, I definitely suggest you check out one of the beaches in Puerto del Carmen. All beaches are awarded the Blue Flag for their cleanliness, and they are excellent for water sports activities such as windsurfing, deep-sea fishing, snorkeling, and scuba diving.
Almost all of the Lanzarote beaches have black sand due to the volcanic soil, and here in Puerto del Carmen, they blend in perfectly with golden nuances. Below is the list of the Puerto del Carmen beaches you should check out:
Playa Grande – A beautiful, clean sandy beach located in the center of Puerto del Carmen, near the old harbor. The beach offers a wide range of facilities (sunbeds and umbrella rentals, toilets, showers, changing rooms, restaurants, cafes, etc.) and is perfect for families with small kids.
Playa Chica – If you look for less crowd and more privacy, Playa Chica is the best choice for you. Tucked in the bay between Playa Blanca and the old town harbor, the beach is surrounded by volcanic rock formations which make it ideal for snorkeling and diving. There are facilities such as toilets, showers, a bar, and chair rentals, and you can also go for water sports such as parasailing, jet skiing, snorkeling, diving, and more.
Playa Blanca – A gorgeous, sandy beach is located next to the Playa Grande, backed by the promenade filled with stores, bars, and restaurants. It is a laid-back beach ideal for swimming and sunbathing, and offers all necessary amenities (chair and sunbed rentals, toilets, showers, etc.).
Playa de Los Pocillos – A couple of kilometers away from Playa Grande and the downtown lies Playa de Los Pocillos, a long, wide sandy beach boasting a family-friendly atmosphere. It's not crowded and offers facilities such as public toilets, chair rentals, bars, and playgrounds for kids.
Playa Matagorda – Situated next to Playa de Los Pocillos, Playa Matagorda is another beach boasting black and golden sands, a variety of great restaurants, and a rich tourist offer. It is a quiet place ideal for those who want to escape the crowds and the bustling town center.
Less than a 10-minute drive from Puerto del Carmen downtown, Rancho Texas – a fantastic animal park featuring bird and sea lion shows, cowboy lasso displays, pony rides, and a splash zone, awaits the families for a fun-filled and unforgettable day in Lanzarote! The distance between Rancho Texas and Lanzarote cruise port is 15 minutes driving distance. Check out Rancho Texas' opening hours and prices.
How to Get to Puerto del Carmen from Lanzarote Cruise Port?
There is a local bus from Arrecife to Puerto del Carmen. Check out the

Arrecife bus timetables

.
Taxi will cost you 25 – 35€ per vehicle one-way, although the prices depend on the number of people.
6. Los Hervideros
Located on the southwestern coast of Lanzarote, a 40-minute (39 km/24 miles) drive from the cruise ship dock, Los Hervideros is a scenic spot and a popular natural attraction. Los Hervideros feature a rugged volcanic coastline known for the impressive sights of powerful waves crashing into sea caves. The place consists of several caves sculpted in lava that are best viewed from the sea, however, several paths are leading you to the platforms from where you can take a better glimpse of the caves.
There are no facilities around, and the place is free to visit. You can walk around and take some great shots from different angles, but be careful and do not come close to the cliff edges, as there are no railings or barriers. I visited Los Hervideros once and I liked it a lot, as I am into nature and this place is truly breathtaking. It offers spectacular sea views, and during stormy weather, it's even more frightening and majestic. There were no waves when I was there, but even without them – the place is beautiful!
Near Los Hervideros, you can visit a couple of other Lanzarote attractions: Salinas del Janubio (salt flats and the natural lagoon) and an old, picturesque El Golfo village, full of fantastic fish and seafood restaurants.
7. Aloe Vera Farm
Located near Mirador del Rio, a 35-minute drive (33 km/20.5 miles) north of Lanzarote cruise dock, Lanzaloe park consists of aloe farms and a store selling various aloe vera products. The volcanic soil in Lanzarote is favorable for aloe vera growth, and there are many aloe farms all around the island.
I've been to Lanzaloe park and I really liked this one. The hosts organized a brief live presentation on aloe vera properties and demonstrated how aloe vera should be applied. The whole scenery was unique, as we were outside, surrounded by fields of aloe, with views of the volcanoes in the distance. The place also has a small store where you can buy different types of products, mostly cosmetics, and the prices are quite affordable. The tour of the aloe vera farm and the store takes around 30 minutes.
How to Get to Lanzaloe Park from Lanzarote Cruise Port?
Book a tour – I would definitely recommend you come here on a guided tour because otherwise you might get lost. The farm is in the middle of nowhere, and I am not sure if you could find it with a car. Cruise ships normally offer at least one shore excursion that includes a stop at the aloe vera farm.

Check out aloe vera tours and activities
8. La Geria Vineyards
Located a 25-minute drive (24 km/15 miles) south of Arrecife port, Bodega La Geria is a family-operated winery with a long wine-making tradition, set in the heart of the wine region in Lanzarote. Lanzarote was declared a UNESCO Biosphere Reserve in 1993 and its volcanic soil and mild Mediterranean climate are favorable for the growth of specific types of grapes, out of which 75% of vineyard plantings are the Malvasia grape, producing high-quality, sweet wines.
Wine has been successfully produced on the island since the early 16th century and wine cultivation is completely different from what we are used to. There are no lush, green fields of vineyards – instead, wine producers dig wide holes and deep ditches in the volcanic ground and protect those with semi-circular stones known as zocos or abrigos. The ash is fertile and humid enough for grape growing, and all the harvesting and pruning is done by hand.
I highly suggest you visit one of the wineries and taste the most famous sorts of Lanzarote wines. I've been to La Geria vineyards and that's my personal recommendation as I've experienced it myself, but there are also a lot of other wineries on the island (Bodegas el Grifo, Bodega Rubicon Lanzarote, Bodega La Querencia, Los Bermejos Lanzarote, Bodega Vulcano Lanzarote, La Florida Lanzarote, Bodegas Vega de Yuco, Bodegas La Guigan).
If you appreciate the art of winemaking and you want the full experience, I suggest you book a Lanzarote wine tour, as it normally includes a visit to several different wineries. As for La Geria vineyards, they offer wine-tasting tours, a great selection of tapas at very reasonable prices, and a gift shop where you can purchase wines, souvenirs, and snacks.
Taxis have no fixed rate but expect at least 30-40€ per vehicle, one-way.
Wrapping Up
I hope my article provided you with some fresh information on Lanzarote island. Make sure to plan your day ahead to get the most out of this amazing port of call!
Visit also our cruise port guides to Las Palmas de Gran Canaria, Tenerife, Santa Cruz de La Palma, Barcelona, Valencia, Malaga, Palma de Mallorca, Madeira (Funchal), Cadiz (Seville), Ibiza, Gibraltar
---
Don't miss out on the opportunity to enhance your Mediterranean cruise experience with our "Mediterranean Cruise Port Guide"- your ultimate companion to discovering the region's hidden treasures and creating unforgettable memories; click below to purchase your copy today and embark on the voyage of a lifetime!

Ultimate Guide to Mediterranean Cruise Ports
Plan your Cruise Itinerary in Less than an Hour and Maximize Your Port
Experience!
---
You May Also Like:
25 Top Shore Excursion Packing List Items
What to Pack for a Cruise in 2023 – Top 60 Cruise Essentials
Mediterranean Cruise Port Guides
This article may contain affiliate / compensated links. For full information, please see my disclaimer here.