Welcome to the port of Tenerife, Spain's second-busiest port after Barcelona and the Canary Islands' most visited island! Upon sailing into the Tenerife port, you'll be blown away by the dramatic beauty of the volcanic mountains surrounding Santa Cruz de Tenerife, the island's capital and its main port. Extraordinary sceneries, picturesque towns, golden and black sand beaches, amazing food and shopping… all of that awaits you in this vibrant cruise destination! In this article, I share with you:
Tenerife cruise port info (Tenerife cruise terminal, getting around, useful cruise tips)
Top 10 things to do in the port of Tenerife and the best Tenerife shore excursions
Visit also our cruise port guides to Las Palmas de Gran Canaria, Lanzarote, Santa Cruz de La Palma, Barcelona, Valencia, Malaga, Palma de Mallorca, La Coruna, Vigo, Cartagena, Cadiz, Alicante, Bilbao, Madeira, Lisbon
Port of Tenerife Info
The Canary Islands are a Spanish Autonomous Community, an archipelago consisting of eight main islands nestled off the coast of northwestern Africa. Cruise ships dock at Santa Cruz de Tenerife, the island's capital and its largest and most populous city. Santa Cruz de Tenerife also shares the status of the capital of all the Canary Islands with Las Palmas de Gran Canaria.
Cruise port Tenerife (Puerto de Santa Cruz de Tenerife) lies on the northeastern coast of the island and features one of the deepest natural harbours in the world. The majority of the cruise ships dock at Muelle Sur, a long breakwater that can accommodate up to five vessels at a time.
Santa Cruz de Tenerife downtown is located around 1 km (0.6 miles) to 1.5 km (0.9 miles) from the Muelle Sur ship berths, depending on where your ship docks. To get into the town center, you can either turn right and walk along the breakwater (a 15-20 minute walk to the downtown) or take a free shuttle bus provided by the port authority. The shuttle bus drop-off/pick-up point is Plaza de España, the city's main and largest square. The ride takes only a few minutes. Taxis are also available on the pier outside of the ship, however, there may be a limited number of them.
---
Insider Tip: If your ship docks at one of these berths, upon stepping off the gangway you'll see many buses in front of the ship. Some of these buses are free shuttle buses, while some of them are shore excursion buses. Make sure you carefully check the sign on the bus or check with a shore excursion staff if you are not sure which bus to get on.
---
In 2016, a new cruise terminal was inaugurated only a 5-minute walk from the city center. It is located at Muelle Norte quay, and features a 395 m berth and the largest cruise terminal building in the Canaries, with a huge check-in hall with 50 desks, a large waiting hall, and parking for buses and taxi ranks. In case your cruise ship docks here, Plaza de España and the city center will be on your left, only a 5-minute walk from the terminal.
Helpful info & links:
Tenerife Port Authority's official website is

https://www.puertosdetenerife.org/

The currency in the Canary Islands is EURO (€) like in the rest of Spain. Local currency and credit cards are widely accepted. ATMs (telebanco and cajero in Spanish) and currency exchange are available downtown. See the

currency converter

The port of Santa Cruz de Tenerife is not to be mixed with the Port of Los Cristianos (Puerto Los Cristianos), another Tenerife port that is located in the town of Los Cristianos, in the south of the island.
The Canary Islands are part of Spain and thus European Union, however, they enjoy some exceptions in the fiscal and economic areas and are outside the VAT area. Instead, they are within the Canary Islands Special Zone (ZEC), a low-tax zone (they pay only around a 4% corporate tax instead of 30% of the general tax rate). What does it mean for cruise passengers? If you plan to shop for watches, perfumes and other goods, Santa Cruz de Tenerife is a paradise!
The Canary Islands, including Tenerife, are perfectly safe. The island has a well-developed infrastructure and is easy to navigate.
Santa Cruz de Tenerife's downtown and cruise terminal areas are flat and wheelchair-friendly.
TITSA company (Transportes Interurbanos de Tenerife SA) operates the only public bus service in Tenerife. The island has an efficient network of public buses that connect most towns and cities on the island. Getting around Tenerife by local bus is easy and cheap, however, it's not recommended option if you stay on the island only for a day. Check the timetables, routes and prices on TITSA's official webpage

https://www.titsa.com/

The Intercambiador Santa Cruz (aka Tenerife Transport Interchange) is the main bus station in Tenerife. It is located in the city center across from the iconic Auditorio de Tenerife, around 1.5 km/0.9 miles (a 20-minute walk) from the shuttle bus drop-off point at Plaza de España.
Tenerife tram is a light rail service that consists of two lines: Line 1 is 12.5 km/7.8 miles long and connects Intercambiador Santa Cruz de Tenerife with Avenida de la Trinidad in San Cristobal de La Laguna town. Line 2 links La Cuesta and Tíncer. Check the schedules and prices on

https://metrotenerife.com/

Tenerife Hop on Hop off bus tours may be available in the city center, however, these bus services have been temporarily disabled (info updated in September 2022).
Santa Cruz de Tenerife offers amazing shopping opportunities. The old town is centered around Plaza de España, Plaza de la Candelaria, and Calle del Castillo – the main pedestrian street in Santa Cruz. If you are looking for a shopping mall, El Corte Inglés expands on 7 floors and offers everything you can possibly imagine! It is located on

Avenida Tres de Mayo,

1.5 km/0.9 miles (a 20-minute walk) from Plaza de España. It is open from Monday to Saturday 09:30 to 21:30.
The majority of beaches in Tenerife are located on the island's south coast around the town of Los Cristianos (Playa de las Américas, Playa de las Vistas, Playa de la Tejita, Playa de Torviscas, Puerto Colon, Playa del Dugue, Playa de los Cristianos, Playa de El Médano). Playa de Las Teresitas is the most popular beach near Santa Cruz de Tenerife (a 15-minute drive) and boasts golden sands imported from Africa. Read more about this beach below in the article.
Tenerife enjoys a pleasant subtropical climate and the best periods to visit the island are in spring and autumn. In the summertime, it may get very hot so make sure you wear the appropriate clothes. Get more tips in my article

What to Pack for a Cruise – Top 50 Cruise Essentials

Tenerife has two airports: Tenerife Norte Airport (TFN) (aka Tenerife North–Ciudad de La Laguna Airport, formerly Los Rodeos Airport) is located 15 km/9.5 miles (a 20-minute drive) northwest of the Tenerife cruise port, while Tenerife South Airport (TFS) – Reina Sofia Airport is located 62 km/38.5 miles (a 45-minute drive) southwest of the port.

Find accommodation in Santa Cruz de Tenerife
Top 10 Things to Do in Tenerife Cruise Port
It is not easy to plan your day port day in Tenerife because this island has so much to offer! On one hand, Santa Cruz de Tenerife is a beautiful, vibrant city that you can easily explore on foot, but on the other hand, you shouldn't miss the island's stunning beaches, Mount Teide, amusement parks, and picturesque, historic cities. Before I list the most famous attractions and shore excursions in Tenerife, I invite you to subscribe below and get my exclusive, insider SHORE EXCURSION GUIDE for FREE!
1. Santa Cruz de Tenerife
The island's capital boasts unique architecture, grandiose squares, historic monuments, and a lively cultural, gastronomical and entertainment scene. Below is the list of the most famous Santa Cruz de Tenerife attractions:
Plaza de España – The imposing Spanish Square is the largest square in the city known for the ruins of the historic Castle of San Cristóbal (Castillo de San Cristobal) and a round-shaped seawater lake. It is dominated by the Monument to the Fallen (Monumento a los Caídos), a memorial dedicated to the victors of the Spanish Civil War. The vast plaza is a great starting point to explore the city, as it's located across the port entrance and the shuttle bus drop-off/pick-up location is here.
Auditorio de Tenerife "Adán Martín" – Often associated with Sydney's iconic Opera House, Auditorio de Tenerife is the symbol of the city designed by architect Santiago Calatrava at the beginning of the 21st century. The building overlooks the Atlantic Ocean and is nestled along the Avenue of the Constitution, near the Parque Marítimo César Manrique and the port area. Distance: A 20-minute walk from Plaza de España. Website:

https://auditoriodetenerife.com/

Candelaria Square (Plaza de la Candelaria) – This square is adjacent to Plaza de España and is famous for the 18th century Triunfo de la Candelaria (aka Obelisco de la Candelaria), an imposing white marble obelisk dedicated to the Virgin of Candelaria, the patroness of the Canary Islands.
Calle del Castillo – The main pedestrian street connects Candelaria Square and Weyler Square (Plaza Weyler) with its lavish fountain. The street is around 1 km long and runs through the heart of Santa Cruz de Tenerife's old town. In this area, you'll find designer stores, shops, banks, cafes, bars and eateries.
Parque Marítimo César Manrique – The iconic aquatic and entertainment complex lies next to the Auditorio de Tenerife and features three seawater pools surrounded by waterfalls and palm trees, restaurants, terraces, sunbathing areas, and many other facilities. The park covers 22,000 m2 and was designed by the famous Lanzarote artist César Manrique. Distance from Plaza de España: A 25-minute walk. Check the fares and opening hours on

https://parquemaritimosantacruz.es/

Palmetum – Located right next to Parque Marítimo César Manrique, the beautiful botanic garden spreads over 12 hectares and overlooks the ocean. The gardens specialize in palm trees and are home to the greatest collection of palms in Europe. Find the prices and opening hours at

https://palmetumtenerife.es/

Tenerife Espacio de las Artes (TEA) – The Tenerife Arts Space is a modern art museum and cultural space that sits in the old town area next to the Museum of Nature and Archaeology. The arts center is known for its state-of-the-art architecture featuring a facade made of concrete, with 1,200 glass windows of 720 different sizes and shapes. It consists of two exhibition halls, one housing a permanent exhibition of the works of Óscar Domínguez, a Spanish surrealist painter, while the second one hosts temporary exhibitions. Distance from Plaza de España: A 10-minute walk. Webpage:

https://teatenerife.es/

Our Lady of Africa Market (Mercado Municipal Nuestra Señora De África) – Situated on Avenida San Sebastián in the old town, right next to the Tenerife Arts Space, the African Market is a bustling, traditional bazaar of over 300 stalls selling fresh local produce, from meats, fish, fruit, and vegetables to flowers, herbs and spices. It is a lively place full of colors and smells, a great way to feel the city's unique vibe and authentic life!
Museum of Nature and Archaeology (Museo de la Naturaleza y Arqueología) – Less than a 10-minute walk from Plaza de España, this museum is housed in a neoclassical building overlooking Plaza de Europa. Also known as the Museum of Man and Nature (MUNA), it offers an insight into the island's natural history, with an important collection on the culture of the "Guanches", a native people who inhabited the island of Tenerife before the arrival of the first European settlers.
Iglesia de Nuestra Señora de la Concepción – The Baroque church dates from the 1500s and is located in the Santa Cruz de Tenerife old town, across from the Museum of Nature and Archaeology. The church is dedicated to the Immaculate Conception of the Virgin Mary and is renowned for its beautiful bell tower.
Historical Military Museum of the Canary Islands – History buffs who want to explore the island's military history must visit this impressive museum located less than a 15-minute walk north of Plaza de España, along the new cruise terminal building on Muelle Norte.
Castle of San Cristóbal Interpretation Center – Another great history museum in an underground tunnel that showcases the island's history and defensive system. It is located on Plaza de España.
Guimerá Theater – The 19th-century building is the oldest theater in the Canary Islands. It is located in the old town, next to Art Room Recova (Centro de Arte la Recova).
Check out Santa Cruz de Tenerife tours and activities
2. Playa de las Teresitas
The beaches in Tenerife are known for their black volcanic and golden sands and crystal clear turquoise waters. Las Teresitas beach is Santa Cruz de Tenerife's most popular beach and one of the most visited beaches on the island. It is nestled along the northeastern coast near the town of San Andrés, approximately 10 km/6.5 miles (a 15-minute drive) from the port of Santa Cruz de Tenerife.
This breathtaking beach stretches 1.5 km along the coast and is lined with palm trees and large parking. The beach is man-made and boasts silky golden sands imported from the Sahara desert in Africa. Due to its incredible beauty, great facilities (toilets, showers, changing rooms, accessible walkways, boat rentals, chairs, umbrellas, hammocks, eateries and beach clubs), and proximity to Santa Cruz de Tenerife, the beach is extremely popular with both tourists and locals. It can get very crowded in the summer months and on weekends. If you plan to go shopping, you can visit the little town of San Andrés located right next to the beach.
You can access Playa de Las Teresitas by car, bus (line #910 from the main bus station or Plaza de España), or taxi (you shouldn't pay more than 15€ per vehicle one way, make sure you arrange the price in advance). Cruise lines normally offer shore excursions to Las Teresitas beach (transfer options), however, I suggest you take a taxi if you travel with a group as it's going to be cheaper.
Explore beach tours and activities in Tenerife
3. Mount Teide
Probably one of the most impressive sites to visit in the Canary Islands is Mount Teide, home to Spain's highest peak (3,715 m/12,188 ft) and the third-highest volcano in the world. This UNESCO World Heritage Site and geological wonder is part of Teide National Park (Parque Nacional del Teide) which covers an area of around 18,900 hectares in the municipality of La Orotava.
The jaw-dropping landscapes made up of rugged lava fields, ancient calderas, and volcanic peaks will take you back to another dimension and make you experience Mars on Earth. Teide's most recent eruption took place in late 1909 and the volcano is still considered active.
Mount Teide is located approximately a 1-hour 30-minute drive from the port of Tenerife, however, already after a 45-minute drive you'll access the entrance to the national park. I definitely suggest you visit the park on a guided shore excursion because the drive through the park itself may take hours. Guided tours usually stop at different points of interest in the park, such as the Roque Cinchado – a 27-meter high volcanic rock pillar and the most photographed rock formation in the park.
Teide Cable Car station is available at the foot of the mountain and it's possible to take a cable car all the way to the top. However, don't be disappointed if it's canceled last minute for safety reasons, due to the strong winds.
Explore Mount Teide tours and activities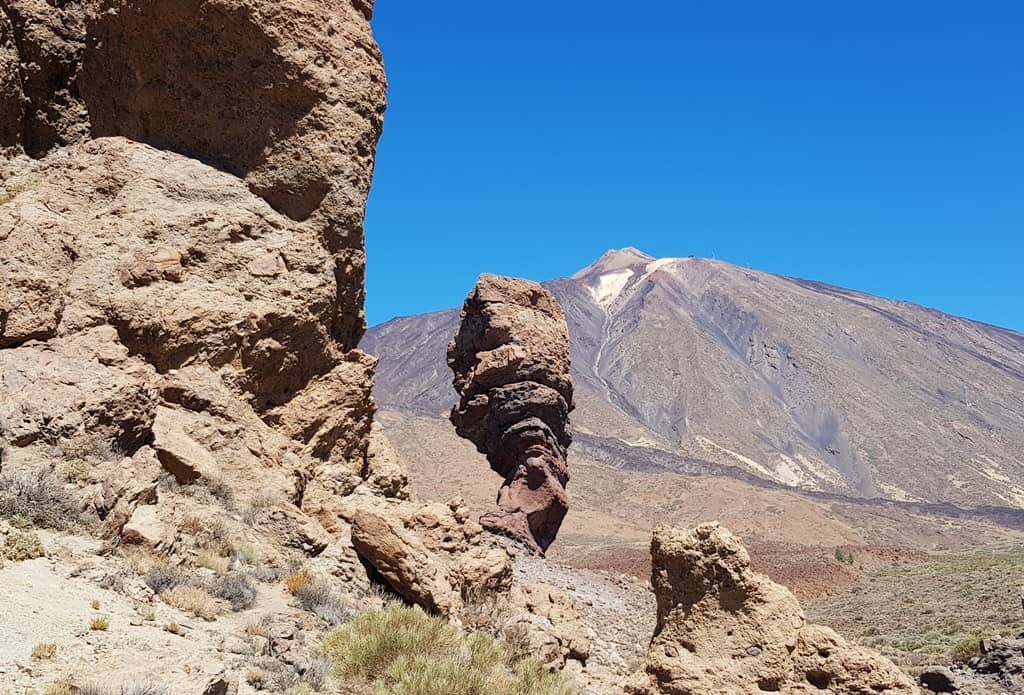 4. Loro Park
This fantastic animal adventure park ranks among the top-rated zoos on the planet. It is located on the outskirts of Puerto de la Cruz, about 42 km/26 miles (a 40-minute drive) southwest of Tenerife port. Originally conceived as a parrots reserve ("Loro Parque" means "parrot park" in Spanish), Loro Park has developed into 13.5 hectares (33 acres) facility that is home to over 400 animal species. Some of these species include dolphins, sea lions, gorillas, otters, red pandas, alligators, penguins, tigers, chimpanzees, sloths, and many more.
The park is famous for being home to 5 orcas and is the second place in Europe to house killer whales! In the park, you can join spectacular orcas shows, dolphin shows hosted in Europe's largest dolphin show pool, and the world's largest indoor penguin exhibition. Don't miss visiting the impressive collection of birds, the aquarium, and the longest shark tunnel in Europe!
The majority of cruise lines and independent tour operators offer shore excursions to Loro Parque. Alternatively, you can take a taxi which is a convenient and cheaper option if you travel in a group or with a family. On the official Loro Parque webpage, you can find timetables, prices, and a map of the park: https://www.loroparque.com/
Check out Loro Parque tours and activities
5. Siam Park
Another spectacular adventure park is located in the south of the island near the town of Los Cristianos, approximately 77 km/48 miles (a 50-minute drive) southwest of Tenerife cruise port.
Siam Park has been voted many times the best water park in the world by Trip Advisor users. Set in a lush, green tropical environment, this Thai-themed water park offers unlimited fun for families and adrenaline seekers. The park features a purpose-built sandy beach with beach facilities, bars and restaurants, a large wave pool, children's play areas (the Lost City, Jungle Snake, The Giant…), and adrenaline attractions including Mekong Rapids, Dragon, Tower of Power, The Vulcano, and Singha water roller coaster.
The magical water kingdom of Siam will amaze you regardless of your age, and the ultimate fun is guaranteed! Get more info on the Siam Park official webpage: https://www.siampark.net/
Explore Siam Park tours and activities
6. Puerto de la Cruz
This charming town is located on Tenerife's western coast, near Loro Park, around 38 km/24 miles (a 30-minute drive) from the port of Tenerife. Tucked in the scenic Orotava Valley, Puerto de la Cruz is a lively resort and one of the top destinations in Tenerife.
The bustling town is known for its old harbour, black volcanic sand beaches, narrow cobbled streets and quaint plazas. The main attractions include:
Lago Martiánez – a large, artificial seawater lake and swimming pool complex designed by the famous Canary architect César Manrique
Botanical Gardens (Jardín Botánico) dating from the 18th century
Plaza del Charco – the main square
Church of Nuestra Señora de la Peña de Francia
Numerous parks and black sandy beaches such as Playa Jardín, Playa del Castillo, and Playa de Martiánez
Loro Park is located only a 10-minute drive from the town. Cruise lines and independent tour operators usually offer tours to Puerto de la Cruz.
Check out Puerto de la Cruz tours and activities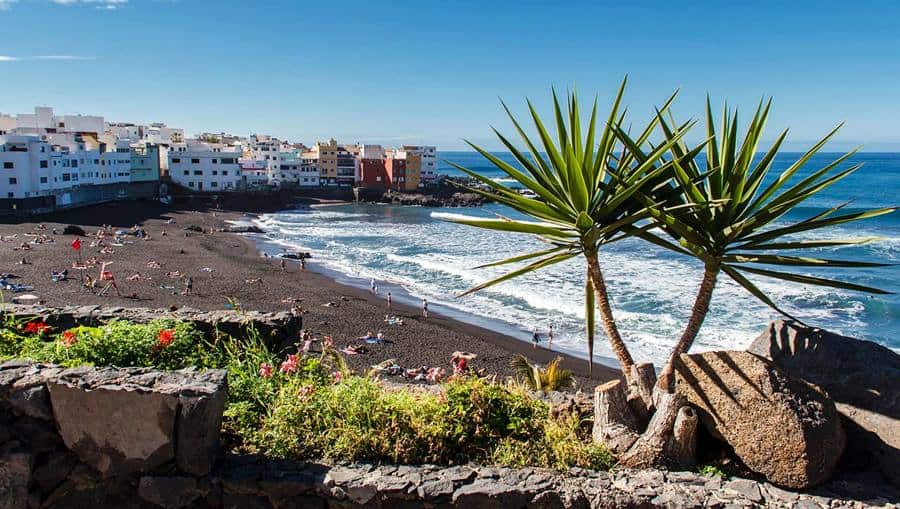 7. La Orotava
La Orotava Valley stretches from the Teide Volcano to the sea and is one of the most idyllic regions dotted with vineyards, banana plantations, green palm groves and black volcanic beaches.
La Orotava is a historic town located in Orotava Valley near Puerto de la Cruz, about 37 km/23 miles (a 35-minute drive) southwest of the Tenerife cruise terminal. The picturesque town is famous for its heritage-listed old town filled with colorful houses, churches, museums, manor houses and gardens. Wandering around its streets, make sure you taste the local wine and traditional cuisine in one of the quaint coffee shops and restaurants. The town of La Orotava is hilly, so make sure you wear comfortable footwear.
Some of the main attractions include:
Church of Our Lady of Conception (Iglesia de La Concepción) – The 18th-century Baroque church
Church of San Agustín (Iglesia de San Agustin) from the 17th century
La Casa de los Balcones – a historic house that houses the museum
Plaza del Ayuntamiento – Town Hall square
Jardines Marquesado de la Quinta Roja
Liceo de Taoro
Mirador de Humboldt – a viewpoint offering the magnificent panoramic views of the island
La Orotava Valley is also popular for activities such as hiking, horseback riding, cycling, walking, sailing, or diving. With their black sands and spectacular surroundings, Playa del Socorro and Playa El Bollullo are the best beaches in this area.
Due to the region's centuries-old winemaking tradition, local wine tasting is a must in one of the local "bodegas" (wineries). Tenerife boasts premium quality wines and numerous wine-tasting tours are available.
Check out La Orotava tours and activities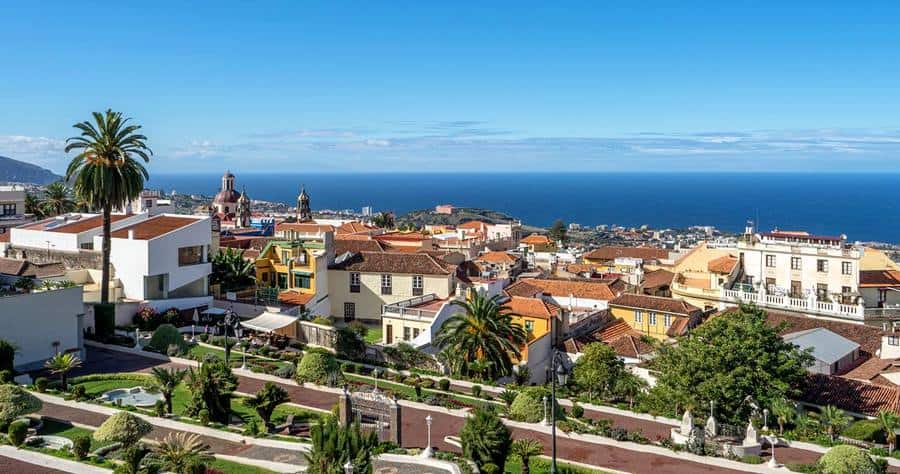 8. San Cristóbal de La Laguna
Commonly known as La Laguna, this city is the ancient capital of the Canary Islands and the only city in the Canaries that has been declared a UNESCO World Heritage Site. La Laguna is known for its picturesque colonial architecture and old town where you'll find a large number of churches and other historic religious buildings (Catedral de San Cristobal de La Laguna, Iglesia de la Concepción, Real Santuario del Santísimo Cristo de La Laguna, Church of Santo Domingo de Guzmán), palaces (Salazar Palace, Nava Palace), squares, and museums (Museum of the History of Tenerife).
Plaza del Adelantado is the main square of the city, while those of you who look for authentic tastes can visit La Laguna Market or one of the many tapas bars. The city is also home to the University of La Laguna, the first university in the Canary Islands founded at the beginning of the 20th century.
The charming city of La Laguna is located only 12 km/7.5 miles (a 20-minute drive) northwest of Santa Cruz de Tenerife port. Tram line 1 connects Santa Cruz and La Laguna, and is the fastest and most convenient way to travel between the cities.
Check out San Cristobal de La Laguna tours and activities
9. Anaga Rural Park
Spreading over 14,419 hectares, the protected area of the natural park of Anaga occupies a large part of the Anaga mountains located at the northeastern tip of Tenerife. With impressive mountain peaks, peaceful valleys, rugged cliffs, rural settlements and diverse endemic flora and fauna, Anaga National Park is a paradise for nature enthusiasts!
Here, you can hike on one of the numerous hiking trails, do mountain biking or horseback riding, or enjoy watersports on one of the black volcanic beaches (Playa de Benijo is ideal for surfing). Anaga National Park is located around 25 km/16 miles (a 40-minute drive) north of the port of Tenerife.
Explore Anaga Rural Park tours and activities
10. Masca Valley
Masca Valley is nestled in the far west of the island, around 80 km/50 miles (1h 30 min drive) from Tenerife port. Known for its wild landscapes and dramatic sceneries, the valley got its name after the small Masca village that lies at the head of the Masca Gorge. The most popular activity here is a fascinating hike through the gorge from the village to the black sand beach, surely one of the most scenic hikes you'll ever do!
See the list of Masca Valley tours and activities
Wrapping Up
Whether you decide to explore Tenerife's bustling resorts and historic towns, go for a beach break or visit the island's natural wonders, this incredible cruise port offers many choices for everyone's taste! Make sure you plan your day ahead to get the most out of Tenerife port.
Visit also our cruise port guides to Las Palmas de Gran Canaria, Lanzarote, Santa Cruz de La Palma, Barcelona, Valencia, Malaga, Palma de Mallorca, La Coruna, Vigo, Cartagena, Cadiz, Alicante, Bilbao, Madeira, Lisbon
---
You May Also Like:
25 Top Shore Excursion Packing List Items
What to Pack for a Cruise in 2023 – Top 60 Cruise Essentials
Mediterranean Cruise Port Guides
Don't forget to subscribe below and get my exclusive SHORE EXCURSION GUIDE FOR FREE!
This article may contain affiliate / compensated links. For full information, please see my disclaimer here.