Welcome to Palma de Mallorca cruise port!
Stunning natural attractions, breathtaking beaches, flamenco vibes, and vibrant capital… Palma de Mallorca, the largest of the Balearic Islands (Palma de Mallorca, Ibiza, Menorca, and Formentera), is nestled just off the east coast of Spain.
Tucked in the bay on the southwest coast of the island, Palma is its lively capital and the main cruise port offering a wide variety of attractions and things to do. I've been to Palma de Mallorca several times on a cruise ship and fell in love with the island! In this article, I share with you info on:
Palma de Mallorca cruise port (Palma de Mallorca cruise terminal, getting around)
15 best things to do in Palma de Mallorca port & best shore excursions
Visit our cruise port guides for Ibiza, Barcelona, Valencia, Sardinia (Cagliari), Cartagena, Cannes, Cadiz,  Marseille, Civitavecchia (Rome), Naples, Livorno, La Spezia (Florence), Palermo, Ajaccio (Corsica)
Search the best Mediterranean cruise deals!
Palma de Mallorca Cruise Port
Cruise ships dock at Estacion Maritima, which consists of two main cruise terminals: Muelle de Poniente and Dique del Oeste.
Muelle de Poniente is a modern cruise and ferry terminal where the majority of cruise liners dock. It has 4 terminal buildings (Estacion Maritima 1,2,3 and 4) equipped with modern facilities such as ATMs, banks, restrooms, and a luggage check-in area. Taxis and buses are available outside on the pier.
Palma city center is located 4.5 km/2.8 miles (a 15-minute driving distance) from the port of Palma. You can also walk to the center which takes approximately 45 minutes. The port area is huge and scenic, and the walk is quite enjoyable as you walk along the waterfront marina filled with boats and luxurious yachts. However, make sure you have comfortable shoes, a hat, and keep hydrated, as there is limited shade on the way downtown. The ferry terminal is also here, and the ferries to the mainland and the other Balearic Islands run frequently.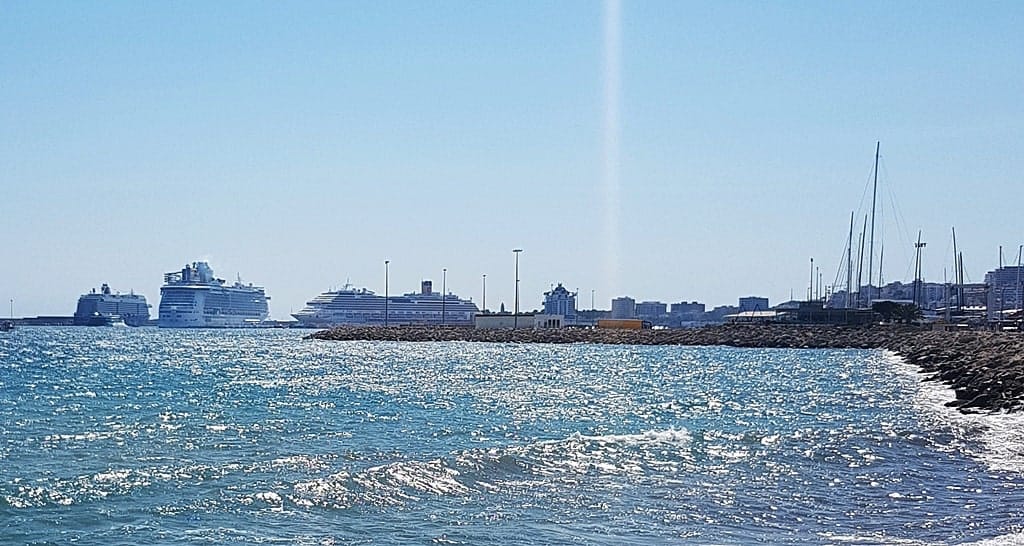 Dique del Oeste is an alternative cruise terminal used by large cruise ships and on occasions when Muelle de Poniente is busy. It is located by the industrial zone, near Castell de Sant Carles – a castle transformed into a military museum, and a centuries-old Porto Pi lighthouse. This terminal is situated approximately 8 km/5 mi from the city center and consists of 4 berths.
The terminal building is equipped with some basic facilities including restrooms, ATMs and a cafeteria, and the whole area offers wonderful views of the city. Shuttle buses and taxis are available on the vast pier outside, and the ride to the city center takes approximately 20 minutes. It takes around a 1h 10-minute to reach downtown on foot. Porto Pi shopping mall is located nearby, and you can get there in 20 minutes by walk.
How to Get to the Palma City Center from the Palma de Mallorca Cruise Terminal?
There are several ways to reach Palma city center no matter where your cruise ship is docked.
By shuttle bus – Cruise lines normally provide shuttle buses and charge a fee for round-trip transfers. They pick you up at the terminal and drop you off a 5-minute walk from Palma Cathedral, one of the main historic landmarks. The ride takes around 10-15 minutes one-way, depending on where your ship is docked. Shuttle buses cost around 15

€  per person/round-trip which can be quite pricey if you travel with a family or in a group. Shuttle buses run frequently, especially in the morning when many cruise passengers go out in port.

By taxi – A line of taxis is available on the pier, right outside of the ship. The taxis are metered and quite expensive, however, it's a cheaper option as the price is charged per vehicle. A one-way taxi ride from the Palma cruise terminal into the city center costs around 15€ per vehicle, depending on the location of the terminal. The taxi ride lasts 10-15 minutes.
By public bus – The local bus is the cheapest and most affordable means of transport to get around Palma. The bus N°1 connects the cruise terminals to the main Palma highlights and the city's surroundings, and the bus stop is located right outside the terminal area. The bus company is EMT, and buses run approximately every 15 minutes. The ride lasts around 10-15 minutes, and the ticket costs 2.50€ per person one-way. If your ship is docked at Muelle de Poniente, you'll find the bus stop by the cruise terminal exit, and if you are docked at Dique del Oeste, the bus stop is located opposite the Castle of San Carlos. Find more information on the

EMT company website

By Hop on Hop off bus – If you opt for a Palma sightseeing tour, the best way to do that is by hopping on one of the Hop on Hop off buses that you'll find near the cruise terminal. The buses run every 45 minutes, and the prices start at 18€ per ticket. You can buy them on the bus, but it's recommended to get them ahead to avoid the lack of tickets. Each ticket is valid for 24 hours, and you can hop on and off as much as you want at the main sights of Palma: Cathedral of Palma, Pueblo Español, Bellver Castle, La Rambla, Fundació Pilar I Joan Miró, Royal Palace of La Almudaina, and others. Check out Palma de Mallorca Hop on Hop off sightseeing bus tours on

Viator

and

Get Your Guide
Helpful info & links:
The currency in Spain is EURO (€). Local currency and credit cards are widely accepted. ATMs are available in the cruise terminals and in the city center. See the

currency converter

Palma Intermodal Station (Estació Intermodal) is Palma's main bus and train terminal. It is located in Plaça d'Espanya, approximately 1.5 km/1 mile (a 20-minute drive) northeast of Palma Cathedral and the city center. You can check the timetables and fares at the official TIB website (Transports de les Illes Balears)

https://www.tib.org/

Palma de Mallorca Airport is located 10 km/6 miles (a 15-minute drive) east of Palma city center.
The weather in Palma de Mallorca has a Mediterranean climate with warm, pleasant summers and mild winters. To get useful cruise packing tips, check out my article

What to Pack for a Cruise in 2023 – Top 60 Cruise Essentials
15 Best Things to Do in Palma de Mallorca Cruise Port
Before I share the best things to do in Palma de Mallorca, I invite you to grab your copy of the "Mediterranean Cruise Port Guide", the most comprehensive guide to 45 Mediterranean cruise ports (including Palma de Mallorca), packed with practical information, expert tips & unforgettable experiences! (PDF format/200 pages)

Ultimate Guide to Mediterranean Cruise Ports
Plan your Cruise Itinerary in Less than an Hour and Maximize Your Port
Experience!
1. Palma Cathedral
The Cathedral of Santa Maria of Palma, also known as La Seu, is an awe-inspiring Gothic cathedral and one of the most famous historic landmarks in the city. To get there from the Palma de Mallorca port, you need to jump on a bus, taxi, or hop on hop off, and in less than 15 minutes you'll reach this stunning architectural gem. It is located in the heart of the old town, in an area filled with shops, cafes, restaurants, and other cultural and historic attractions.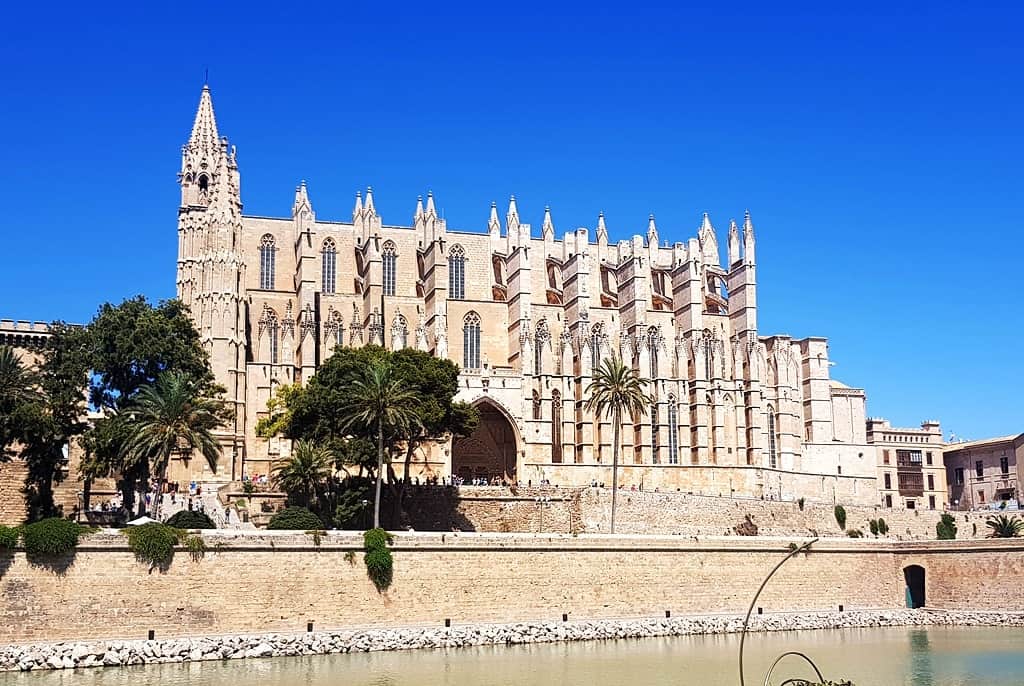 The construction of the monumental cathedral started in the 13th century and took several centuries to complete. It features several different architectural styles, including Gothic, Renaissance, Baroque and Classicism elements. The modernist Catalan architect Antoni Gaudi (the creator of Sagrada Familia) worked on the restoration and decoration of the cathedral in the 20th century. Its central nave is 44 m (144 ft) high, which makes it one of the tallest cathedrals in Europe.
The general admission fee is 9€ per person, and there is a possibility to upgrade to an audio tour that will allow you to learn about the cathedral's history and development throughout the centuries. Besides the impressive exterior and massive walls, La Seu boasts one of the world's largest rose windows and an equally beautiful interior worth visiting.
Book skip-the-line Palma Cathedral entry tickets
Explore Palma Cathedral tours and activities
2. Royal Palace of La Almudaina
The imposing La Almudaina palace sits right next to the Palma Cathedral, so you can visit both sights in one day. Originally built in the 10th century as the Muslim fortress (Alcázar), the palace was converted into the Royal Palace for the Mallorca Royalty at the end of the 13th century and is still in use today.
The palace is a magnificent blend of Moorish and Gothic architecture and boasts marvelous courtyards, lavishly decorated chambers, grandiose apartments, and numerous terraces from where you can enjoy breathtaking views of the bay of Palma.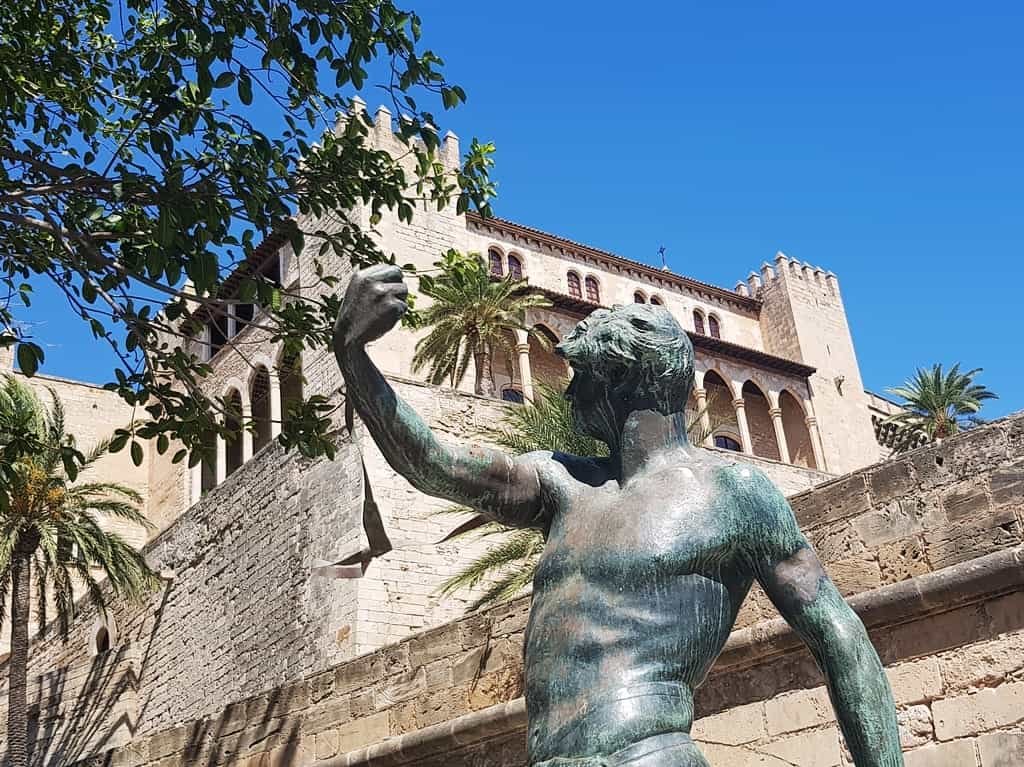 The admission fee for La Almudaina Palace is 7€ per person, and the upgrade to an audio guide is an additional 5€ per device. You can also join a licensed guide on a tour of the palace for an additional 4€ per person. The palace is surrounded by beautiful public Moorish-style gardens and offers wonderful views of the port from its walls and terraces. You'll find plenty of shops, street sellers, restaurants, and tapas bars all around the place.
Explore La Almudaina Palace tours and activities
3. Llotja de Palma
Just a few minutes' walk from Palma Cathedral and La Almudaina Palace you'll come across Sa Llotja, a 15th-century Gothic masterpiece that used to serve as a Merchants' Trading center. You can explore its dramatic arches and stunning architecture while roaming through its halls, admiring the beautiful view of the marina. There is no admission fee. Free access to temporary art exhibitions.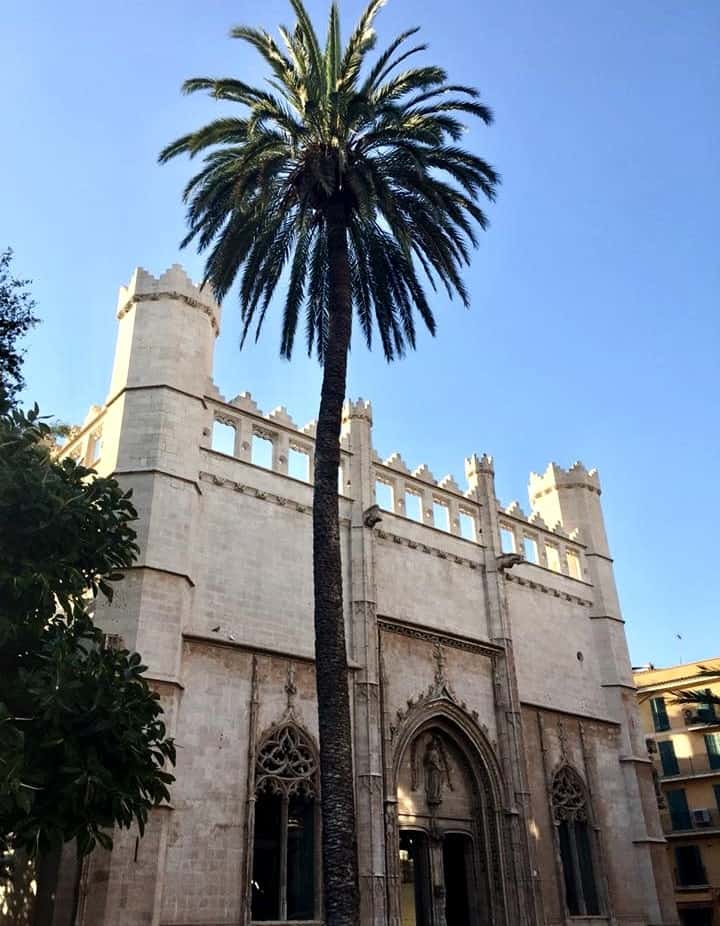 4. Castell de Bellver
The imposing Bellver Castle is a must-see attraction in Palma. It is located on the hill overlooking the city, around a 10-minute driving distance (5.5 km/3.5 miles) from the Palma cruise port.
Castell de Bellver is a 14th-century castle of massive dimensions, set in dense pine woods on the hilltop offering fabulous views of the Palma harbor and the city (Bellver means "lovely view" in Catalan). Throughout history, the castle served as a Royal residence of the Kings of Mallorca, a military prison, and today it houses Palma's Museum of History.
The museum boasts interesting artifacts including pottery from Roman, Arab, and Spanish periods, and a valuable collection of marble sculptures dating from century II AD. The castle is perfectly preserved and entirely circular, which makes it unique in Spain and one of few circular castles in Europe. A visit is worthy and interesting for both kids and adults. The admission fee is 4€ for adults and 2€ for children. Free access on Sundays and for people aged under 14. At the castle, there is also a café where you can buy refreshments.
How to Get to the Bellver Castle from the Palma Cruise Port?
There are a few ways to get to Bellver castle: by booking a shore excursion, by a taxi (a 10-minute ride, the price around 10-15€ per vehicle one-way), renting a car (there is parking outside the castle), and Hop on hop off bus.
You can also take a local bus at the 81-Joan Miro – Corb Mari bus stop located less than a 10-minute walking distance from the cruise terminal. Get off at Plaça Gomila, and then climb up through the pine woods above Carrer de Bellver, passing by Capela de Sant Alonso Rodriguez on your way. You need to be able to walk uphill for approximately 15 minutes, so make sure you have comfortable shoes and keep hydrated. If you walk straight from the Palma Old Town, you'll need about 40 minutes to climb up to the castle.
5. Passeig del Born
Located a stone's throw from La Almudaina palace, Passeig del Born is a notable, tree-lined street filled with shops, cafes, pubs, and bars. It is known as a shopping paradise, where you can find a wide variety of designer stores, such as Zara, Stradivarius, Massimo Dutti, Max Mara, Louis Vuitton, perfume stores, and much more! It is a very nice place where you can walk under the shade of the trees, or relax in one of the street cafes while enjoying tapas or a glass of sangria.
6. Cala Major Beach
Playa de Cala Major is a wonderful sandy beach located approximately a 5-10 minute driving distance from the Palma cruise terminal. It is small, clean and can get very busy. The beach is surrounded by luxurious hotels, and you can find several restaurants and bars in the area. You can rent chairs and umbrellas, and there is no admission fee to enter the beach.
It is a vibrant, cool beach with soft sands and warm, clear waters, and you can even get a massage at a very affordable price. I ate in a restaurant at the beach, and the prices are slightly more expensive than in the city. However, the food was delicious and was worth every euro!
Cala Major beach is one of the best beaches in Palma de Mallorca and one of the nearest to the cruise port. The taxi fare is around 15€ per vehicle one-way, however, agree on the price first! I remember that I was once charged 20€ for the ride to the beach, and on the way back it was 15€, which is a regular price. You can also get there by local bus.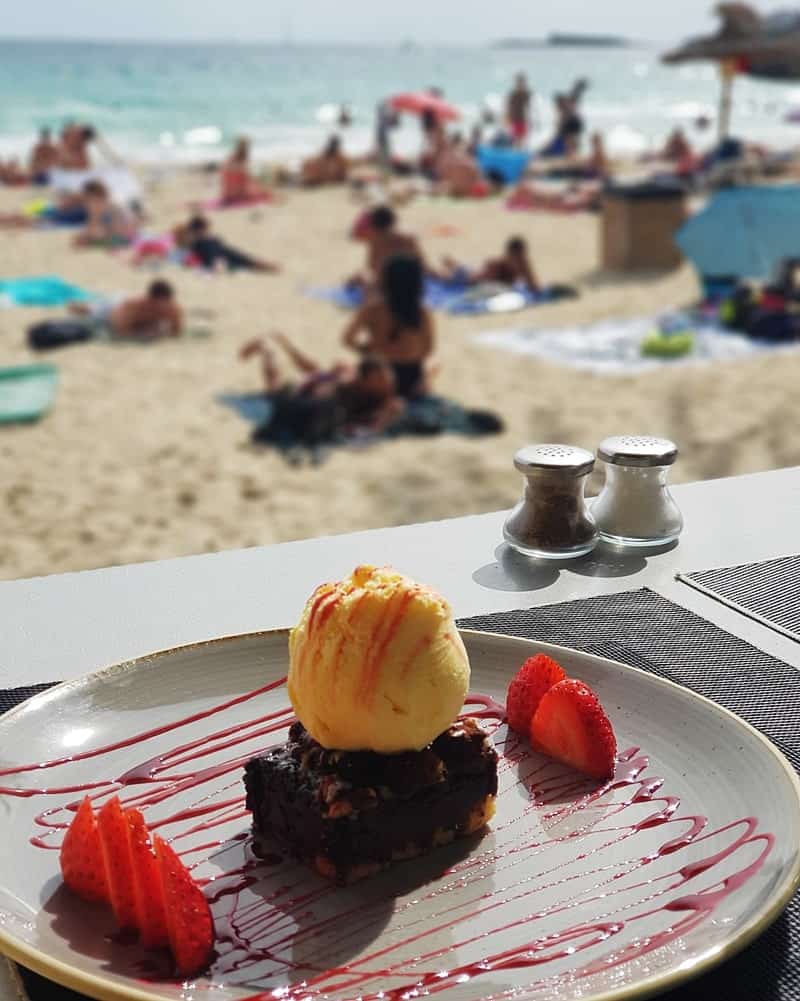 7. Platja Ca'n Pere Antoni
Located 2 km from the city center (a 20-minute walk from Palma Cathedral), Platja Ca'n Pere Antoni is a 750-meter-long public beach offering facilities such as toilets, showers, and several bars and restaurants on its east end.
The beach can easily be spotted from the ship and overlooks the Bay of Palma. It is a man-made beach boasting white, soft sand and refreshing water, ideal for families with kids, couples, and people of all ages. The beach is backed by a beautiful, long waterfront promenade and if you take a walk, you'll reach the Palma Cathedral and the old town in less than 20 minutes.
To get to Platja Ca'n Pere Antoni from the cruise port, you can take a bus or taxi to the city center and walk to the beach, or you can catch a taxi directly to the beach. It is a great place to hang out and enjoy the views of the harbor.
8. Magaluf
Magaluf is located approximately 13 km/8 miles (a 15-minute driving distance) southwest of the port of Palma de Mallorca. It is a popular resort town known for its lively nightlife and golden, sandy beaches. The best beaches in Magaluf are Magaluf Beach (Playa de Magaluf), Son Matias Beach, and Palmanova Beach.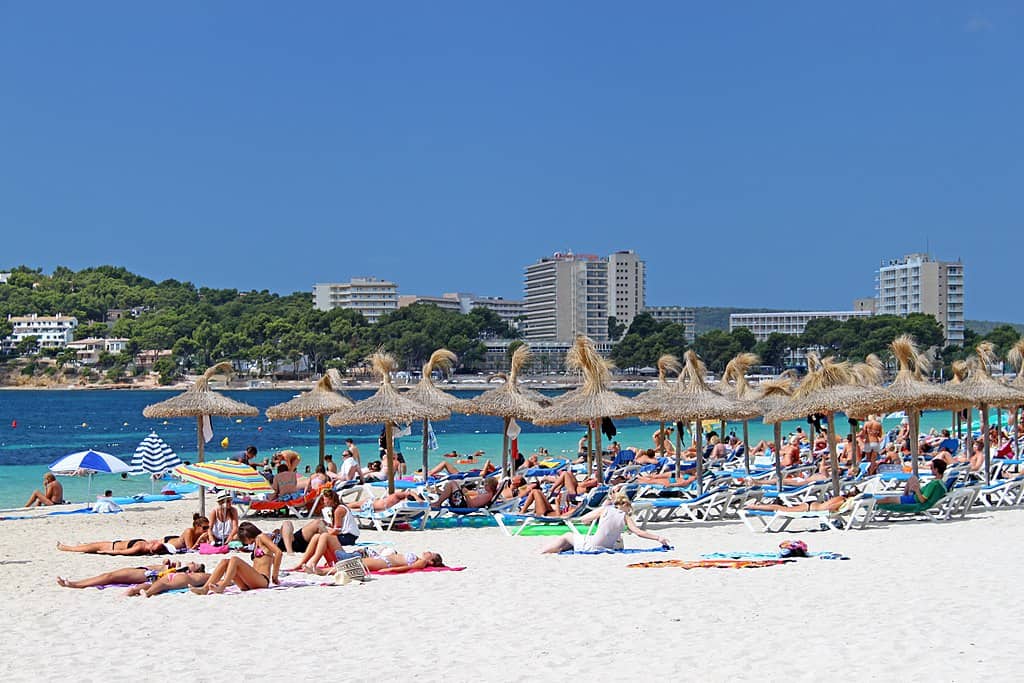 Platja de Magaluf is a long stretch of white sands with an attractive seafront promenade lined with luxurious hotel resorts, beach clubs, bars and restaurants, and a great variety of activities to offer. In the vicinity, you can enjoy a wide range of attractions such as theme parks (Western Water Park, Katmandu Park), leisure activities, watersports (jet-skiing, banana boat rides, snorkeling, kite surfing, scuba diving…) and much more!
Another famous beach is Son Matias Beach, located within a 10-minute walk from Playa de Magaluf. It is 1.2 km long and very wide, sandy with crystal clear, turquoise waters. Playa de Palmanova is nestled right next to it and belongs to the nearby resort of Palma Nova which you can access by walk. Overall, these beaches are absolutely breathtaking and if you look for a fun-filled day, Spanish vibes, and a warm Mediterranean sun, Magaluf is the place to go!
To get to Magaluf, I suggest you take a taxi because the local bus might take up a lot of time. The taxi fare is around 40€ per vehicle one-way. An alternative option is to book a private transfer or a shore excursion to Magaluf. Make sure to bring cash (euros) to Palma Nova and Magaluf, as in most places foreign currency and credit cards are not accepted.
Check out Palma de Mallorca sightseeing tours and activities
9. Caves of Drach
Drach Caves (Cuevas del Drach) are one of the most impressive caves I've ever been to in my whole life! It's an absolutely spectacular place that I highly recommend you visit either on a cruise ship excursion or on your own.
Drach caves are located on the east coast of Palma de Mallorca, in the town of Porto Cristo, 70 km/45 miles (a 1-hour drive) from the port of Palma. The fascinating cave system is one of the most visited attractions on the island due to one of the largest underwater lakes in the world – Lake Martel. A part of the 4 km long cave system that you will explore is around 1.200 m (3.940 ft) long and reaches a depth of 25 m (82 ft) below ground level.
During your walk through the caves, take in the views of the surreal turquoise water of numerous small lakes and jaw-dropping geological formations, and enjoy a boat ride on Lake Martel.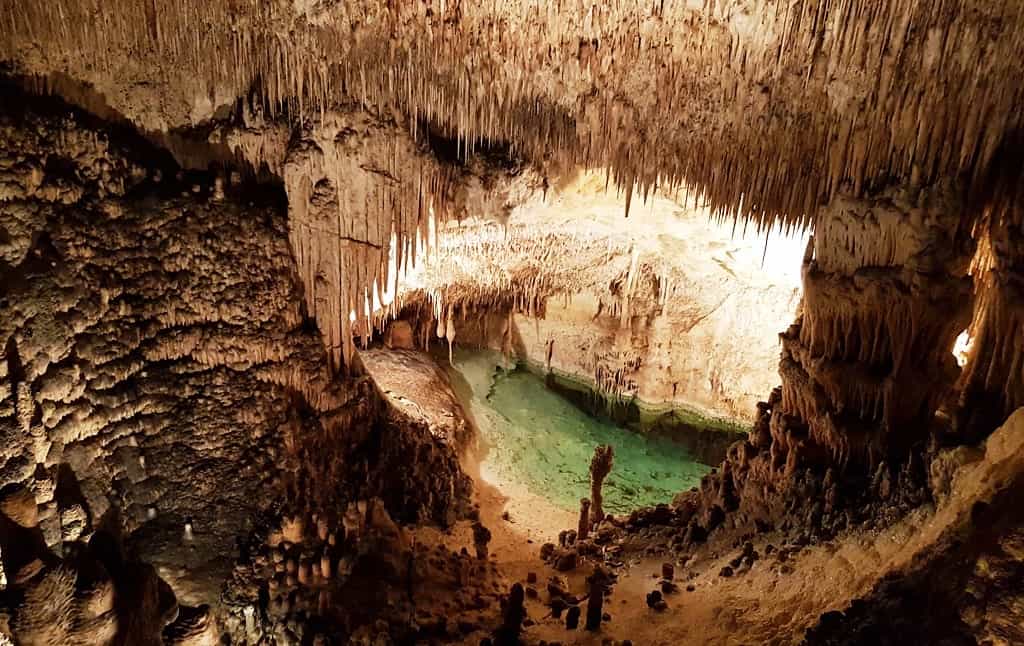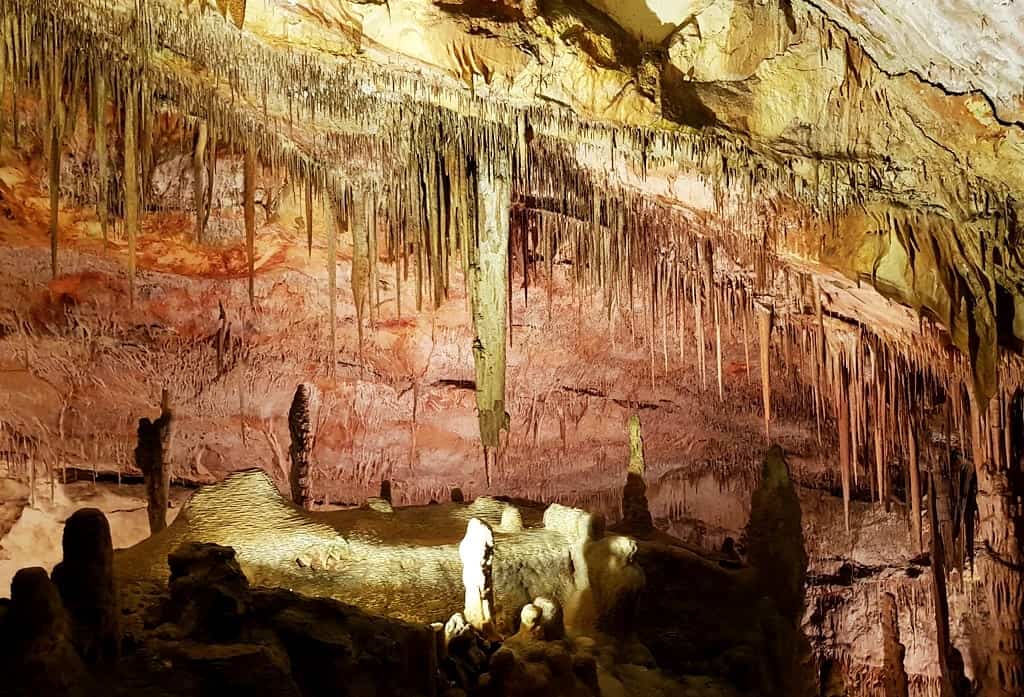 The highlight of Drach Caves' visit is the live concert by the Lake Martel. Once you take your seat in a large hall by the lake, the lights turn off and the magic begins! While you listen to the performers playing enchanting music on the boats floating across the lake, you'll feel goosebumps all over your body! The scene is absolutely surreal, and a moment that you'll remember for a lifetime!
You can't take photos or video during the concert, which approximately lasts 20 minutes. When it finishes, you'll be given an opportunity to walk to the exit of the cave or take a boat ride back. A boat ride lasts only 5 minutes and the lake is not that huge, so in case it's crowded, skip the lines for the boat and walk to the exit. That's how my friends and I did it.
The Caves of Drack are not wheelchair accessible and not recommended for people with walking difficulties. The place is usually packed with tourists, but don't be discouraged – it's totally worth a visit! Near the entrance to the cave, there is a large bar-restaurant where you can buy food and snacks, public restrooms, gift shops, and a ticket office. The admission fee is 16.50€ (online)/17.50€ (bought on-site) for adults and 9.50€ (online)/10.50€ for children 3-12 years old. Buy tickets here.
In case you decide to come on your own, you can rent a car, book a private transfer, or take a taxi (the ride costs approx. 80€ per vehicle one way). Alternatively, there are many Drach Caves tours offered by cruise lines and independent tour operators, which I recommend you book for two reasons:
The distance between Palma and Caves of Drach is long and the ship is in port for a half-day, so make sure you take an organized tour that guarantees to bring you back to the cruise ship on time.
Flexible cancelation options.
Explore the best Caves of Drach tours and activities
10. Flamenco Show at Son Amar
It is believed that the flamenco show at Son Amar performing arts theater is one of the best in the world! This is where the Spanish tradition comes to life and where the fantastic performance of professional flamenco artists sets your soul on fire! The performers are passionate, attractive, beautiful, and highly professional, which makes the whole show unique and unforgettable!
During the show, the tapas and sangria are served to complete your experience to the fullest! I went to the show and it was brilliant! I highly suggest you go for it as it's by far the best "passion show" you'll ever see!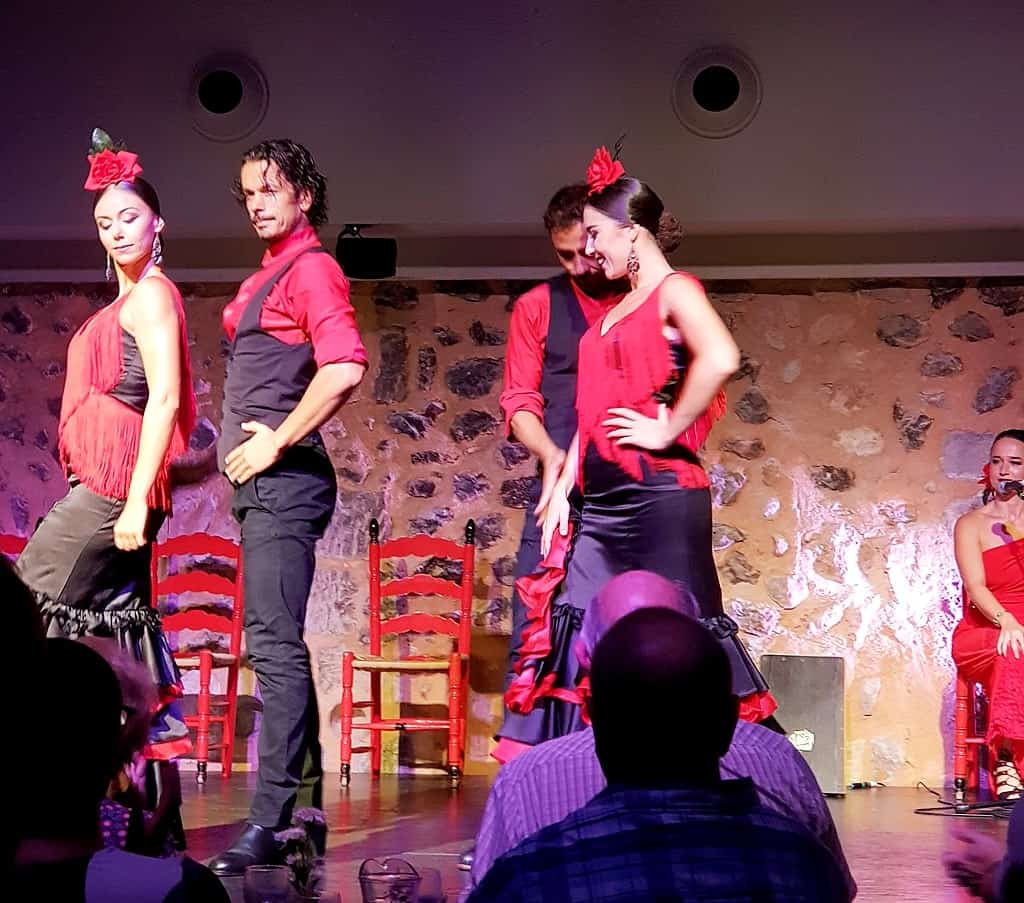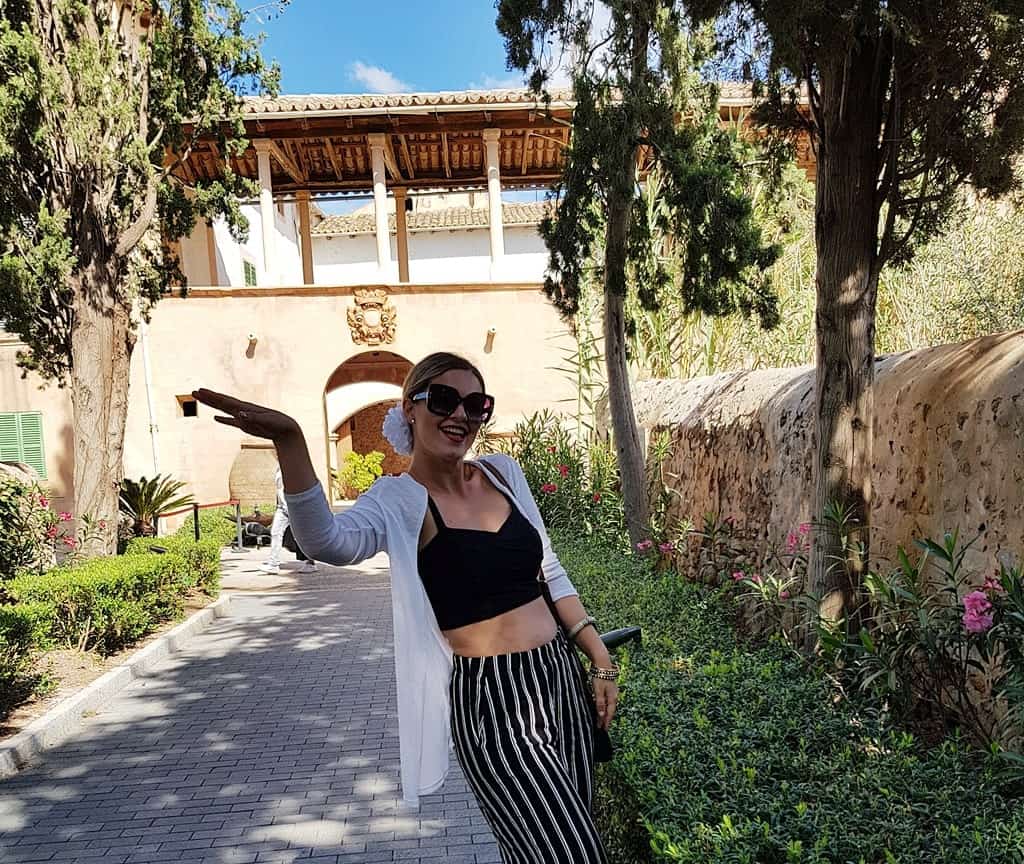 Son Amar estate is set in a wonderful Mallorca countryside, approximately 20 minutes driving distance (18 km/11 miles) from Palma cruise port. If you decide to go on your own, you need to book the tickets ahead but it's not guaranteed they will have a show at that time. The best option is to book a cruise ship shore excursion, so everything is organized for you and your return to the ship is guaranteed. For those of you who stay several days in Mallorca, you can book an evening flamenco show with dinner included.
11. Fundació Pilar i Joan Miró in Mallorca
Pilar and Joan Miro Foundation in Mallorca is a must-see place for art lovers. The museum is dedicated to the Spanish painter, sculptor, and ceramicist Joan Miro who lived and created in Palma de Mallorca for over 30 years.
The museum contains outstanding collections donated by Miró, including the artist's studios – the Sert Studio and Son Boter, together with artworks, documents, and objects found inside. Over 7000 works of art, including paintings, sculptures, drawings, graphic work, and a part of his personal library can be explored in the museum. A beautiful sculpture garden and a lovely café are part of the museum, so you can walk around and relax while taking in the views of the harbor.
The museum is located a bit further from the Palma city center (around 15 minutes drive), but quite close to the cruise terminal – only a 5-minute ride, or a 25-minute walk. It is situated only 500 m from Cala Major beach, so if you want to soak up some modern art before heading to the beach, that's the way to go!
The admission fee is 10€. Admission is free of charge for ages under 16, on Saturdays from 3 PM to 6 PM, and every first Sunday of every month from 10 AM to 3 PM. You can go there by taxi, Hop on Hop off bus, EMT buses 46, 3, and 20 (a bus stop is near the cruise terminal), and TIB bus 104.
Book Miró Foundation entrance ticket
12. Palma Aquarium
If you are coming to Palma de Mallorca with kids and want to spend a memorable, fun-filled day, head over to Palma Aquarium, a beautiful marine park featuring over 700 species from the Mediterranean Sea, Indian, Atlantic, and Pacific Oceans. More than 25 aquariums filled with incredible sea animals, a shark boat, a 3D whale experience, open-air gardens, and a large outdoor playground for kids await you on this unique Mallorca adventure!
The whole area is wheelchair accessible, and the admission ticket is 31.50€ for adults and 21€ for children. Palma Aquarium is located 15 minutes drive from the Palma cruise terminal, near the Palma de Mallorca airport. You can reach it by taxi, or local bus (N° 23, 35, TIB 520).
Explore Palma Aquarium tours and tickets
13. Mercado de l'Olivar
If you seek an authentic gastronomic experience, Palma de Mallorca has several markets where you can delight in fresh Spanish homemade products such as cheese, seafood, pastries, fruits, vegetables, fish, meat, and more. Housed in a large historic building, Mercat de l'Olivar is one of the most famous indoor markets in Palma.
Besides the fresh products, there are small eateries where you can taste delicious tapas with wine and beer. This is a must see place if you want to feel like a local and indulge in local specialties. Another popular market is Mercat de Santa Catalina, located close to the marina. Mercat de l'Olivar and Mercat de Santa Catalina are both located within a 10-15 minute walking distance from the Palma Cathedral.
Explore the Palma food-tasting tours and activities
14. Pueblo Espanol
Poble Espanyol de Mallorca is located a 40-minute walking distance from the cruise port or less than a 10-minute drive. It is a popular museum and event space housed in a replica of a Spanish village featuring Spanish attractions, buildings, and historic landmarks.
If you are a history lover and want to learn about Spanish culture and customs, you should visit this authentic complex that will throw you back to different eras in the history of Spain. You'll discover the rich architectural heritage of different parts of Spain, enjoy the open-air cultural performances, craft workshops, art exhibitions, and much more. The place is family-friendly and attracts people of all ages. The admission fee is 9€.
15. Valldemossa
Set in a lush valley and surrounded by dense forests of the Tramuntana mountains, Valldemossa is an idyllic village situated a 25-minute drive north of the Palma de Mallorca cruise dock. The picturesque, quiet streets, shops, restaurants, art galleries, and numerous walking/hiking trails attract visitors who want to indulge in Spanish culture and intact nature.
Valldemossa is famous for Real Cartuja de Valldemossa, the 13th-century Carthusian monastery that was originally founded as a Royal residence of King Sancho of Majorca. Throughout centuries many writers and artists have found inspiration in charming Valldemossa, and the most famous one is the composer Frederic Chopin who spent one winter in the monastery with the French writer George Sand.
The monastery is a museum open to the public, and you can visit Chopin's room, an old pharmacy, a library, an art gallery, and other rooms. The Palau del Rei Sanç (Palace of King Sancho) and Jardins Rei Joan Carles gardens are two other beautiful attractions located next to the monastery. It is best to visit Valldemossa on a guided tour or by taxi (a ride costs around 50€ per vehicle one way).
Explore Valldemossa tours and activities
Wrapping Up
In one of my previous articles about Spanish ports of call, I said that Spain is an unfinished book that waits to be read again, and again… There is something magical about this mystical country! I hope that my article gave you some ideas about how to spend a day in Palma de Mallorca and provided you with all the necessary practical information.
Visit our cruise port guides for Ibiza, Barcelona, Valencia, Sardinia (Cagliari), Cartagena, Cannes, Cadiz,  Marseille, Civitavecchia (Rome), Naples, Livorno, La Spezia (Florence), Palermo, Ajaccio (Corsica)
---
Don't miss out on the opportunity to enhance your Mediterranean cruise experience with our "Mediterranean Cruise Port Guide"- your ultimate companion to discovering the region's hidden treasures and creating unforgettable memories; click below to purchase your copy today and embark on the voyage of a lifetime!

Ultimate Guide to Mediterranean Cruise Ports
Plan your Cruise Itinerary in Less than an Hour and Maximize Your Port
Experience!
---
You May Also Like:
25 Top Shore Excursion Packing List Items
What to Pack for a Cruise in 2023 – Top 60 Cruise Essentials
Mediterranean Cruise Port Guides
This article may contain affiliate / compensated links. For full information, please see my disclaimer here.