Welcome to Stockholm cruise port guide!
Stockholm, the capital of Sweden and a major Baltic Sea cruise port boasts breathtaking sail in, so make sure you are on the upper decks as your ship navigates through the magnificent archipelago consisting of over 24.000 islands! The Swedish capital is built upon 14 islands connected by 57 bridges, earning Stockholm its romantic nickname "Beauty on the Water". The city of Stockholm is known for its museums, picturesque old town, beautiful architecture, open-air venues, great food, and welcoming locals. In this insider guide, you'll read about:
Stockholm cruise port (Stockholm cruise terminal, getting around, helpful info)
10 best things to do in Stockholm port and best Stockholm shore excursions
Search the best European cruise deals!
Stockholm Cruise Port
The port of Stockholm consists of three main cruise terminals: Skeppsbron, Stadsgården, and Frihamnen terminal. Smaller ships dock on Skeppsbron Quay in the old town, while bigger cruise ships dock at Stadsgarden and Frihamnen terminals.
1. Skeppsbron 
This cruise terminal is located right in Gamla Stan (the old town) and can only accommodate smaller vessels. You can reach the old town in a 5-minute walk (400 meters).
2. Stadsgarden
Stadsgården pier is the most convenient for larger ships as it is located not too far from the city center (Old Town is situated 1.6 miles or a 30-minute walk from the cruise terminal). This pier has a small terminal building with some basic facilities and overlooks Fotografiska, the Museum of Photography.
Getting from Stadsgården pier to Stockholm city center:
Shuttle bus – Cruise lines normally offer a convenient round-trip shuttle service for a nominal fee (around 12€ per person) and tickets must be purchased on board the ship prior to arrival to port. Shuttles normally drop you off at the Royal Palace, located in the heart of Gamla Stan Old Town.
Guests wishing to reach the city center on foot can follow the blue line from the port entrance. A walk takes 30 minutes.
Ferry boats and Hop on Hop off boats – The boats are available at the end of the pier and they depart every 45 minutes.
Hop on Hop off buses are available at the Stadsgården terminal. There are several different companies (red and green buses) offering rides, and prices vary on the tour package (24/72-hour ticket, combo packages

Hop on Hop off bus + boat tour

, or single

Hop on Hop off bus tour

). The itinerary includes over 20 stops at Stockholm's most popular attractions, including The Royal Palace, Vasa Museum, Strandvägen, ABBA The Museum, Skansen, Stadshuset, and others. Check out Stockholm Hop on Hop off bus & boat tours on Viator

and

Get Your Guide

Public bus – Once you exit the ship, walk 10 minutes and you'll reach Folkungagatan station where you need to take bus #53 to the city center. Bus tickets need to be purchased in advance, and you can do it at the tourist information booth by the pier (credit cards accepted), at a ticket machine by the bus stop, or by using the smartphone app "SL Journeyplanner and tickets". Check the timetables and prices at

https://sl.se/

Taxi – Taxis are also available at the different piers, however, remember that like in any other Scandinavian country, taxi fares are not cheap.  Yellow plate taxis are approved and normally metered. If you choose any other taxi, make sure to check the cost with the driver beforehand to avoid surprises. Uber app is also available in Stockholm. The taxi from Stadsgården Pier shouldn't charge you more than 170 SEK per vehicle one-way (around 15€).
3. Frihamnen
Frihamnen Quay is the largest Stockholm cruise terminal that can accommodate up to 5 ships and is normally used for ships' turnaround days (for cruises starting and ending in Stockholm). It has a modern terminal building offering facilities including a tourist information center, eateries, cafes, Wi-Fi, and parking for taxis and buses. Frihamnen terminal is located 4.2 km/2.6 miles from Stockholm's old town and can be reached within a 10-minute drive.
Getting from Frihamnen Quay to Stockholm city center:
Shuttle buses are normally offered by the cruise line for a nominal fee (around 12€ per person) and tickets must be purchased on board the ship prior to arrival at port. Shuttles drop you off at the Gamla Stan, the historic core of Stockholm.
Public bus – You can take bus #76 and get off at the Slottsbacken bus stop which is located on the backside of the Royal Palace. Buses are wheelchair accessible and they run every 10 minutes. The single ticket costs 39 SEK (around 3.40€) and is valid for 75 minutes. A 24-hour pass is 165 SEK (around 14.30€). Check the timetables at

https://sl.se/

Hop on Hop off bus
Taxi 
4. Värtahamnen
This terminal is located even further from the old town (around 2.8 miles) and is normally used by ferry lines (here you can catch a ferry to Tallinn), but can also be used for cruise ships. The distance between Frihamnen cruise terminal and Värtahamnen is a 20-minute walk (5 minutes drive).
Some ships may anchor at Nynahamn, located 67 km (around 40 miles) south of Stockholm. In your ship anchors here, you can take a train to Stockholm (a 1-hour ride) which runs twice per hour.
Helpful info & tips:
Check out the Stockholm cruise port schedule at

www.portsofstockholm.com/

The currency in Stockholm is the Swedish Krona (SEK). 1 USD equals approx. 10.50 SEK. Local currency and credit cards are widely accepted. See the

currency converter

Stockholm Pass is a convenient sightseeing package available for 1, 2, or 3 days duration and includes free entry to 60+ attractions and museums as well as free bus and boat tours.

Book a Stockholm Pass

Stockholm has an efficient and reliable public transportation network that consists of buses, trams, subway, ferries and trains. The public transportation is operated by Storstockholms Lokaltrafik – SL and you can check the routes, schedules and prices at the official website

https://sl.se/

Stockholm has a humid continental climate with cold winters and comfortable summers. For useful cruise packing tips, check out my article

What to Pack for a Cruise in 2023 – Top 60 Cruise Essentials

Stockholm Arlanda Airport is located 45 km/28 miles (a 40-minute drive) north of Stockholm city center.
10 Best Things to Do in Stockholm Cruise Port
Always take into consideration the scheduled time in the port of your ship when planning your day ashore. If it is your first time here, consider taking a guided tour to maximize your day in Stockholm.
1. The Royal Palace
Nestled in the heart of Gamla Stan, the historic core of Stockholm, the imposing Stockholm Royal Palace (Kungliga slottet) is one of the largest and most active palaces in Europe and the official residence of the Swedish monarchy. Designed in an elegant Baroque style, the 18th-century Royal Palace is open to the public and you can visit numerous halls and rooms on a guided visit, including the three museums and a vast library.
You can visit the reception rooms, Rikssalen (the Hall of State) with Queen Kristina's silver throne, and Ordenssalarna (Halls of the Orders of Chivalry). You can also see the three museums: Gustav III's Museum of Antiquities, the Tre Kronor Museum, and the Treasury with the regalia. Make sure not to miss the changing of the guards at 12:15 pm on weekdays and 1:15 pm on Sundays. This ceremony lasts approximately 40 minutes.
Admission tickets are required and can be purchased online or directly at the entrance. The entrance fee for adults is 160 SEK and for kids and teenagers aged 7-17 80 SEK. Once the palace reopens, the prices will be updated. Guided tours are also available but cannot be booked in advance. The guided tours are free of charge for children under 18.
Royal Apartments can be closed if there's an official reception taking place. Guests with mobility challenges can access the Reception Room, the Treasury, and the Tre Kronor Museum as there is a lift available. Please note that large bags and backpacks are not allowed inside the palace and must be stored in lockers during your visit. For more information, check out the Royal Palace website
Explore Stockholm Royal Palace tours and activities
2. Stockholm City Hall
One of the most iconic landscapes in the city is located on the shore of Lake Malaren. Known for its impressive ceremonial halls, the City Hall is the location of the Nobel Prize Banquet that takes place on December 10th since 1901 in the famous Blue Hall (which is actually red).
Stockholm City Hall is located a 20-minute walk from Gamla Stan and Skeppsbron cruise terminal, a 10-minute drive (or a 45-minute walk) from Stadsgården terminal, and a 15-minute drive (around 5 km/3 miles) from Frihamnen cruise terminal. During the months of May to September, you can also climb up inside the 106 meters high tower and enjoy fantastic views of the city.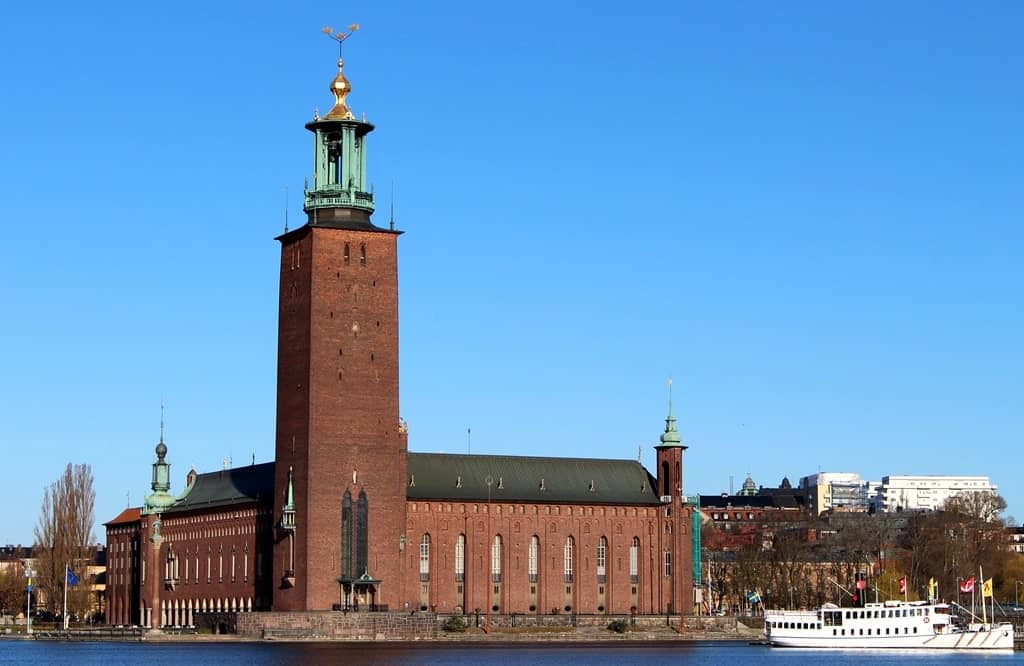 You can visit the City Hall on a guided tour only. Tickets cannot be purchased in advance and must be purchased on-site at the City Hall ticket counter. Guest with mobility challenges can enjoy the visit to the City Hall, however, the tower is not accessible by wheelchair. Find more info on the City Hall website 
Explore Stockholm City Hall tours and activities
3. Gamla Stan (Stockholm Old Town)
Stockholm's old town is one of the best-preserved medieval towns in Europe full of colorful houses, charming squares, little shops, bakeries, and cafes. The best way to learn about the fascinating history of this 13th-century Gothic gem is on a guided walking tour. You can also get a bicycle at one of the many rental places in the city. Do not miss the opportunity to stop at Mårten Trotzigs Alley, the narrowest street in Old Town that has 36 steps and is about 35 inches wide at its slimmest point.
Check out Gamla Stan tours and activities
4. Drottningholm Palace
A magnificent 17th-century UNESCO World Heritage site is Sweden's best-preserved royal castle boasting stunning gardens filled with fountains and statues. There is no access to the southern wing of the Palace as it is home to the Swedish Royal Family but the rest of the palace and grounds are open to the public.
Drottningholm Palace is located on Lovön Island, approximately 14 km/8.7 miles outside Stockholm. You can take the train to Brommaplan Station and then take a bus to the Palace. You can also take a ferry from Stadshusbron (Klara Mälarstrand ferry terminal) to Drottningholm and embark on a 1-hour boat ride to the Palace. A bus ride from Stockholm takes around 30 minutes.
The general admission fee is 130 SEK and there are different combination tickets for a guided tour. There is limited accessibility for guests with mobility challenges. Get more info on the Drottningholm Palace website
Explore Drottningholm Palace tours and activities
5. Vasa Museum
Vasa Museum is one of the most famous landmarks in Sweden. Discover the rich history of this 17th-century warship that disappeared on its maiden voyage to Poland. This beautiful ship spent almost 350 years at the bottom of the sea until it was recovered. With more than 95% of the original ship restored, Vasa is the world's best-preserved ship and one of the most visited museums in Scandinavia.
The Vasa Museum is located on Djurgården island and to get there from Frihamnen or Stadsgården you can take Bus 76 and get off at Djurgårdsbron. An alternative option is to take a ferry at Slussen near Stadsgården terminal, or a Red metro line from the city center to Karlaplan, and from there a 10-minute walk or bus 67 to bus stop Nordiska Museet/Vasamuseet.
Entrance tickets are required but are not necessary to purchase in advance, however, it is recommended to do it to avoid queues. The adult ticket price ranges between 170 – 190 SEK and 18 years and under is free of charge. Guests with mobility challenges can enjoy the Museum as there is a lift available. Find updated info at the Vasa Museum website
Explore Vasa Museum tours and activities
6. ABBA The Museum
If you are an ABBA fan, this is a MUST-stop during your visit to Stockholm! In this interactive museum, you will virtually be able to try their costumes, sing and actually perform on stage as the fifth member of this famous group. You will be able to admire ABBA's memorabilia, records, awards, and much more!
The ticket prices range between 230 – 290 SEK for adults and 90 – 110 SEK for children 7 to 15 years old. A family ticket is available for 495 – 695 SEK (2 adults + 2 children). The museum is fully wheelchair accessible and offers free entrance for up to two personal care assistants. Find updated info on the ABBA Museum website 
The ABBA Museum is located in Djurgården next to the Vasa Museum. From Stadsgarden you can walk to the Slussen terminal and take the ferry over to Djurgården. Once you get off, the museum is within walking distance from the pier. From Frihamnen you can take bus 76 and get off at Djurgårdsbron.
Check out ABBA Museum tours and activities
7. Skansen
Discover the rich culture of Sweden and see how they used to live before the industrial era in the world's oldest open-air museum. The museum features over 150 houses and typical farms brought from all around the country; the staff is dressed up in traditional costumes so you will be transported back to the 18th century and live the whole experience! Skansen is not just a museum but a zoo and an aquarium complex as well, so it's a great attraction to visit when traveling with kids.
The entrance fee varies by season and ranges between 185 – 245 SEK for adults and 70 SEK for children 4 – 15 years old. Tickets can be purchased in advance or directly at the Skansen ticket booth.
Skansen open-air museum is located in Djurgården, only a 10-minute walk from the Vasa Museum. Guests with mobility challenges can take the funicular railway right at the Hazelius entrance (main entrance). find more info on the Skansen website
Explore Skansen tours and activities
8. Take a Subway Ride
Stockholm subway system is considered the world's longest art exhibition featuring wall paintings and artwork since the 1950s. I suggest you take a ride for an ultimate local experience!
Explore Stockholm metro guided tours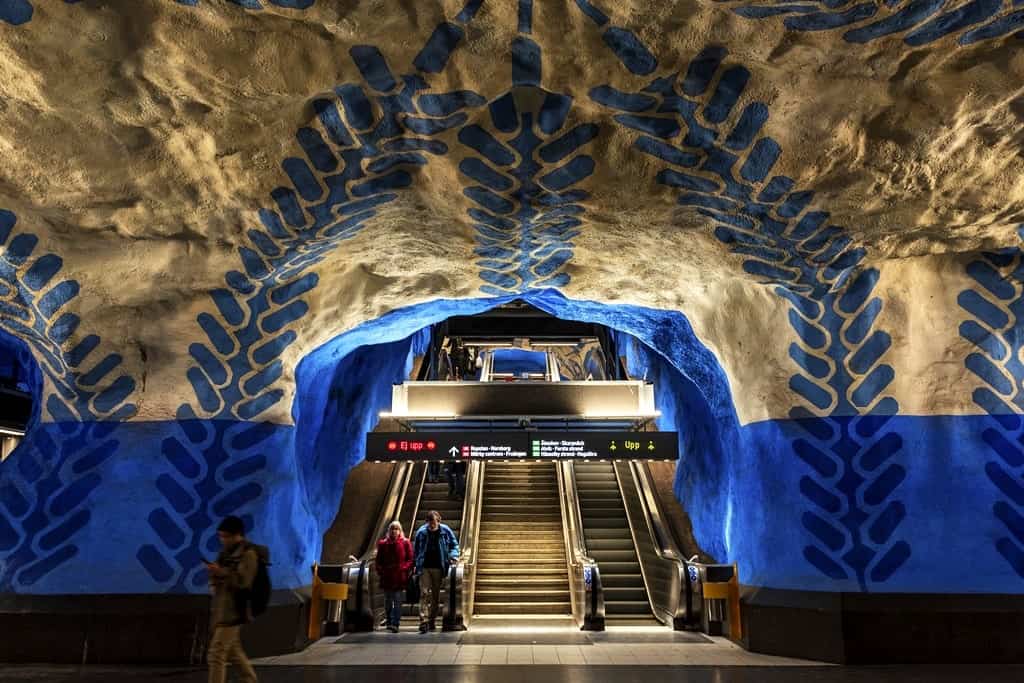 9. Enjoy a Boat Trip
Experience Stockholm from a different perspective, learn about the city's history while enjoying a boat trip through the beautiful canals, and see the nearby islands!
10. Sigtuna
If you are already familiar with Stockholm city, I strongly suggest you visit Sigtuna, the first capital of Sweden and its oldest town (established in AD 980). Explore the medieval old town and walk down Stora Gatan, the first pedestrian street that has maintained its original layout.
Sigtuna is located approximately 1 hour away from Stockholm and can be reached by train from Stockholm Central Station to Märsta Station and then take bus 570. Due to limited time in port, it's advisable to book a guided shore excursion with your cruise line or a reliable tour operator.
---
You May Also Like:
25 Top Shore Excursion Packing List Items
What to Pack for a Cruise in 2023 – Top 60 Cruise Essentials
Baltic & Scandinavia Cruise Port Guides
Western Europe Cruise Port Guides
This article may contain affiliate / compensated links. For full information, please see my disclaimer here.