Welcome to Belfast cruise port, Northern Ireland's capital and its largest city! Belfast Harbour lies on the banks of the River Lagan on the country's east coast and is famous for being the birthplace of the Titanic. In this article, read about:
Port of Belfast (Belfast cruise terminal, getting around, helpful info)
Top 10 things to do in Belfast port & Belfast shore excursions
Visit also our cruise port guides to Greenock (Glasgow), Cork (Cobh), Holyhead, Dover, Dublin, Invergordon (Inverness), Amsterdam, Copenhagen, Le Havre
Search the best Western Europe cruise deals!
Belfast Cruise Port
Belfast is Northern Ireland's largest cruise port and consists of three main docking locations: Stormont Wharf, Pollock Dock, and New Belfast Cruise Ship Terminal.
Stormont Wharf is dedicated to larger cruise liners and is located on Stormont Road approximately 2 miles (3.2 km) from the Belfast city center.
Pollock Dock can accommodate smaller cruise vessels and is located closer to the city center, around 1.5 miles (2.5 km) from the downtown.
These terminals have facilities that include basic passenger assistance, a tourist information center, a gift shop, and parking for taxis/tour buses.
Since 2019, there is a new cruise terminal D3 (Cruise Ship Terminal Belfast) located on Airport Road on the outskirts of the harbour, close to the George Best Belfast City Airport, approximately 3.5 miles (5.6 km) from the city center. With its 340-meter-long quay, this terminal is designed to accommodate the world's largest cruise ships. When there are no passenger ships in port and off-season, this terminal is used for cargo and container ships. There is a small terminal building housing a tourist information center where you can get city maps and brochures. A taxi rank, tour buses, and parking are available outside the terminal.
The port of Belfast is also one of the largest ferry ports serving the routes to Douglas (Isle of Man), Liverpool (England), Birkenhead (England), Cairnryan (Scotland), and a few other ports depending on the season. The majority of ferries are operated by Stena Line, one of the largest ferry companies in the world.
Helpful info & links:
Belfast city center is small and can be easily explored on foot.
The cruise lines normally offer a convenient shuttle service to the Belfast Welcome Center on Donegall Square North, located opposite the City Hall. Tickets should be purchased onboard the ship and the cost for a return ticket is approximately $12 per adult. Some ships offer child tickets at a discounted rate or free of charge.
The taxi station is located next to the terminal building. A ride to the city center takes 10 minutes and shouldn't cost you more than £10 each way.
As for public transport, it is available however I will not encourage you to use it as the buses don't run very often and the closest stop is at the port gate, which is quite a fair walking distance from the dock.
Belfast's main railway station is Lanyon Place Train Station (formerly Belfast Central), located near the city center, approximately a 10-minute drive from the cruise terminal. You'll find the timetables and fares at

https://www.translink.co.uk/

Hiring a bicycle is a fast and cheap way to get around the city since the city is not very big. Belfast Bikes rental has more than 40 pick-up and drop-off points throughout the city. You can rent them for the hour or for the day. The daily rent costs from £20- £25 per bike.
If you want to go sightseeing,

Belfast Hop on Hop off bus

runs from City Hall and covers stops at the major city highlights including Titanic Dock and Visitor Center, St George's Market, Ulster Museum, Botanic Gardens, Belfast Castle, and others. The ticket price starts at $25 per person. Book Belfast Hop on Hop off bus tour

on

Viator

and

Get Your Guide
Northern Ireland's official currency is the pound sterling (£). Local currency and major credit cards are widely accepted. See the

currency converter

Belfast has a temperate oceanic climate with cold, rainy winters and mild summers. For useful cruise packing tips, check out my article

What to Pack for a Cruise in 2023 – Top 60 Cruise Essentials

Belfast International Airport is located approximately 17 miles/27 km (a 30-minute drive) northwest of the Belfast cruise port.
Driving in Northern Ireland is on the left-hand side of the road.

Check out Belfast rent-a-car deals
10 Best Things to Do in Belfast Cruise Port
The neighborhoods of Belfast boast a rich cultural offer and the city's turbulent and interesting history is displayed through its art and architecture. Before I share with you the 10 best things to do in Belfast port, I invite you to sign up below and get my FREE Shore Excursions Packing List! (PDF/printable format)
1. Belfast City Hall
The imposing City Hall is perhaps the best-known and most representative building in the city. It was built in 1906 to celebrate the appointment of Belfast as a "City" by Queen Victoria in 1888. Belfast City Hall offers free 1-hour public tours every day led by a knowledgeable guide who provides information on the history of Belfast City Hall and its finest features. Tours are available on a first-come, first-served basis and visitors must register 10-15 minutes before the tour. Guests with disabilities and limited mobility are welcome. Get more information at https://www.belfastcity.gov.uk/
Check out Belfast City Hall tours and activities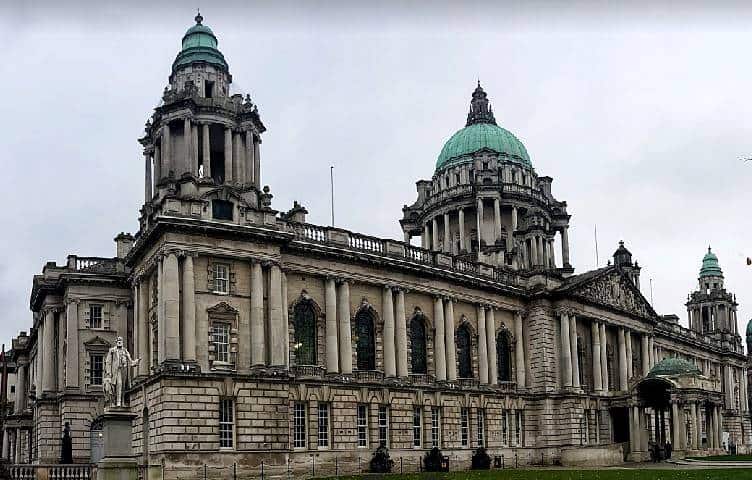 2. Saint Anne's Cathedral (Belfast Cathedral)
One of Belfast's most treasured buildings, a beautiful Romanesque cathedral was built in 1899. It boasts magnificent architecture, stone carvings, huge stained-glass windows depicting characters from the Old Testament, and a huge historic significance. The cathedral is located around a 10-minute walk north of the City Hall.
The entrance fee is £2 for adults and for children is free (5-12 years old). The Cathedral is fully wheelchair accessible. Read more information on https://www.belfastcathedral.org/
Check out St Anne's Cathedral tours and activities
3. Belfast Castle
Built in the late 12th century by the Normans, the castle was located within the city of Belfast, but after suffering a fire in 1708, only the names of some streets remained that indicate that it was there before. Instead of rebuilding it in the same place, its owners preferred to go to the outskirts of the city and built the new Belfast Castle on the slopes of Cavehill Country Park. The new castle was completed in 1870.
Today the magnificent castle is a private center where banquets, weddings, meetings, and other large events are held. On the castle's grounds, you can find a beautiful garden and park, an adventure playground, a gift shop, a restaurant, and a visitor center.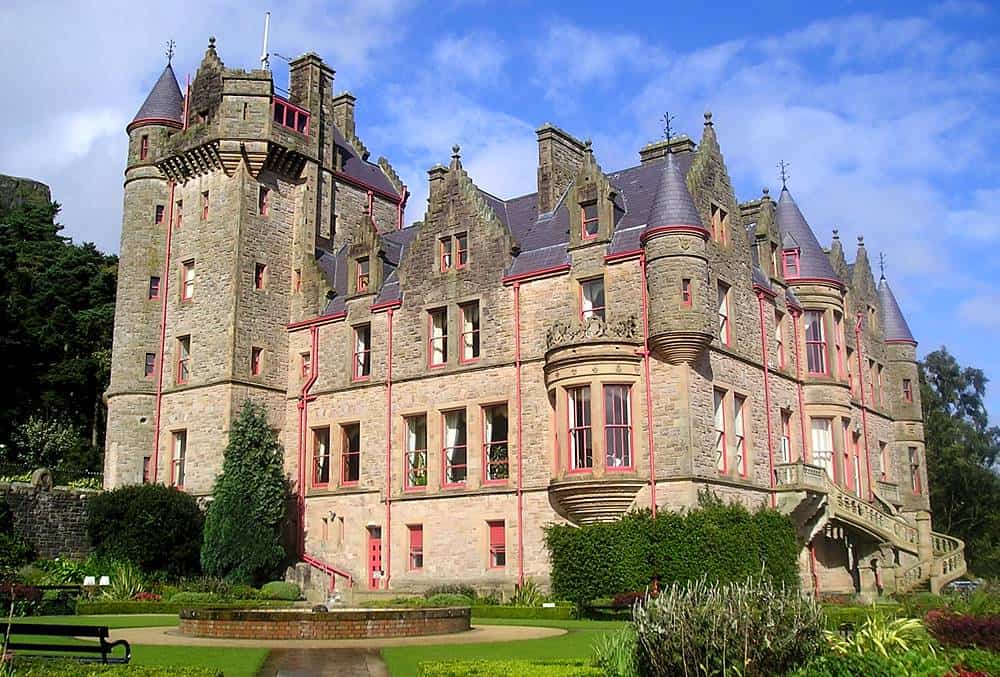 The castle is located a 15-minute drive from Belfast cruise port. To get to Belfast Castle, you can take public bus #1 from Upper Queen Street (located one block away from the City Hall) to Newtownabbey Serpentine Road and from there you need to walk 10 minutes to Belfast Castle. A taxi from the city center costs approximately £20 and the ride takes 15 minutes.
Check out Belfast Castle tours and activities
4. Titanic Museum
Located in Titanic Quarter, the same place where the Titanic was built in 1912, this museum is one of the icons of Belfast and one of the main tourist attractions of the city. This gigantic museum opened its doors in 2012 and is completely dedicated to the history of the ship. In 2016, the museum was crowned the best world tourist attraction by the World Travel Awards.
The tour of the museum is an authentic experience that allows you to access over nine galleries where you get to learn about Titanic myths and reality, its launch, Maiden Voyage, and tragic destiny. Enjoy the exploration of the re-created cabins and decks, the Shipyard Ride, and the underwater exploration theater! Titanic Museum is fully wheelchair accessible.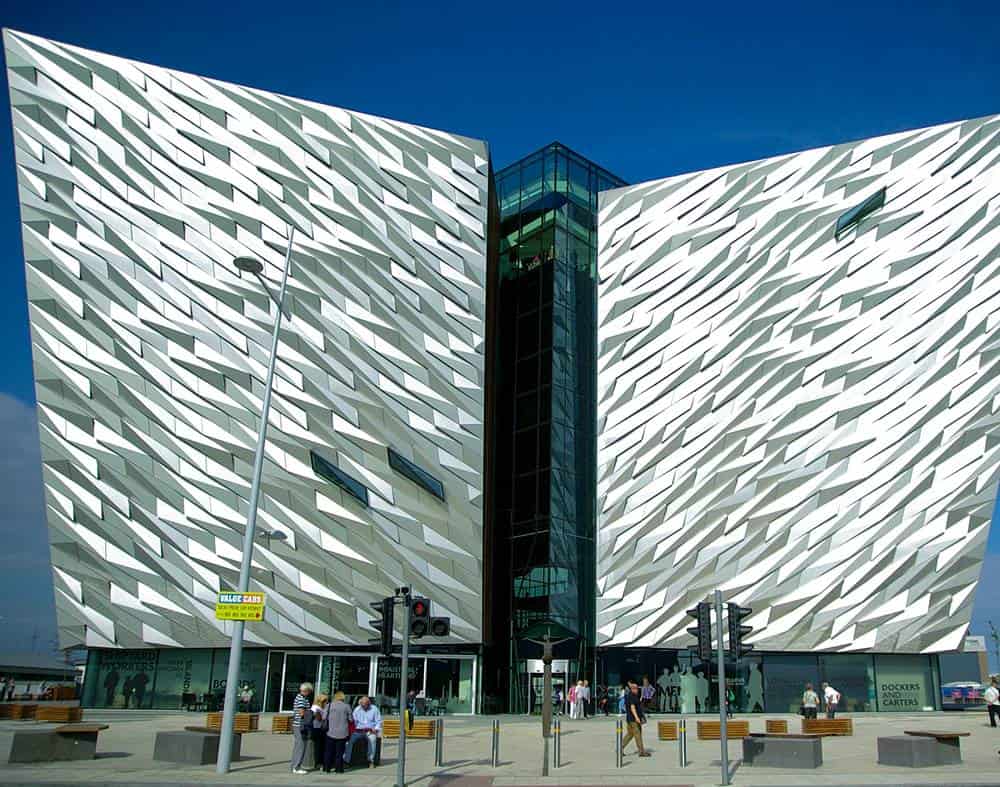 It is strongly recommended to purchase tickets in advance as you need to select specific times for the visit. The entrance fee for adults costs £24.95 and £11 for children (5 to 15 years old). Discounted rates apply to students and senior citizens. A family pass is also available for £62. You can also book the Discovery Tour which costs £13 for adults and £10 for kids. Find more information on https://www.titanicbelfast.com/
The driving distance between any of the Belfast cruise terminals and the Titanic Museum is approximately 7 – 10 minutes. If you are coming from the city center to the museum, the distance is approximately 2 miles and takes about 25 minutes on foot. You can also take bus #94 from Wellington Place in the city center to Odyssey Pavilion, and then a 10-minute walk to the Titanic Museum. The bus ride takes less than 5 minutes and the ticket costs £2 – £3 one way.
Check out the Titanic Museum tours and activities
5. Belfast Mural Tour
If you are visiting Belfast, don't miss the opportunity to visit its famous murals. These mainly represent the history of Northern Ireland during the last decades of the 20th century, a period known as "The Troubles", one of the most tragic periods in European history at the turn of the century.
The tradition of political murals in Belfast dates back to 1908 when images of King William III began to be painted. This king is highly acclaimed by Protestants due to his victory over the Catholics at the Battle of Boyne in 1690. The murals were not usually permanent and they changed over time, reflecting the political problems of the moment. This is still the case today.
There are about 2000 murals scattered throughout Belfast, but it is in the Falls and Shankill neighborhoods that the most famous are found. You can locate the murals on the map provided on http://www.belfast-murals.co.uk/
You can tour the murals on foot, but you will need time and desire to walk since the murals are separated from each other. Hiring a taxi is probably the most comfortable and quickest way to do it. A local taxi driver will take you around the main points of these neighborhoods and explain to you the symbols of the murals and what the different murals represent. The Belfast Hop on Hop off buses also stop at some areas where these famous murals are located.
Check out Belfast Mural tours and activities
6. St George's Market
If your ship docks in Belfast on weekend, then this is the place to visit if you want to enjoy local cuisine and crafts. Among the stalls of this colorful 19th-century indoor market, you can find practically everything – from fresh fruit and fish to antique items, handmade gifts, and original works by local artists.
The market has numerous places where you can enjoy delicious street food, fresh smoothies, local sweets and so much more. On Sundays, they have live music by local bands. St George's Market is located in the heart of the city, less than a 10-minute walk from the City Hall and the shuttle bus drop-off point. Hop on Hop off bus also stops at the market.
7. Botanic Gardens
The elaborate public garden was born as a private Royal Belfast Botanical Garden in 1828 and was opened to the public in 1895. It covers 28 acres, and its main feature is an elegant domed conservatory known as "The Palm House", a greenhouse that can be visited and where you can see various types of tropical plants.
The Botanical Gardens is located around 1.2 miles away from the city center and its City Hall, approximately 25 minutes on foot. A taxi ride from City Hall lasts 5 minutes. Gardens are wheelchair accessible and there are benches all around for visitors will walking difficulties.
Check out Belfast Botanic Gardens tours and activities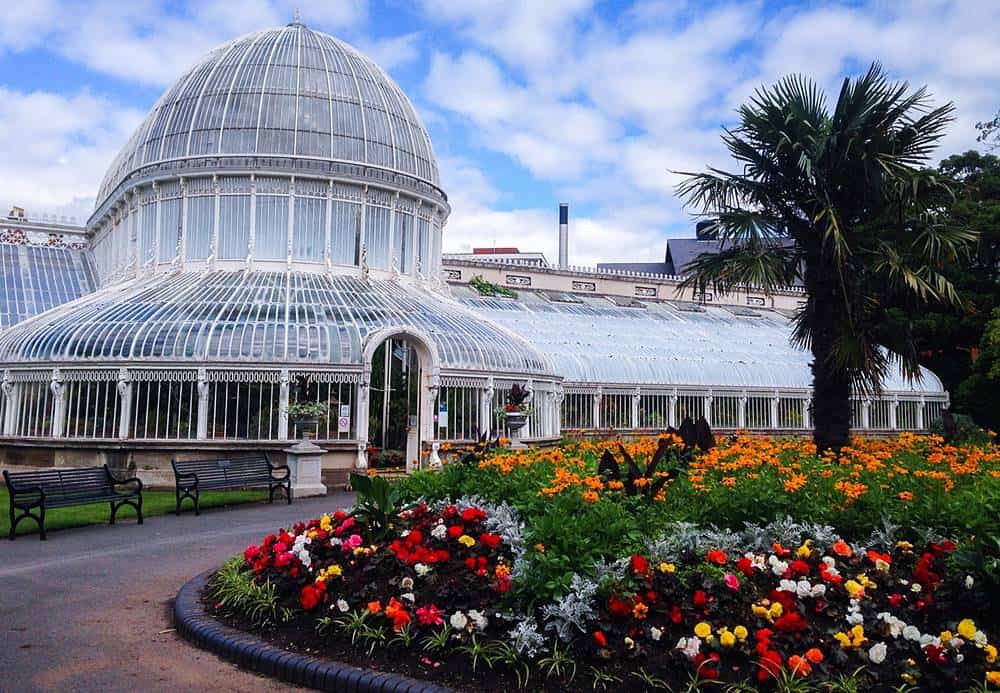 8. The Ulster Museum
Situated in the same park as the Botanical Gardens, Ulster Museum is the largest museum in Northern Ireland featuring rich collections of art, archeological findings, scientific artifacts, and the treasures of the Spanish Invincible Armada.
Here, visitors can explore 9000 years of Irish culture and history and learn about its turbulent history, traditions and ethnography. Within the museum, there are also zoological, geological, and botanical collections. The entrance is free of charge and provides easy access and exploration for wheelchair users.
Check out Ulster Museum tours and activities
9. Giant's Causeway
You cannot leave Northern Ireland without having visited this natural wonder and one of the biggest tourist attractions in Northern Ireland.
According to the legend, the origin of the Giant's Causeway is due to two giants, an Irish one named Finn MacCool and a Scottish giant named Bennandoner. They fought each other throwing stones until so many of them were thrown that they formed a path between Ireland and the island of Staffa. Bennandoner crossed it with the intention of killing Finn, but his wife had the idea of ​​dressing him as a baby. So when Bennandoner arrived and saw such a big baby, he imagined that the baby's father would be much bigger, so he ran back stomping so hard that he destroyed the stone path they had created leaving only what we can see today.
Declared a World Natural Heritage by UNESCO and a national nature reserve, Giant's Causeway is one of the strangest geological phenomena on the planet and a unique landscape that you cannot miss. There are two ways to experience the Giant's Causeway: visit the stones or take a stunning 5-mile (2.5 hours) hike along the thrilling clifftop path.
Clifftop Experience Walk departs from the ruins of Dunseverick Castle along the coastline to the Giant's Causeway and costs £35 per person. This experience is recommended for visitors in good health conditions and fitness levels. Wear non-slippery shoes and bring a light jacket.
The general admission fee for Giant's Causeway is £12.50 for adults and £6.75 for children. If you buy online on their official website, you get a discount. Family tickets are also available for £31.25. This ticket includes access to the Visitor Center, a guided tour, or an audio guide for your independent exploration. Get more information at https://giantscausewayofficialguide.com/
How to Get to Giant's Causeway from the Port of Belfast?
Distance from the port of Belfast to the Giant's Causeway is approximately 62 miles (100 km), about a 1h 30-minute drive each way. The best way to get there is definitely on an

organized shore excursion

considering the distance and your time in port. I strongly suggest you book this tour in advance because it sells out quickly.
If you decide to get there on your own, will need to take train 3 from Lanyon Place train station to Coleraine train station, and then hop on bus 402 or 172 to Giant's Causeway. The journey by train itself takes 1.5 hours, but overall (with a bus and a walking portion included), it can take up to 3 hours each way. The ticket price starts at £18.50. Find the timetables and fares at

https://www.translink.co.uk/

You can also hire a taxi from the port of Belfast (expect to pay around £150 one way), or

book a private round trip transfer

which might be a cheaper option.
Check out Giant's Causeway tours and activities
10. The Crown Liquor Saloon
This gastropub is one of the oldest pubs in Belfast and is worth stopping by for a pint or a succulent meal. The building was built in the Victorian style and is known for its rustic wooden interior decoration featuring carved-mahogany booths, etched glass, and gas lamps from the 1800s. It is the most famous pub in Belfast and today it has become one of the symbols of the city because it's the only pub in the country to be declared a national monument. The pub is located in the heart of the city, only 5 minutes walking distance from the City Hall.
See the Crown Liquor Saloon tours and activities
To Wrap Up
If you are taking a cruise to Northern Ireland and you stop at the port of Belfast, make sure you plan your day accordingly to your ship's schedule. You can easily explore most of the Belfast highlights I listed in a day, however, if you truly want to get the most out of the city, an organized shore excursion is always the best way to go!
Visit also our cruise port guides to Greenock (Glasgow), Cork (Cobh), Holyhead, Dover, Dublin, Invergordon (Inverness), Amsterdam, Copenhagen, Le Havre
---
You May Also Like:
25 Top Shore Excursion Packing List Items
What to Pack for a Cruise in 2023 – Top 60 Cruise Essentials
Western Europe Cruise Port Guides
Mediterranean Cruise Port Guides
Don't forget to subscribe below and get your FREE Shore Excursions Packing List! (PDF/printable format)!
This article may contain affiliate / compensated links. For full information, please see my disclaimer here.