Welcome to port Vigo (Puerto de Vigo), Spain!
Renowned for its seafood, wines and beautiful old town, Vigo is the busiest fishing port in Galicia and a frequent stop in Mediterranean cruise itineraries. In this article, read about:
Vigo cruise port (Vigo cruise terminal, getting around)
Top 9 things to do in Vigo and Vigo shore excursions
Visit our cruise port guides for Bilbao, Barcelona, Palma de Mallorca, Valencia, La Coruna, Cartagena, Malaga, Cadiz, Palma de Mallorca, Tenerife, Le Havre, Brugge, Amsterdam, Madeira, Lisbon
Port Vigo
Cruise ships dock at Muelle de Transatlánticos quay, located only a 5-10 minute walking distance from the old town. Vigo cruise terminal features a modern terminal building featuring basic facilities including souvenirs, security screening and toilets. A brand new tourist information office is situated right across the terminal.
Upon exiting the cruise terminal building, you'll spot a wonderful marina packed with boats and a large A Laxe shopping mall where you can find some shops (a large Mediamarkt store is very popular), outdoor cafes and free wi-fi.
Keep walking along Rúa Cánovas del Castillo esplanade, cross the street, and in a few minutes you'll reach the famous Mercado da Pedra market in Rúa Teófilo Llorente street. From there, keep walking uphill and you'll reach the old town and the city's main pedestrian street.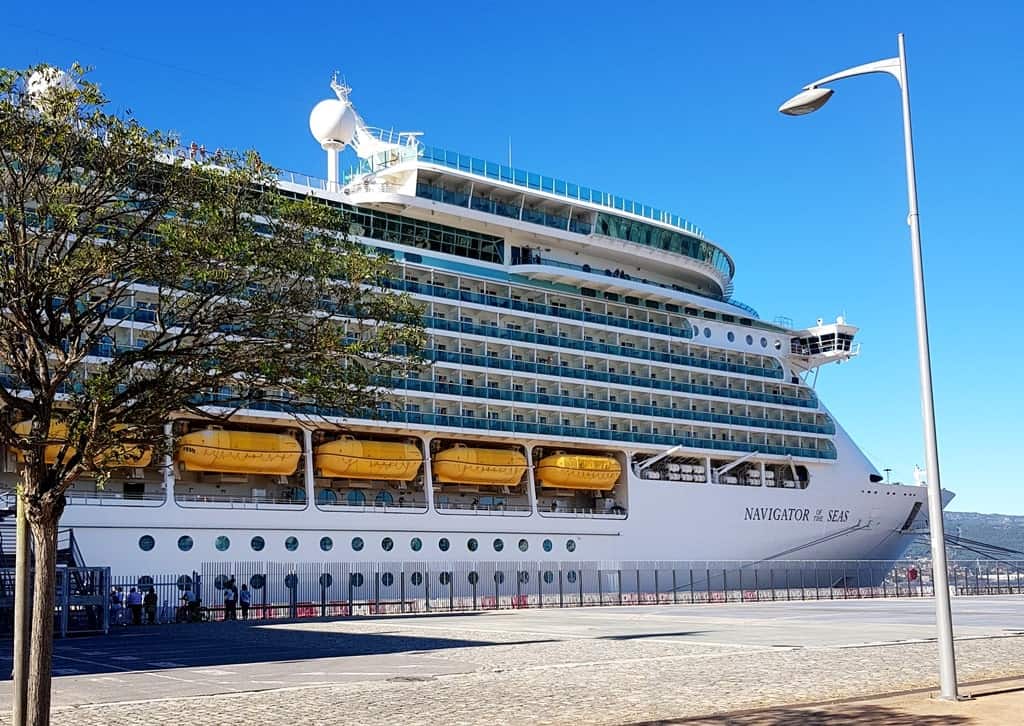 Helpful info & links:
Vigo cruise terminal is very easy to navigate and wheelchair-accessible. You need only a few minutes to exit the terminal and there is a ramp for wheelchair users if you are not able to use the stairs.
If you are joining a shore excursion, the parking for tour buses is on your left upon exiting the cruise terminal building.
You'll find taxis outside the port gates and they are metered. They usually offer tours for Santiago de Compostela (around 120€ per vehicle one way). Check for more information at the tourist information office.
The area around port Vigo is flat, however, there is a bit of an incline to get to the old town. If you want to avoid walking uphill, enter the A Laxe shopping mall (in front of the ship) and use the elevator to climb to the top floor where the food court is. The shopping mall's top floor is connected to the old town via the elevated walkway and once you cross it, you'll find yourself in Mercado da Pedra and the old town. This is extremely useful for people with walking difficulties and wheelchair users, as you'll skip the inclines and uphill walk. An alternative option is to take a taxi to the old town which will cost you around 5-10€ per vehicle one way.
The currency in Spain is EURO (€). ATMs/exchange offices are available in the city and may be available onboard your cruise ship (check with the Guest Services desk). See the

currency converter 

Free wi-fi is available in the shopping mall in front of the ship, as well as in cafes, restaurants and wi-fi designated spots in the city.
The majority of shops and pharmacies, except for the big department stores, are closed between 13:30 and 16:00 (Spanish siesta time) on working days. Museums and landmarks are usually closed on Mondays.
Vigo ferry terminal is located 100 meters from the cruise terminal, and here you can catch ferries to the town of Gangas and Cies Islands. Ferry tickets are available only at the tourist information office.
Vigo-Urzáiz is the main railway terminus that provides high-speed train connections with other cities in Galicia including

La Coruna

and Santiago de Compostela, the region's capital. It is located 2 km/1.2 miles (a 25-minute walk or a 10-minute drive) from the port of Vigo. Vigo-Guixar railway station is another train station located 1.5 km/0.9 miles (a 20-minute walk) from the Vigo cruise terminal. Check the train timetables at

https://www.renfe.com/es/en

Vigo Airport (Aeropuerto de Vigo) is located around 10 km/6.2 miles (a 20-minute drive) from the Vigo port. Santiago Airport, the main one in Galicia, is located 100 km/62 miles (a 1-hour drive) north of Vigo.
There may be Hop on Hop off bus tours/tourist buses available, however, check this information with a tourist information office.
Vigo has a temperate oceanic climate with mild, rainy winters and warm summers.  For useful cruise packing tips, check out my article

What to Pack for a Cruise in 2023 – Top 60 Cruise Essentials
9 Best Things to Do in Port Vigo
Before I share with you the top things to do in Vigo, I invite you to sign up below and get my exclusive, insider SHORE EXCURSION GUIDE FOR FREE!
1. Mercado da Pedra
This amazing seafood market is one of the most authentic places in Vigo, located less than a 10-minute walk from Vigo port. It is tucked in Rúa Teófilo Llorente alley filled with seafood restaurants where you can taste freshly shucked oysters and buy souvenirs.
The street itself is a bit inclined so passengers with walking difficulties or wheelchair users may find it challenging to handle. In that case, I suggest you access Mercado da Pedra from La Laxe shopping mall's top floor via the pedestrian bridge mentioned above.
Also, keep in mind that this seafood market is a very touristy place and prices here may be slightly more expensive than in other places in Vigo. The food is delicious, though, and the overall experience is well worth it!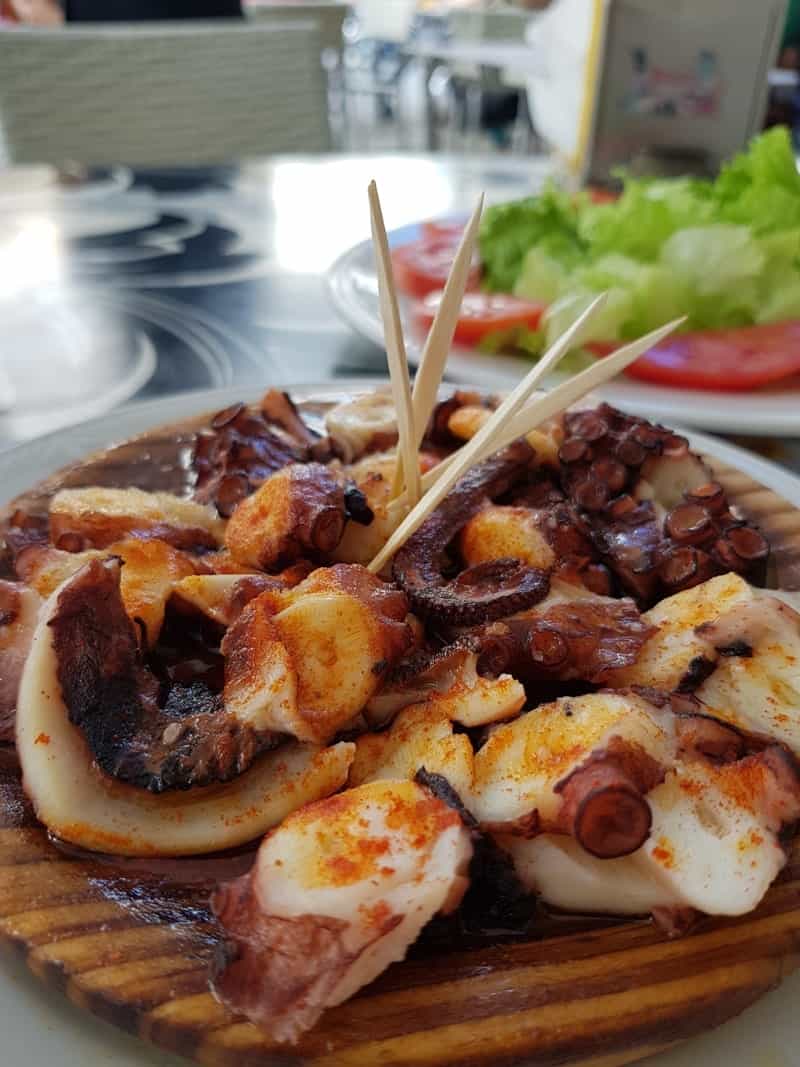 2. Casco Vello (Old Town)
Mercado da Pedra is part of Vigo's old town, a beautiful historic quarter filled with elegant Renaissance buildings, authentic restaurants, wine houses, tapas bars and shops. The old town area starts right outside the port Vigo and includes some of the city's major landmarks such as the 19th-century, Neoclassical Concatedral – Basílica de Santa María de Vigo.
The Old Town consists of numerous winding streets, small squares, stores and taverns that can only be accessed on foot. Plaza de la Constitución is the central town square, while Praza da Igrexa (the square where the Cathedral is situated), Praza da Pedra and Praza da Princesa are also lovely and reflect the Vigo's authentic vibe.
A stone's throw from Casco Vello, you'll find the Castelo de San Sebastián, the ruins of an old fortress that is nowadays a public park that you can explore free of charge. The park offers nice views of the harbour, Vigo's bay and the port, and it is best accessed from behind the Concello de Vigo (Vigo's Town Hall).
Keep in mind that some streets of Vigo's Old Town are cobbled and inclined, so it may be challenging for people with walking difficulties. It takes only a 10-minute walk to get to the Old Town from the dock.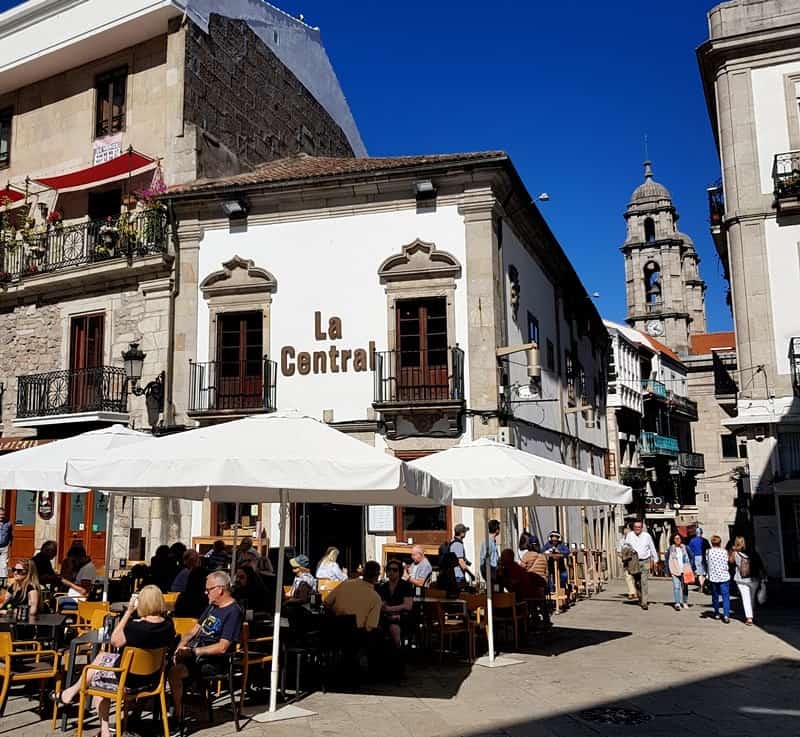 3. Rúa do Príncipe
Once you access Plaza de la Constitución, keep walking straight and you'll reach Praza da Princesa (you'll see a big Ale-Hop store across the street). Here, you cross the street (Praza Porta do Sol) and you'll reach the main pedestrian street in the town – Rúa do Príncipe, where you'll find banks, pharmacies, clothing, cosmetics, jewelry and other designer and local stores. On the side streets, you'll find some restaurants and cafes where you can eat and drink at an affordable price.
4. Castelo do Castro
If you want to admire the best panoramic views of the city, head to the Castelo do Castro (Fortress of O Castro), a medieval fortress and a hilltop park with prehistoric stone ruins dating from the Iron Age.
The fortress was built in 1665 during the Portuguese Restoration War in order to protect the city from attacks by the British Royal Navy, Portugal's allies. Nowadays, it is a beautiful park with gardens, fountains and magnificent views of the city. If you are into jogging, running and fresh air, this is a must-see place!
Castelo do Castro is located 1.5 km/0.9 miles (a 25-minute walk) from port Vigo and to get there, you need to be able to climb a lot of stairs or walk the curving paths uphill to the top. At the top, there are no vendors or toilets available, so make sure to bring water and use the facilities before climbing. You may find escalators on the way up on some of the winding streets, but back down you need to go on foot (I suggest you check this out with the tourist information office as they may provide more details).
5. Samil Beach
Praia de Samil (Samil Beach) is the main and the most breathtaking beach in Vigo and one of the most beautiful ones in Galicia. It is located 6.7 km/4.1 miles (a 15-minute drive) southwest of the port of Vigo.
Playa Samil is a 1.7 km (5.600 ft) long stretch of white sands backed by a beautiful waterfront promenade with numerous sports facilities, parks, parking lots, pools and a few cafes and restaurants. It is ideal for couples, families with kids and all people who want to spend an enjoyable beach day on the coast of Galicia.
To get there, you can take public transport (check with a tourist information office for more details) or a taxi, which costs around 15€ per vehicle one way.
6. Wine Tasting at Bodegas Granbazán
The coast of Galicia is stunning as well as Galician seafood and wines. Rías Baixas region, which consists of four estuarine inlets located on the southwestern coast of Galicia, is renowned for its Albariño wines, a variety of white wine grapes grown in Galicia and Northwest Portugal. There are many wine tours offered and if you're a wine lover, I suggest you go for a tour of a winery and taste Galicia's premium wines.
I joined a cruise ship shore excursion to Bodegas Granbazán, situated 53 km/33 miles (a 45-minute drive) north of Vigo, and it was perfect! Not only do you get a chance to admire Galicia's magnificent coast and verdant hilly landscapes, but you also get to taste the region's renowned wines in this picturesque place set in the heart of the Rías Baixas region. The experience usually includes wine tasting, a tour of the winery and vineyards surrounding this dream estate. For more information, check out Bodegas Granbazán's official webpage
Explore Vigo wine-tasting tours 
7. Pontevedra
Pontevedra is a beautiful city on the coast of Galicia and the capital of the Province of Pontevedra. Surrounded by the verdant scenic hills, the city is located on the edge of an estuary at the end of the Ria de Pontevedra, in the heart of the Rías Baixas. It is located 30 km/18.6 miles (a 30-minute drive) north of Vigo pier.
Pontevedra is known for the well-preserved Old Town and the Baroque church of the Pilgrim Virgin, an 18th-century scallop-shaped chapel that is the major symbol of the town. It is dedicated to the Virgin who, according to tradition, guided pilgrims from Baiona (in the southwest of the province of Pontevedra) to Santiago de Compostela, in the north. 
Other city landmarks include the 16th-century Gothic Basilica of Saint Mary Major, the ruins of the Gothic church of St. Dominic dating from the 14th century that today house the Pontevedra Museum, the Convent and the Church of San Francisco, and others.
Check out Pontevedra tours from Vigo 
8. Santiago de Compostela
Santiago de Compostela is the capital of Galicia and the famous pilgrimage site that was the third most important religious site after Rome and Jerusalem in medieval times. It is the final stop of Saint James' Way and is known for thousands of pilgrims who have been coming here for centuries.
The medieval city is world-famous for its imposing Santiago de Compostela Cathedral consecrated in 1211, the burial place of the relics of James the Apostle discovered in the 9th century. The city's medieval old town is listed as UNESCO World Heritage Site and is centered around Plaza del Obradoiro, the main square dominated by the monumental cathedral.
On the square, you'll find the 18th-century Neoclassical palace of the Town Hall (Pazo de Raxoi) and Hospital Real de Santiago de Compostela, the 5-star hotel that is said to be the oldest hotel in the world. The medieval old town is known for its narrow cobblestone streets filled with restaurants, cafes, tapas bars and souvenir shops.
While exploring the old town, make sure to visit charming squares such as Praza da Quintana de Vivos, Praza da Immaculada with the beautiful Monastery of San Martiño Pinario, the second largest monastery in Spain and parks such as Park Alameda, the 16th century with historic monuments and a colorful garden.
Useful info:
Santiago de Compostela is located 90 km/56 miles (a 1-hour drive) north of Vigo port. If your itinerary includes a stop at

La Coruna cruise port

, you can also visit the city from there (shore excursions are offered).
If you join one of the bus tours to Santiago de Compostela, keep in mind that the bus parking is situated a 15-minute walk from Santiago de Compostela's old town and the cathedral. Toilets are available at the parking lot. The walk may involve inclines and uneven surfaces, so guests in wheelchairs and with walking difficulties may find it challenging. Taxis and cars may come closer, but the old town is a pedestrian zone so be prepared for a moderate amount of walking.
You can tour the Cathedral and visit its interior and the museum for a fee. Find more information on

Santiago de Compostela Cathedral's official website
Check out Santiago de Compostela tours from Vigo
9. Baiona
Situated 36 km/22 miles (a 35-minute drive) southwest of port Vigo, Baiona (Bayona) is another historic town known for a charming medieval old town and a beautiful marina tucked in the picturesque bay.
This coastal town is known as the port where La Pinta, the fastest of the three Spanish ships used by Christopher Columbus in his transatlantic voyage to the New World, moored when it returned to Europe on March 1, 1493, making Baiona the first port that received news of the discovery of America. Today, a replica of the ship can be seen and on every 1st of March, the "Festa da arribada" (Arrival Fiesta) takes place to commemorate this important event.
One of the main city landmarks is Monterreal Fort (Fortaleza de Monterreal) with its Príncipe Tower (Torre do Príncipe), located on Monterreal Peninsula overlooking Cíes Islands and the southern Rías Baixas region. Nowadays, visitors can admire Parador de Baiona, a 4-star hotel housed in the medieval fortress. Another landmark is Santa María Collegiate Church (Colexiata de Santa María de Baiona) which dates back to the 18th century.
Explore Baiona from Vigo tours 
Wrapping Up
Whatever you decide to do in the Vigo port of call, make sure you plan your day ahead as there's so much to see and do in this charming Spanish port!
Visit our cruise port guides for Bilbao, Barcelona, Palma de Mallorca, Valencia, La Coruna, Cartagena, Malaga, Cadiz, Palma de Mallorca, Tenerife, Le Havre, Brugge, Amsterdam, Madeira, Lisbon
---
You May Also Like:
25 Top Shore Excursion Packing List Items
What to Pack for a Cruise in 2023 – Top 60 Cruise Essentials
Mediterranean Cruise Port Guides
Don't forget to subscribe below and get my exclusive SHORE EXCURSION GUIDE FOR FREE!
This article may contain affiliate / compensated links. For full information, please see my disclaimer here.