Welcome to Villefranche cruise port, France!
Villefranche-sur-Mer is a small commune and a village located in the Provence-Alpes-Côte d'Azur region on the French Riviera, in the southeast of France. Villefranche is the main cruise port for Nice as the Bay of Villefranche has a deep natural harbour that provides safe anchorage for large cruise vessels. Due to its proximity to Nice, Monaco, Monte Carlo, Cannes, Eze and St. Paul de Vence, Villefranche is one of the major stops in the Mediterranean cruise itineraries. In this article, read about:
Villefranche cruise port (Villefranche cruise terminal, getting around, useful tips)
8 best things to do in the port of Villefranche (including shore excursions to Nice, Cannes, Monaco & Monte Carlo, Eze, St. Paul de Vence, Antibes, Grasse).
Visit also our cruise port guides for Cannes, Marseille, Ibiza, Barcelona, Palma de Mallorca, Malaga, La Spezia (Cinque Terre), Rome (Civitavecchia), Florence (Livorno), Naples, Taormina (Messina)
Search the best Mediterranean cruise deals!
Villefranche Cruise Port
There are no docking facilities in the Villefranche port of call. Cruise ships anchor in the deep bay and use tender boats to transfer the cruise passengers ashore. The tender ride lasts around 10 minutes each way and the whole tendering operation is organized by the cruise ship and port authorities.
The tenders will drop you off at a small Port de la Santé marina, where you'll find a small terminal building with a tourist information desk, security screening facilities and restrooms.
The shore excursions' meeting location is usually in front of the terminal building, however, always make sure you check the instructions on your tour ticket. The parking for tour buses is located only a few minutes walk from the terminal building, across the parking lot for cars, by the entrance to La Citadelle (you'll see the wall across the parking, head in that direction and after a few minutes' uphill walk you'll see the buses). The center of Villefranche is located right outside the terminal building (you need to cross the street and walk uphill to reach it).
See Port de la Santé (Villefranche cruise port) on Google maps
Smaller cruise vessels (with LOA length under 180 meters/590 ft) dock in Nice Harbour (Port de Nice – Port Lympia), approximately a 30-minute walk from Nice Old Town. Free shuttle buses to the downtown are usually provided. Around the port area, you can find cafes, bars, currency exchange, a tourist information desk and other services. See Port Nice on Google maps
Helpful info & links:
Villefranche cruise terminal is wheelchair-accessible, however, wheelchair users and guests with walking difficulties may find it difficult to walk around the village as Villefranche is very steep and hilly.
Right outside the terminal building, there are a few cafes and places to buy souvenirs.
The distance between Nice downtown and the Villefranche cruise terminal is approximately 6.5 km/4 miles (a 15-20-minute drive, depending on the traffic).
The distance between Port Villefranche and Monaco and Monte Carlo is 14.5 km/9 miles (a 25-minute drive), Cannes is 40 km/25 miles (a 1-hour drive), the village of Èze is 8 km/5 miles (a 15-minute drive) and St.Paul de Vence is 26 km/16 miles (a 50-minute drive).
Villefranche-sur-Mer train station is located approximately 600 meters (less than a 10-minute walk) from the terminal building. Upon exiting the building, turn right and climb the stairway parallel to the Promenade des Marinières. At the top, above the beach, you'll see the train station. If you have difficulties, look for the SNCF (France's national railway company) sign.
Trains to Nice operate every 15 minutes and the ride takes around 10 minutes each way. In Nice, get off at Nice-Ville train station and then walk toward Old Nice (Nice old town) via Avenue Jean Médecin for about 20 minutes.
Trains to Monaco-Monte Carlo run two or more times per hour and the ride takes 15 minutes each way.
Trains to Cannes also operate several times per hour and the ride lasts around 50 minutes each way.
You can check the itineraries, timetables and additional information on SNCF's official website

https://www.sncf.com/en

Alternatively, you can take bus 15 from Octroi bus station (located 500 m from the Villefranche terminal building) to Port Lympia, Nice. The buses run every 20 minutes and the ride takes the same, around 20 minutes each way. For Cannes and Monte Carlo, it's much more convenient to take a train.
The currency in France is EURO (€). Local currency and credit cards are widely accepted. See the

currency converter

Nice Airport is located 14 km/9 miles (a 30-minute drive) from Villefranche port.
Taxis are available outside the Villefranche cruise terminal. They can be quite expensive unless you travel in a group of four – in that case, you can split the cost. The taxi to Nice can cost anywhere from 40€ to 60€ per vehicle one way.
Villefranche enjoys a warm and temperate climate. For useful cruise packing tips, check out my article

What to Pack for a Cruise in 2023 – Top 60 Cruise Essentials
8 Best Things to Do in Villefranche (Nice) Cruise Port
When in Villefranche, the majority of cruise passengers book shore excursions or independently explore Cote d'Azur's popular tourist destinations such as Nice, Monaco and Cannes. For those of you who prefer a bit less commercial places, head to the medieval villages of Eze and St. Paul de Vence where you can enjoy the picturesque setting and medieval spirit of these charming villages.
Guests who decide to stay in Villefranche-sur-Mer can wander around its steeply terraced streets, enjoy a beautiful public beach, delight in French pastries and coffee, browse souvenirs or visit the historic landmarks of this old fishing village.
Before I share the best things to do in Villefranche, I invite you to grab your copy of the "Mediterranean Cruise Port Guide", the most comprehensive guide to 45 Mediterranean cruise ports (including Villefranche), packed with practical information, expert tips & unforgettable experiences! (PDF format/200 pages)

Ultimate Guide to Mediterranean Cruise Ports
Plan your Cruise Itinerary in Less than an Hour and Maximize Your Port
Experience!
1. Villefranche-sur-Mer
If you decide to stay in the port, there are a few things you can do. Villefranche is a beautiful and charming place worth a visit, however, be ready to walk on inclines and uneven surfaces as the town is quite hilly.
One of the main landmarks is the Citadel (La Citadelle), located across from the cruise terminal building. The 16th-century Citadel today houses the Town Hall, a few small art galleries and museums (free of charge), an open-air theater and a sculpture garden that offers wonderful views of the harbour.
Another landmark is Chapelle Saint-Pierre (Saint Peter's Chapel) which you'll find on your right upon leaving the terminal building. The chapel dates back to the 16th century and is famous for Jean Cocteau's murals depicting the life of the saint and local fishermen. There is a 3€ admission fee for the chapel.
While there, you can also visit the 18th century Baroque Église Saint-Michel (Saint Michael's Church) located in the heart of the old town, the old harbour of la Darse with its colorful marina, Rue Obscure or "Dark Street" – a passageway under the harbour front houses which dates back to the 13th century, or a beautiful Plage Villefranche-sur-Mer. When exploring Villefranche-sur-Mer, make sure you wear comfortable shoes.
Explore Villefranche-sur-Mer walking tours
2. Nice
It takes around 15-20 minutes' drive to reach Nice from Villefranche-sur-Mer. The mesmerizing capital of the French Riviera sits on the pebbly shores of the Baie des Anges ("Bay of the Angels") and overlooks the Mediterranean Sea.
Nice definitely takes a few days to visit, however, if you travel by cruise ship there are a few attractions not to be missed. One of them is Promenade des Anglais which extends 7 km (4 miles) along the coast, named after the English aristocracy that used to spend winters here in the second half of the 18th century, admiring the stunning coastal panorama. This beautiful seafront boulevard is lined with palm trees, beaches, shops, upscale restaurants and elegant palaces including the 5-star Le Negresco Hotel dating from 1912, Palais de la Méditerranée that nowadays houses Hyatt Regency hotel, the 18th-century Opéra de Nice and others.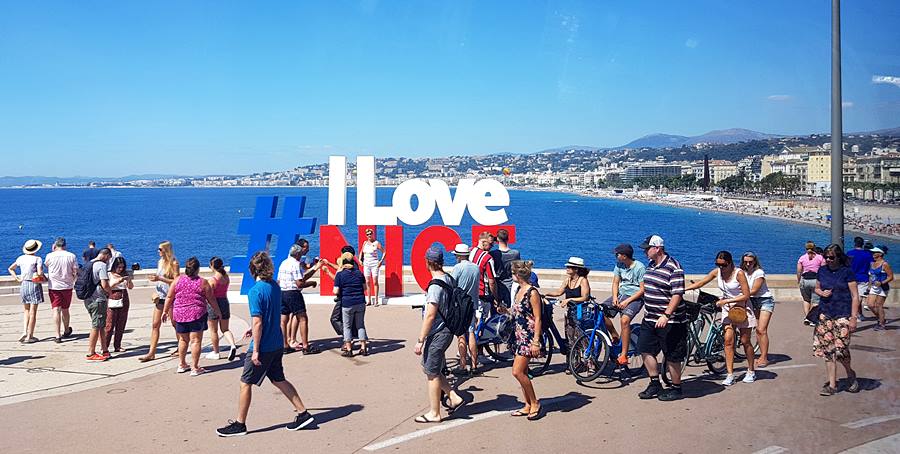 In the 19th and early 20th centuries, many wealthy foreigners came to Nice from different parts of Europe and built numerous buildings, grand houses and palaces in a beautiful Belle Epoque architectural style.
Place Masséna is the main square of Nice, with its lavish fountains (Fontaine Miroir d'Eau and Fontaine du Soleil) and elegant neoclassical buildings. This vast 18th-century square is situated a few minutes walk from Promenade des Anglais and is surrounded by shops, cafes, parks and gardens (Promenade du Paillon).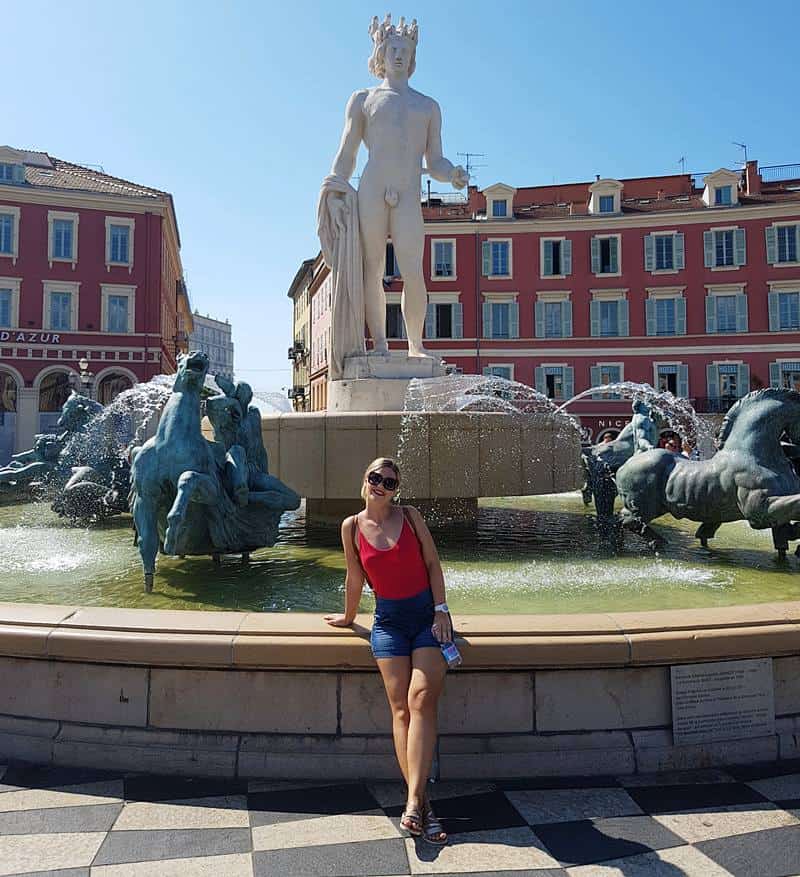 The eastern part of Nice is known as Old Nice (Nice old town or Vieille Ville), an area of winding narrow streets packed with colorful markets, tiny squares, eateries, shops and buildings featuring Sardinian architectural style. The old town area is mostly pedestrian (zone piétonne) and the most popular attraction here is Cours Saleya which runs parallel to Promenade des Anglais. This large square hosts a flower, vegetable, arts and crafts market and is filled with typically French cafes offering fresh fruits and pastries.
In this famous quarter, you'll also find palaces including Palais de la Préfecture and Palais Lascaris, Nice Cathedral, historic churches and museums such as Musée du Palais Lascaris and Museum of Photography Charles Nègre.
A little bit outside the Old Nice, you can visit Musée Masséna and Musée des Beaux-Arts de Nice (art museums) or Marc Chagall National Museum and Musée Matisse, both located a 10-minute drive from the Nice old town. St Nicholas Russian Orthodox Cathedral dating from the 19th century and Basilique Notre-Dame de l'Assomption are two marvelous religious landmarks not to be missed. Old Port of Nice is located next to the old town and is mainly used by yachts and pleasure boats.
Check out Nice tours and activities from Villefranche-sur-Mer 
2. Monaco and Monte Carlo
Monaco is located approximately 15 km/9 miles (a 30-minute drive) east of Villefranche-sur-Mer. Officially known as the Principality of Monaco, it is a sovereign city-state located on the French Riviera and the second-smallest sovereign state in the world after Vatican City. Monaco is less than one square mile in size and is widely recognized as one of the most expensive and wealthiest places in the world with the highest population of millionaires and billionaires.
Monaco City (Monaco-Ville) is one of the four traditional quarters of Monaco together with La Condamine, Monte Carlo, and Fontvieille. Made up of quiet pedestrian streets, Monaco City is the historic heart of Monaco located on a rocky promontory extending into the Mediterranean, nicknamed the Rock of Monaco (or simply "The Rock").
Monaco City holds most of the country's political and judicial institutions including the Prince's Palace of Monaco (Le Palais des Princes de Monaco), Monaco Town Hall, Palace of Justice, Ministry of State (government office), National Council (parliament of Monaco) and others.
Shore excursions going to Monaco normally include a visit to Monaco City as the majority of historic landmarks and attractions are located there. Monaco City is a very touristy place packed with cafes, eateries and souvenir shops. Some of the main attractions are:
Prince's Palace of Monaco – The official residence of the Sovereign Prince of Monaco. The current sovereign prince of Monaco and head of the House of Grimaldi is Albert II, the son of Prince Rainier III and Grace Kelly. The changing of the guard occurs every day outside the Palace at 11:55 am.
Saint Nicholas Cathedral (aka the Cathedral of Our Lady of the Immaculate Conception and Monaco Cathedral) – Dating back to the 19th century, this magnificent church contains the remains of many members of the Grimaldi dynasty which has ruled Monaco, with a few interruptions, from the 13th century to present.
Oceanographic Museum of Monaco –  Founded in 1910 by navigator and oceanographer Prince Albert I, this impressive museum is dedicated to marine sciences and houses exhibitions and an aquarium with over 6000 species of sea flora and fauna.
Jardins de Saint-Martin (St Martin Gardens) – A beautiful peaceful park located next to the Oceanographic Museum, with Mediterranean flora, sculptures and fountains.
Note that the majority of the streets in Monaco City are narrow and cobblestone and people with walking difficulties/wheelchair users may find it difficult to navigate as there are many steep and uneven surfaces.
Monte Carlo
Monte Carlo is the principal residential and resort area of Monaco with its world-famous Monte Carlo Casino, an upscale gambling and entertainment complex housed in the lavish Beaux-Arts building. The building dominates Casino Square (Place du Casino) and also houses Opéra de Monte-Carlo and the Ballets de Monte-Carlo offices. The square is surrounded by exclusive restaurants and ornate buildings including the stunning Hotel de Paris Monte-Carlo.
You can visit the atrium of the casino, Salle Renaissance and a slot machine room for free, without showing ID and with no dress code required. However, if you wish to have a guided tour or play at the casino, the entrance fee of 17€ and a smart dress code are required. You must be over 18 to join the guided tour or play.
In this area, you'll also find luxury label's designer fashion stores including Dior, Chanel, Cartier, Giorgio Armani, Gucci, Louis Vuitton and others. Monte Carlo is also host to most of the Circuit de Monaco, on which the Formula One Monaco Grand Prix takes place, as well as several other sporting and fashion events.
Useful info:
If you are visiting Monaco and Monte Carlo on a guided tour, bear in mind that buses will park in underground parking as it's not allowed to access the center of Monaco City and Monte Carlo by bus (Monaco City is mainly a pedestrian zone, while the center of Monte Carlo can only be accessed by a car or a small van).
Monaco City is very hilly, except for the vast square where Prince's Palace is located. There may be up to a 15-20 minute walk to reach the square from the underground parking (elevators are available to Oceanographic Museum, and then from there you need to walk). The area around Monte Carlo Casino is mostly flat and wheelchair-accessible.
Check out Monaco and Monte Carlo tours and activities
4. Cannes
Renowned for hosting the annual Cannes Film Festival, Cannes is a popular resort town on the French Riviera and another paradise destination for the rich and famous, located 40 km/25 miles (a 1-hour drive) southwest of Villefranche-sur-Mer.
Cannes is famous for its Promenade de la Croisette (Boulevard de la Croisette) which starts at the Cannes harbour (Cannes Old Port – Vieux Port de Cannes) and extends 2 km along the coastline until the end of Croisette Beach.
The palm trees lined promenade is home to Palais des Festivals et des Congrès, where the iconic Cannes Film Festival and a few other global events are held. The iconic boulevard is lined with high-end stores, expensive shops, upscale restaurants and grandiose luxurious hotels such as InterContinental Carlton Cannes, Hotel Barrière Le Majestic Cannes, Hôtel Martinez and JW Marriott Cannes.
Besides the world-famous La Croisette and Cannes' prestigious international reputation, the city has a medieval old quarter known as Le Suquet, centered around Rue Saint Antoine and Rue du Suquet filled with restaurants and cafes. Le Suquet is located right across the harbour and if you continue to climb the winding cobbled streets you'll reach Château de la Castre from where you can enjoy the spectacular view of the Bay of Cannes and the city.
Here, on the top of the old town, you'll find the remains of the medieval fortified castle that nowadays houses the Musée des explorations du monde (art and ethnography museum), as well as a 17th-century Gothic stone church Église Notre-Dame d'Espérance with its iconic clock tower. At the bottom of Le Suquet, you'll find Marché Forville – the indoor market where you can find flowers and fresh produce including fruits, vegetables, seafood, meats, cheeses and so much more.
Cannes is partially wheelchair-accessible. La Promenade de la Croisette is flat and easy to navigate, however, Le Suquet historic quarter is made up of steep cobbled streets and a series of staircases.
To get detailed information on Cannes port, read my article Cannes Cruise Port Guide, Things to Do, Shore Excursions
Check out Cannes tours and activities
5. Èze
Èze is a charming medieval village perched on a 427 meters (1.401 ft) high cliff overlooking the Mediterranean Sea, 8 km/5 miles (a 15-minute drive) east of Villefranche-sur-Mer.
The village was built as a fortified stronghold during the Medieval period and is nowadays famous for its beautiful architecture and stunning views of the Cote d'Azur. While you wander around its narrow cobbled streets, you'll feel as if you were transported back to the Middle Ages. Nowadays, the old houses and parts of the fortress house art galleries, hotels, small arts and crafts shops, souvenir stores, restaurants and cafes.
In Eze, don't miss out to visit Jardin botanique d'Èze (Le Jardin Exotique) and Notre Dame de l'Assomption Church with its colorful yellow facade.
Check out the best Eze tours and activities
6. St. Paul de Vence
Saint Paul-de-Vence is one of the oldest medieval towns on the French Riviera, located approximately 26 km/16 miles (a 1-hour drive) west of Villefranche-sur-Mer. This picturesque hilltop village is known for its modern and contemporary art museums and galleries such as the Fondation Maeght, featuring collections of European modern and contemporary art including the works by notable 20th-century artists (Kandinsky, Braque, Chagall…).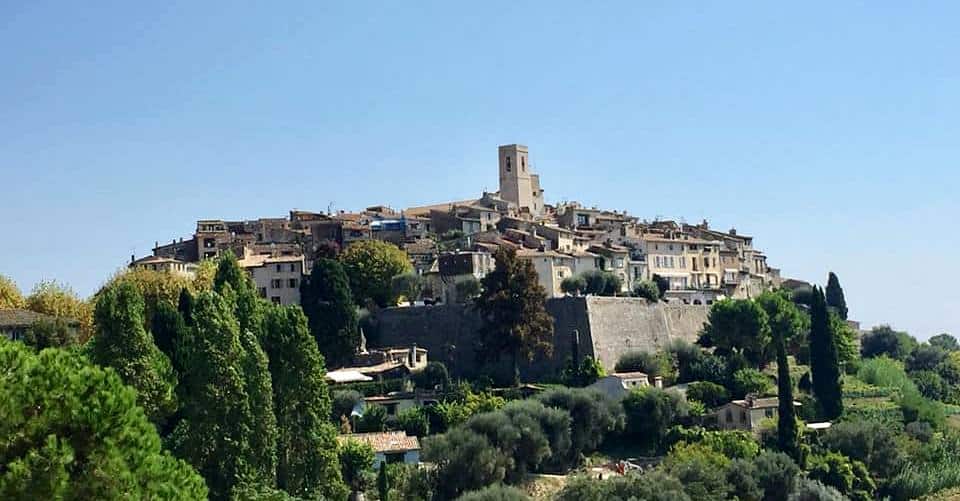 The ramparts surrounding St. Paul de Vence date back to the 16th century as well as the majority of landmarks in the village. While there, make sure you visit Collégiale Saint Paul, a church that originally dates from the 14th century and Chapelle des Pénitents Blancs from the 17th century.
The visit to the village takes no more than 2 hours, which is more than enough to stroll through its narrow cobbled streets filled with lovely restaurants and cafes, museums, art studios, small galleries and shops.
Explore Saint-Paul de Vence tours and activities
7. Antibes
Antibes is a popular resort town located on the French Riviera between Nice and Cannes, 30 km/19 miles (a 50-minute drive) southwest of Villefranche cruise port. Antibes is famous for its old town surrounded by medieval ramparts with the iconic star-shaped Fort Carré, the 16th-century fort perched on the edge of the Saint-Roche Peninsula.
Fort Carré overlooks the spectacular Port Vauban (Antibes harbour), the largest marina in Europe filled with luxurious yachts and pleasure boats.
Antibes old town is a charming area filled with cafes and bars, shops and boutiques. Here, you can explore Antibes Cathedral (Cathédrale Notre-Dame de l'Immaculée Conception) with an Italian-style facade dating from the 18th century and Marché provençal, a traditional covered street market offering fresh food and local produce.
Antibes is also known as the home of Spanish painter Pablo Picasso who lived and worked in the Chateau Grimaldi in 1946, today transformed into Musée Picasso. The museum is situated in the old town, only 100 meters from Antibes Cathedral.
Check out Antibes tours and activities
8. Grasse
Situated 52 km/32 miles (a 1-hour drive) west of Villefranche cruise port, the city of Grasse is renowned for its long-established perfume industry and is known as the world's capital of perfume.
In the city center you can visit Le Musée International de la Parfumerie, a museum that showcases the history, culture and manufacturing of perfume throughout the centuries. There are also a few perfume factories offering daily tours and demonstrations, including Maison Molinard, Parfumerie Fragonard and Parfumerie Galimard.
Besides the perfume industry, one of the main landmarks of the city is Grasse Cathedral dating from the 13th century. The Cathedral is dedicated to Notre Dame du Puy and contains paintings by Rubens, Fragonard and other notable artists.
Explore Grasse tours and activities
To Wrap Up
If your cruise itinerary includes a stop at Villefranche cruise port, make sure you plan your day as there's so much to see and do.
Visit also our cruise port guides for Cannes, Marseille, Ibiza, Barcelona, Palma de Mallorca, Malaga, La Spezia (Cinque Terre), Rome (Civitavecchia), Florence (Livorno), Naples, Taormina (Messina)
---
Don't miss out on the opportunity to enhance your Mediterranean cruise experience with our "Mediterranean Cruise Port Guide"- your ultimate companion to discovering the region's hidden treasures and creating unforgettable memories; click below to purchase your copy today and embark on the voyage of a lifetime!

Ultimate Guide to Mediterranean Cruise Ports
Plan your Cruise Itinerary in Less than an Hour and Maximize Your Port
Experience!
---
You May Also Like:
Top 25 Shore Excursion Packing List Items
What to Pack for a Cruise – Top 50 Cruise Essentials
Women's Cruise Wear – Top Cruise Essentials for Ladies
This article may contain affiliate / compensated links. For full information, please see my disclaimer here.