Welcome to Cannes port, France!
The port of Cannes is another paradise on French Riviera for the rich and famous, renowned for its international film festival, global trade fairs, luxurious hotels, restaurants and beautiful sandy beaches. Due to its tendering facilities and the proximity to Nice, Monaco, Monte Carlo and Villefranche, Cannes port is a frequent stop in Mediterranean cruise itineraries. In this article, read about:
Cannes port (Cannes cruise terminal, getting around, useful info)
Top 8 things to do in Cannes cruise port and the best shore excursions (Nice, Monaco and Monte Carlo, Antibes, Grasse, Eze, Saint Paul de Vence, Lerins Islands).
Visit also our cruise guides for Le Havre, Cherbourg, Marseille, Villefranche (Nice), Rome (Civitavecchia), La Spezia (Cinque Terre), Naples, Livorno (Florence), Barcelona, Palma de Mallorca
Search the best Mediterranean cruise deals!
Cannes Port Info
There are no docking facilities for large cruise vessels in the port of Cannes. Cruise ships anchor in the Bay of Cannes and the port authorities provide the tender boats to transfer the cruise passengers to Cannes Old Port (Vieux Port de Cannes). Old Port is located in the city center, within a short walking distance from Promenade de la Croisette, Palais des Festivals et des Congrès and Le Suquet, the old town of Cannes.
Old Port is a picturesque place where you'll see many yachts and boats. There is also a ferry terminal here, a quay for ships of up to 150 m long (with a maximum draft of 5 meters) and a terminal with modern facilities including a tourist information office, currency exchange, bus/car parking, taxis and more.
See Cannes port map (Old Port) on Google maps
Helpful info & links:
The currency in France is EURO (€). Local currency and credit cards are widely accepted. See the

currency converter

The Cannes port area is flat and wheelchair accessible, however, the parts of the old town are hilly and challenging for people with mobility issues.
The distance from Cannes to Nice is 33 km/20 miles (a 1-hour drive), Villefranche-sur-Mer 40 km/25 miles (a 1 hour 15 minutes), Monaco and Monte Carlo 64 km/40 miles (a 1 hour 30 minutes), Antibes 12 km/7.5 miles (30 minutes), Grasse 17 km/10 miles (35 minutes), Saint Paul de Vence 27 km/17 miles (50 minutes), Eze 45 km/28 miles (1 hour).
Cannes train station (Place de la Gare) is located 700 m or less than a 10-minute walk from the Old Port. From there, you can catch trains to all major cities and towns in Côte d'Azur. For fares and timetables, check the official SNCF website (National railway company) at

https://www.sncf.com/en

Le Train du Cinéma (aka Le Petit Train de Cannes) is a small tourist train that departs from La Croisette (Palais des Festivals) and offers three different tours (History tour, La Croisette tour and combined) in 8 different languages. The prices vary from 8 to 12€ per adult. The tours

cover the major city attractions including Le Suquet (Cannes' old town), Rue d'Antibes, the Provencal market Forville, the beaches, Boulevard de la Croisette, etc. The duration of each tour is 1 hour. 

Cannes bus station (Gare des Autobus) is adjacent to the Hotel de Ville and is located only a few minutes walk from the cruise terminal at the Old Port. Find all bus information on

https://www.cannestouristinformation.co.uk/

Cannes Airport (Aéroport de Cannes-Mandelieu) is located 6.7 km/4 miles or 20-minute drive west of Cannes.

Book a private transfer to/from Cannes cruise port

Cannes boasts a Mediterranean climate with mild winters and sunny, hot summers. For useful cruise packing tips, check out my article

What to Pack for a Cruise in 2023 – Top 60 Cruise Essentials

Visit the official Cannes Tourist Office website at

https://www.cannes-destination.com/

Check out the

best hotels in Cannes
Top 8 Things to Do in Cannes Port
Cannes is absolutely beautiful and worth taking a walk around, as all major attractions are located within walking distance of the cruise terminal. However, if you want to explore outside the city, head to one of the famous French Riviera destinations such as Nice, Monaco, Monte Carlo or Antibes.
Before I share the best things to do in Cannes, I invite you to grab your copy of the "Mediterranean Cruise Port Guide", the most comprehensive guide to 45 Mediterranean cruise ports (including Cannes), packed with practical information, expert tips & unforgettable experiences! (PDF format/200 pages)

Ultimate Guide to Mediterranean Cruise Ports
Plan your Cruise Itinerary in Less than an Hour and Maximize Your Port
Experience!
1. Cannes
The renowned Promenade de la Croisette (also known as Boulevard de la Croisette or La Croisette) is the famous waterfront boulevard that extends 2 km along the city's coastline. The boulevard is home to the prestigious Palais des Festivals et des Congrès, a convention center that hosts the Cannes Film Festival, Cannes Lions International Festival of Creativity and the NRJ Music Award.
The famous La Croisette is also home to luxurious hotels (such as Carlton, Majestic, JW Marriott Cannes and Martinez), upscale restaurants and expensive shops that stretch along the road and overlook a beautiful sandy beach.
Besides the glittering La Croisette, Cannes also has its old town named Le Suquet, home to climbing cobbled streets and a medieval town vibe. Le Suquet is the original fishermen's residential area with very old houses, some of them more than 400 years old. This area is pedestrianized and packed with cafes, restaurants and souvenir shops centered around Rue Saint Antoine and Rue de Suquet.
The old town is hilly and there are the remains of the medieval castle of the monks of Lérins at the top, known as Château de la Castre. The medieval castle is located on Place de la Castre from where you can enjoy the outstanding views of the city and the Bay of Cannes. It also houses le Musée de la Castre (aka Musée des explorations du monde) in its iconic tower that you can also climb (109 steps) and admire the 360-degree view of Cannes. The museum features collections from five continents including primitive arts of Himalaya-Tibet, Oceania, musical instruments of the world (Africa, Asia, Oceania and America), pre-Columbian America and Mediterranean antiquities and also orientalist paintings and objects from the 19th century. The admission fee to the museum is 6€. 
Next to La Castre, you'll also find Église Notre-Dame d'Espérance, a historic stone church dating from the 1600s. The area around the castle is absolutely beautiful and if you want to capture the best photos of Cannes – this is the perfect spot!
At the bottom of Le Suquet, you'll also find Marché Forville, an indoor market that sells flowers and fresh local produce where you can indulge in typically French food and enjoy the local vibe.
Cannes also boasts a beautiful sandy Croisette Beach that lines the Boulevard de la Croisette, where you'll find beach facilities, eateries and cafes. The main beach (Croisette) is located on your right side upon exiting the Old Port, while on the left side you'll find another less crowded public beach (Plage du Midi).
When exploring Cannes, keep in mind that La Croisette is flat and easy to handle, while Le Suquet is cobbled and challenging to climb for people with walking difficulties. It takes only 10 minutes to reach the castle from the Old Port, however, it's all uphill and there are dozens of staircases to manage.
Check out Cannes tours and activities
2. Nice
The gorgeous city of Nice is located 35 km/22 miles (a 45-minute drive) east of Cannes. With its beautiful Promenade des Anglais, Place Masséna, the old town (Old Nice) and numerous landmarks, squares, markets, eateries and shops, Nice boasts a Mediterranean vibe and is one of the most visited cities on the French Riviera. Read more about Nice in Villefranche (Nice) cruise port guide
Check out Nice tours and activities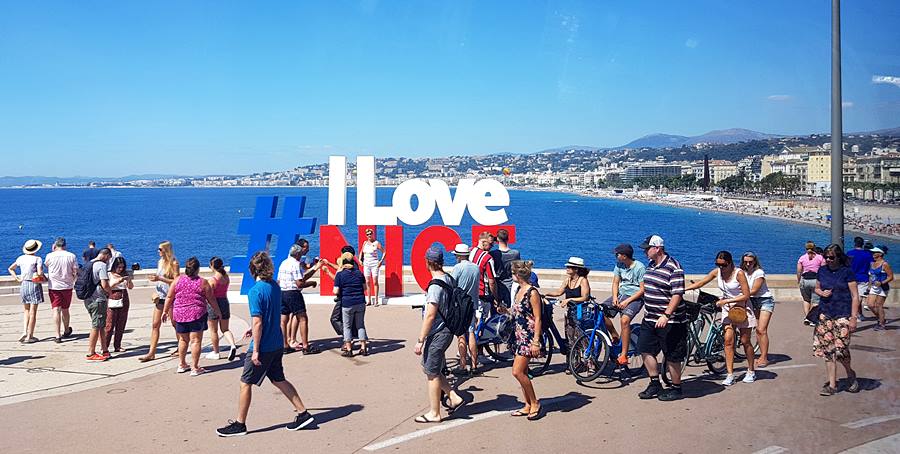 3. Monaco and Monte Carlo
The Principality of Monaco is a sovereign city-state and one of the most prestigious and expensive places on the Côte d'Azur, located 56 km/35 miles (a 1 hour 30 minutes) east of Cannes. It consists of several administrative areas including Monaco City and Monte Carlo, the two most famous destinations of incredible wealth and beauty.
Monaco City sits on "The Rock", a 62-meter (203 ft) rock overlooking the Port Hercules and the Mediterranean Sea. This is where all major tourist attractions are located, including the Prince's Palace, Immaculate Conception Cathedral, Oceanographic Museum, St Martins Garden and others.
Monte Carlo, with its iconic Monte Carlo Casino, lies a few kilometers further and attracts gamblers, tourists, rich and famous from all around the world.
---
Read more in detail about Monaco and Monte Carlo in Villefranche (Nice) Cruise Port Guide (+ get useful, practical info and tips)
Check out Monaco and Monte Carlo tours and activities
---
4. Antibes
This beautiful resort town is located between Cannes and Nice, 13 km/8 miles (a 35-minute drive) west of Cannes port. With its fortified old town, star-shaped Fort Carré, Port Vauban marina with its luxury superyachts and forested Cap d'Antibes peninsula, Antibes ranks among the top-visited destinations on Côte d'Azur.
Juan-les-Pins, situated only a 5-minute drive from Antibes, is another chic resort known for its sandy beaches, waterfront promenade, boutique stores, high-end eateries and Jardin de La Pinède park where the famous summer Jazz à Juan festival takes place.
Explore Antibes tours and activities
5. Saint Paul de Vence
Saint-Paul-de-Vence is a charming medieval village located 28 km/17 miles (a 1-hour drive) from Cannes cruise port. The hilltop village has long been a favorite place of notable artists, writers, painters and poets who used to come here and seek inspiration.
Today, the village is known for its numerous art galleries and museums (such as the iconic Fondation Maeght), the 17-century Saint Charles-Saint Claude chapel, historic buildings and cobbled streets filled with traditional eateries, cafes and souvenir shops.
Check out Saint Paul de Vence tours and activities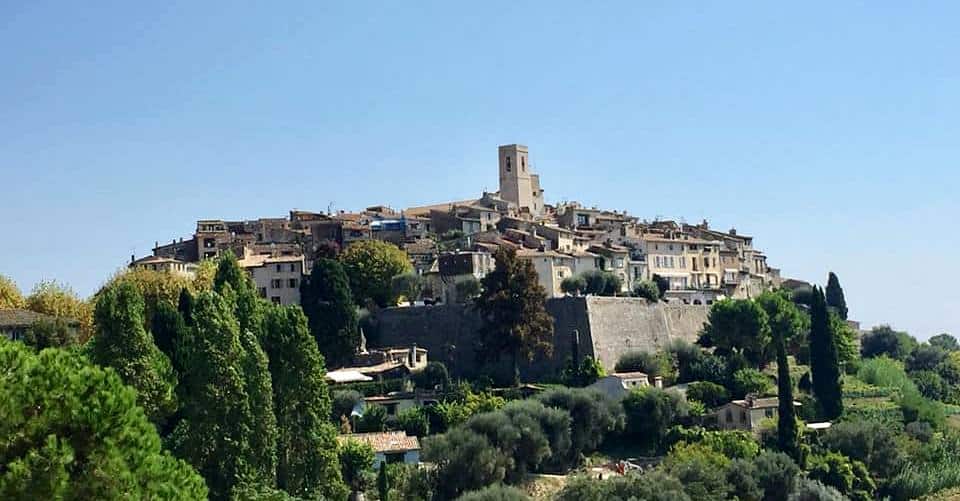 6. Grasse
The city of Grasse lies 21 km/13 miles (a 40-minute drive) northwest of the port of Cannes. The city is internationally recognized for its long-established perfume industry and perfumeries such as Fragonard, Molinard and Galimard that offer workshops and guided tours.
While in Grasse, don't miss out to visit Musée International de la Parfumerie (MIP) and Grasse Cathedral, located only a 5-minute walk from each other.
Explore Grasse tours and activities
7. Èze
The medieval hilltop village of Èze is located 54 km/33 miles (a 1-hour drive) east of Cannes port, between Nice and Monaco. It is a typical tourist village dotted with medieval old houses, narrow cobblestone streets, art galleries, shops, eateries and cafes.
While in Eze, make sure you visit the Chapelle de la Sainte Croix dating from the 14th century and Jardin Botanique d'Èze, a botanical garden known for its collection of cacti and succulents, as well as its magnificent panoramic views of the French Riviera.
Explore Eze tours and activities
8. Îles de Lérins
The Lérins Islands are an archipelago that consists of four islands off the coast of Cannes, located a 15-minute ferry ride from Quai Laubeuf in Cannes Old Port.
The Île Sainte-Marguerite (Saint Margaret Island) and the Île Saint-Honorat (Saint Honorat Island) are the two largest ones, while the other two are uninhabited.
Saint Margaret is the largest island famous for its Fort Royal, the imposing 17th-century fortress with prison cells in one of which the mysterious "Man with the Iron Mask" was held in the same century. Fort Royal nowadays houses Musée de la Mer (Museum of the Sea) featuring items recovered from ancient Roman and Saracen shipwrecks.
Saint Honorat is the second-largest island and is known for the Abbey of Lérins and the 15th-century fortified monastery where you can buy various monastic goods, including wine and olive oil produced on the island.
The ferries to Lérins Islands usually depart hourly from Cannes harbour and the return tickets cost around 16€. If you decide to visit the islands, I highly suggest you ask for more information at the tourist information office in the port.
Explore the Lérins Islands tours and activities
To Wrap Up
Make sure you plan your day in Cannes port of call to get the most out of this stunning destination. If you have never been to Cannes, I suggest you explore the city and its gorgeous beaches and if you have, head to one of the neighboring resort towns.
Visit also our cruise guides for Le Havre, Cherbourg, Marseille, Villefranche (Nice), Rome (Civitavecchia), La Spezia (Cinque Terre), Naples, Livorno (Florence), Barcelona, Palma de Mallorca
---
Don't miss out on the opportunity to enhance your Mediterranean cruise experience with our "Mediterranean Cruise Port Guide"- your ultimate companion to discovering the region's hidden treasures and creating unforgettable memories; click below to purchase your copy today and embark on the voyage of a lifetime!

Ultimate Guide to Mediterranean Cruise Ports
Plan your Cruise Itinerary in Less than an Hour and Maximize Your Port
Experience!
---
You May Also Like:
25 Top Shore Excursion Packing List Items
What to Pack for a Cruise in 2023 – Top 60 Cruise Essentials
Mediterranean Cruise Port Guides
This article may contain affiliate / compensated links. For full information, please see my disclaimer here.