Welcome to Messina cruise port, Sicily!
Separated from mainland Italy by the Strait of Messina, the city of Messina lies on the northeastern coast of Sicily and is its third largest city and major seaport. Due to its strategic and geographical position, Messina is often referred to as "the door to Sicily" and there are daily ferries connecting it to the mainland. Messina is also the main gateway to the breathtaking city of Taormina, located about a 45-minute drive to the south. In this article, read about:
Messina port guide (Messina cruise terminal, getting around, helpful info)
Top 12 things to do in Messina cruise port & best Messina shore excursions (getting to Taormina and Etna, top things to do)
Visit also our cruise port guides to Catania, Taormina (Giardini Naxos), Palermo (Sicily), Cagliari, Civitavecchia (Rome), Naples, Heraklion, Rhodes, Barcelona, Marseille, Ajaccio (Corsica), Livorno, La Spezia
Messina Cruise Port
Messina cruise terminal is located in the heart of the city, within a 5-minute walk from Piazza del Duomo, the main square dominated by the imposing Messina Cathedral. The cruise terminal has one berth and can accommodate 1 cruise ship at a time. There is no terminal building, but you can find all services (ATMs, currency exchange, taxis, shops, restaurants) right after you exit the terminal. Parking for tour buses is located on the pier.
The port of Messina is the main gateway to the resort town of Taormina, which is located around 52 km/32 miles (a 45-minute drive) to the south. You can get to Taormina by train, bus, car, or with a shore excursion (read in detail further in the article). In case your cruise ship anchors in the Bay of Naxos near Taormina, check out my article Taormina Cruise Port (Giardini Naxos), Things to Do, Shore Excursions for more information.
See Messina cruise terminal on Google maps
Helpful info & links:
The port area is flat and suitable for wheelchair users. Messina's old town is also flat, except for the Temple of Christ the King which is located on a hilltop.
Upon exiting the cruise terminal, cross the Via Vittorio Emanuele II ("Via" means "the street") and you'll reach Via G. Garibaldi where you'll find taxis, Hop on Hop off buses, a tourist train, and lots of restaurants and pubs. Duomo di Messina (Messina Cathedral) is located right across the street from there.
The currency in Sicily (Italy) is EURO (€). ATMs are available in town and near the cruise terminal. Local currency and credit cards are widely accepted. See the

currency converter

Tipping is not customary in Italy, however, there is a service fee of 15-20% of the bill (or 2€ per person) in the majority of restaurants. In some cities, restaurants may be closed between 2 pm and 7 pm (they close after lunchtime and reopen in the evening).
There are plenty of taxis around the city, but you may not need them because you can explore the entire city on foot. Taxi drivers often offer guided tours to Taormina and other places.
Messina Hop on Hop off city sightseeing bus departs from the company's ticket office on Via Cesare Battisti 10 (on the corner of Via Cesare Battisti and Via G. Garibaldi, literally just across the street next to Coppedè Gelateria). There are two lines: Red Line (departs from Piazza Duomo, runs every 60 minutes and stops at Piazza Duomo, Regional Museum, Beach and Lakes) and Blue Line (departs from Coppedè Gelateria on the corner of Via Cesare Battisti and Via G. Garibaldi, runs every 45 minutes and stops at Piazza Duomo, Temple of Christ the King, Neptune Fountain, Via Garibaldi, Chiesa dei Catalani). Blue Line is recommended if you prefer to explore the city attractions, while the Red Line goes a bit outside of the city. A 1-day ticket costs 10€. There is also the Green Line that goes only to the beach and costs 5€.
City Train Tour starts from Piazza Duomo and consists of over 10 stops around the city. The duration is 50 minutes.
Messina Centrale (Messina central bus and train station) is located on Piazza della Repubblica, only 850 m (10 minutes' walk) southeast of Messina cruise terminal. Trains in Italy are operated by Trenitalia and you can check the timetables and prices at

https://www.trenitalia.com/

. Trains from Messina to Taormina run once or twice per hour, and the ride lasts from 30 mins to 1 hour, depending on the train itinerary. The ticket prices start from 4.70€ one way. The central bus station is located here too.
Public buses and trams in Messina are operated by ATM (Azienda Trasporti Messina). You can check the timetables on the official webpage

https://www.atmmessinaspa.it/

Intercity buses in Sicily are operated by Interbus Autolinee and they depart from the central station. If you decide to go to Taormina by bus, you'll take this one. Check out the timetables and prices at

https://www.interbus.it/

If you prefer to rent a car, you won't find much trouble finding parking, because Messina is less crowded than other places such as Palermo, Taormina, and others.

Check out Messina rent-a-car deals and prices

There are two airports in Sicily. The main and largest airport is Catania Fontanarossa Airport, located a 1.5-hour drive south of Messina, while Palermo Airport is located a 3h 15-min drive west of Messina.

Check out the cheapest flights to Catania Fontanarossa

Read about the top 10 things to do in Taormina in my article

Taormina Cruise Port (Giardini Naxos), Things to Do, Shore Excursions

 
The weather in Sicily is warm and pleasant throughout the year, with more rain in the autumn and winter season. The weather is nicest between June and October, but this is also the period of the biggest crowds and higher prices, especially in touristy places like Taormina. To get useful cruise packing tips, check out my article

What to Pack for a Cruise in 2023 – Top 60 Cruise Essentials
---
Top 12 Things to do in Messina Cruise Port
Despite its turbulent history and numerous natural disasters that almost completely devastated the city (earthquakes of 1783 and 1908), Messina has been reconstructed and regained its old charm. Today, it is a beautiful city boasting striking monuments, breathtaking panoramas and a great tourist offer. Before I share with you the 12 best things to do in Messina port, I invite you to sign up below and get my exclusive SHORE EXCURSION GUIDE for FREE!
Watch my YouTube video on Messina cruise port!
1. Piazza Duomo
Piazza Duomo is the main square in Messina, dominated by the imposing Cathedral of Messina (also known as Duomo di Messina and Basilica Cattedrale di Santa Maria Assunta) and its iconic Astronomical Clock. Next to the bell tower is the lavish Orion Fountain, a grand 16th-century fountain with statues of mythological figures built to celebrate running water. The fountain dates from 1551 and was originally constructed by a renowned architect from Florence who was actually a student of Michelangelo.
In the surrounding streets, you can find numerous restaurants, pizzerias, gelaterias, some shops, pubs and cafes. On the square itself, there are a few benches to sit and relax while enjoying the Astronomical Clock's noontime show. At this time, the square is very busy so make sure you arrive exactly at noon and get your camera ready!
Check out Messina walking tours and activities
2. Cathedral of Messina
Also known as Duomo di Messina and Basilica Cattedrale di Santa Maria Assunta, the monumental Messina Cathedral was built by the Normans in the 12th century and features magnificent architecture. The cathedral was reconstructed in the 20th century, after the devastating earthquake of 1908 and World War II bombings. The major attraction is the cathedral's bell tower, which houses the largest astronomical clock in the world.
3. Astronomical Clock of the Cathedral of Messina
The bell tower of the Cathedral of Messina (Campanile Del Duomo Di Messina) contains the biggest and most complex mechanical and astronomical clock in the world. Designed by the company Ungerer of Strasbourg for the Archbishop at the time, Mons. Angelo Paino, the 60-meter-high clock was inaugurated on August 15th, 1933. Every day at noon, there is a show with all the bronze figurines that come out and begin to play and tell a story of the history of Messina. Quite impressive to see!
You can climb the bell tower and see the whole system up close. The entrance fee is 4€ and there are 236 steps to handle. Once you reach the top, you'll be rewarded with a spectacular 360-degree view of Messina and its port!
Explore Messina sightseeing tours and activities
4. Temple of Christ the King
Also known as Tempio di Cristo Re, Sacrario di Cristo Re and Shrine of Christ the King, the church was designed by Giovan Battista Milani in 1937 and features a beautiful Baroque hexagonal design and a large ornate dome that can be seen for miles. The church houses the remains of the soldiers and people who lost their lives in two world wars whose gravestones you can see on the walls.
It takes about 20 minutes a slightly uphill walk from the port to reach the church. From the platform in front of it, you can admire stunning views of the city and port. Hop on Hop off buses and City Train both stop here, so it's a better option if you want to avoid walking.
5. Neptune Fountain
The lavish Fontana di Nettuno lies a 10-minute walk north of Messina cruise terminal and overlooks Messina Marina. Designed by Giovanni Montorsoli in 1557, the fountain is dedicated to the sea god Neptune who is depicted in the center holding his legendary trident, surrounded by several other mythical characters. Right behind the fountain square is a beautiful Government Palace (Palazzo del Governo) that nowadays houses the city council.
Check out the Fountain of Neptune tours and activities
6. Churches and Museums
Chiesa Santissima Annunziata dei Catalani – This beautiful church is located right only 100 m away from Duomo di Messina, and you'll probably see it upon crossing the street from the terminal. Built in the 12th century, the church is a fine example of Norman architecture, and one of the few buildings that survived the earthquake of 1908.
Church of Saint Mary of the Carmel – Located approximately 650 m from Duomo and 1 km from the port, Chiesa del Carmine boasts a truly unorthodox design with its Baroque architecture, a large central basilica and a wonderful light grey/blue coloration.
Interdisciplinary Regional Museum of Messina (MUME) – This museum contains art and archaeological collections of local and national artwork and artifacts sourced from the Middle Ages to the 19th century. It is located a 10-minute drive north of the port of Messina.
7. Galleria Vittorio Emanuele III
Located only 300 m from Piazza Duomo, the galleria features a style similar to the famous Milan gallery with its large central promenade covered with a glass roof and a magnificent front facade with columns and ornate arches. It is quite impressive inside as well, although the majority of shops were closed when I visited. The gallery opened in 1929, at the same time as the reconstruction of Messina Cathedral.
8. Zona Falcata
Zona Falcata is a lively area and home to Messina's busy port and some interesting historic landmarks. These include the fort of San Salvator (Forte del Santissimo Salvatore) dating from the 17th century and a 60-meter octagonal column (Stele della Madonna della Lettera) constructed in 1934, topped by a statue of Madonna della Lettera that locals call Madonnina, or "little Madonna". This area encompasses the city's Marina that runs parallel to a nice waterfront promenade overlooking the Strait of Messina.
9. Taste the Sicilian Cuisine
When in Sicily, tasting the local cuisine is a must! You can choose between a wide range of pasta dishes, seafood, pizzas to fresh salads and various international dishes. There are gelaterias and pastry shops on every corner, so make sure you treat your taste buds with premium quality gelatos and delicious Cannoli. Messina is renowned for "Granita", a semi-frozen dessert made from sugar, water and various flavorings, served with a brioche bun, a must-try when in Sicily!
Check out Messina food tasting tours and activities
10. Taormina
This jewel of Sicily sits near Mount Etna, around 55 km/35 miles (a 45-min to 1-hour drive) south of Messina cruise port. Perched on a 200-meter-high cliff, Taormina offers spectacular views of the sea and the Etna volcano. The history of Taormina dates back to before Ancient Greece established its first colony on Sicily in 734 BCE. Today, visitors can admire the remarkably preserved Teatro Antico which dates from the 3rd century BC, probably one of the most stunning ancient theaters in the world.
Corso Umberto is the main street that runs through the heart of the old town and is filled with luxury boutiques, designer stores, souvenir shops, restaurants, gelaterias, cafes and small businesses. At one end of Corso Umberto street, Piazza IX Aprile offers the most beautiful views of the bay below and Mount Etna. While there, make sure you check out the medieval Duomo di Taormina and Villa Communale, a peaceful oasis offering breathtaking coastal views.
From Messina cruise port, you can get to Taormina by train, bus, car, or with a shore excursion. Messina Centrale (central train and bus station) is located a 10-minute walk from the port. Trains are quite reliable and there are up to two departures per hour to Taormina. The ride can take from 30 minutes to 55 minutes one-way, depending on the train itinerary. You can check the timetables and prices at https://www.trenitalia.com/. In Taormina, you should get off at Taormina-Giardini train station.
Taormina-Giardini train station is located below the hill, so you'll need to take a local minibus to take you to Taormina's old town where all the attractions are located. This local mini bus is red-colored and runs frequently in high season. The timetables are displayed on the board in front of the train station. The one-way ticket costs 1.10€ and the ride takes about 15 minutes. The minibus will drop you off at Piazza S.Pancrazio, which is in front of the Corso Umberto street entrance. Alternatively, you can take a taxi from the train station and it will cost you around 15-20€ per vehicle one way.
You can also take an intercity bus from Messina to Taormina. Intercity buses in Sicily are operated by "Interbus" company and they depart from Messina central station. The ride can take from 1h 10 mins to 1h45 mins one way, depending on the itinerary. In Taormina, the bus will drop you off at Piazza S. Pancrazio, from where you can walk into the old town. Terminal Interbus Taormina (bus terminus) is located 550 m (less than a 10-minute walk) from there.
The other few options to get from the port of Messina to Taormina are by renting a car, which I don't recommend as it's very challenging to find parking, especially in the high season. You will most likely need to leave your car in one of the car parks below the hill and then take the minibus as well. There is one car park right next to the train station. If you are considering a car, it would be better to arrange a private round-trip transfer to Taormina or arrange a tour with one of the taxi drivers in the port.
Lastly, you can book an organized shore excursion with your cruise ship or a reliable tour operator that will show you the highlights of Taormina. Guided tours are great because they will allow you to see most of Taormina in just one day, which is well worth it because the place is a true fairytale!
Read about the top 10 things to do in Taormina in my article Taormina Cruise Port (Giardini Naxos), Things to Do, Shore Excursions 
Check out Taormina tours and activities from Messina port
Watch my YouTube video on the top 10 things to do in Taormina!
11. Mount Etna
Another popular shore excursion is a day trip to the infamous Mount Etna, one of the most dangerous and active volcanoes in Europe known for its exceptional level of volcanic activity. It stands at a height of 3329 meters and is considered the tallest volcano in Europe after Mount Teide in Tenerife (Spain).
The volcano spreads across 59,000 hectares entirely in the province of Catania and has been erupting for a hundred thousand years. It's constantly active, and you can see the fumes coming out of craters at all times. There are four big craters (crater Silvestri is the best known) and hundreds of smaller ones. There are also over 200 lava caves that you can explore in a company of a professional guide. The biggest eruption took place in 1669 when the entire city of Catania was completely devastated. The last eruption was in 2021.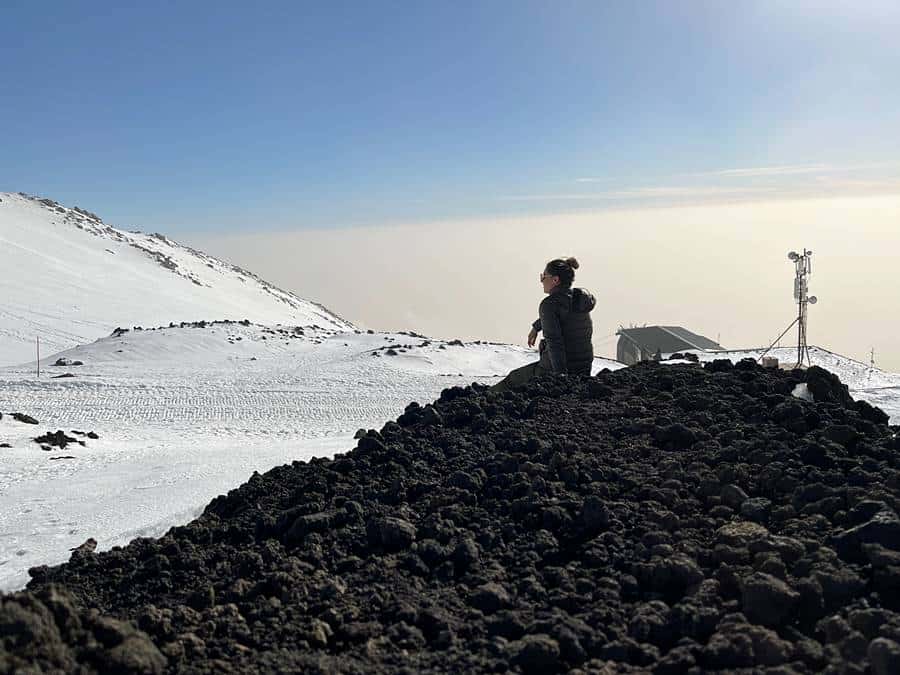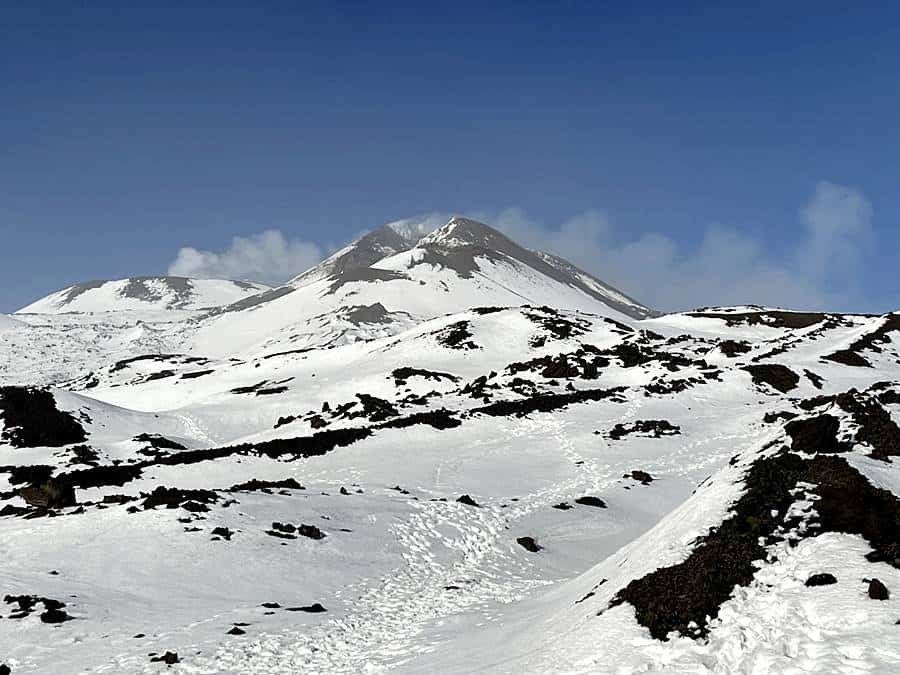 The best way to get to Mount Etna from Messina cruise port is either by car or with an organized shore excursion. Etna is located approximately 100 km/62 miles (a 1h 30 mins drive) from Messina port and you can explore it on your own only partially (up to 2,500 m).
If you decide to rent a car, you will drive to Rifugio Sapienza which sits at 2,000 m. Here, you'll find a large free parking, cafes, shops and tour vendors where you can book tours to explore the higher altitudes of the volcano. You can book a cable car, which is definitely the most exciting option as it will take you to the summit, however, these are often canceled due to winds and bad weather conditions. Instead of refunding the tickets, they offer you an alternative (such as an off-road drive) so keep that in mind. The cable car general admission fee is 30€, and if you want a professional guide to accompany you, the price is almost double!
Alternatively, you can go hiking (you can hike on your own until 2,500 m, but if you want to go to 3,000, you need a professional guide), book a 4×4 tour, or explore the caves with a guide. Whatever you choose to do, it's absolutely worth it because it's a once-in-a-lifetime adventure! Keep in mind that roads leading to Etna are windy and it can be cold up in the mountain, so make sure to bring a jacket and comfortable shoes.
Shore excursions to Etna are also popular and there are many options available, from adventurous hikes to off-road rides, cave exploration and wine tasting. Upon booking a tour, check what's included in it and see if there's going to be an extra charge on-site.
Check out Etna tours and activities from Messina
12. The Godfather Movie Tour
The legendary movie "The Godfather" was filmed in Sicily and for the fans of the saga, this tour is a must! You will be visiting the town of Savoca, located near Taormina, around 43 km/27 miles (a 50-minute drive) south of Messina cruise port. In Savoca, you will see the 1971 filming location for the wedding, as well as the Bar Vitelli where Michael Corleone asked for Apollonia's hand.
You will then continue to Forza d'Agrò village, which is located another 25 minutes drive, to see the square that served as the main square of Corleone during the Francis Ford Coppola movie. This tour is often offered as a combo with Taormina because they are located close to each other.
Explore The Godfather movie tours and activities
To Wrap Up
Whether you decide to stay in Messina and explore its highlights, or you decide to visit stunning Taormina, Etna or Godfather filming locations, an awesome day is guaranteed! Make sure you plan your day ahead to get the most out of this amazing port of call!
Visit also our cruise port guides to Catania, Taormina (Giardini Naxos), Palermo (Sicily), Cagliari, Civitavecchia (Rome), Naples, Heraklion, Rhodes, Barcelona, Marseille, Ajaccio (Corsica), Livorno, La Spezia
WATCH MY YOUTUBE VIDEO ON MESSINA CRUISE PORT!
---
You May Also Like:
25 Top Shore Excursion Packing List Items
What to Pack for a Cruise in 2023 – Top 60 Cruise Essentials
Mediterranean Cruise Port Guides
Don't forget to subscribe below and get my exclusive SHORE EXCURSION GUIDE FOR FREE!
This article may contain affiliate / compensated links. For full information, please see my disclaimer here.