Welcome to Palermo cruise port, Sicily!
Palermo is the capital city of the island of Sicily (Italy) and its largest port together with the port of Messina. Nestled on the northeastern coast of Sicily, this ancient city boasts 2.700-year-old history, diverse cultural influences, and a variety of things to offer. In this article, read about:
Port of Palermo (Palermo cruise terminal, getting around, helpful info)
10 best things to do in Palermo port & best Palermo shore excursions
Visit also our cruise port guides to Catania, Messina, Naples, Civitavecchia (Rome), Livorno, La Spezia (Florence), Barcelona, Valencia, Ibiza, Marseille, Ajaccio (Corsica), Piraeus (Athens), Kusadasi
Search the best Mediterranean cruise deals!
Palermo Cruise Port
The port of Palermo serves both cruise ships and ferries. It is located approximately a 25-minute walk from the city center and Palermo Cathedral, the prominent city landmark. Palermo Marina is located approximately a 10-15 minute walk from the port.
Palermo cruise port consists of three berths that can accommodate cruise ships of all sizes and several berths for ferries serving major Mediterranean cities and mainland Italy. There is a small white terminal building on the pier, as well as designated parking for shore excursion buses and taxis. The port authority staff is normally available on the pier to point you in the right direction, and there is also an info point at the entrance/exit of the terminal area.
See the port of Palermo on Google maps
Helpful info & links:
The tourist information office is located right by the port entrance. Here you can get city maps and purchase parking and bus tickets. A car park is located right next to it.
The currency in Sicily (Italy) is EURO (€). ATMs are available in town and near the cruise terminal. Local currency and credit cards are widely accepted. See the

currency converter

Tipping is not customary in Italy, however, there is a service fee of 15-20% of the bill (or 2€ per person) in the majority of restaurants. In some cities, restaurants may be closed between 2 pm and 7 pm (they close after lunchtime and reopen in the evening).
The official language in Sicily is Italian. Italian people don't speak perfect English, so be prepared for that.:)
The port area is flat and suitable for wheelchair users. The city of Palermo is also mostly flat, however, be careful when crossing the street as there are not many traffic lights and the drivers don't really respect pedestrian crossing rules (at least that's my impression). Once you reach the city center, the majority of the attractions are located within walking distance from each other.
Taxis are available on the pier and the ride to the city center takes 15-20€ per vehicle one way.
Public bus is available on Via Francesco Crispi ("Via" means "street" in Italian), the street that runs parallel to the cruise port (you exit the cruise terminal and the street is in front of you). Bus 107 will take you to the historic city center in less than 10 minutes and the ticket costs 1.40€. Buses run every 15 minutes, the ticket is valid for 90 minutes and can be purchased in Tabacchi stores or at the cruise terminal Tourist information office. The ticket is valid for both buses and trams. Bus 107 also goes to the Palermo central station. To reach the nearest bus station, you should exit the terminal, cross the street, turn left and walk for about 150-200 m. The bus station is located across the street from Eni gas station, and here you'll also find a Tabacchi shop where you can buy a bus ticket in case you have forgotten to do it at the cruise terminal. The bus station is not clearly marked, so it's recommended to ask a local person to show you where to wait exactly (the bus stop is "Fermata" in Italian).
Public buses and trams in Palermo are operated by AMAT, and you can find the timetables and more info at

https://www.amat.pa.it/

Upon exiting the terminal, you'll also find a Hop on Hop off bus stop. Hop on Hop off bus tours are available starting from 10€ per ticket and there are two lines: Linea Verde (Green line) and Linea Blu (Blue line). Linea Blu stops at all major city landmarks including Piazza Pretoria, Quattro Canti, and Piazza Indipendenza, while the Linea Verde goes to the historic city of Monreale which is located a 30-minute drive from Palermo. If you want to visit Palermo's major attractions, you should go for the blue line. Check out Palermo Hop on Hop off bus tickets on

Viator

and

Get Your Guide

On Via Francesco Crispi, you'll also find pharmacies, banks, local businesses, a few cafes and shops. Palermo Marina is located on one end of this long street.
Palermo Centrale (Palermo central station) is located around 3 km/1.9 miles south of the Palermo cruise terminal (a 35-minute walk, or a 10-minute drive). Trains in Sicily are operated by Trenitalia and you can check out the schedules at

https://www.trenitalia.com/

Palermo is an extremely busy city so keep that in mind if you decide to rent a car (parking is a problem, too). However, a car rental is a great idea if you want to explore other destinations outside Palermo.

Check out Palermo rent-a-car deals and prices

There are two airports in Sicily. The main and largest airport is located in Catania (a city located a 2.5-hour drive from Palermo) while Palermo Airport is located around 31 km/20 miles (a 40-minute drive) west of Palermo.
The weather in Sicily is warm and pleasant throughout the year, with more rain in the autumn and winter season. The weather is nicest between June and October, but this is also the period of the biggest crowds and higher prices. To get useful cruise packing tips, check out my article

What to Pack for a Cruise in 2023 – Top 60 Cruise Essentials
---
10 Best Things to Do in Palermo Cruise Port
Palermo is diverse and unique and in my opinion, completely different from other cities in Sicily. Due to its turbulent past and historic background, Palermo has been a melting pot of different civilizations throughout centuries. That influence is reflected in the city's architecture, gastronomy, people and everyday life.
Before I share the best things to do in Palermo, I invite you to grab your copy of the "Mediterranean Cruise Port Guide", the most comprehensive guide to 45 Mediterranean cruise ports (including Palermo), packed with practical information, expert tips & unforgettable experiences! (PDF format/200 pages)

Ultimate Guide to Mediterranean Cruise Ports
Plan your Cruise Itinerary in Less than an Hour and Maximize Your Port
Experience!
Watch my YouTube video on Palermo cruise port!
1. Palermo Cathedral
The iconic Palermo Cathedral was built by the Normans between 1169 and 1185 and is a component part of the UNESCO serial property "Arab-Norman Palermo and the Cathedral Churches of Cefalù and Monreale". Dedicated to SS. Assunta, the grandiose cathedral is located in an area near the ancient Punic-Roman walls that enclosed the first Phoenician settlement. The building represents an outstanding mixture of Western, Byzantine and Islamic cultural styles, and is the symbol of Palermo.
Today, visitors can tour the Crypt and Royal tombs of the queens and kings of Sicily, including the tomb of King Roger II, the Treasury, Apses, Roofs and Underground rooms. The full ticket that includes the Archiepiscopal Palace Complex, the Monumental Area of the Cathedral and the Roofs costs 15€, but you can also go for cheaper options depending on what you prefer to visit. For example, I paid 7€ for the combo Roofs and Royal tombs. The entrance to the cathedral itself is free of charge.
While there, make sure you climb to the roofs of the cathedral because you'll be rewarded with the most spectacular panoramic views of the entire Palermo. There are 110 steps to handle and it may not be crowded as expected (there were very few people when I visited). Highly recommended!
Check out Palermo Cathedral tours and activities
2. Norman Palace
If you continue walking down Vittorio Emanuele street, after only 450 m from the Cathedral you'll reach a beautiful Villa Bonanno city park and Piazza Indipendenza, dominated by the imposing Norman Palace, also known as the Royal Palace of Palermo. This stunning royal palace complex dates from the 9th century and boasts a simple neo-classical facade.
Built to accommodate Arab emirs, the palace was occupied by the Normans who expanded it, and then by Spaniards. It was the seat of the Kings of Sicily with the Hauteville dynasty in the 11th and 12th centuries and nowadays houses the Sicilian Regional Assembly. The architectural style of the palace is diverse and reflects a mixture of different nations that inhabited it. Within the complex, you can tour the stunning Palatine Chapel commissioned by King Roger II to accommodate the royal family's masses, the Royal apartments, archaeological and other exhibitions, as well as the Royal Gardens. The full ticket costs 15€ per person and the visit takes about 2 hours.
Check out the Norman Palace tours and activities
3. Church of Saint John of the Hermits
Chiesa di San Giovanni degli Eremiti is a medieval church located only a 5-minute walk from the Norman Palace. This impressive church is easily recognizable by its bright red domes and is worth visiting as it is part of the UNESCO serial property "Arab-Norman Palermo and the Cathedral Churches of Cefalù and Monreale". There is a small fee to enter the church complex.
4. Palermo Street Markets
With its historic buildings and diverse architecture, the streets of Palermo are where you can feel the authentic city vibe. Palermo is known for its bustling street markets where you can taste traditional Sicilian dishes and purchase fresh local produce. There are three most famous ones: Mercato di Ballaro, Mercato della Vucciria, and Mercato del Capo, all three located within a 10-15 minute walk from the Cathedral.
Make sure you taste Arancini, deep-fried rice balls stuffed with ham and cheese, coated with breadcrumbs, and the famous Italian Cannoli to sweeten your day. You'll also find a variety of seafood dishes, spices, cheeses, fruits, veggies, and somewhat strange-looking Sicilian bites, mostly made of fish. I personally preferred Mercato del Capo, but all the markets are unique in their own way.
Check out Palermo food tours and activities
5. Quattro Canti
Quattro Canti ("the Four Corners") is a Baroque, octagonal public square located only a 5-minute walk from the Cathedral. The square was named after the four corners known for their perfectly symmetrical facades all built on the same model: at the base, each building features a fountain representing the season; at the first level, there is a statue of the kings of Palermo and at the last level, the patron saint of Palermo is represented.
This square is relatively small, however, it is not pedestrianized so be on the lookout for cars, buses, tuk-tuks and carriages that you'll constantly be seeing moving around. Quattro Canti is packed with people as it's the intersection of the two main streets of Palermo: Via Maqueda and Via Vittorio Emanuele (that leads to the Cathedral). Both streets are filled with street sellers, shops, small businesses, restaurants and bars. If you want to taste the best gelato in Sicily, I highly recommend you visit Cappadonia Gelati, the award-winning gelateria located on Via Vittorio Emanuele, known for its mouth-watering gelato stuffed in a brioche bun.
Explore Quattro Canti tours and activities
6. Pretoria Square
At a stone's throw from Quattro Canti, Pretoria Square (Piazza Pretoria) is another scenic spot popular with tourists. The square is dominated by the monumental 1500s Pretorian Fountain (Fontana Pretoria), featuring ornate, tiered design and nude statues of mythological figures. The piazza is surrounded by the 17th-century San Giuseppe dei Teatini Church, built in the Baroque style with an impressive picturesque dome, Palazzo Pretorio (which houses the Town Hall), and Santa Caterina Monastery with its church.
Pretoria Square is usually bustling with tourists and is one of the most photographed spots in Palermo together with the adjacent Quattro Canti. All sightseeing tours stop here, including Hop on Hop off buses.
Check out Piazza Pretoria tours and activities
7. Teatro Massimo
Only a 10-minute walk from the Cathedral, you'll reach a bustling Piazza Giuseppe Verdi dominated by the massive building of Massimo Opera House, the third-largest opera house in Europe after Paris and Vienna, and the largest in Italy with a seated capacity of 1,387 people.
The lavish theater was built in 1897 on the site of two churches and a convent which were previously destroyed on that occasion. Although there are legends about a ghost haunting the theater, Teatro Massimo nowadays hosts world-class operas and is famous for being the filming location of two scenes from Godfather 3. It is possible to take a guided tour and hear interesting stories about the history of the theater and access the Opera Terrace offering panoramic views of Palermo. Guided tours are available daily from 9:30 am to 17:30 pm and there are several tour packages offered (the lowest rate starts from 6€). In front of the opera house, there is a large square with shops, restaurants, and cafes.
Explore Teatro Massimo tours and activities
8. Palermo Museums
The city of Palermo boasts dozens of museums where you can learn about the city's historic and cultural heritage. The majority of them are housed in centuries-old palaces that were once used by Palermo's nobility and important people. Some of those include:
Regional Archaeological Museum Antonio Salinas – Located just a few minutes' walk from Teatro Massimo, the archaeological museum houses an impressive collection of Etruscan, Roman, Egyptian and Greek artworks and boasts beautiful courtyards with exotic trees and pretty fountains. The general admission fee is 6€. The entrance is free on Sundays.
Sicily Regional Art Museum – Housed in the historic 1400s Palazzo Abatellis, the museum has an important collection of paintings, statues and frescoes, with woodwork and Renaissance paintings. The palace was the former residence of Francesco Abatellis, port master of the Kingdom of Sicily. The entrance fee is 8€.
Palazzo Valguarnera Gangi – A lavish 18th-century royal palace offering tours of ornate rococo rooms including the famous Hall of Mirrors. This palace is located less than a 10-minute walk from Palazzo Abatellis.
Palazzo Chiaramonte Steri – Located next to Porta Felice and Palazzo Abatellis, this 14th-century palace is nowadays a museum and houses the offices of the rector of the University of Palermo.
Palazzo Mirto – Also located within a short walk from Palazzo Abatellis and Chiaramonte Steri, Museo Palazzo Mirto is another centuries-old palace housing a museum showcasing the lifestyle of Sicilian nobility.
Catacombe dei Cappuccini – This is probably one of the most macabre and unusual museums in the world. Located a 25-minute walk east of the Palermo Cathedral, the catacombs offer the opportunity to learn about the customs and traditions of the Palermo society from the seventeenth to the nineteenth century. They are home to 8000 human corpses dating from the 16th century to 1920, dressed and divided into categories. You can read more about this impressive museum on the official website

http://www.palermocatacombs.com/

. The admission fee is 3€ and it's free for kids under 12.
Check out Palermo guided tours and activities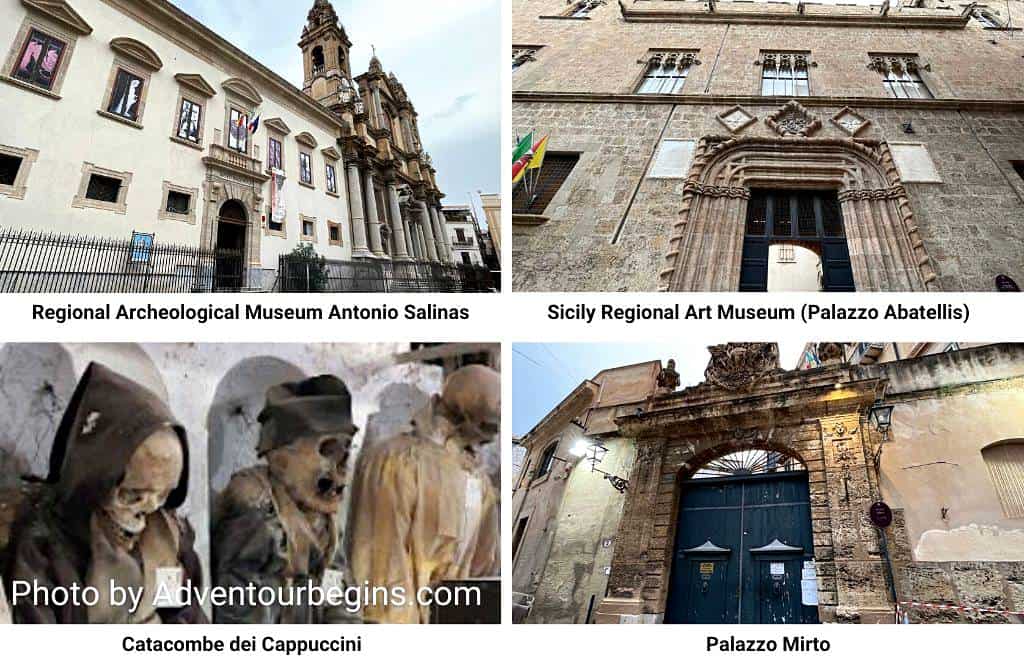 9. Palermo Marina
If you continue walking Via Francesco Crispi upon exiting the cruise terminal on your left, after a 25-minute walk you'll reach the marina. Alternatively, you can take bus 107 and in a few minutes get off at Porta Felice (you'll see the marina on your left). This is a nice area to stroll around with a few points of interest:
Murale Falcone e Borsellino – A famous mural depicting two judges, Giuseppe Borsellino and Giovanni Falcone, who fought against the mafia back in the 90s and were tragically murdered in car bombings as consequence.
Porta Felice – Right behind the mural, you can see the ancient gate to the city which used to have an arch on the top that was destroyed in World War II bombings.
Foro Italico – If you continue walking, you'll soon reach a nice waterfront promenade with a wide lawn, sculptures and colorful benches, ideal to space the hustle and bustle of the city center.
Palermo Botanical Garden – After another 5 minutes' walk, you can visit the famous botanic gardens of Palermo (Orto Botanico). The entrance fee is 7€.
Villa Giulia – Another scenic park adjacent to Orto Botanico, with free entrance.
10. Day Trips from Palermo
If you want to explore the popular destinations outside of the city, you can opt for day trips to nearby villages, resorts and historic sites. One of the most popular shore excursions is a day trip to the coastal town of Cefalù, located around 70 km/44 miles (a 1-hour drive) west of Palermo cruise port. Cefalù is known for its picture-perfect waterfront, the 12th-century fortress-like Norman Cathedral, medieval churches and charming alleys.
Nestled 17 km/11 miles southwest of the port of Palermo, Monreale is a town offering magnificent views of Palermo and "La Conca d'Oro" valley known for the production of orange, olive and almond trees. You can admire the impressive Duomo di Monreale (Monreale Cathedral) which was built in the 12th century and is renowned for its ornate cloisters and bright gold mosaics depicting Biblical scenes.
If you are a fan of "The Godfather" trilogy, go for a Godfather tour that will take you to the villages of Savoca and Forza d'Agrò where the movie was filmed, or book a tour to Agrigento (a 2h 15 mins drive), a vast archaeological site featuring ruins of the ancient city of Akragas in the Valley of the Temples.
Explore Palermo shore excursions
Wrapping Up
Whether you decide to explore the city or book one of the shore excursions, make sure you plan your day to maximize your day in Palermo cruise port. While there, make sure you enjoy the perfect Sicilian cuisine and take in the unique vibe of this diverse and colorful city!
Visit also our cruise port guides to Catania, Messina, Naples, Civitavecchia (Rome), Livorno, La Spezia (Florence), Barcelona, Valencia, Ibiza, Marseille, Ajaccio (Corsica), Piraeus (Athens), Kusadasi
---
Don't miss out on the opportunity to enhance your Mediterranean cruise experience with our "Mediterranean Cruise Port Guide"- your ultimate companion to discovering the region's hidden treasures and creating unforgettable memories; click below to purchase your copy today and embark on the voyage of a lifetime!

Ultimate Guide to Mediterranean Cruise Ports
Plan your Cruise Itinerary in Less than an Hour and Maximize Your Port
Experience!
---
You May Also Like:
25 Top Shore Excursion Packing List Items
What to Pack for a Cruise in 2023 – Top 60 Cruise Essentials
Mediterranean Cruise Port Guides
This article may contain affiliate / compensated links. For full information, please see my disclaimer here.