Welcome to the port of Helsinki!
The happiest city in the world and Europe's northernmost capital, it is the largest city in Finland (with roughly 650 000 inhabitants) and one of the frequent stops in Scandinavia and Baltic cruise itineraries.
Often considered as the gate between West and the East (Saint Petersburg is only 400 km (250 mi) away), Helsinki features a blend of western and eastern cultural influences reflected in the city's architecture and way of living.
The official languages are Finnish and Swedish, however, English is widely spoken.
In this article, I share with you useful Helsinki port information, including:
Helsinki cruise port info (cruise terminal, local transportation, getting around the port)
Top 10 things to do in Helsinki on a cruise + Helsinki shore excursions
Check out today's cruise deals from Cruise Critic!
Port of Helsinki
Get your cameras ready for magnificent photo opportunities of the beautiful landscapes as the cruise ship sails through the Finnish archipelago on the way to Helsinki!
See the port of Helsinki on Google maps
Helsinki Cruise Terminal
Port Helsinki is one of the busiest passenger ports in Europe and Finland's largest cargo port.  It consists of 4 cruise terminals: South Harbour, West Harbour, Katajanokka, and Hernesaari.
Hernesaari terminal – The majority of large cruise ships dock at Munkkisaari Quay (3 berths: LHB, LHC, and LHD), located approximately 3.5 km (2.2 mi) away from the city center. The terminal consists of several facilities, including a tourist information booth, restrooms, free Wi-Fi, souvenir shops, and a taxi rank. If you decide to walk to the city center, it will take you approximately 30 to 45 minutes, or you can hop on buses 14 or 17 to take you downtown.
West Harbour – International cruise ships used to dock at Melkki Quay, located at the south end of the West Harbour, about 3 km (1.9 mi) from Helsinki city center. However, West Harbour is nowadays mostly used by ferries, as the brand new ferry terminal has recently been built at the Lansisatama Quay. Here, you can take a 2-hour ferry ride to Tallinn. A new ferry terminal boasts modern facilities and great access to the city center by public transport.
South Harbour – This port consists of two terminals (three docks): Makasiini Terminal (Pakkahuone Quay) and Olympia Terminal (Olympia Quay), located within a 10-minute walking distance from Market Square and Helsinki downtown. Smaller cruise ships usually dock at Pakkahuone Quay, where cruise passengers can find a tourist information desk, souvenir shops, restrooms, luggage lockers, and other terminal facilities.
Katajanokka – Located at Katajanokka district, this terminal serves for smaller cruise ships and ferry transportation to Tallinn, Estonia. You can find souvenir shops, ATMs, luggage lockers, and restrooms at the quay, as well as parking and a taxi rank. This terminal is located within a short walking distance from the main Helsinki highlights.
NOTE: Your cruise ship will most likely dock at Munkkisaari Quay (Hernesaari terminal), as that one is mostly used by international cruise ships. Other harbors are mainly used for ferry transportation to Tallinn, Stockholm, Saint Petersburg, and other places.
Local Transportation
Shuttle bus
For your convenience cruise lines normally offer a shuttle service to the city center for a nominal fee (usually this fee is around 5 € – 8 € per person round-trip ticket, depending on the cruise line and pier). It's recommended to purchase tickets in advance onboard to avoid lines.
Note: The currency in Finland is EURO (€). Finland introduced the Euro as its official currency in 2002, becoming the only Nordic country that uses Euro.
Public bus
As your cruise ship will most probably dock at the Hernesaari terminal, you will take bus 17 in Matalasalmenkuja, and you will get off at the stops by the Market Square and Senate Square in the city center. Bus 14 is another bus you can take, and it goes to the railway station (get off at Kampintori and walk to the train station).
If you are heading to the Helsinki airport, you can go to the railway station, and from there take a bus 615, 615T,  Finnair City Bus or train I or P.
The distance between Helsinki port and Helsinki airport is around 20 km (12.5 mi), or a 30-minute driving distance.
If your ship docks at Katajanokka terminal, you can use trams 4 and 5 to go to the city center if you don't want to walk (walking distance is 10 minutes).
When it comes to the tickets, you can buy them at the HSL ticket machines (cheaper) or from the driver. The best and cheapest option is to buy a day ticket which costs 8 € per person. You can check the timetables and fares on the public transportation provider's official website.
Taxi
Taxis are normally available in front of the terminal. They are metered, and like in other Scandinavian countries, quite expensive.
Helsinki Hop on Hop off bus
Each of the cruise terminals has a Hop on Hop off bus stop (whenever cruise ships are in the terminal). The approximately 90-minute route includes stops at Helsinki's most famous city attractions, such as Senate Square/Helsinki City Museum, Market Square, Helsinki Art Museum (Amos Rex) and Museum of Contemporary Art Kiasma, Temppeliaukio Church (Rock Church), Sibelius Monument, Helsinki Zoo, Helsinki Olympic Stadium, Swedish Theater, and many others (around 19 stops in total).
24-hour ticket prices start at 30 € per person.
Check out the Hop on Hop off bus ticket prices on Viator and Get Your Guide
Helsinki Card
This convenient and economical sightseeing package is available for 1, 2, or 3 days duration and includes free entry to 30+ attractions and museums, a free bus tour around the city, discounts in restaurants, shops, free ferry to Suomenlinna Sea Fortress and Suomenlinna Museum, and much more.
Check out the prices on Viator and Get Your Guide
Top 10 Things to Do in Helsinki on a Cruise
Many attractions in Helsinki are located within reasonable walking distance from the city center. However, consider that ships have limited time in port, so it is always recommended to plan your day in advance. If it's your first time here, consider taking an organized shore excursion to maximize your day ashore.
Suggested article: Pros and Cons of Booking Cruise Ship Shore Excursions
Grab the FREE Shore Excursion Guide by signing up below!
1. Temppeliaukio Church (Rock Church)
This unique church is located in the Töölö neighborhood right in the city center and represents of the most visited Helsinki attractions. It has an unusual, circular form and was carved out of solid rocks, which is why it is also known as the Rock Church. Covered by an impressive copper dome and boasting excellent acoustics, the church is a popular venue for concerts.
An entrance fee is required and tickets can be purchased directly at the entrance of the Church (the ticket price is around 3 €). During the peak summer months, it is strongly recommended to book online to avoid the lines and waiting.
There is no elevator inside the Church. Wheelchair users are welcome to the Church hall.
See the list of Rock Church tours
2. Cathedral of Helsinki
This Lutheran Church, also known as the White Church, is located at the Senate square right in the heart of the city. Built between 1830–1852 as a tribute to the Grand Duke of Finland, Tsar Nicholas I of Russia, this monumental neoclassic cathedral is considered the unofficial symbol of the city. With an iconic green dome and marvelous architecture, this cathedral is a perfect blend of eastern and western architectural influences.
Check out Helsinki Cathedral tours
Wheelchairs users can access the Cathedral of Helsinki using the entrance in the back; there is an elevator that takes you straight to the sanctuary and there is a ramp that will take you to the viewing platform.
3. Market Square
No visit to Helsinki is complete unless you spend time at one of the most visited attractions in Helsinki – a bustling harborside open-air Market Square where you can feel the authentic city vibe! Check out the market stands where you find a wide variety of items, including freshly caught fish, fruits and vegetables, coffee, and Finnish handicraft and souvenirs. Do not miss trying Finnish cuisine – Salmon soup with rye bread is the locals' favorite!
Right by Market Square, you can embark on a canal cruise.
Check out tours going to Market Square
Explore Helsinki food tasting tours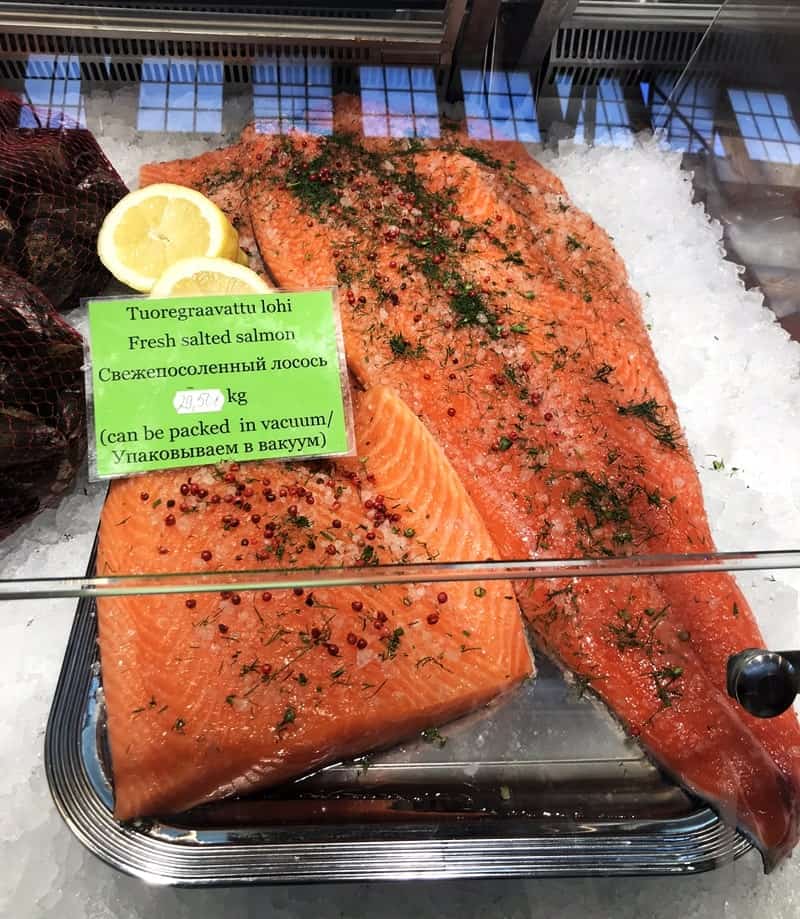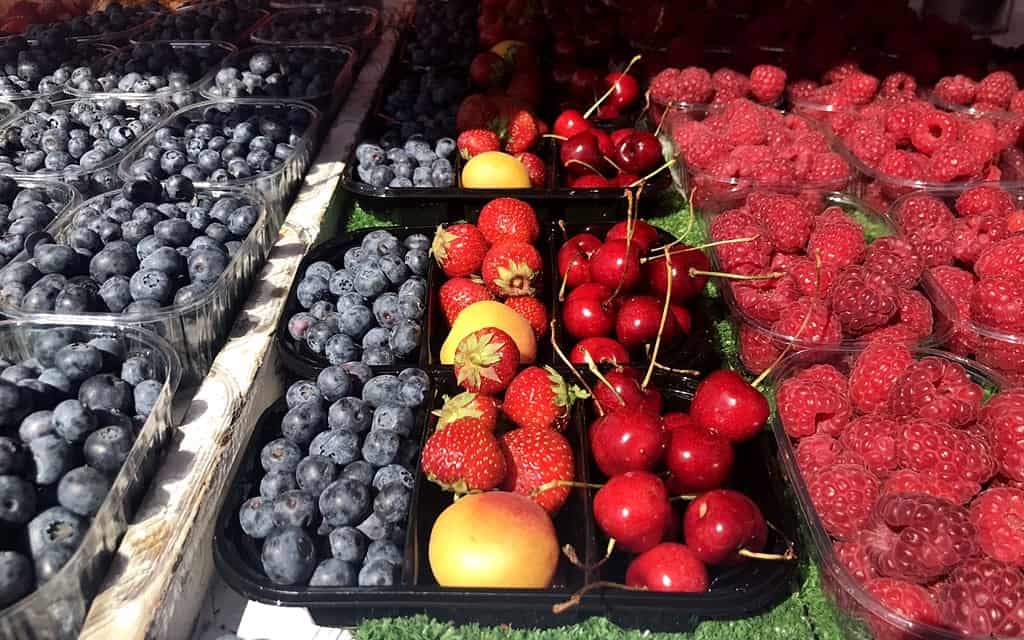 4. Uspenski Cathedral
Designed by the Russian architect Aleksey Gornostayev in the first half of the 19th century, Uspenski Cathedral is the largest Orthodox Church in Western Europe. The imposing red-brick cathedral is located in the city center, only 10 minutes walking distance from Market Square and other city landmarks. The magnificent religious edifice sits on a hilltop overlooking the city and the harbor and is no less impressive than buildings on Moscow's Red Square.
Do not miss the opportunity to visit inside and admire the rich collection of icons and Orthodox decorations.  Even though the Cathedral is closed on Mondays, it is well worth it to take a walk to see the Cathedral's lavish exterior, a clear symbol of Russian influence in Finnish history.
Check out Uspenski Cathedral tours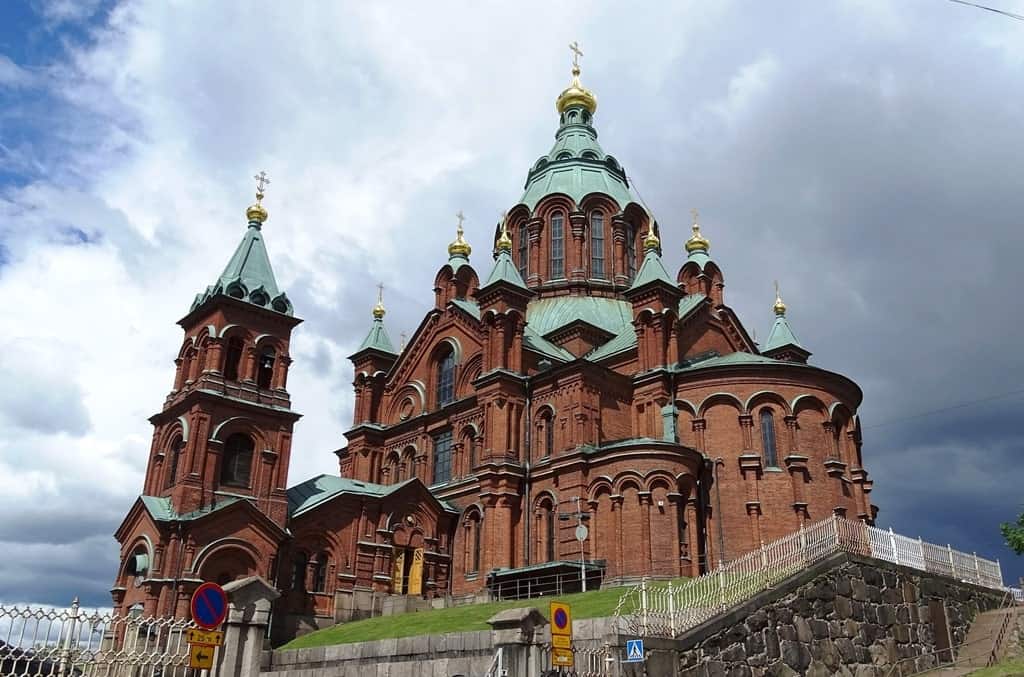 5. Suomenlinna Fortress
This UNESCO World Heritage Site is situated on a group of islands off Helsinki and was built by Sweden in the second half of the 18th century as a maritime fortress. Here you will have the opportunity to visit the museums, bunkers, a church, and fortress wall, as well as enjoy in one of the cafes, breweries, or even rent a bike for a pleasant ride around the island. Make sure you bring your camera because this place offers fantastic photo opportunities!
Suggested article: 25 Top Shore Excursion Packing List Items
There is no entrance fee to the fortress, however, a ticket is required to visit the museums. Tickets can be bought in Suonmelinna Centre or you can purchase tickets in advance online. Ticket to the Suomenlinna museum includes access to see a short video about Suonmelinna's history in the auditorium.
To get to Suomenlinna Fortress, you need to take a ferry that departs from the port of Helsinki Market Square. The ride takes approximately 15-20 minutes each way, and ferries run every 20 minutes. If you purchase the public transport day ticket, the round-trip transfer to the island is for free, and if you buy Helsinki Card, a ferry ride and a visit to the museums are included.
Explore Suomenlinna Fortress tours
6. Seurasaari Open-Air Museum
Be transported to the rural Helsinki of the old days and learn how Finns used to live before the modern era. The open-air museum consists of many old houses, farmsteads, a manor house, a church from Kiruna dating back to the 16th century, and other buildings that have been brought from all around Finland.
During the summer months, you will be able to find craft markets and different workshops for the whole family. The museum is located in Meilahti, approximately 7 km (4.3 mi) from the Helsinki City Centre and the harbor.
To get there, you can take bus 24, and get off at Seurasaari which is the last stop. Entrance tickets are required and can be purchased directly at the museum or booked online.
Seurasaari open-Air Museum is not wheelchair accessible.
Explore Seurasaari open-air museum tours
7. Sibelius Memorial
This unique monument is situated in Sibelius Park in the district of Töölö, approximately 10 minutes drive from the city center. The monument titled "Passio Musicae" was built by Eila Hiltunen in 1967 as a tribute to the Finnish composer Jean Sibelius. The impressive monument features over 600 steel tubes that capture the wind like a pipe organ.
However, this monument was the subject of critics among the Finnish people so the second sculpture of Sibelius was added to the memorial.
To get to the monument, you can take bus 24 from Market Square (the trip can take up to 30 minutes).
Check out Sibelius Monument tours 
8. Helsinki Winterworld
Experience Finnish winter in the summer season and let Lapland come to you at this amazing winter complex in Helsinki! Here you will find numerous snow attractions and activities for everyone like a toboggan hill, kicksleds, fun skis, ice sculptures, snow igloos, and much more. The temperature inside Helsinki Winterworld is -3 C (25 F) but no worries, you will be provided with all required thermal clothing to enjoy your visit.
The easiest way to get here is by taxi and the ride takes approximately 25-30 minutes each way.
To secure your spot in all the activities, especially the husky ride, it is better to pre-book your visit to the Winter World. You can also show up directly at the site, however, availability is not guaranteed. Check with your Shore Excursions team for available tour options.
9. Finnish Countryside
If you have already visited the highlights of Helsinki and would like to experience something different, you should take a trip to visit Savijärvi Gård manor, a 100 years old horse breeding farmhouse located in the municipality of Sipoo 40 minutes away from Helsinki. Here you will be greeted by the owners before enjoying a delicious homemade lunch and a guided tour of the farm grounds to see some of the horses.
Savijärvi Gård manor is only reserved for private groups, so make sure to check with your Shore Excursions team onboard to find out your options.
Suggested article: Pros and Cons of Booking Cruise Ship Shore Excursions
10. Village of Porvoo
This charming medieval town is the second oldest in Finland and a popular destination for tourists.
Old Porvoo is known for its well-preserved 18th and 19th-century buildings and a 15th-century Cathedral. Enjoy a stroll through the narrow cobblestone streets and admire the colorful wooden houses, many of them converted into arts and crafts shops, souvenir stores, and cozy cafes.
The red-painted riverside warehouses are one of the most photographed national landscapes in Finland.
Porvoo is located 52 km (32 mi) away from Helsinki city center, approximately a 45-minute drive. Due to the limited time in port, I strongly suggest you take an organized Shore Excursion from the cruise line. If you would like to get to Porvoo on your own, you must take a bus from Kamppi bus station in Helsinki.
Book a round-trip private transfer to the village of Porvoo 
To Wrap Up
If you are taking a cruise to Helsinki, be sure to plan your day accordingly to your ship's schedule. For some additional shore excursion tips, don't forget to grab your gift – An Exclusive, FREE Shore Excursion Guide by signing up below!
Enjoy your Baltic cruise and day in Helsinki!
Check out today's cruise deals from Cruise Critic!
---
This article may contain affiliate / compensated links. For full information, please see my disclaimer here.
---
You May Also Like: