Welcome to the port of Zeebrugge, a large industrial port, ferry, and cruise port and one of the most important seaports in Western Europe. It is a perfect gateway to visit Flanders and its stunning cities of Bruges, Ghent, Brussels, and Antwerp, as well as its picturesque countryside and beautiful seaside resorts. In this article, read about:
Zeebrugge cruise port (Zeebrugge cruise terminal, getting around)
Getting to Bruges and the 6 best things to do in Bruges
Zeebrugge shore excursions (Brussels, Ghent, Ypres, Flanders)
Visit also our cruise port guides to Greenock (Glasgow), Cork (Cobh), Belfast, Holyhead, Dover, Dublin, Invergordon (Inverness), Amsterdam, Copenhagen, Le Havre
Search the best Western Europe cruise deals!
Zeebrugge Port Info
The majority of cruise ships dock at the Swedish Quai (Zweedse Kaai), while the smaller, more luxurious vessels dock at the Maritime Station.
Swedish Quai can simultaneously accommodate two large cruise ships longer than 200 meters each. The port is industrial and it is forbidden to move around the pier on foot; there are free shuttle buses organized by the Port Authorities to transfer the cruise passengers to the exit of the port, where they can enjoy a large number of facilities in a newly built, multi-purpose cruise building called ABC Tower. A shop, security screening, free Wi-Fi, a tourist information desk, tour booths, a visitor center, and a top-floor restaurant offering a beautiful panoramic view of the port are some of them. Next to the ABC Tower, you can find a taxi rank and large parking, and nearby there is a tram/bus station as well.
Maritime Station – Smaller, less than 200 meters long vessels dock at the Leopold II Harbour mole (Quai 103). This terminal has only 1 berthing space.
See the map of Zeebrugge cruise port on Google maps
Helpful info & links:
The currency in Belgium is EURO (€). There are ATMs available in the city and most of the places take credit cards. However, bring some cash for souvenirs. See the

currency converter

Upon leaving the ship, you'll notice that the gangway is quite steep, so make sure you take extra precautions. Guests with mobility issues will be assisted by the Assistance team onboard.
The pier is wide, and you'll spot many buses upon stepping off the gangway. Free shuttle buses taking you to the exit of the port are normally lined on one side of the pier, while the tour buses are on the other side. The tour buses have signs with the tour names on them, so make sure you bring your tour ticket to avoid getting on the wrong bus.
The guests joining cruise ship shore excursions will meet their tour buses and guides alongside the ship. The tour operators come straight to the pier, and a part of the Shore Excursions team is normally outside to direct you to your tour buses. If you book a tour with an

independent tour operator

, you'll meet their representatives in the cruise building outside the terminal. Hop on a free shuttle bus in front of your ship, and upon arrival, your tour guide will meet you and give you further instructions.
Bruges is located about 19 km/12 miles (a 30-minute drive) south of the port of Zeebrugge, and cruise lines typically offer transfers for around 20-25€ per person/round trip ticket. If you are taking a cruise ship tour/transfer, the bus will drop you off at the parking from where you need to walk over uneven surfaces for about 15 minutes to reach the Bruges Old Town.
Bruges is a medieval city and a lot of streets in the Old Town are narrow and cobbled. It can be challenging for people with walking difficulties, especially if you are taking a guided tour and you need to catch up with your group. Most of the surfaces in the historic heart of the city are not suitable for wheelchairs.
For guests with mobility difficulties, I would definitely suggest you explore Bruges on your own. The city center is relatively small, there are many cafes and restaurants where you can take a break, and near the center, there is a wonderful lake and a huge park where you will find benches and areas to relax. Another option is to take an

easy/accessible tour

that doesn't involve much walking.

Also, the cruise lines may offer shuttle transfers to Blankenberge for a fee, and the tickets are purchased on board. Blankenberge, a popular seaside resort is located a 10-minute driving distance from the Zeebrugge cruise port, and the round-trip shuttle ticket usually costs around 10-15€ per person. In Blankenberge, the shuttle bus drop-off point is close to the railway station, where you can catch a train to Bruges and other Belgian cities. Some cruise companies offer a complimentary shuttle to Blankenberge. The prices can vary, and you can check them once you come onboard.
If you decide to stay in Zeebrugge, keep in mind that the town of Zeebrugge doesn't have much to offer. Its main attraction is a sandy beach that ranks among the widest ones on the Belgian coastline. You can take a pleasant walk along the beach and explore its charming marina offering a multitude of seafront cafes and restaurants offering local delicacies. Within a short walking distance from the cruise building and marina, you'll come across a lovely maritime theme park featuring fishing exhibits, a Russian submarine, and some interesting artifacts dating from World War I.
In case you decide to do your own thing, you need to be very careful and organize your day accordingly to your ship's schedule. Save at least one hour each way if you decide to go to Bruges on your own. Be aware that on weekends the trains might run less frequently.
The climate in this part of Belgium is continental Atlantic with frequent rainfalls and harsh winters. The summers are however pleasant and I had warm weather when I visited last time. For useful cruise packing tips, check out my article

What to Pack for a Cruise in 2023 – Top 60 Cruise Essentials

Oostende-Brugge International Airport is the nearest airport and is located approximately 30 km/19 miles (a 45-minute drive) southwest of Zeebrugge cruise port.
Local Transportation and Getting to Bruges
If you decide to do your own thing, you have several options. You can stay in Zeebrugge, or take a taxi, tram or train from Blankenberge to the Belgian cities of Bruges, Ghent, or Brussel (please note that there are no direct trains from Zeebrugge to Bruges, you first need to get to Blakenberge and then take the train from there).
TAXI – Taxi fares are fixed for some cities, and a taxi to Bruges costs will cost you approximately 55€, regardless of how many people travel in the vehicle. There is a taxi rank outside the terminal, and there you'll also find a few other private bus companies offering round-trip transportation to Bruges. If you want to go to Brussels, it can cost up to 200€ per vehicle/one-way. For other destinations, the price starts at 2.40€, and every additional km costs 1.80€. The taxi to Blankenberge railway station shouldn't cost you more than 15€ per vehicle/one way, as the distance between Zeebrugge and the popular coastal town of Blankenberge is around 6 km (3.7 mi), and the ride lasts less than 10 minutes.
TRAM – You can go to Blankenberge from Zeebrugge by tram. The tram station is very close to the cruise terminal building – All you have to do is turn right upon getting off the free port shuttle and walk around 600 m to the Zeebrugge Kerk (The Church of Zeebrugge), where you'll find a bus and tram station. The trams run frequently, every 15 minutes, and the ride to Blankenberge takes 15 minutes. The train ticket costs 2.50€ per person/one-way, and you can purchase a day pass too. The tram stops at Blankenberge railway station.
TRAIN – Trains from Blankenberge to Bruges, Ghent, Brussels, and other Belgian cities normally run every 30 minutes to 1 hour, depending on the season and the time of the day (in the morning they run more frequently). Check out the timetables and prices at

https://www.belgiantrain.be/
How to get from Zeebrugge port to Bruges?
The distance between the Zeebrugge cruise terminal and the city of Bruges is about 19 km/12 miles (a 30-minute drive). There are a few ways to get there:
Book a tour/shuttle transfer organized by your

cruise line

or

independent tour operator

.
Take a taxi – Taxi fare is fixed and costs 55€ per vehicle/one-way.
Take a train from Blankenberge – The train ride from Blankenberge to Bruges lasts less than 15 minutes, and once you arrive at Bruges you need to walk around 10-15 minutes to reach the city center (800 meters over some uneven and cobbled surfaces). The single ticket price starts at 3.50€ one way. To get to Blankenberge, you can take a tram or taxi from the Zeebrugge cruise port.
6 Best Things to Do in Bruges on a Cruise
1. Market Square
The historic Markt Square is definitely the place where you should start your exploration. Surrounded by centuries-old architectural gems and dominated by the imposing, 83 m (273 ft) high Belfry Tower dating from the 13th century, Markt square is a vibrant place full of restaurants, and cafes packed with tourists.
The beauty of the square and surrounding buildings will blow your mind away, and when you add to it the horse carriages and the sound of the tower's 47 bells, the place becomes a true fairytale! Time permitting, you can climb the Belfry Tower's steep staircase of 366 large stone steps and admire the unmatched views of Bruges downtown. The entry fee is 15€ for adults, 13€ for children up to 17 yrs old, and free for children under 6. You might encounter long queues during the high season.
Explore Belfry of Bruges tours and activities
2. Taste the Belgian Chocolate
Welcome to the sweet world of the finest Belgian chocolate! Located in the heart of the old town, Choco-Story is a chocolate museum featuring chocolate-making demonstrations, exhibits on the history of Belgian chocolate, chocolate tasting, and a gift shop where you can buy sweet souvenirs for your loved ones! I definitely suggest this one-of-a-kind place if you want to learn about this world-renowned Belgian delight and sample the mouth-watering, premium Belgian chocolate.
Cruise lines normally offer Belgian chocolate workshop shore excursions, but if you want more flexibility you can book a guided tour with an independent tour operator or go there on your own.
Explore the Belgium chocolate-tasting tours and activities
3. Take a Canal Boat Trip
The romantic network of Bruges' canals, the veins of the city with a centuries-old tradition, will allow you to discover the magnificent medieval bridges, dreamy gardens, exquisite facades and explore the medieval city from a totally different perspective!
Boat trips count among the most popular attractions in Bruges, and there are several locations where you can board a boat for a 30-minute canal boat trip. You can't book the tickets in advance, so you might face some queuing in the summer months. The boats run every day from March to November, and the ticket costs 12€ for adults and 7€ for children up to 11 years old. Kids under 3 go for free.
Check out Bruges canal boat trips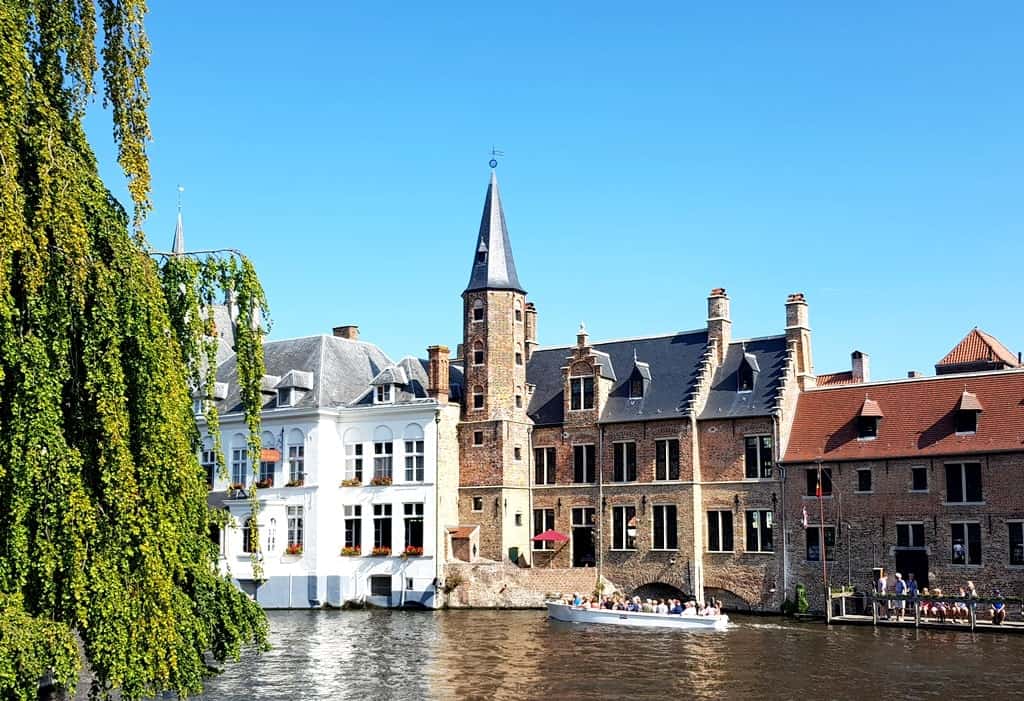 4. Bruges Old Town
Strolling through the historic old town is a must-do thing in Bruges, as the city's Old Town has been recognized as a World Heritage Site due to its stunning medieval architecture and breathtaking landmarks.
Start with St. John's hospital (Sint-Janshospitaal), one of the oldest hospitals in Europe dating from the 12th century that today houses a hospital museum (you can visit it time-permitting).
The Church of Our Lady, another Gothic medieval gem boasts a 115.6 m (379 ft) high brick tower and is best viewed from Boniface Bridge, often packed with people taking photos. The iconic church has a sumptuously decorated Baroque interior and houses unique and valuable artwork including the marble sculpture of the Madonna and Child, created by Michelangelo at the beginning of the 16th century.
The Burg square, situated next to the central Markt square, boasts magnificent historic buildings among which one stands out – a stunning 15th-century Town Hall building (Stadhuis), one of the oldest city halls in the whole Netherlands region. Its lavish Gothic exterior and extraordinary interior reveal the political and economic power of the city and the entire Flanders back in the past. You can take an audio-guided tour of the interior, see the statues and paintings of former counts and countesses of Flanders, and marvel at the impressive Gothic Hall, whose opulent ceiling and murals will leave you speechless.
For art lovers, head over to the Groeningemuseum, an impressive art gallery featuring extensive collections of Flemish primitive artworks, 18th, and 19th-century works, as well as modern art.
Many other churches, narrow medieval alleys, historic buildings, and museums await you in this magical old town. It is an enjoyable experience to walk through its old streets, browse for souvenirs and Belgian chocolate, have a coffee at one of the cafes overlooking the dreamy canals, and take in the old town's atmosphere. I particularly enjoyed crispy Belgian fries and delicious Belgian waffles that you can buy in many street kiosks and fast food places in the old town.
Explore Bruges Old Town tours and activities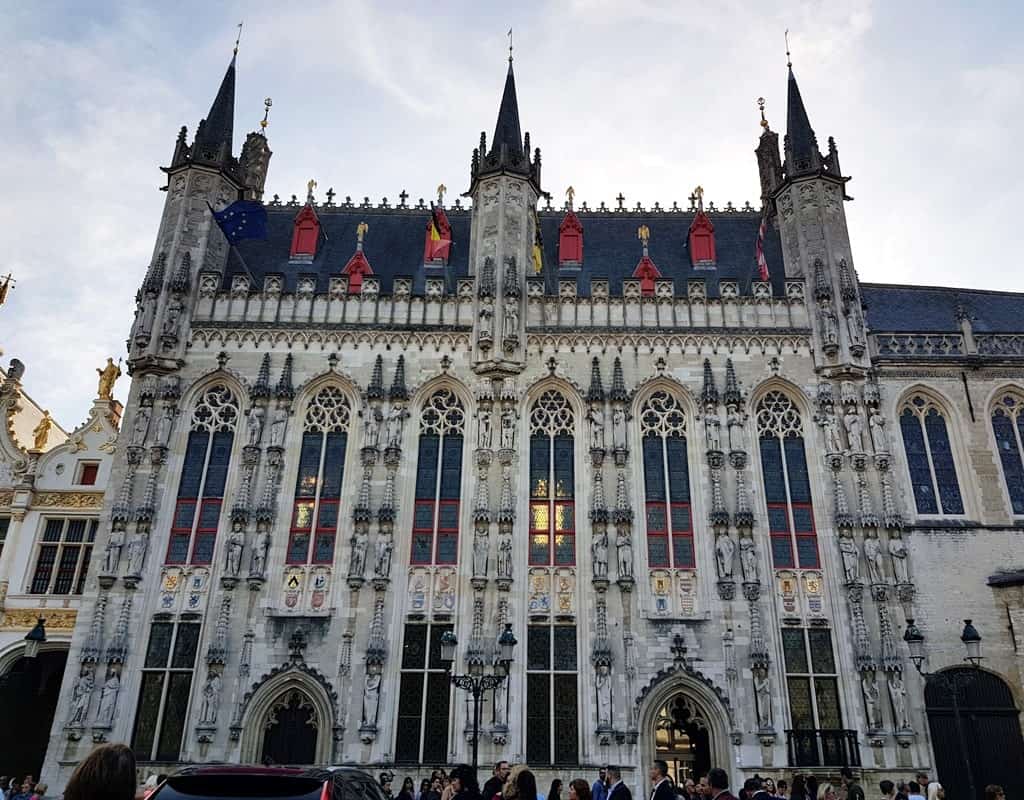 5. Take a Tour of the Brewery
Beer is another Belgian treat that you must try while in Bruges! You can simply taste the beer in one of the old town's cafes and restaurants, or if you want to learn more about the beer-making process, you can book a guided tasting tour with a local expert.
De Halve Mann is a family-run brewery with a long beer-making tradition, offering guided tours, a museum displaying old brewing techniques, dining areas, and a shop where you can purchase beer and souvenirs. The tour takes up to 45 minutes and starts at 16€ for adults and 8.50€ for children 7-15 years old. Wear comfortable shoes as there are 220 steps to handle on a tour.
6. Minnewater Lake
Top off your visit with a relaxing walk by the scenic Minnewater Lake ("the Lake of Love"), set in a beautiful Minnewaterpark. The legend says that water nymphs lived here, and the place hides a tragic love story that the lake got its name after.
The lake is a tranquil oasis that marks the entrance to Bruges, and you can't escape it on your way from the train station and parking lot to Bruges old town. You'll cross the Lover's bridge, see the swans floating on the lake, and admire the fairytale brick church, a picture-perfect spot that needs no filters! I suggest you take some time to absorb the serene and peaceful atmosphere reigning in the park.
Explore Minnewater Lake tours and activities
Zeebrugge Shore Excursions
Besides a day trip to Bruges, I suggest you explore several more excursion options when your ship docks in the port of Zeebrugge.
1. Brussels
It is possible to visit Brussels on your cruise to Belgium. It takes less than a 1h 30-minute drive to get from Zeebrugge to Brussels (around 115 km/71 miles), and the best option is to either book a private transfer or a shore excursion. It takes a full day to explore Belgium's capital, and I recommend you book it with your cruise line as that way you will be guaranteed to get back on board on time. An alternative option (and a cheaper one) is to book a tour with an independent tour company, but make them aware of the ship's schedule so they can bring you back to the ship before the departure. A taxi from Zeebrugge cruise port to Brussels costs up to 200€ one way/per vehicle.
Check out Brussels tours from Zeebrugge port
2. Ghent
The city of Ghent boasts marvelous architecture, rich industrial history, medieval churches, historic landmarks, idyllic canals, and much more! It takes less than 1 hour to get from Zeebrugge to Ghent (around 60 km/37 miles), and there is a train from Blankenberge that runs every 30 minutes to 1 hour. Cruise lines and Independent Tour Operators offer tours to Ghent, but you can also go on your own if you manage your time well.
Check out Ghent tours from Zeebrugge cruise port
3. Ypres
Located a 1-hour drive from Zeebrugge port (86 km/54 miles), Ypres is a great place to explore Belgium's World War I history, its memorials, and national landmarks. You can visit In Flanders Fields' war museum, the world's largest Commonwealth cemetery, and a war memorial dedicated to British and Commonwealth soldiers. The town boasts stunning medieval architecture and is well worth visiting if you love history and architecture. Some cruise lines offer shore excursions, but you can also book a private guided tour or a private transfer if you want to have more comfort.
Explore Ypres tours from the port of Zeebrugge
4. Flemish Countryside
Explore the breathtaking Flemish countryside and its picturesque castles, windmills, and endless fields. Visit the 19th-century neo-Gothic Castle Loppem (Kasteel Van Loppem), located a 25-minute drive from Zeebrugge port. The castle is set in a scenic park and has a lavishly decorated, well-preserved exterior and interior, housing a rich art collection. Romantic ponds, an English garden, a maze, and an abundance of greenery throw you back to the era of Flemish barons, countesses, kings, and artists.
Visit the picturesque town of Damme, the Castle Wijnendale – a 15th-century fortified castle with a moat, or the Castle d'Aertrycke, surrounded by a vast park where you can walk and relax.
Check out Flemish countryside tours and activities
To Wrap Up
If you are coming to Zeebrugge port for the first time, I suggest you go to Bruges. Take a guided walking tour, as there are many hidden corners to discover but save at least one or two hours to explore the old town on your own. Take in the old town's atmosphere, try Belgian beer, chocolate or waffles, and top off your visit with an unforgettable boat trip on the canals. Bruges is the city you will fall in love with!
Visit also our cruise port guides to Greenock (Glasgow), Cork (Cobh), Belfast, Holyhead, Dover, Dublin, Invergordon (Inverness), Amsterdam, Copenhagen, Le Havre
---
You May Also Like:
25 Top Shore Excursion Packing List Items
What to Pack for a Cruise in 2023 – Top 60 Cruise Essentials
Western Europe Cruise Port Guides
Mediterranean Cruise Port Guides
This article may contain affiliate / compensated links. For full information, please see my disclaimer here.