By: Katarina Komazec
Nestled along the enchanting shores of the Dominican Republic, Puerto Plata cruise port attracts cruisers with its unique blend of natural beauty, rich history, and vibrant culture. Known for its pristine, sun-kissed beaches, emerald-green rainforests, and a variety of thrilling activities, Puerto Plata has something for everyone! There are two cruise ports: Amber Cove, tucked in a secluded Maimon Bay, a 15-minute drive from Puerto Plata city, and Taino Bay, situated within a short walk from the city center.
Amber Cove opened in 2015 and is designed exclusively for Carnival Corporation cruise ships (Carnival Cruise Line, Princess Cruises, Holland America Line, Seabourn, P&O Cruises, Costa Cruises, AIDA Cruises, and Cunard). Taino Bay is a brand-new cruise port that opened in 2021, within walking distance from Puerto Plata's historical center. The driving distance between the two ports is 15 minutes. In this article, I share with you:
Practical information on Amber Cove and Taino Bay cruise ports
5 best things to do in Puerto Plata cruise port, including the popular shore excursions
Puerto Plata Cruise Port
Amber Cove
Amber Cove consists of 2 berths and a cruise terminal that covers an area of 25 acres, filled with numerous amenities like shops, restaurants, and an aqua zone. Complimentary tuk-tuks are available to take you from your ship to the port entrance. Upon exiting the pier, on your left side you'll find the following amenities:
Tourist information desk
Shorex booth
ATM
Duty-free, souvenir and jewelry shops, including Marketplace, Diamonds International, Effy, Dufry duty-free, and many others.
Car rental services
Parking for buses, taxis and pre-arranged tour pick-up
Coco Caña Bar & Restaurant
On your right side is the fun part – The Aqua Zone, which consists of a large swimming pool, lazy river, exciting water slides, kids splash zone, bars and restaurants (Coco Caña Poolside Lounge, Sky Bar, Cabana Bar…). Guests can also enjoy the Zip Line, hillside, poolside and overwater cabanas, and watersports rentals (kayaks, paddle board, and pedal board). Crew Center is available for crew members.
If you wish to go to Puerto Plata's historical center or any other location, the best way is to take a taxi. The cost of a taxi ride to the city center is around $35 per vehicle one-way (up to 5 people), for a 15-20 minute drive. Keep in mind that US dollars are widely accepted in Puerto Plata, but the change may be returned in the local currency (Dominican peso).
Taino Bay
Taino Bay is a newly built cruise terminal with a capacity to accommodate two large cruise ships simultaneously. It is located near the historical center of Puerto Plata with its colorful colonial buildings, and Fort San Felipe, one of the main city's landmarks. Like Amber Cove, Taino Bay has been designed to cater to cruise passengers' needs with a wide array of amenities such as shops, restaurants, pools, and entertainment. Complimentary tuk tuk rides from the ship to the port entrance are also available at this terminal. This 20-acre cruise port consists of the following amenities:
Taino Bay Welcome Center which houses Keloke Bar, a Shorex booth, an ATM, and shops such as Diamonds International and Dufry duty-free
A large shopping area where you can find all kinds of shops like clothing, gift, and jewelry shops, local crafts and more!
A massive Dahao swimming pool with in-pool loungers and swim-up bars (Juracan Mix Bar)
A Lazy River pool with relaxing pool bars and lounge areas
Bars and restaurants (Sanmangú and Casa Palapa, serving Dominican and Mexican dishes)
Monkey Island – an ecological park where you can interact with squirrel monkeys, and visit an aviary
The Taino Bay Port Beach – an oceanfront beach area with loungers and hammocks
A large parking for buses and taxis
It is worth noting that none of the two cruise terminals has access to the beach. The nearest nice beaches are around 10-15-minute drive away from the ports. Taxi rates are fixed and are displayed in the terminals.
5 Best Things to Do in Puerto Plata Cruise Port
1. Puerto Plata Historic Center
Nestled a 15-minute walk from the Taino Bay cruise terminal, Puerto Plata's historic downtown boasts colorful architecture, a lively atmosphere, and a wide array of attractions. Start your exploration with Fort San Felipe (Fortaleza de San Felipe), a fortress built in 1577 to protect the harbour from pirates. It overlooks the cruise port and is surrounded by vast green space where you can walk and enjoy the sea views.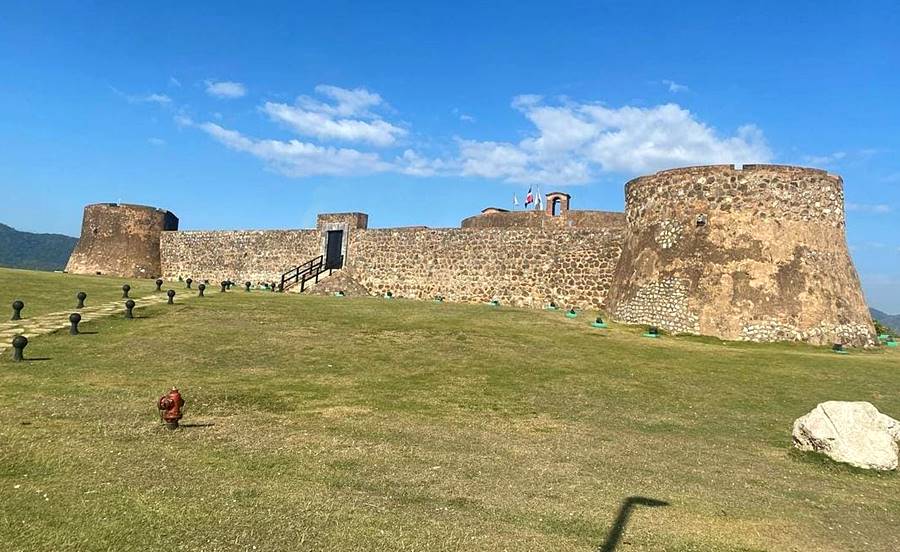 Not far from the fort, you can explore two of the most Instagrammable spots in the city, both located within a short walk from each other – the iconic Umbrella Street and Paseo de Doña Blanca. As its name suggests, Umbrella Street is a pedestrian street famous for its colorful umbrellas hanging above it. The street is flanked by cute little shops and cafes on both sides and is a perfect spot to feel the city's unique vibe.
The famous Paseo de Doña Blanca is another place not to be missed. Painted in bright pink from the roofs to the walkway, this short street is definitely the most authentic location in the city. There's not much to do there (no shops, or cafes), but the photo ops are one-of-a-kind!
Within a short walk from there, you'll reach Parque Central (Independence Park), the main square dominated by the beautiful 20th-century Cathedral of St. Philip the Apostle, built in a modern Victorian style. While exploring the city's vibrant streets, do not miss to indulge in local, typically Caribbean cuisine and fresh coconut. Finally, to better understand local history, head to the iconic Amber Museum, showcasing an impressive collection of fossils, plants, and ancient animals encased in amber. There's also a shop where you can purchase amber jewelry.
Check out Puerto Plata tours and activities
2. Isabel de Torres Cable Car
Isabel de Torres is a mountain rising 855 meters (2805 ft) above sea level and the city of Puerto Plata. It is a national park known for its rich flora and fauna, and a paradise for birdwatchers and those of you who enjoy nature activities. To get there, you can either drive, hike, or take a cable car (Teleferico to Isabel de Torres), which is the experience by itself and the main attraction in the area. The cable car base station is located about 2 km/1.2 miles (a 30-minute walk) from Taino Bay cruise port and the cost is $10 for a round-trip.
On the top, you can walk around the area, take in the breathtaking views of Puerto Plata and its coastline, and see the iconic Christ the Redeemer statue, the symbol of the city.
Explore Mt. Isabel de Torres tours and activities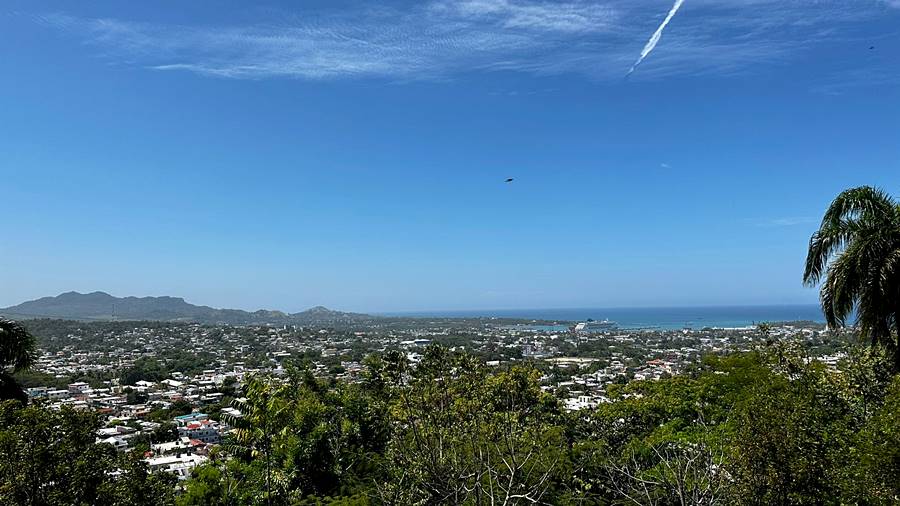 3. Damajagua Waterfalls
The stunning waterfalls are by far the most unique adventure you can have in Puerto Plata! Nestled in the heart of the lush tropical forest about a 30-minute drive from Puerto Plata, the breathtaking waterfalls are also the bestselling shore excursion in this port of call. Also known as the 27 Waterfalls of Rio Damajagua or 27 Charcos, they consist of 27 cascading waterfalls that you can explore by sliding down (you can also use a ladder) or jumping into the turquoise pools.
You can visit the waterfalls on your own (the entrance ticket is around $9, plus taxi $50 per vehicle one way, up to 5 people), or book one of the shore excursions. The safety equipment (life vest and helmet) is provided, while water shoes are recommended and can be rented on-site in case you don't have your own. Lockers are available. A buffet lunch is available for an additional cost (about $8) and consists of typically Caribbean food options (barbecue, rice and beans, salad bar, pasta bar…).
Overall, Damajagua Waterfalls is a lifetime experience and something to remember for life, however, it's not recommended to people with walking difficulties and small kids due to the nature of activity.
Explore Damajagua Waterfalls tours and activities
4. Ocean World Adventure Park
This vast adventure park sits in the middle between the cruise ports, about a 12-minute drive from both Amber Cove and Taino Bay cruise terminals. This family paradise offers encounters with dolphins, sea lions, and sharks, and a day pass will allow you to snorkel in a Tropical Reef Aquarium, enjoy the animal shows, feed the tropical birds, and spend some time at a beach within the complex. A taxi ride to the Ocean World costs around $20 per vehicle (up to 5 passengers) one way.
Explore Ocean World tours and activities
5. Playa Dorada
One of the Dominican Republic's most beautiful beaches – Playa Dorada, is located a 30-minute drive southeast of Amber Cove cruise terminal and a 20-minute drive from Taino Bay. This gorgeous stretch of white sand beach and shallow turquoise waters is a perfect place to spend a memorable beach day!
The beach is lined with a few beach resorts, restaurants and bars, and you can find amenities such as loungers, beach beds and umbrellas. For those of you looking for adventure, windsurfing, kayaking, sailing, and parasailing are the most popular watersports here. A taxi costs $40 per vehicle one way.
Check out Playa Dorada tours and activities
Visit also our cruise port guides to St. Thomas, St Maarten, San Juan, Punta Cana
This article contains affiliate / compensated links. For full information, please see my disclaimer here.