Welcome to Salerno cruise port (Italy)!
Salerno is a port city situated in the Campania region, around 55 km/35 miles (a 1-hour drive) southeast of Naples. It is the gateway to the iconic Amalfi Coast and its picturesque villages of Amalfi and Positano, the city of Sorrento and the Pompeii archaeological site. Salerno is cheaper than Amalfi Coast and Sorrento, which makes it an ideal location to stay in if you are staying here for several days. In this article, read about:
Salerno cruise port (Salerno cruise terminal, getting around)
Top 5 things to do in Salerno (including the Amalfi Coast, Sorrento and Pompeii)
Visit also our cruise port guides to Rome (Civitavecchia), Malta (Valletta), Kotor, Dubrovnik, Split, Chania, Corfu, Santorini, Taormina (Messina), Kusadasi
Search the best Mediterranean cruise deals!
Salerno Cruise Port
The port of Salerno (Stazione Marittima di Salerno – Salerno Maritime Terminal) is located at the western end of the city, within a 10-minute walk from the old town. The oyster-shaped cruise terminal features a modern terminal building that overlooks the bay and the iconic Liberty Square (Piazza della Libertà). Check out the Salerno port map on Google Maps
The port also features a ferry terminal providing regular ferry service to Amalfi, Positano and Capri. Ferries to Capri island depart from Manfredi pier which is located next to the cruise terminal. The one-way price is 22.90€ + 2.50€ Capri Tax.
Ferries to Amalfi and Positano depart from both Manfredi pier (only the morning departure) and Masuccio pier, which is located at Piazza della Concordia less than a 5-minute walk from Salerno Central train station and a 25-minute walk from the cruise terminal. The ferry ride from Salerno to Amalfi lasts 55 minutes and the price is 9€ one-way. The ferry ride from Salerno to Positano lasts 70 minutes and the price is 14€ one-way. You can check the port's official website for updates and departure times: https://www.salernostazionemarittima.it/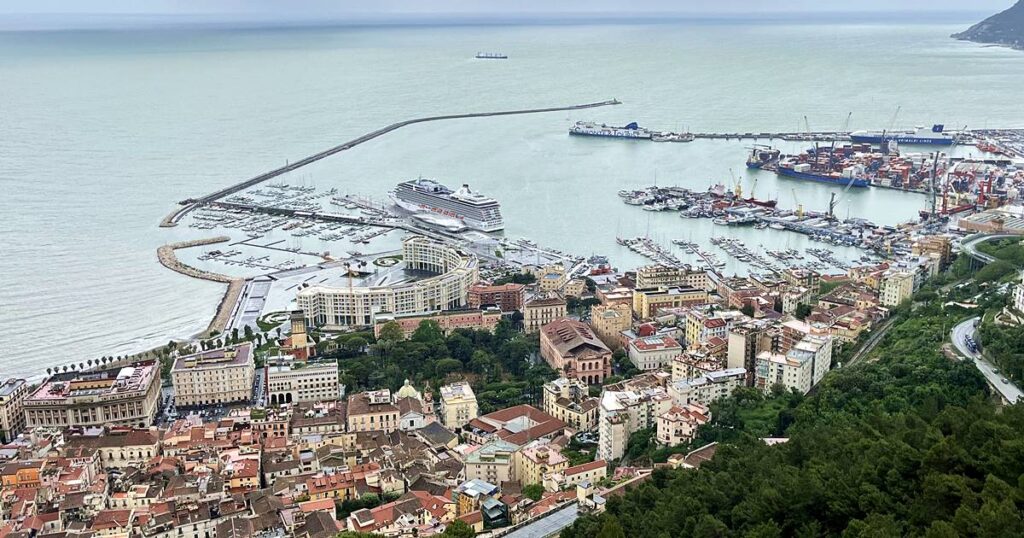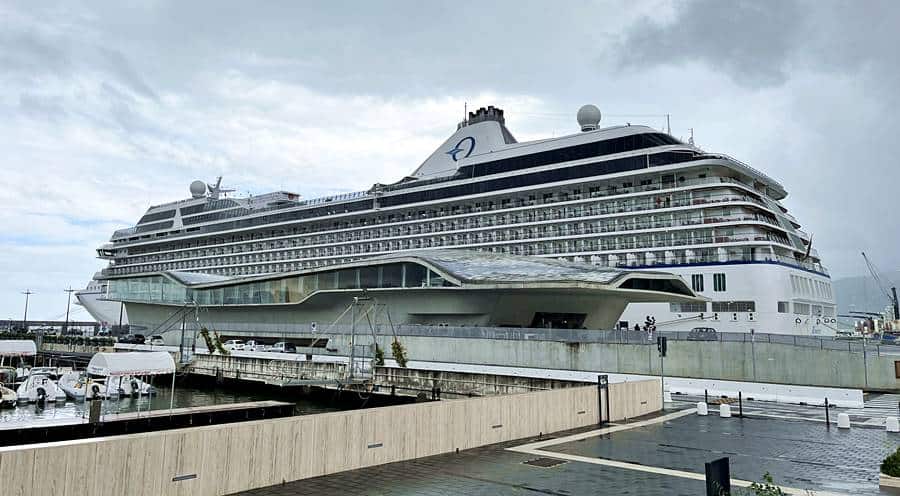 Helpful info & links:
The port area is flat and wheelchair accessible. The city park (Villa Comunale), Liberty Square and the waterfront promenade are also flat and easy to walk around. The old town is located within a 10-minute walk and is partially hilly.
The currency in Salerno Italy is EURO (€). Local currency and credit/debit cards are widely accepted. ATMs and currency exchange are available in the town.
Salerno Stazione (Salerno Central train station) is located a 20-minute walk east of the port of Salerno. The walk is scenic, along the waterfront promenade and Corso Giuseppe Garibaldi street. If you cannot walk to the train station, you can also take local bus #4 or #9 which run every 20 minutes. Salerno is well connected to Rome, Naples and other cities in Italy. Trains in Italy are operated by Trenitalia and you can check the timetables and fares on the official website

https://www.trenitalia.com/it

Salerno's main bus station is located next to the train station. The local buses depart approximately every 20 minutes and are operated by Busitalia. You can check the schedules on the

Busitalia website

or at the bus stops. A single ticket costs 1.20€ and you can buy it at kiosks (tobacco stores)/Busitalia office. Inside the train station's building, there is a kiosk where you can buy tickets as well.
Besides the local buses, there are SITA buses that provide transportation in the province of Salerno. You will need to take a SITA bus if you want to travel to Amalfi or Positano. A daily ticket for the Amalfi Coast costs 10€ and includes unlimited rides. You can check the fares and timetables at the official SITA website:

https://www.sitasudtrasporti.it/

. However, local buses are not recommended for cruise passengers as the ride to Amalfi Coast can be very long due to the narrow roads and dense traffic.
If you want to go to Amalfi or Positano, it's highly recommended to take a ferry from Masuccio pier. The ferry terminal is located less than 5 minutes walk from the train station, at Piazza della Concordia, and a 25-minute walk from the cruise terminal.
Salerno also has a metro that consists of 7 stations spreading around 8 km along the waterfront. A single ticket costs 1€ and a daily ticket 2.70€.
Salerno enjoys the Mediterranean climate with hot, sunny summers and mild, rainy winters. For useful cruise packing tips, check out my article

What to Pack for a Cruise in 2023 – Top 60 Cruise Essentials

Salerno Costa d'Amalfi Airport is the second-largest airport in the Campania region after Naples Capodichino Airport and is located 21 km/13 miles (a 30-minute drive) southeast of Salerno port.

Get an e-sim card

to have access to the Internet/Google maps and get around Salerno more easily!
5 Best Things to Do in Salerno Cruise Port
Before I share the best things to do in Alicante, I invite you to grab your copy of the "Mediterranean Cruise Port Guide", the most comprehensive guide to 45 Mediterranean cruise ports (Salerno is not included), packed with practical information, expert tips & unforgettable experiences! (PDF format/200 pages)

Ultimate Guide to Mediterranean Cruise Ports
Plan your Cruise Itinerary in Less than an Hour and Maximize Your Port
Experience!
1. Salerno City Sightseeing
Salerno is a lively city whose rich history dates back to ancient times. The city boasts a stunning medieval old town, characterized by narrow cobblestone streets, colorful buildings, and beautiful churches. These are a few attractions not to be missed:
Salerno Cathedral (Duomo di Salerno) – Dedicated to Saint Matthew, this magnificent medieval cathedral features authentic architecture, a beautifully decorated crypt, and a fascinating museum.
Salerno Old Town – In the charming historic center of Salerno, you can explore its narrow streets, medieval buildings, and quaint shops. Don't miss Via dei Mercanti, the main shopping street, and Piazza Portanova, a bustling square lined with cafes and boutiques.
Arechi Castle (Castello di Arechi) – Perched on a hill overlooking the city, Arechi Castle offers spectacular panoramic views of Salerno and the surrounding coastline. This impressive fortress dates back to the 8th century and has a nice museum worth visiting. The entrance to the castle and its museum costs 4€ and takes about 45 minutes to visit. A little cafe is available on the top. To get to Arechi Castle, you can take bus #19 from the city center. The ride takes 20 minutes, however, the buses run once per hour so it's advisable to check the schedule for the way back.
Lungomare Trieste – If you want to take a leisurely stroll with scenic coastal views, head to the waterfront promenade that stretches along the coastline, providing a picturesque walkway adorned with palm trees, colorful flowers, and stunning views of the sea. The promenade starts at Liberty Square, within a 5-minute walk from your ship.
Piazza della Libertà (Liberty Square) – Originally built in the late 19th century, the immense square is situated in front of the cruise terminal and serves as a hub for various activities, events, and social gatherings.
Giardino della Minerva – Known as the oldest botanical garden in Europe, this enchanting oasis features a wide variety of plants, herbs, and flowers. Here, visitors can learn about medicinal and aromatic plants used in traditional medicine.
Villa Comunale – This beautiful public park boasts well-manicured gardens, fountains, and palm trees and is an ideal place to relax and enjoy the outdoors. It is located across the street from Liberty Square.
Check out Salerno tours and activities
2. Amalfi Coast
Amalfi Coast is a treasure trove of stunning views, charming towns, and picturesque landscapes, so even a half-day visit will offer unforgettable experiences. Since you will be staying a limited time in the port of Salerno, plan your Amalfi Coast itinerary according to your interests and prioritize the places that resonate with you the most. The most popular places on Amalfi Coast include Positano, Amalfi Village, Ravello, Atrani, and Furore.
2.1. Positano
Known for its pastel-colored houses clinging to the cliffs, Positano is one of the most picturesque towns on the Amalfi Coast. Take a leisurely stroll along its narrow streets, shop at fashionable boutiques, and soak up the vibrant atmosphere. Don't miss the stunning panoramic views from the Church of Santa Maria Assunta, famous for its striking dome and exquisite Byzantine artwork. Hike the Path of the Gods to enjoy the stunning coastal views, or hit the Spiaggia Grande or Fornillo Beach to soak up the sun.
Positano is located a 1h 40-minute drive from Salerno and is best visited on a guided tour. You can also take the SITA bus but it takes time and I wouldn't recommend that option. The best would be to take a guided boat tour to Amalfi Coast, which includes a stop in Positano.
Explore Positano tours and activities from Salerno
2.2. Amalfi Village
Amalfi village is a captivating destination renowned for its stunning coastal beauty and rich maritime history. The key attractions include the magnificent 9th-century Amalfi Cathedral, the bustling Piazza Del Duomo, and Amalfi Beach.
From Salerno's harbor, you can board a ferry that will take you directly to Amalfi. The ferry ride lasts 55 minutes and the price is 9€ one-way. Alternatively, you can take a SITA bus however, I wouldn't recommend this option as it's time-consuming. Cars are also not the best option because the roads are winding and narrow, so it's generally difficult to get around on the road. Ferry or a guided boat tour is definitely the best option.
Check out Amalfi tours and activities from Salerno
3. Pompeii Archaeological Park
Pompeii Archaeological Park is a UNESCO World Heritage Site that offers a fascinating glimpse into the ancient Roman city of Pompeii, which was buried under volcanic ash and preserved for centuries after the eruption of Mount Vesuvius in 79 AD.
Pompeii was a thriving city of the Roman Empire, and the archaeological site provides valuable insights into daily life during that era. It showcases remarkably preserved buildings, streets, artwork, and artifacts, offering a unique window into the past. While exploring Pompeii, some of the must-visit areas include the Amphitheatre, the Forum (the city's main square), the Villa of the Mysteries (featuring well-preserved frescoes), the House of the Vettii (a luxurious Roman residence), and the Temple of Apollo. Make sure to visit the Garden of the Fugitives where you can see the plaster casts of the victims of the eruption.
To travel from Salerno to Pompeii, the best way is to take the regional train from Salerno Central Station. The trains depart frequently and the ride takes 40 minutes. You should get off at Pompeii station, from where you can either walk 20 minutes or take a local bus/taxi to the entrance of the archaeological park. You can check the train schedules at https://www.trenitalia.com/
Numerous guided tours are offered on-site by various tour operators and local tour guides. Booking a guided tour is a great idea as the site itself is huge and you need to be very organized and know where you're going if you want to explore it on your own. It's recommended you book skip-the-line tickets in the high season to avoid queuing. You can also download the MyPompeii app for free (a QR code is available at the entrance) and it will help guide you through the site.
Explore Pompeii guided tours and activities from Salerno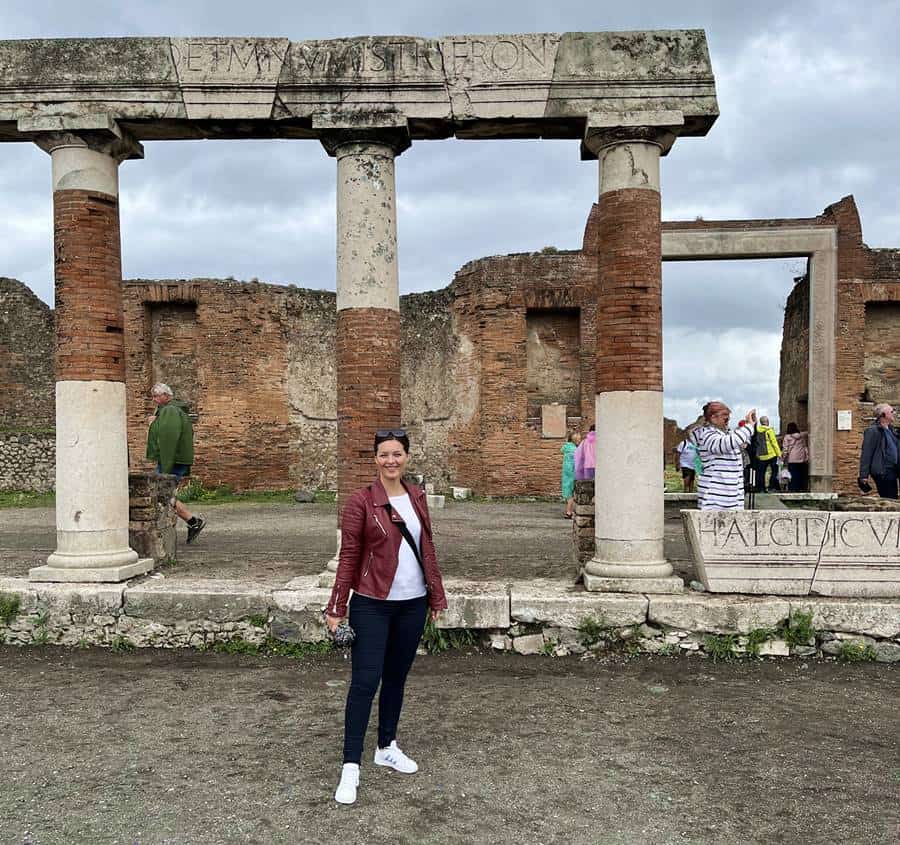 4. Sorrento
Sorrento is a picturesque coastal town known for its stunning views, charming streets, and lemon groves. The city's historic center is a delightful maze of narrow streets lined with colorful buildings, shops, and cafes. Piazza Tasso, the main square, is a bustling hub where locals and visitors gather to enjoy the lively atmosphere. Take a glimpse of Sorrento Cathedral before continuing to Marina Grande and Marina Piccola to enjoy the spectacular views of the coast.
You can visit Sorrento in a half-day, as the city is compact and everything is within easy walking distance. The best way to visit Sorrento is either on a guided tour or by car/taxi/private transfer. The ride takes 1h 15 mins. There are no direct train connections between Salerno and Sorrento.
Check out Sorrento tours and activities from Salerno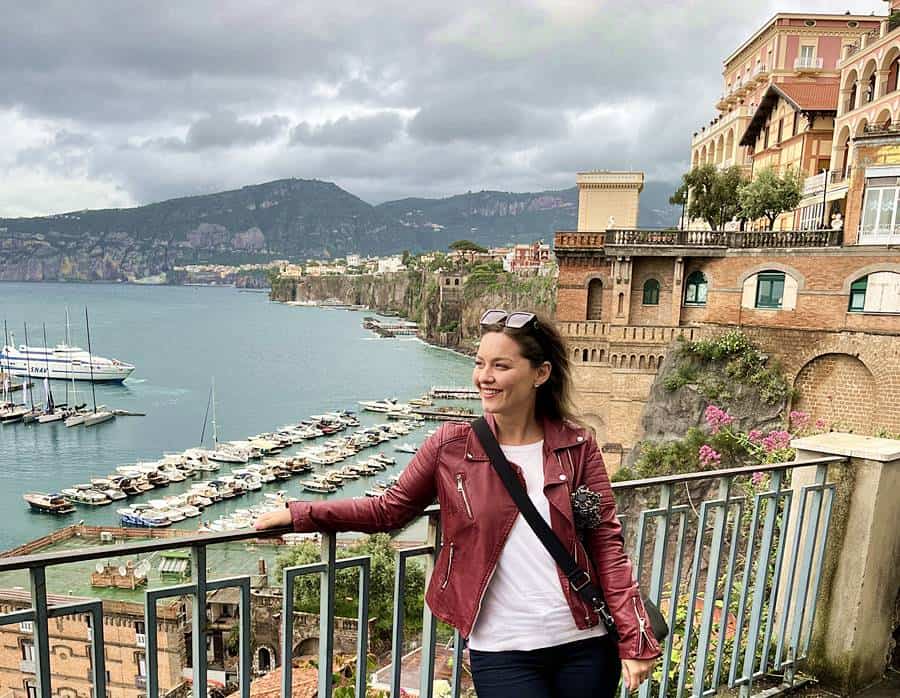 5. Archaeological Site of Paestum
Paestum Archaeological Site is an impressive ancient Greek city located a 1-hour drive (44 km/28 miles) southeast of Salerno. Paestum was originally a Greek colony known as "Poseidonia" founded in the 6th century BC. It later became a Roman city and played a vital role in the ancient Mediterranean trade routes.
The main attractions of Paestum are its three magnificent Greek temples. The Temple of Hera (also known as the Basilica), the Temple of Poseidon (commonly referred to as Neptune), and the Temple of Ceres (dedicated to Athena) showcase remarkable Doric architecture and grandeur. Besides the temples, you can explore the remnants of the city walls and a Roman Forum and visit the Archaeological Museum which houses a remarkable collection of artifacts, sculptures, and tomb paintings from the ancient city.
The best way to get to Paestum from Salerno is by train. Trains depart once per hour and the ride takes 30-40 minutes. Get off at Paestum station and walk additional 10 minutes to the site. The entrance fee is 9.50€ and it includes the entrance to the museum.
Check out Paestum tours and activities from Salerno
---
Visit also our cruise port guides to Rome (Civitavecchia), Malta (Valletta), Kotor, Dubrovnik, Split, Chania, Corfu, Santorini, Taormina (Messina), Kusadasi
You May Also Like:
25 Top Shore Excursion Packing List Items
What to Pack for a Cruise in 2023 – Top 60 Cruise Essentials
Mediterranean Cruise Port Guides
This article may contain affiliate / compensated links. For full information, please see my disclaimer here.