Welcome to Catania cruise port, Sicily!
Nestled on the island's east coast, Catania is one of the oldest and largest cities in Sicily. It sits at the foot of Mount Etna, one of the most dangerous and active European volcanoes that shaped the city to this day. With its unique Baroque architecture, lively streets and a variety of things to offer, Catania is a frequent stop in Mediterranean cruise itineraries with Messina, Taormina and Palermo. In this article, read about:
Catania cruise port (Catania cruise terminal, getting around, helpful info)
Top 15 things to do in Catania port & best Catania shore excursions
Visit also our cruise port guides to Messina, Taormina, Palermo, Civitavecchia (Rome), Naples, Livorno (Florence), Piraeus (Athens), Santorini, Rhodes, Crete (Heraklion), Barcelona, Kotor, Istanbul, Kusadasi
Search the best Mediterranean cruise deals!
Catania Cruise Port
Catania cruise terminal is located in an industrial area within a 15-minute walk from the city center. There is a dedicated berth for cruise ships (Sporgente Centrale Pier), however, there is no dedicated terminal building for cruise passengers. The port area itself is not pretty because it's an industrial port but the city is within easy reach and there are plenty of things to do. The port of Catania also serves ferries to mainland Italy and Malta (Valetta) on a daily basis.
Taxis, buses and trains are available upon exiting the cruise terminal, as well as numerous restaurants and bars. To get to the city center, turn left upon exiting the terminal and continue walking until you reach a roundabout backed by Giardini Pacini park. Here you'll also find a bus station and public parking space, and the main square Piazza del Duomo is right across the street.
See Catania cruise port on Google maps
Helpful info & links:
The port area is flat and suitable for wheelchair users. Catania city center is also mostly flat and easy to navigate.
Be careful when crossing the street, especially around the port area. I haven't noticed many traffic lights when I was visiting, and drivers tend to drive fast.
Taxis and public buses are available upon exiting the terminal. The nearest bus station is Piazza Paolo Borsellino, located around a 10-minute walk from the pier. Here, you'll find local and intercity buses, as well ALIBUS, which will take you directly to Catania Fontanarossa Airport.
Catania cruise port offers parking facilities at an outdoor car park on Molo Sporgente Centrale. Another public parking is available at Piazza Paolo Borsellino.
Guest Information Center kiosk is available on the pier to provide you with useful information on getting around the city. They offer a selection of souvenirs, free city maps, tours and car rentals.
The currency in Sicily (Italy) is EURO (€). ATMs are available in town and near the cruise terminal. Local currency and credit cards are widely accepted. See the

currency converter

Tipping is not customary in Italy, however, there is a service fee of 15-20% of the bill (or 2€ per person) in the majority of restaurants. In some cities, Catania included, restaurants may be closed between 2 pm and 7 pm (they close after lunchtime and reopen in the evening).
Catania city center is quite compact and you can visit all major city attractions on foot.
Catania Hop on Hop off bus tours are available in the city center. They depart from Via Vittorio Emanuele II ("via" means the "street" in Italian) located next to Piazza Duomo and include stops at major city spots such as Piazza Stesicoro – Anfiteatro Romano, port of Catania, central station and Corso Italia. The majority of these buses also go to Acitrezza and Aci Castello, two scenic coastal towns located about 14 km/9 miles (a 30-minute drive) to the northeast. The buses depart every hour, the tickets start from 15€ and the tour takes 80 minutes. The first departure is at 10:00 am and you can hop on and off as many times as you wish. The audio guide is available in 6 languages.

Book Catania Hop on Hop off sightseeing bus tour

Catania Tourist Tram also departs from Via Vittorio Emanuele II near Piazza Duomo, the main city square. The ticket costs 5€ and the tour takes 40 minutes. The tram runs through the historic center of Catania and includes the following stops: Cattedrale S. Agata, Palazzo Biscari, Piazza dei Martiri, Teatro Massimo Bellini, Piazza Stesicoro, Anfiteatro Romano, Villa Bellini, Monastero dei Benedettini, Teatro Greco, Arco di Via Crociferi, Castello Ursino and Pescheria-Porto.
Besides tourist buses and trams, on Via Vittorio Emanuele II you'll also find taxis, tours and car rentals.
Catania Centrale (central train and bus station) is located approximately 1.3 km/0.80 miles (a 15-minute walk) northeast of Catania cruise port. Just exit the terminal and keep walking to your right until you reach it. There's a lot of traffic on this street that runs parallel to the port, so be careful when crossing the street. Trains in Sicily (Italy) are operated by Trenitalia and you can find all timetables and prices on the official webpage

https://www.trenitalia.com/

.

Catania is well connected by train to other cities in Sicily including

Palermo

,

Messina

,

Taormina

, and Syracuse. There are multiple departures every day and in case you're staying longer and want to visit several cities in a few days, a 3-day train ticket is available for only 29€ (with unlimited rides). There's no need to book a ticket in advance, however, if you're buying it at the train station, make sure you have an ID with you.  
Public buses in Catania are operated by AMTS and the main bus station is at Catania Centrale. The ticket costs 1

€ and is valid for 90 minutes from the time of validation.

You can check the timetables and prices at

https://www.amts.ct.it/

Intercity buses in Sicily are operated by Interbus Autolinee and they depart from the central station. Check out the timetables and prices at

https://www.interbus.it/

There are two airports in Sicily. The main and largest airport is Catania Fontanarossa Airport, located only 6 km/4 miles (a 15-minute drive) southwest of Catania port. ALIBUS is the name of the bus that runs between Catania Fontanarossa Airport and Catania Centrale (and also stops at the city center). A one-way ticket costs 4€ and is valid for 90 minutes. The buses run frequently, every 15 to 30 minutes. The second airport is Palermo Airport, located a 3h 10-minute drive northwest of Catania.

Check out the cheapest flights to Catania Fontanarossa

Catania's most popular beach is Playa de Catania, located a 10-minute drive south of Catania cruise port. Bus Line D stops along this long sandy public beach.
The weather in Sicily is warm and pleasant throughout the year, with more rain in the autumn and winter season. The weather is nicest between June and October, but this is also the period of the biggest crowds and higher prices, especially in touristy places like Taormina. To get useful cruise packing tips, check out my article

What to Pack for a Cruise in 2023 – Top 60 Cruise Essentials

Renting a car in Catania may not be the best idea because the city is quite congested and it may be challenging to find parking in the city center. However, there are a few car parks available near the cruise terminal in case you decide to leave your car there.

Check out Catania rent-a-car deals and prices

Check out the best hotels in Catania

(I spent 7 days at

Luxury BB Iolanda

and I highly recommend it!)
Watch my YouTube video on Catania cruise port!
Top 15 Things to Do in Catania Cruise Port
The city of Catania was affected by numerous earthquakes and volcanic eruptions over the centuries, which changed the city's landscape. A major eruption took place in 1669 and completely changed the shape of the city. The city was rebuilt with lava brick in the Baroque style which has given a grey look to the city. Due to its unique architecture, Catania's old town has been listed as a UNESCO World Heritage Site.
Before I share the best things to do in Catania, I invite you to grab your copy of the "Mediterranean Cruise Port Guide", the most comprehensive guide to 45 Mediterranean cruise ports (including Catania), packed with practical information, expert tips & unforgettable experiences! (PDF format/200 pages)

Ultimate Guide to Mediterranean Cruise Ports
Plan your Cruise Itinerary in Less than an Hour and Maximize Your Port
Experience!
1. Piazza del Duomo
Piazza Duomo is the main square of Catania and is located only a 15-minute walk from the Catania cruise terminal. This beautiful square is dominated by the Elephant Fountain (Fontana dell' Elefante), carved in black lava and topped by an Egyptian obelisk, which is believed to be holding the power to appease Etna's anger. On the square, you can also find the magnificent Duomo di Catania (Catania Cathedral), Badia di Sant'Agata Church, and the Town Hall housed in the 17th-century Palazzo degli Elefanti.
The city's main street Via Etnea starts here, and Via Vittorio Emanuele II intersects the square. The Hop on Hop off bus tours, tourist trams, taxis and tours in general normally depart from Via Vittorio Emanuele II, right across from Badia di Sant'Agata Church.
Check out Catania walking tours and activities
2. Duomo di Catania
The Cathedral of Catania, also known as Duomo di Catania and Basilica Cattedrale di Sant'Agata, is dedicated to the Christian martyr Sant Agata, whose relics are kept in the cathedral. Originally built in the 11th century, the cathedral was destroyed many times in earthquakes and volcano eruptions. After the 1693 earthquake, it was completely rebuilt in Baroque style boasting a columned white marble façade, doomed roof, frescoes, and paintings. Inside the cathedral, you can see the tomb of Vincenzo Bellini, a world-famous classic composer who was born in Catania in 1801.
3. Badia di Sant'Agata Church
Located on Via Vittorio Emanuele II, next to Duomo di Catania, this 1700s Baroque church is famous for its dome that you can climb for 5€ and admire the best panoramic views of Catania and Etna volcano. On a clear day, you can see the mighty Etna volcano towering over the city.
Check out Catania city sightseeing tours and activities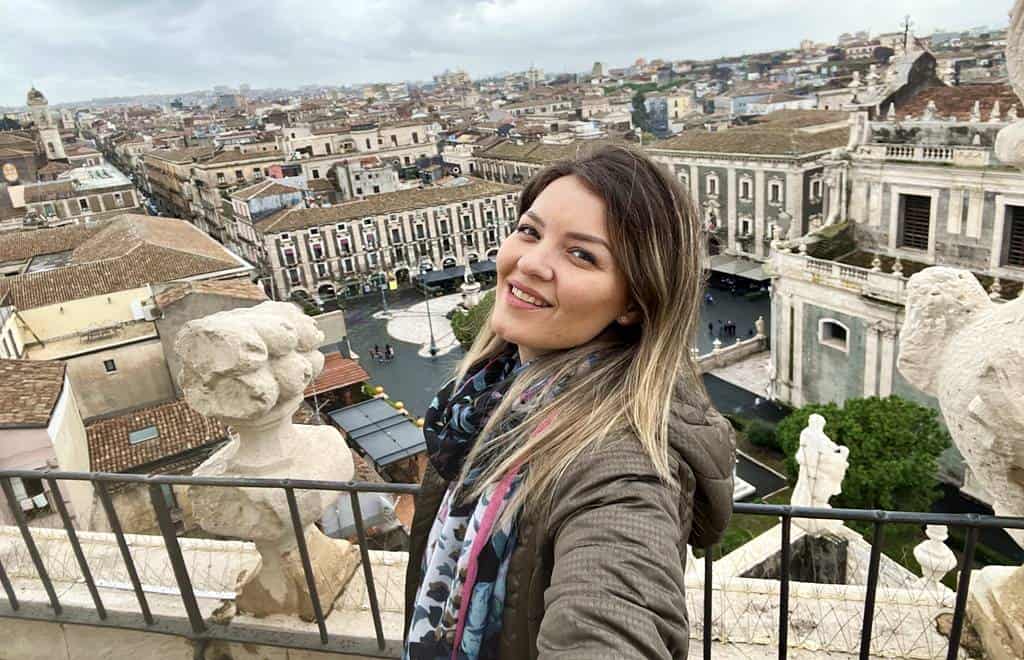 4. La Pescheria
Catania Fish Market is a historic market located right behind Piazza del Duomo. Here you can immerse in the local culture and experience the sounds, smells and sights of this daily centuries-old tradition. Fishes are emptied in front of your eyes, including swordfish, live lobsters, sardines, anchovies, shrimps, octopus and many others.
There are several restaurants and bars, however, if you decide to have your meal here, be prepared for fishy smells and a lot of noise! The markets are held every morning on weekdays. Next to La Pescheria, there is a classic market where you can find meat, fruits, vegetables and more diverse goods.
Check out La Pescheria tours and activities
5. Via Etnea
Via Etnea is the main street in Catania that extends from Piazza del Duomo all the way to the Parco Gioeni city park. The street is almost 3 km/2 miles long and boasts hundreds of shops, restaurants, cafes, and small businesses. Only a small portion of the street is pedestrianized, so be mindful of cars, buses and trams.
Along the street, you'll find squares (Piazza Università, Piazza Stesicoro), churches (Basilica della Collegiata, Chiesa di san Michele Arcangelo ai Minoriti…), historic palaces, Roman Amphitheater of Catania, Villa Bellini, Botanical Gardens, and many other city landmarks.
The street is mostly filled with shops and you won't find as many restaurants as you may expect on the main street. For the best dining and nightlife experience, you can check out Via Gemmellaro and Via Santa Filomena streets which run parallel to Via Etnea. Keep in mind that many restaurants may be closed between 2 pm and 7 pm (they close after lunchtime and reopen in the evening).
Explore Via Etnea guided tours and activities
6. Via Crociferi
Via Crociferi is one of the oldest streets in Catania dating from the 18th century. It is located within a 5-minute walk from Piazza Università and Via Etnea and is known for Baroque churches and grandiose villas. Within a span of 200 meters, you can find 4 churches (San Francesco Church, San Benedetto Church, San Giuliano Church, and San Nicolo all' Arena Church).
I highly recommend you visit Chiesa di San Benedetto (Church of San Benedetto) which is adjacent to Monastero San Benedetto (Monastery of San Benedetto). The church boasts an absolutely spectacular interior with the 18th-century vault entirely frescoed by Giovanni Tuccari. The entrance fee is 6€ and the visit takes about 15 to 30 minutes.
Explore Via Crociferi guided tours and activities
7. Castello Ursino
Located 700 m from Duomo, this 13th-century Norman fortress was built as a royal castle of the Kingdom of Sicily and throughout centuries was mainly used for defensive and military purposes. Originally located at the top of the cliff overlooking the sea, the castle is now a kilometer inland as a result of volcanic eruptions and earthquakes that changed the landscape of the city.
Nowadays, Ursino Castle houses a Municipal Museum featuring a royal archaeological collection consisting of ceramic vases, sculptures and numerous paintings. It is open from Monday to Sunday from 9:00 am to 7:00 pm, and the entrance fee is 10€. The visit takes about an hour.
Check out Ursino Castle tours and tickets
8. Villa Bellini
Giardino Bellini is a city garden nestled along Via Etnea, about a 10-minute walk from Piazza Duomo. This quiet park is the oldest and largest urban park in Catania and features shaded paths, giant tropical trees, benches, fountains, and statues of local musicians, writers and politicians.
Check out Villa Bellini guided tours and activities
9. Teatro Massimo Bellini
Only a 5-minute walk from Piazza del Duomo, you will reach Piazza Vincenzo Bellini dominated by an ornate 19th-century opera house honoring a local composer. The theater boasts a lavish gilt-edged auditorium staging major operas and concerts.
Check out Teatro Massimo Bellini tours and activities
10. Taste the Local Cuisine
Honestly speaking, Sicilian cuisine is the most delicious cuisine I've ever tasted in my life! From mouth-watering pizzas, pasta and seafood dishes to premium quality gelatos, pastries and desserts. While in Catania, make sure you taste Pasta alla Norma, a typical dish of Catania, made with fried eggplant, fresh tomato sauce and an abundance of Ricotta cheese. Top it off with delicious Cannoli in pasticceria "Savia", one of the best in the city, or tiramisu cake in Ficarra Luigi pastry shop, both located a stone's throw from Villa Bellini.
Explore Catania food-tasting tours and activities
11. Mount Etna
A day trip to Etna volcano is by far the most popular shore excursion in Catania cruise port. Etna stands at a height of 3329 meters and is known as one of the most dangerous and active volcanoes in Europe known for its exceptional level of volcanic activity. Etna volcano covers 59,000 hectares in the province of Catania and has been erupting for a hundred thousand years. It's constantly active, and you can see the fumes coming out of craters even in the wintertime.
The biggest eruption took place in 1669 when the entire city of Catania was completely devastated, while the last one was in 2021. There are hundreds of small craters and four big ones including crater Silvestri, as well as over 200 lava caves that you can explore in a company of a professional guide.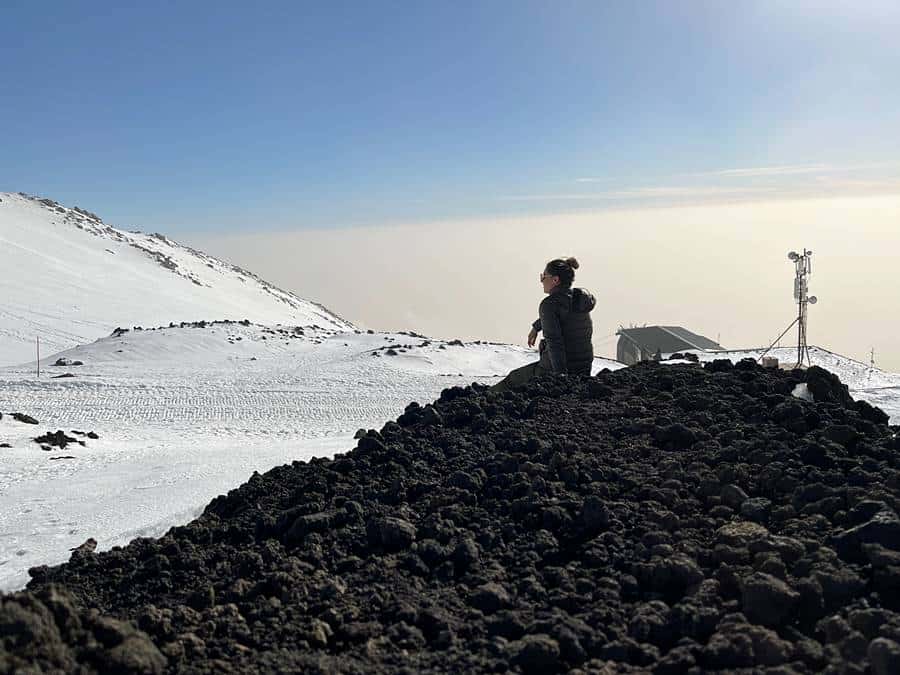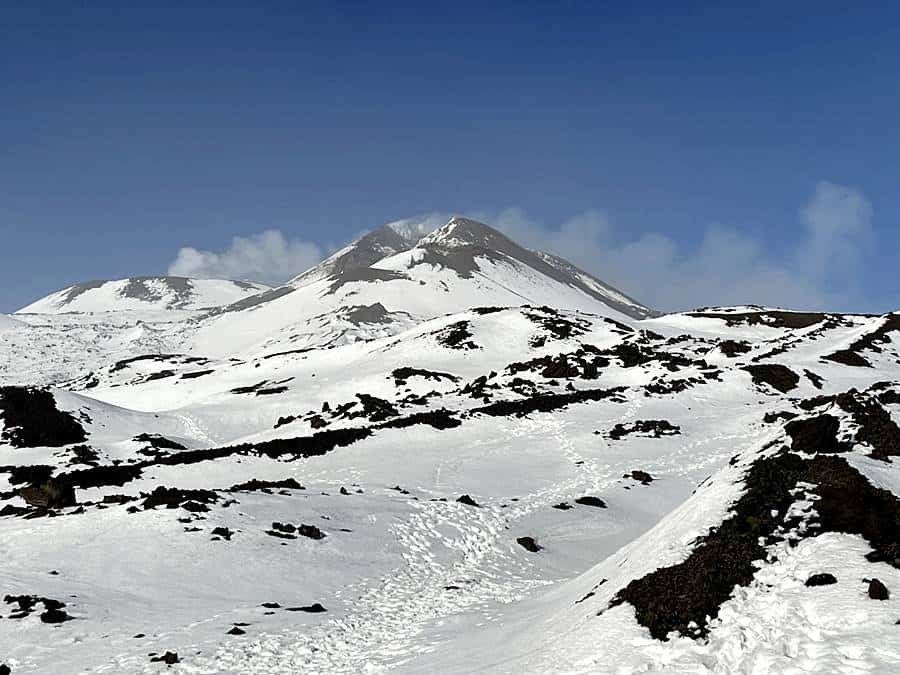 Etna is located 35 km/22 miles (a 1-hour drive) northwest of Catania cruise port and the best way to get there is by car or on a shore excursion. If you decide to rent a car, you will drive to Rifugio Sapienza which sits at 2,000 m. Here, you'll find a large free parking, cafes, shops and tour vendors where you can book tours to explore the higher altitudes of the volcano.
You can book a cable car, which is definitely the most exciting option as it will take you to the summit, however, these are often canceled due to winds and bad weather conditions. Instead of refunding the tickets, they offer you an alternative (such as an off-road drive) so be mindful of that. The cable car general admission fee is 30€, and if you want a professional guide to accompany you, the price is almost double!
Alternatively, you can go hiking (you can hike on your own until 2,500 m, but if you want to go to 3,000, you need a professional guide), book a 4×4 tour, or explore the caves with a guide. Whatever you choose to do, it's absolutely worth it because it's a once-in-a-lifetime adventure! Keep in mind that roads leading to Etna are windy and it can be cold up in the mountain, so make sure to bring a jacket and comfortable shoes.
Shore excursions to Etna are also popular and there are many options available, from adventurous hikes to off-road rides, cave exploration and wine tasting. Upon booking a tour, check what's included in it and see if there's going to be an extra charge on-site.
Explore Etna tours and activities from Catania
12. Acitrezza and Aci Castello
If you want to explore outside the city of Catania, the coastal towns of Acitrezza and Aci Castello are very popular options. Both towns are located around 13 km/8 miles northeast of Catania and you can reach them in a 30-minute drive. Hop on Hop off buses that depart from Piazza del Duomo include stops in these towns, so that may be a convenient option as well.
Acitrezza is a charming resort town famous for Faraglioni of the Cyclops, three tall, prominent sea stacks that were, according to local legend, the great stones thrown at Odysseus by the monster Cyclops in the epic poem The Odyssey. The islands are thus often referred to as the Isole Ciclopi (Cyclopean Isles) by locals.
Aci Castello is known for its 11th-century Norman castle (Castle of Aci), which towers above the town and offers magnificent views of the coast. In the resort, you can find many restaurants, bars and a resort-like atmosphere.
Check out Acicastello and Acitrezza tours and activities
13. Taormina
Taormina is a gorgeous resort town and jewel of Sicily perched on a 200-meter-high cliff overlooking the Mediterranean Sea. This ancient town dates from 734 BC and boasts remarkably preserved Teatro Antico that you can visit while in town.
Corso Umberto is the main street that runs through the heart of the old town and is filled with luxury boutiques, designer stores, souvenir shops, restaurants, gelaterias, cafes and small businesses. At one end of Corso Umberto street, Piazza IX Aprile offers the most beautiful views of the bay below and Mount Etna. While there, make sure you check out the medieval Duomo di Taormina and Villa Communale, a peaceful oasis offering breathtaking coastal views.
Taormina is located 56 km/35 miles (a 1-hour drive) northeast of the port of Catania. You can reach Taormina by train (there are hourly departures from Catania central station and the ride takes about 30-45 minutes one-way depending on the itinerary), car, or intercity bus. You can read in detail about Taormina and the top 10 things to do in my article Taormina Cruise Port, Things to Do, Shore Excursions
Explore Taormina tours and activities from Catania
14. Syracuse
Nestled in the southeast corner of Sicily, 65 km/40 miles (a 1-hour drive) southeast of Catania cruise port, Syracuse is a 2,700-year-old city renowned for its rich Greek and Roman history, culture, amphitheaters, and architecture. It is the birthplace of the Greek mathematician and engineer Archimedes, well known for his inventions and scientific discoveries.
Ortigia, the historic heart of Syracuse, is located on a peninsula and is a UNESCO World Heritage Site. Notable for its Greek heritage, it features the Temple of Apollo, considered the oldest and largest Greek Doric temple in Sicily dating from the 7th century BC. Syracuse Duomo (Cathedral of Syracuse) is the symbol of the city and was built on the Greek pillars of the Temple of Athena dating from the 5th century BC. While there, make sure you check out Piazza Archimede with its elegant Fontana di Diana, and Castello Maniace offering breathtaking coastal views. If you are into archaeology, visit the vast Neapolis Archaeological Park featuring an ancient Greek theater, church, caves and other Roman relics.
The best way to get to Syracuse is by train. The ride takes about 1h 20 minutes and there are several daily departures from Catania Centrale.
Explore Syracuse tours and activities from Catania
15. The Godfather Movie Tour
The legendary movie "The Godfather" was filmed in Sicily and for the fans of the saga, this tour is a must! You will be visiting the town of Savoca, located 74 km/46 miles (a 1h 10-minute drive) northeast of Catania cruise port. In Savoca, you will see the 1971 filming location for the wedding, as well as the Bar Vitelli where Michael Corleone asked for Apollonia's hand.
You will then continue to Forza d'Agrò village, which is located another 25 minutes drive, to see the square that served as the main square of Corleone during the Francis Ford Coppola movie. This tour is usually offered as a combo with Taormina because the two locations are close to each other.
Explore The Godfather movie tours and activities from Catania
Wrapping Up
Whether you decide to have a relaxed day strolling around Catania or book a shore excursion outside of the city, an awesome day is guaranteed! Make sure you plan your day ahead to get the most out of Catania port of call!
Visit also our cruise port guides to Messina, Taormina, Palermo, Civitavecchia (Rome), Naples, Livorno (Florence), Piraeus (Athens), Santorini, Rhodes, Crete (Heraklion), Barcelona, Kotor, Istanbul, Kusadasi
---
Don't miss out on the opportunity to enhance your Mediterranean cruise experience with our "Mediterranean Cruise Port Guide"- your ultimate companion to discovering the region's hidden treasures and creating unforgettable memories; click below to purchase your copy today and embark on the voyage of a lifetime!

Ultimate Guide to Mediterranean Cruise Ports
Plan your Cruise Itinerary in Less than an Hour and Maximize Your Port
Experience!
---
You May Also Like:
25 Top Shore Excursion Packing List Items
What to Pack for a Cruise in 2023 – Top 60 Cruise Essentials
Mediterranean Cruise Port Guides
This article may contain affiliate / compensated links. For full information, please see my disclaimer here.