Welcome to Taormina cruise port, Sicily (Italy)!
Also known as the jewel of Sicily, Taormina is a hilltop town on the island's eastern coast. It sits near Mount Etna, one of Europe's most dangerous active volcanoes, and a 45-minute drive from Messina, another large cruise port in Sicily. Due to its stunning beauty and a wide range of things to offer, Taormina is a frequent stop in Mediterranean cruise itineraries and one of the most popular shore excursions from Messina port. In this article, read about:
Taormina cruise port (Giardini-Naxos cruise terminal, getting to Taormina city center, helpful info)
10 best things to do in the port of Taormina and best Taormina shore excursions
Visit also our cruise port guides to Catania, Messina, Palermo, Civitavecchia (Rome), Florence (Livorno), La Spezia (Cinque Terre), Naples, Villefranche (Nice, Monaco), Ajaccio (Corsica), Marseille, Barcelona 
Search the best Mediterranean cruise deals!
Taormina Cruise Port
Cruise ships anchor in the bay of Naxos, nestled along the resort town of Giardini Naxos, located a 20-minute drive from Taormina city center. Cruise ships normally organize tender boats to transfer passengers ashore to Porto di Giardini Naxos, after which the shuttle buses are organized to take passengers to Taormina. The shuttle buses will either drop you off in Taormina city center, or you may need to switch to a minibus that will take you to the center. Taormina's historic center is almost completely pedestrianized and the streets are narrow, so big buses may sometimes not be allowed to access it.
Alternatively and more frequently, the cruise ships will dock at the port of Messina, located around 53 km/33 miles (a 45-minute drive) northeast of Taormina. In this case, you can either book a shore excursion, or take a taxi, bus, or train to Taormina. I wrote about it in detail in my article Messina Cruise Port, Things to Do, Shore Excursions
Helpful info & links:
Taormina is perched on a 200-meter-high cliff (670 ft), compared to Giardini Naxos which is relatively flat and at sea level. Taormina's main street Corso Umberto is relatively flat, as well as Villa Comunale (public garden), however, a lot of streets are steep including some landmarks such as Teatro Antico, Chiesa Madonna della Rocca and Castelmola village.
The main beach in Taormina is at Isola Bella, the tiny island nestled at the foot of the hill. It boasts a beautiful pebble beach, and to get there, you can walk (a 30-minute walk from Taormina old town), take a bus, taxi, or a cable car. You can read in detail about Isola Bella and the cable car further below (under "Top 10 things to do in Taormina").
If you decide to stay in Giardini Naxos, there are plenty of things to do as it is a popular seaside resort with beautiful sandy beaches, restaurants, shops and bars.
The currency in Sicily (Italy) is EURO (€). ATMs are available in town. Local currency and credit cards are widely accepted. See the

currency converter

Tipping is not customary in Italy, however, there is a service fee of 15-20% of the bill (or 2€ per person) in the majority of restaurants.
Plenty of taxis are available in both Giardini Naxos and Taormina.
Taormina-Giardini Naxos train station (the main train station in Taormina) is well connected to other cities in Sicily including

Messina

and

Catania

. It is located at the foot of the hill and to get to Taormina's old town, you should take a local minibus called Linea Verde that stops in front of the station. A bus ride to Taormina's historic center takes about 10-15 minutes, depending on the traffic, and the bus ticket costs 1.10€ one way. The minibus will drop you off at Piazza San Pancrazio, which is in front of the Corso Umberto street entrance. Alternatively, you can take a taxi from the train station and it will cost you around 15-20€ per vehicle one way.
CityBySea is an open-top sightseeing bus featuring 5 tourist lines that stop at all major locations in the area including Taormina, Giardini Naxos, Isola Bella, Castelmola, Savoca, Etna, Forza d'Agrò and Gole Alcantara. The tickets start from 20€. CityBySea bus stop in Taormina is located on Via Luigi Pirandello, only a few minutes' walk from Piazza San Pancrazio.
If your cruise ship docks at Messina cruise port, you can get to Taormina by train, bus, car, or on a shore excursion. Trains are quite reliable and there are up to two departures per hour to Taormina. The ride can take from 30 minutes to 55 minutes one-way, depending on the train itinerary. You can check the timetables and prices at

https://www.trenitalia.com/

You can also take an intercity bus from Messina to Taormina, or from Giardini Naxos to Taormina. Intercity buses in Sicily are operated by Interbus Autolinee. Check out the timetables and prices at

https://www.interbus.it/

In Taormina, the Intercity bus will drop you off at Piazza San Pancrazio (the same bus stop where the local minibus stops), from where you can walk into the old town. Terminal Interbus Taormina

(bus terminus) is located 550 m (less than a 10-minute walk) from there. These Intercity buses also stop at Taormina-Giardini train station, but they may be more expensive than local minibuses.

Another option to get from the port of Messina to Taormina is by renting a car, which I don't recommend as it's very challenging to find parking in Taormina, especially in the high season. You will most likely need to leave your car in one of the car parks below the hill and then take the minibus as well. There is one car park right next to Taormina-Giardini train station. If you are considering getting to Taormina by car, it would be better to arrange a

private round-trip transfer to Taormina

or arrange a tour with one of the taxi drivers in the port of Messina.
From Messina, you can also book an organized shore excursion with your cruise ship or a

reliable tour operator

. Guided tours are great because they will allow you to see most of Taormina in just one day, which is well worth it because the place is a true fairytale!
There are two airports in Sicily. The main and largest airport is Catania Fontanarossa Airport, located a 1h 30-minute drive south of Messina and a 50-minute drive south of Taormina. Palermo Airport is located a 3h 15-minute drive west of Messina and a 3h 50-minute drive from Taormina.
The weather in Sicily is warm and pleasant throughout the year, with more rain in the autumn and winter season. The weather is nicest between June and October, but this is also the period of the biggest crowds and higher prices, especially in touristy places like Taormina. To get useful cruise packing tips, check out my article

What to Pack for a Cruise in 2023 – Top 60 Cruise Essentials
---
Watch my YouTube video on the top 10 things to do in Taormina!
10 Best Things to Do in Taormina Cruise Port
Taormina is quite small and can be easily visited on foot in a day. Before I share the best things to do in Taormina, I invite you to grab your copy of the "Mediterranean Cruise Port Guide", the most comprehensive guide to 45 Mediterranean cruise ports (including Taormina), packed with practical information, expert tips & unforgettable experiences! (PDF format/200 pages)

Ultimate Guide to Mediterranean Cruise Ports
Plan your Cruise Itinerary in Less than an Hour and Maximize Your Port
Experience!
1. Corso Umberto
Corso Umberto is the main street in Taormina and you can't miss it as it runs through the heart of the old town. Besides a wide range of luxury boutiques, clothes, jewelry, and souvenir shops, here you'll find gelaterias, bars and restaurants, as well as two main squares – Piazza Duomo and Piazza IX Aprile. Corso Umberto is around 800 m long and it takes about 10-15 minutes to walk the whole length.
Here you'll also find banks, pharmacies, ATMs, a post office (right in front of Porta Catania – the gate which marks the entrance to Corso Umberto) and other small businesses. While walking this street, get your camera ready as you'll want to capture every corner of it!
In this area, you can also find a lot of gelaterias, bars and restaurants where you can taste delicious Sicilian cuisine. I had a pistachio pizza at "Licchio's" restaurant in front of Palazzo Corvaja on Corso Umberto, and a mouth-watering gelato and cappuccino at "Don Diego" gelateria, located right across from Piazza San Pancrazio. I still remember the taste and highly recommend both places!
Check out Corso Umberto tours and activities
2. Piazza IX Aprile
The vast square intersects Corso Umberto and offers by far the most spectacular views of the sea and coastline. A huge panoramic terrace features black-and-white marble checkerboard paving and is surrounded by two small historic churches – the Church of San Giuseppe and the Church of Saint Augustine. There are a few benches to sit and relax, as well as a few bars and restaurants.
Explore Piazza IX Aprile tours and activities
3. Duomo di Taormina
Continue walking five more minutes from Piazza IX Aprile along Corso Umberto, and you'll soon reach Taormina Cathedral (also known as Duomo di Taormina). The medieval church was originally built in the 13th century on the ruins of the church dedicated to Saint Nicholas of Bari. Throughout history, the church has been reconstructed multiple times and nowadays boasts a grand arched interior with elaborate statues and artwork.
The church dominates Piazza Duomo, a small square with the 17th-century Fontana di Piazza Duomo in its center. The fountain was built in marble and features mythological creatures and the city's coat of arms.
Check out Duomo di Taormina tours and activities
4. Villa Comunale
Only a few minutes' walk from Piazza IX Aprile and Corso Umberto, Parco Duca di Cesaro, popularly known as Villa Comunale is a place where you can relax away from the bustling old town. This 19th-century English-style landscaped garden once belonged to a rich Englishwoman, Queen Victoria's cousin, Lady Florence, who was passionate about birds and who decided to build aviaries and nesting sites on this site.
Today, visitors can admire the picturesque aviary structures set amidst tropical and exotic plants and trees. Villa Comunale is another great spot offering breathtaking views of the coast and has a playground for kids. The gardens are partially wheelchair-friendly and access is free.
5. Teatro Antico
Less than a 10-minute walk slightly uphill from Villa Comunale, you can visit the remains of the Greco-Roman theater dating from the 3rd century BC. Nowadays, the theater can accommodate more than 5,000 people and hosts entertainment events such as theater performances and concerts. The entrance ticket costs 10€ and is absolutely worth every cent. Guided tours are available.
Honestly speaking, Teatro Antico left a huge impression on me, mostly because of the view you get from the top. In one word, it's mind-blowing, so make sure you put this place on your bucket list. There is a small exhibition at the entrance so you can learn about the history of the theater. Unfortunately, Teatro Antico is not wheelchair-accessible. I spent about 1 hour here, although I would have spent the whole day if I had had time. 🙂
Explore Teatro Antico tours and activities
6. Chiesa Madonna della Rocca
This unique sanctuary is located on top of the hill towering over Taormina, approximately 1.2 km from Teatro Antico and 800 m from Piazza IX Aprile. You can either take a taxi or go on foot if you don't mind walking. If you decide to walk as I did, be ready to handle over 300 steps to the top. The path is paved and well-marked, however, it requires a good physical shape. Bring water and sunscreen and a hat if it's too sunny. Once you reach the top, you'll be rewarded with magnificent views of Taormina.
The Church of Madonna della Rocca was built into a rock and dates from the 17th century. You can enter inside and admire its unique interior, and if you go behind it – you'll be blown away by the stunning panorama of Castelmola village.
7. Isola Bella
Isola Bella is a small rocky island located at the foot of Taormina, boasting a lovely pebble beach with crystal-clear waters. Isola Bella used to be owned by a lady who bought the island from the King of Sicily, but in 1992, Sicily purchased the island and turned it into a nature reserve.
The island is connected to the beach via a narrow path and is surrounded by sea caves (grottos) that you can explore by boat. There are many tours and activities offered, including snorkeling, sailing and boating. The tiny island is home to exotic and tropical plants, several species of birds and a few types of lizards, as well as a small art museum and the Regional Naturalistic Museum of Isola Bella.
To get to Isola Bella, you can walk (a 30-minute walk from Taormina old town), take a bus, taxi, or a cable car. A cable car top station (Funivia Mazzarò Taormina) is located only a 5-minute walk from the Piazza San Pancrazio bus stop. A one-way ticket costs 3€, and the round-trip is 6€. The ride takes only 5 minutes and once you're at the bottom, you can reach Isola Bella and the beach in just 10 minutes. The cable car runs every 15 minutes and it's open daily from 8:00 am to 8:00 pm. In the summer season, it is open until 1:00 am at night. In case the ticket office is closed, you can buy the tickets at the ticket machine.
Explore Isola Bella tours and activities
8. Castelmola
Castelmola is a picturesque small village located around 5 km/3 miles (a 10-15 minute drive) from Taormina old town. Whereas the neighboring Taormina lies at 204 m (670 ft), Castelmola is higher up at 518 m (1,700 ft) above sea level. This charming village is renowned for its almond wine and sweeping panoramic views of Taormina and the entire coast.
You can explore its winding streets and historic churches, taste the Sicilian cuisine and visit the ruins of the 10th-century Castello di Mola, which was originally built as a defense fortress to protect Taormina from attacks. To get to Castelmola, you can take a bus, taxi (from Piazza San Pancrazio), or hike for about 45 minutes. A day trip to Castelmola is one of the most popular shore excursions in Taormina cruise port.
Explore Castelmola tours and activities
9. Mount Etna
Another popular shore excursion is a day trip to the infamous Mount Etna, one of the most dangerous and active volcanoes in Europe known for its exceptional level of volcanic activity. It stands at a height of 3329 meters and is considered the tallest volcano in Europe after Mount Teide in Tenerife (Spain).
The volcano spreads across 59,000 hectares entirely in the province of Catania and has been erupting for a hundred thousand years. It's constantly active, and you can see the fumes coming out of craters at all times. There are four big craters (crater Silvestri is the best known) and hundreds of smaller ones. There are also over 200 lava caves that you can explore in a company of a professional guide. The biggest eruption took place in 1669 when the entire city of Catania was completely devastated. The last eruption was in 2021.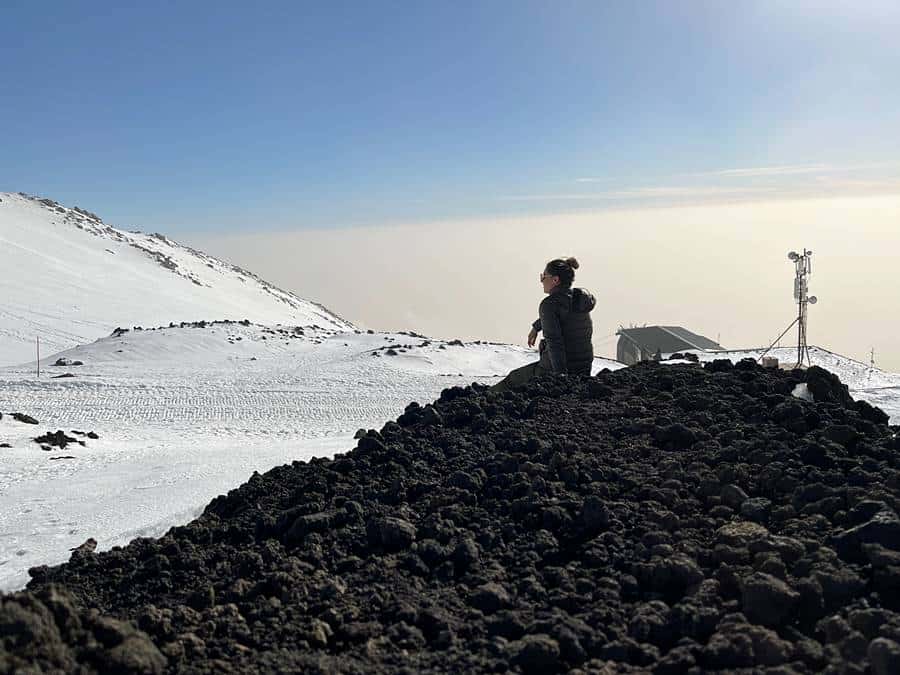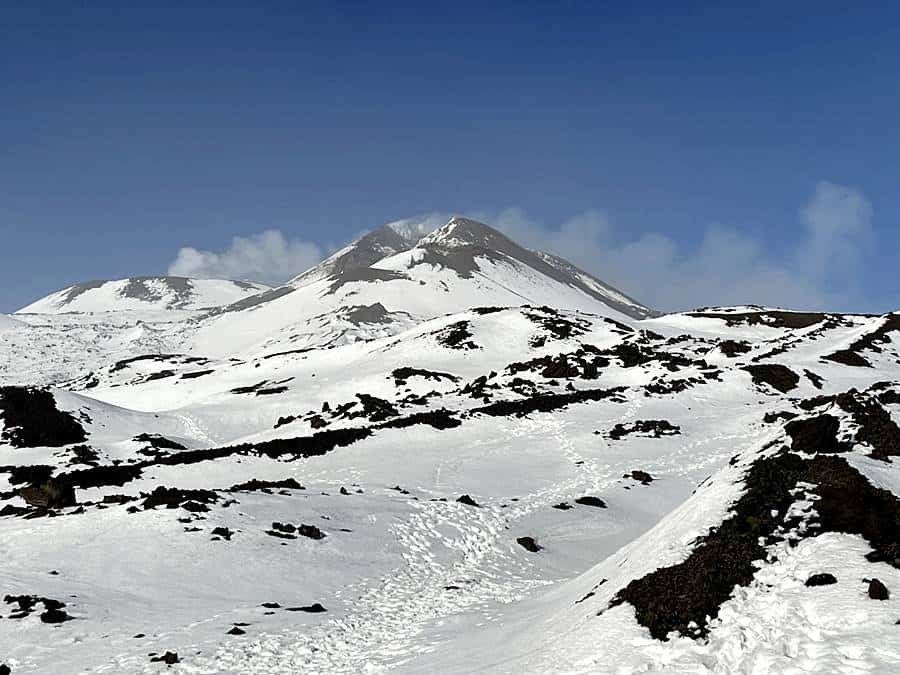 The best way to get to Mount Etna from Taormina cruise port (port of Giardini Naxos) is either by car or with an organized shore excursion. Etna is located around 47 km/30 miles (a 1-hour drive) southwest of Taormina port and you can explore it on your own only partially (up to 2,500 m). If your cruise ship docks in the port of Messina, Etna is located 100 km/62 miles (a 1h 30 mins drive) to the southwest.
If you decide to rent a car, you will drive to Rifugio Sapienza which sits at 2,000 m. Here, you'll find a large free parking, cafes, shops and tour vendors where you can book tours to explore the higher altitudes of the volcano. You can book a cable car, which is definitely the most exciting option as it will take you to the summit, however, these are often canceled due to winds and bad weather conditions. Instead of refunding the tickets, they offer you an alternative (such as an off-road drive) so keep that in mind. The cable car general admission fee is 30€, and if you want a professional guide to accompany you, the price is almost double!
Alternatively, you can go hiking (you can hike on your own until 2,500 m, but if you want to go to 3,000, you need a professional guide), book a 4×4 tour, or explore the caves with a guide. Whatever you choose to do, it's absolutely worth it because it's a once-in-a-lifetime adventure! Keep in mind that roads leading to Etna are windy and it can be cold up in the mountain, so make sure to bring a jacket and comfortable shoes.
Shore excursions to Etna are also popular and there are many options available, from adventurous hikes to off-road rides, cave exploration and wine tasting. Upon booking a tour, check what's included in it and see if there's going to be an extra charge on-site.
Explore Etna tours and activities
10. The Godfather Movie Tour
The legendary movie "The Godfather" was filmed in Sicily and for the fans of the saga, this tour is a must! You will be visiting the town of Savoca, located 23 km/15 miles (a 40-minute drive) northeast of Taormina cruise port. In Savoca, you will see the 1971 filming location for the wedding, as well as the Bar Vitelli where Michael Corleone asked for Apollonia's hand.
You will then continue to Forza d'Agrò village, which is located another 25 minutes drive, to see the square that served as the main square of Corleone during the Francis Ford Coppola movie. If your ship docks in Messina, this tour is usually offered as a combo with Taormina because they are located close to each other. The distance between Messina and Savoca is 43 km/27 miles (a 50-minute drive).
Explore The Godfather tours and activities
Wrapping Up
Whether you decide to have a relaxed day in Giardini Naxos, explore Taormina's attractions or book a shore excursion, an awesome day is guaranteed! If your cruise ship docks in Messina port, check out my article Messina Cruise Port, Things to Do, Shore Excursions
Visit also our cruise port guides to Catania, Messina, Palermo, Civitavecchia (Rome), Florence (Livorno), La Spezia (Cinque Terre), Naples, Villefranche (Nice, Monaco), Ajaccio (Corsica), Marseille, Barcelona 
---
Don't miss out on the opportunity to enhance your Mediterranean cruise experience with our "Mediterranean Cruise Port Guide"- your ultimate companion to discovering the region's hidden treasures and creating unforgettable memories; click below to purchase your copy today and embark on the voyage of a lifetime!

Ultimate Guide to Mediterranean Cruise Ports
Plan your Cruise Itinerary in Less than an Hour and Maximize Your Port
Experience!
---
WATCH MY YOUTUBE VIDEO ON MESSINA CRUISE PORT!
This article may contain affiliate / compensated links. For full information, please see my disclaimer here.