Welcome to Curacao port!
If you are going on the ABC Islands cruise, one of your itinerary stops includes the island of Curacao and Willemstad, its lovely, picturesque capital.
Located in the Lesser Antilles, in the southern Caribbean Sea, 65 km (40 mi) north of the Venezuelan coast, Curacao island forms the group of the ABC Islands together with Aruba and Bonaire. The island of Curacao is a constituent country of the Kingdom of the Netherlands and is the largest island of all three.
I've been to Curacao several times while working as shore excursions staff onboard a cruise ship, and in this article, I share with you useful cruise tips and information on:
Curacao port info
Curacao highlights & best shore excursions
Check out today's cruise deals from Cruise Critic!
Curacao Port Info
The port of Curacao is located in Willemstad and consists of two cruise terminals: Mega Pier cruise terminal, situated a 10-15 minute walking distance from the city center, and Mathey Wharf terminal, situated closer to the downtown.
See the Curacao port map on Google maps
Willemstad, the charming island's capital, is divided into two parts: Otrobanda (meaning "the other side"), and Punda, where the main Willemstad attractions are. The two parts of the city are divided by St Anna Bay (Sint Annabaai) and connected to each other via Queen Emma Bridge, the pedestrian pontoon bridge, and a popular city landmark. The Queen Juliana Bridge is another bridge that connects the two parts of the city, built for automobile traffic in 1974.
See the list of the best Willemstad hotels
The Mega Pier cruise terminal is situated in Otrobanda and consists of Mega Pier 1 and Mega Pier 2 that can accommodate large cruise ships of all sizes. This is where the major cruise lines and the large cruise ships dock. These open-air piers are equipped with several facilities, such as a tourist information desk, taxi rank, tour operator stands, restrooms, wheelchair assistance, and ECV rental for guests with mobility issues. Shore excursions meeting place is usually on the pier, in front of the ship, (you should always follow the instructions on your tour tickets, though) and tour buses are within a 5-minute walking distance from the pier. It can be very windy on the piers, and the rains are occasional, so make sure you bring

a light windproof umbrella

(just to be on the safe side).
Suggested article: 25 Top Shore Excursion Packing List Items
The city center is within a 10-15 minute walking distance from the Mega Pier cruise terminal and is easy to reach. Once you exit the terminal area, keep following the path to the famous Renaissance Curacao Resort & Casino where you'll find shopping malls with upscale stores and free wi-fi connection.
After you pass through the Renaissance Resort, you'll reach Rif Fort village, an unusual, seafront shopping complex housed in a restored 19th-century fort. This is a famous tourist area where you'll find many shops, ATMs, several restaurants, and tour operator booths offering trolley train rides, car rentals, bike rentals, and more. Less than a 5-minute walking distance from there you'll reach the Queen Emma Bridge and the Punda side, where you can explore the main Willemstad highlights and historical landmarks. There is the main bus station as well, however, the buses don't run regularly and I wouldn't recommend you use them.
Mathey Wharf is another docking location that consists of four piers. It is located in St Anna Bay and occupies the old wharves of Otrobanda and Punda next to the Queen Juliana Bridge. This terminal is usually used if the Mega Piers 1 and 2 are too busy, and this is where smaller cruise ships normally dock (those that can pass under Queen Juliana Bridge. The bridge is 56.4 m (185 ft) high). Mathey Wharf dock is located a 5-10 minute walking distance from the Willemstad city center and features facilities such as a tourist information desk, a taxi rank, tour booths, souvenir shops, and restrooms. A few great restaurants can be found here, such as the Restaurant & Café Gouverneur de Rouville, one of the cruisers' top choices.
Curacao Highlights & Best Shore Excursions
1. Explore Willemstad Attractions
Located in the southwest of Curacao, the Willemstad historic center and the harbor have been recognized as UNESCO World Heritage Site as they boast marvelous and diverse architecture. There are several attractions you can visit during your exploration of this picturesque city.
Rif Fort village – You can't miss this spot as you pass through it on the way to Willemstad downtown from the Mega Pier cruise terminal. Rif Fort village is situated in the Otrobanda quarter, by the entrance to St Anna Bay and less than a 5-minute walk from the Queen Emma Bridge. It is a unique shopping complex housed in a former defense fort, offering beautiful sea and Punda quarter views. You can browse a large number of shops housed in old, colorful buildings, climb the fort, or try some local delicacies in one of the bars and restaurants. It is a very touristy place, so you should expect higher prices and a lot of crowds.
Brion Square – Once you exit the Rif Fort village, you'll find yourself on a large square filled with several shops and cafes, as well as a few local vendors selling tours. From the square, you can marvel at the Queen Emma Bridge and the colorful Dutch buildings in the Punda district.
Queen Emma Bridge – Constructed across St Anna Bay, this pedestrian floating bridge constructed in 1888 and renovated multiple times connects Otrobanda and Punda districts. The bridge is also called "Swinging Old Lady" by the locals and regularly opens to enable the passage of larger vessels.
Dutch colonial buildings – As soon as you exit the Rif Fort village, you'll see the Queen Emma Bridge and the line of colorful Dutch buildings. Get your

camera

ready, as this is one of the most photographed places in Willemstad! These typically Dutch buildings feature magnificent colonial architecture and are best seen from the pontoon bridge. Once you cross the bridge, you'll see several waterfront cafes, restaurants, tour agencies, jewelry, perfume, clothing, and other duty-free shops housed in the buildings. Don't miss the famous photo stop – Punda love heart!
Fort Amsterdam – Less than a 5-minute walk from the pontoon bridge, in the Punda quarter, you'll come across one of the major historic landmarks – Fort Amsterdam. Strategically constructed at the entrance of the harbor in 1634, the ancient fort used to serve as a military fort and the headquarters of the Dutch West India Company (the Company financed the construction of the fort). Fort Amsterdam is one of the oldest preserved forts in Curacao that today serves as the seat of the government of Curacao, the governor, and the government officials.
Fort Church – Featuring a beautiful yellow façade and a picturesque clock tower, the 18th century Fort Church is the oldest church in Curacao, situated within the walls of Fort Amsterdam. It is simply decorated inside and also houses a Fort Church Museum where you can learn about the island's culture and the history of the Protestant community of Curacao. There is a small fee to pay to enter the museum.
Note: The currency in Curacao is the Netherlands Antillean guilder (ANG), also known as the florin. 1 AND equals 0.56 US dollars. However, US dollars and credit cards are widely accepted almost everywhere.
Queen Wilhelmina Park (Koningin Wilhelminapark) – Tucked behind the Fort Amsterdam complex, this green area features the Queen Wilhelmina statue, a few shaded cafes, and two popular signs offering great photo opportunities: Curacao and Dushi signs ("dushi" means "sweet, nice, dear"). This area is packed with tourists, as everyone wants to make a memorable Curacao picture!
Breedestraat – This is the main shopping street in Willemstad that starts right after you cross Queen Emma Bridge. The street lines Fort Amsterdam and ends at Queen Wilhelmina Park. Here you'll find a large number of duty-free shops, clothing and souvenir stores, banks, and more. Brands like Swarovski, Cariloha and Del Sol, Diamond International, Penha, and others can be found here. The street is lined with benches, so you can relax and enjoy the views of the surrounding colonial facades.
Mikvé-Israel-Emanuel Synagogue – Situated only one block away from Queen Wilhelmina Park, the 18th century

Curacao synagogue

is the oldest continually used synagogue in the Western Hemisphere housed in an imposing, yellow-façade building. Spanish/Portuguese Congregation Mikvé -Israel-Emanuel I dates from 1651 and is the oldest Jewish Congregation in the Western Hemisphere. Boasting the sumptuously decorated interior, the Synagogue is a truly impressive place to visit and one of the main Curacao highlights. It also houses a Jewish Historical Museum, a gift shop and offers

guided tours

. For more information, check the Synagogue's official website.
Curacao markets – Floating market, the New Market, and the Old Market can be found a 5-minute walking distance from the main street and the Synagogue, alongside the canal by the Queen Wilhelmina Bridge. Here you can buy fresh goods from the locals, and get some delicious, authentic Curacao dishes such as iguana stew in the rustic Old Market, offering live cooking shows and unique ambiance.
Maritime Museum – Once you cross a typically Dutch, Queen Wilhelmina Bridge, you'll come across the Maritime Museum, offering exhibits on more than 500 years of Curacao's maritime history, as well as guided tours of the museum and harbor. This is a great place for families with kids, as the collections are both interesting and educative. For more details, check the museum's website.
2. Blue Curacao Liqueur Factory
Have you ever heard of Blue Curacao Liquor? You probably have. Located a 10-minute driving distance (5.5 km; 3.4 mi) from the Curacao cruise port, the Curacao Liqueur Distillery at Landhuis Chobolobo is one of the most unique places to visit in Curacao!
The home of the original Curacao liqueur which has been produced here since 1896, the distillery offers guided tasting tours where you'll learn about the distillation process of the Blue Curacao liqueur and various types of this renowned Curacao alcohol. The distillery is housed in a beautiful 19-th century colonial mansion and offers a unique journey through the island's history. There is a large gift shop where you can purchase the liqueurs and souvenirs, and the tasting is usually organized in a spacious courtyard featuring the bar where the cocktail specialist shows how to make cocktails with a Blue Curacao drink.
I truly enjoyed the visit here, and I think everyone should experience it. The cruise ships sometimes offer Curacao Liqueur tours at Landhuis Chobolobo, but in case you decide to do your own thing, you can take a taxi at the cruise terminal and take a guided tour of the distillery at your own pace.
See the list of Landhuis Chobolobo tours & cocktail workshops
Recommended article: Pros and Cons of Booking Cruise Ship Shore Excursions
3. Curacao Beaches
The island of Curacao boasts lush nature and breathtaking beaches that definitely deserve the place on your Curacao bucket list. The majority of the beaches are located on the west coast of Curacao, as there are no strong winds and the sea is calm. Here is my list of the best beaches in Curacao:
Mambo Beach – As there are no beaches in Willemstad, most of the cruise guests take a trip to Mambo beach, one of the island's most beautiful beaches and the closest one to the cruise port. Mambo beach is located a 10-15 minute drive from the port of Curacao (around 7 km; 4.3 mi) and to get there you can

book a shore excursion

, take a taxi (it cost me 20 $ per vehicle, one way), or take a public bus from the Willemstad downtown.
The beach has everything to make your day perfect – a long stretch of powdery sands and crystal clear turquoise water, several beach bars, restaurants, plenty of gift shops, cabanas, sunbeds, and umbrella rentals, aqua park, and more. Some areas of the beach are more crowded, while some are more peaceful. There is a small entrance fee to pay (around 3.50 $ per adult) and the prices within the complex are very reasonable. I've been to Mambo Beach several times, and can't wait to go again. I absolutely loved it!
Blue Bay Beach Resort – I went to Blue Bay Beach on a tour and I highly recommend this beach, especially if you have kids.

Blue Bay Beach Resort

is situated a 15-20 minute drive from the Curacao port (around 10 km; 6 mi) and ranks among the most beautiful beaches on the island. The beach is part of the private resort featuring beach and golf courses,

beach villas, luxury apartments

, several bars, and restaurants, and a stunning private beach tucked in a bay named after its blue azure waters. The beach is sandy with some rocky parts (bring your

water shoes

), not too long, and has both shallow and deep parts. The waves are gentle, which makes the beach ideal for families with kids.
Check Blue Bay Beach Resort availability and prices
Blue Bay beach boasts amenities such as bars, restaurants, sunbeds, and umbrella rentals, water sport activities, showers, changing rooms, massages, a playground for kids, and more. The only disadvantage is that due to its popularity it can be crowded sometimes. There is an entrance fee to pay (around 8.5 $/adult, 4.25 $/child) but there are also beach specials that you can find on the Blue Bay Resort's website. The best way to get to Blue Bay beach is on a tour, or by taxi (20 $-30 $ per vehicle one way).
Suggested article: Snorkel Gear and Scuba Diving Equipment – Tips by a Pro!
Kleine Knip (Kenepa Beach) – Surrounded by cliffs and dense tropical forests, this beach is a dreamy place hidden in the lagoon far from the hustle and bustle of the civilization. It is located a 50-minute drive (40 km; 25 mi) north from Willemstad and you can best reach it on a

tour

, via taxi (this can be expensive and I highly suggest you either book a

private transfer

or

rent a car

), or public bus from Willemstad (if you are coming by a cruise ship, I don't recommend taking a bus, as they are unreliable).
Kleine Knip is a small, intimate beach with a lot of natural shade and very limited facilities. There is no entrance fee, no wristbands – just several beach chairs and umbrellas to rent, picnic tables, and a small place to buy refreshments. It is a sandy public beach with some rocks and coral pieces on the waterline, so make sure you bring water shoes. Also bring the snorkel gear, because snorkeling is amazing – besides the tropical fish and corals, you can spot the sea turtles swimming around you. If you decide to go to Kleine Knip, make sure you get back to the ship on time, as the beach is quite far from the cruise port.
See the list of the best Kenepa Beach excursions
Grote Knip – Kleine Knip's older sister, Grote Knip is another hidden gem set in gorgeous natural surroundings. Situated north of Kleine Knip, around a 50-minute drive from the Curacao cruise port, Grote Knip is a secluded beach tucked in a lagoon in a high rock cove offering fantastic snorkeling and beautiful, clear water. There are amenities such as a beach chair and umbrella rentals, a parking lot, and a small kiosk where you can get snacks and refreshments. The best way to get there is on a

shore excursion

, or by rent a car/

private transfer

.
Swimming with Turtles and Grote Knip Beach Break – TOP RATED! 
Cas Abao Beach – This secluded piece of heaven lies on the northwestern coast like all other beaches and is located less than a 40-minute drive (29 km; 18 mi) from the port of Willemstad. You can reach Cas Abao beach on a

tour

, by taxi,

rent a car

, or a

private transfer

, but make sure you calculate your time accordingly to your ship's departure time. The road is bumpy and curvy, and there is a small entrance fee for the parking that you pay on-site. It is a long sandy beach offering great snorkeling, watersport activities (snorkel, kayaks, banana boat ride rentals), beach chair and umbrella rentals, a bar, a restaurant, showers, and lockers. Cas Abao Beach is surrounded by lush nature, which makes it a perfect beach escape for those who seek peace and silence of nature.
See the list of Cas Abao beach tours
Playa Porto Mari – In the bay next to Cas Abao Beach, there is another pearl waiting for you – Playa Porto Marie, a sugar-white, sandy beach offering amazing snorkeling, a beach chair and umbrella rentals, restrooms, showers, and a bar restaurant. The beach is a  frequent stop on

Curacao snorkeling tours

.
See the list of Playa Porto Mari tours
Playa Lagun – This beach is another hidden gem located around 40 minutes' drive from the cruise port, south of Kleine Knip. Surrounded by cliffs and

hilltop hotel resorts

, Playa Lagun is an intimate beach cove offering great snorkeling and diving. There are a few beach bars nearby and you can rent beach chairs and umbrellas. There is free parking for the vehicles, and the best way to get to the beach is via

rent a car

,

private transfer

, or on a

tour

.
See the list of Playa Lagun tours
Playa Kalki – The beach is located in the north of the island, around a 1-hour drive from the Curacao port.  It is a laid-back, small sandy cove with a snack bar, and chair rental facilities, best known for diving and

snorkeling

. The best way to get here is on a

tour

, or

rent a car

/

private transfer

.
See the list of Playa Kalki tours
Playa Piskado (Playa Grandi) – Located south of Playa Kalki, in the north of Curacao, a 45-minute drive from Mega Pier Cruise Terminal, Playa Piskado is one of the most famous beaches for turtle spotting! You can often swim with these friendly sea creatures in the shallow, clear water of this small beach. Turtles often come to the shore, so you can swim directly from the beach. It is a great experience for both kids and adults, and bring your

underwater camera

for this trip! You can get to the beach on a

tour

,

rent a car

/

private transfer

.
See the list of Playa Piskado tours
Tugboat Beach – This beach is situated around a 25-minute drive southwest (13 km; 8 mi) from the cruise port, in the famous Caracas Bay, known as a great snorkeling and diving site. This rocky pebble beach is famous for the tugboat wreck that sank several years ago and has become a popular underwater attraction ever since. The wreck lies only 5 m (16 ft) below the water's surface and can be easily reached from the shore. You can reach the beach on a tour (

snorkeling tour

is the best option), or by taxi/local bus from Willemstad to Caracas Bay.
See the list of Tugboat beach and snorkel tours
Suggested article: Snorkel Gear and Scuba Diving Equipment – Tips by a Pro!
4. Shete Boka National Park
One of the major island's natural attractions, Shete Boka park sits at the foot of Christoffel National Park and the mountain featuring the highest peak of Curacao – Christoffelberg, with an altitude of 372m/1.220 ft.
Located around 40 minutes drive (38 km; 24 mi) from the Curacao cruise port, Shete Boka park was named after the "seven bokas", or seven inlets where three endangered species of sea turtles are known to lay their eggs. The national park spreads over 10 km (6 mi) of Curacao's north shore known for its rugged coastline and dramatic cliffs hanging over the series of caves. Here you can witness the most powerful force of nature with the mighty waves pounding against coral rock formation and underground caverns.
There are several inlets you can explore, the most famous one being Boka Tabla, where you can see the forceful waves crashing against the rocks and rolling into an underground cavern. There are steps cut into the rocks leading you directly into the cavern's mouth, so you can stand on the edge and watch the spectacular scenery.
Another popular inlet is Boka Pistol, where you can see the spectacular sight of the energetic flow of water emerging from the ground hole like a geyser. Boka Kalki is another inlet that is more like a secluded beach made of thousands of broken shells where you can spot hermit crabs or sea turtles laying their eggs.  Boka Wandomi hides another beautiful attraction – the natural bridge made of limestone, offering the views of the powerful waves thundering into the caverns.
To get to Shete Boka Park, you can book a shore excursion, rent a car, or a private transfer (a cheaper option than a taxi). There is free parking at Boka Tabla, and the inlets are connected via walking trails and relatively close to each other.
See the top-rated Shete Boka Park tours
5. Hato Caves
Located in the north of the island, a 10-minute walk from the Curacao International Airport, and a 15-minute driving distance (around 10 km; 6 mi) from Curacao cruise port, the famous Hato Caves rank among the most visited attractions in Curacao.
Get ready to explore the island's 300.000 years old past as you walk through the impressive coral limestone formations that you'll find inside the cave: stalactites, stalagmites, a romantic water pool, the Virgin Mary statue, and other geological shapes whose mysterious beauty will blow your mind away! This fascinating cave system is home to two types of rare bats: the Long-Tongued Bat and the Long-Nosed Bat, and you'll find these interesting creatures hanging from the cave's ceilings. Make sure you don't make much noise while passing by, as the bats are quite sensitive.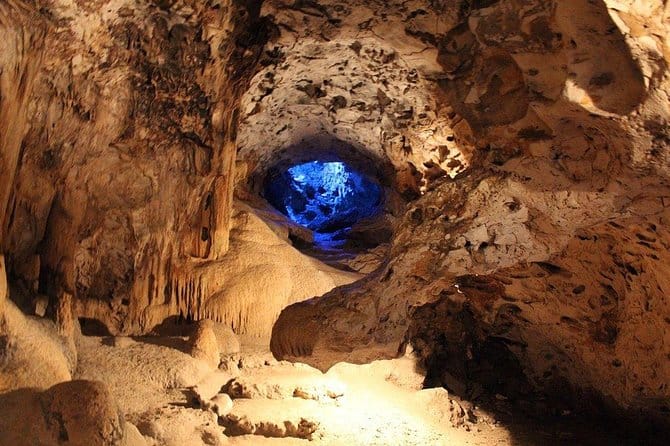 Curacao Hato Caves are easy to explore. To get to the entrance of the cave, you need to climb 49 steps which is doable as the steps aren't steep, there are handrails, and you climb at your own pace. The knowledgeable tour guide walks you through the cave for about 45 minutes, while sharing stories about the cave's fascinating past and the slaves who used to hide in the Hato Caves until the abolition of slavery in the 19th century. The caves are well-illuminated, there are handrails and the place is suitable for people with moderate mobility difficulties. Make sure you have comfortable shoes.
Suggested article: 25 Top Shore Excursion Packing List Items
Once you finish the tour of the cave, you can take a self-guided walk along the Indian Trail set in the lush vegetation, and see the Indian paintings and carvings made by Caiquetio Indians more than 1500 years ago. You can also visit the cactus garden featuring hundreds of different cacti species, home to rare birds and friendly Green iguanas.
To get to Hato Caves, you can book a shore excursion, take a taxi, bus, or book a private transfer/rent a car. The caves are open every day from 9 AM to 4 PM, the guided tours are organized every hour, and the entrance fee is 9 $/adult and 7 $ for kids aged 4-12. For additional details, check out the Hato Caves' official website.
See the top-rated Hato Caves tours
6. Snorkel and Diving at Caracas Bay and Klein Curacao
The island of Curacao is an ideal diving and snorkeling site as the whole island is surrounded by a fringing reef. While the east coast is known for the strong winds and forceful waves, the west coast of Curacao boasts calm, turquoise waters hiding fascinating underwater wildlife. There are several great locations for snorkeling (I've mentioned a few beaches above), however, the ultimate snorkeling and diving experience await you at two popular sites: Caracas Bay and Klein Curacao.
Suggested article: Snorkel Gear and Scuba Diving Equipment – Tips by a Pro!
Caracas Bay has been part of the Curacao Marine National Park and is located only a 20-minute driving distance south-east from the Mega Pier cruise terminal (around 12 km; 7.5 mi), and if you want to snorkel or dive there, the best way is to book a shore excursion.
The most famous attraction here is the legendary Tugboat shipwreck, lying 5 m (16.4 ft.) under the water surface, in the shallow, pristine waters of the bay. You can swim to the boat directly from Tugboat Beach, and explore its beautiful marine life. Caracas Bay is a dynamic place packed with restaurants, bars, hotels, and recreational areas. It boasts several historic landmarks, out of which the 18th century Fort Beekenburg that dominates the bay is the most iconic one.
Another popular snorkeling spot is the Director's Bay, located next to Caracas Bay, once a private property of the Dutch Royalty and the island's notable residents. In this area, you can explore the vibrant marine life teeming with corals, sponges, sea horses, frogfish, eels, octopus, sea snails, and other tropical fish.
Klein Curacao – A small, inhabited island ("Klein" means "little") of Klein Curacao lies about 10 km (6 mi) south-east of Curacao, and is one of the most famous snorkeling and diving spots famous for turtle spotting. Hawksbill, loggerhead, and green sea turtles lay their eggs on the island's beaches, and you can often spot them swimming in their wild, natural habitat.
To get to these snorkeling and diving locations, the best way is to book a tour, as everything will be organized for you, including the equipment which is usually provided.
See the most popular Curacao snorkeling and diving tours
7. Off-road Curacao Exploration
Curacao is known for its dramatic landscapes, rugged terrain, and awe-inspiring natural attractions. For thrill-seekers, exploring the island in a 4×4 vehicle is the most exciting way to see its highlights and its nature. Go wild through the sandy plains filled with giant cacti trees, iguanas, lizards, and other wildlife, visit the Curacao Ostrich Farm and zoo on the east coast (a 25-minute drive from the cruise port), or Koral Tabaak nature reserve famous historic cave offering spectacular views of the north coast!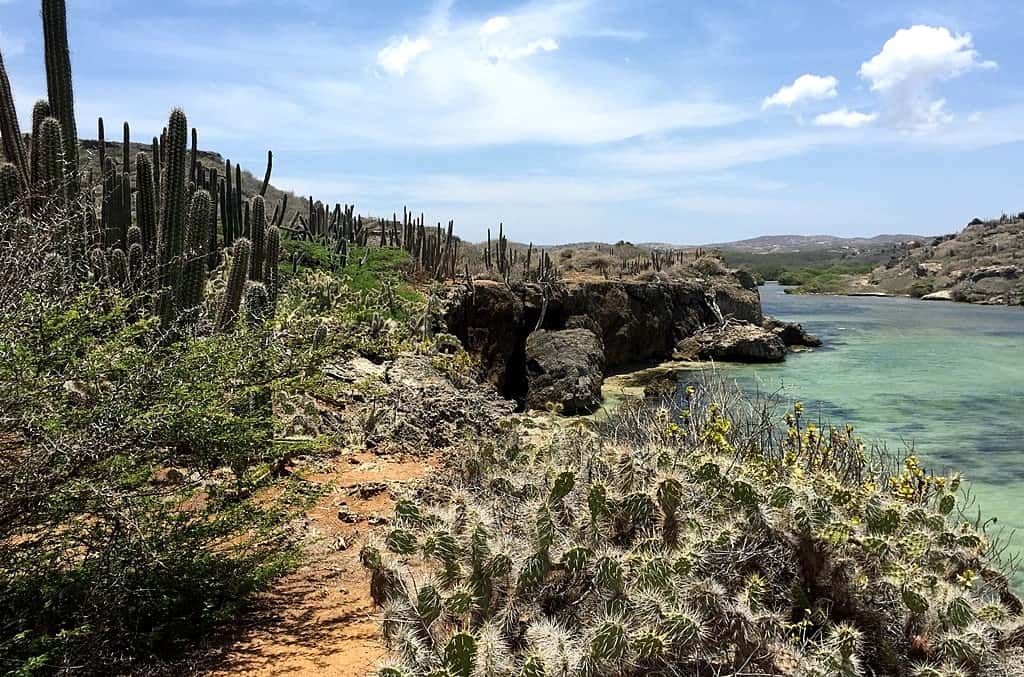 Drive through the contrasting landscapes of the northwest lush forests of Christoffel mountain and red sands of San Pedro plateau, explore the rural areas of Curacao as you pass by Sint Willibrordus, Flamingos Sanctuary, and Curacao's plantation houses! There are many options, including Curacao ATV tours, jeep safari excursions, and more.
See the list of the best off-road Curacao excursions
To Conclude
Like Aruba and Bonaire, Curacao is a fabulous place with a rich tourist offer and off-the-beaten-track places that will amaze you with their beauty! It is safe, clean, and easy to get around, as everything is arranged to suit the tourists' needs and preferences.
I hope my article provided you with some useful information and fresh ideas about how to spend your Curacao trip!
Check out today's cruise deals from Cruise Critic!
Stay tuned for my next Caribbean adventure!
---
This article may contain affiliate / compensated links. For full information, please see my disclaimer here.
See Also: