Welcome to Bonaire cruise port!
Bonaire is a lovely little island located in the Leeward Antilles, in the Southern Caribbean, around 80 km/50 miles north of the Venezuelan coast. Together with Aruba and Curaçao, it forms the ABC islands and has the status of a special municipality within the country of the Netherlands. The island is renowned for its natural treasures, stunning beaches, desert-like sceneries, rich cultural heritage, and the Bonaire National Marine Park – one of the most spectacular scuba diving destinations in the world. In this article, read about:
Bonaire cruise port (Bonaire cruise terminal info, getting around the port)
Top things to do in Bonaire and best Bonaire shore excursions
Visit also our cruise guides to Curacao, Aruba, Falmouth, Cozumel, Costa Maya, Grand Cayman, Perfect Day at CocoCay, Labadee, St Maarten, Bermuda, Barbados
Bonaire Cruise Port Info
Bonaire cruise terminal is located on the southwestern coast of the island, in the heart of the Bonaire capital of Kralendijk. The pier is very simple and doesn't have any building or sheltered area except for the tent where the security gate is and that the security staff normally uses.
See the Bonaire cruise port map on Google maps
Useful info:
The port area is flat and suitable for wheelchair users and people with walking difficulties. Kralendijk downtown is easy to navigate and it takes a 5-minute walk to reach it.
Upon getting off your cruise ship and exiting the Bonaire cruise terminal, you'll spot the South Pier Mall which consists of various jewelry and souvenir shops. There is a charming little café right across from the cruise ship. Besides shops, within the mall you'll find ATMs and a tourist information desk where you can get Bonaire maps and all the information you need. The South Pier Mall looks very attractive and is usually packed with people, but most of the items are overpriced. I would advise you to first check out some shops downtown (which is literally a 5-minute walking distance from the dock), and then if you haven't found anything, shop in the mall in front of your ship.
When you exit the mall area to your left, you'll spot numerous local vendors selling tours and excursions, especially water taxi round-trip transfers to Klein Bonaire.
The best way to get around Bonaire is on a guided tour or by taxi, as public transport doesn't really work as we are normally used to. Instead, there are many taxis offering round-trip transfers to popular beaches and places of interest, for a relatively small fee. The taxi vehicles vary from regular 4-seaters to minivans, and the drivers usually wait for more passengers to gather and then hit the beach or other places of interest. The island is very small so everything is within a short driving distance from the port.
The taxi rank is located outside the Bonaire cruise terminal, right at the exit of South Pier Mall.
The buses in Bonaire are smaller than regular ones and cannot accommodate a lot of people. The roads may be bumpy, which can be challenging for passengers with serious back or neck issues.
The shore excursion meeting place is normally on the pier, in front of the ship. Unfortunately, the pier is not covered/sheltered, which is unfortunate in case it starts to rain or the sun is too strong. As the weather in Bonaire can be very unpredictable, it's recommended to bring an

umbrella

and light

windproof jacket/raincoat

with you. Also, keep your hat in your hands when the wind is too strong (I've seen so many hats flying away).
The ABC islands, including Bonaire, are located outside of the hurricane-affected Caribbean areas, and the weather is pleasant throughout the whole year. The Bonaire temperature has little variations, and is constant all year round, with an average of 24 to 30 °C (75.2 to 86 °F), and a lot of hours of sunshine per day. Although the island's climate is dry, the Bonaire rainy season lasts from October to January, and this is when you may experience rain and showers. It's very windy too, as the island is flat, so always make sure you wear suitable clothes and

accessories

when coming to the destination. Finally, what you'll love about the island is the Bonaire water temperature – it varies from 25 to 28 °C (77 to 82.4 °F) year-round! For helpful packing info, read my article

What to Pack for a Cruise – Top 50 Cruise Essentials

The currency in Bonaire is the US dollar. ATMs are available in town and credit cards are widely accepted. See the

currency converter

Bonaire International Airport is the only airport in Bonaire and is located 3 km/1.8 miles (a 7-minute drive) south of the cruise port.
Top 8 Things to Do in Bonaire Cruise Port
The island of Bonaire is small: 38 km/24 miles from the south to the north, and between 5-8 km/3-5 miles from the east to the west, which makes it relatively easy to reach any place on the island within a 30-45 minute drive. Before I share with you the best things to do in Bonaire port, I invite you to sign up below and get my insider SHORE EXCURSION GUIDE for FREE!
1. Explore Kralendijk
Kralendijk is a small city easy to explore in a couple of hours. It boasts colorful, typically Dutch architecture, a scenic waterfront promenade, an authentic craft market, and a few other historic landmarks.
Below is the list of the major Kralendijk attractions:
Fort Oranje – Upon leaving the South Pier mall area, turn left, follow the waterfront promenade and after 300 meters (less than a 5-minute walk), you'll reach Fort Oranje, or Fort Orange – a small, 17th-century fortification built by the Dutch for the defensive purposes. You can take some nice pictures in front of the stone lighthouse overlooking the turquoise waters of the Bonaire marina.
Bonaire Arts and Crafts Market – Only a few minutes' walk from Fort Oranje, you can explore this lovely market where the locals sell handmade products, such as cosmetics, jewelry, scarves, clothes, paintings, souvenirs… You can try delicious authentic food, and get to talk to the friendly locals who are always more than happy to help! The prices are decent, so make sure you have some cash on you. I always enjoy this place and highly recommend you to visit!
Kaya Grandi – Located only a few minutes' away from the Arts and Crafts Market and around 600 meters from Bonaire cruise terminal (less than a 10-minute walk), Kaya Grandi, or the "main street" is full of shops, restaurants, and bars. A great place for a walk, shopping, or cocktails, although you can find some great cocktail bars along the promenade as well!
Bonaire Museum of Natural History – The museum is a nice place to visit and is located around 1 kilometer away from the Bonaire cruise terminal (or a 15-minute walk). The museum is situated in a small orange house, and the entrance is free of charge. The owner is very knowledgeable and will guide you through the history of Bonaire, the archaeology of the island, its people, customs, and share information on the biodiversity and ecosystem of Bonaire. This is truly an authentic experience, and the museum is well worth visiting!
San Bernard Catholic Church – The church is one of the main religious landmarks of the city and is usually included in Kralendijk sightseeing shore excursions as one of the stops. It is located 1.2 km/0.7 miles from the pier (or a 15-minute walk), right by the Museum of Natural History. It was built in the 20th century and painted in yellow.
2. Bonaire Beaches
There are several beaches in Bonaire near the cruise port and the best way to get there is by local taxi. Very often, the taxi vehicles are minivans that can accommodate up to 6-8 people, and in that case, they have fixed prices they charge per person. Here is the list of the best beaches:
Sorobon Beach –

This is the best beach in Bonaire for windsurfers, kite-surfers, kayak lovers, and all those who enjoy water sports! It is located on the southeastern coast of the island, approximately 10 km/6.5 miles from the Bonaire cruise terminal (a 15-20 minute drive). When I went there, I remember that a taxi driver charged us around 6 $ per person one-way (we shared a vehicle with a few other people). It is a very popular and busy beach, with several beach bars and a parking lot

, so the taxi drivers usually drop you off there. Sorobon beach has a unique watercolor and quite shallow water that is not really good for swimming, but if you are into watersports – you'll find it ideal. 
Lac Bay Beach – This beautiful sandy beach is nestled in the peaceful lagoon on the southeastern coast of Bonaire, 11 km/7 miles (a 15-minute drive) from the Bonaire cruise port and only around 300 meters from Sorobon Beach. It is popular for windsurfers, but it's also a nice spot for swimmers!
Lac Cai – The beach is located on the opposite side of Sorobon Beach and Lac Bay beach, on the other side of Lac Bay. The distance between the Bonaire cruise port and Lac Cai is around 10 km/6.5 miles or a 20-minute drive. The whole area is part of the protected Bonaire Mangrove reserve and Lac Bay National Park. The beach is secluded and peaceful, not very crowded, and boasts postcard-perfect crystal-clear water ideal for swimming and snorkeling. There is one beach bar at the beach – Lac Bay Bar

, offering great food and a variety of drinks.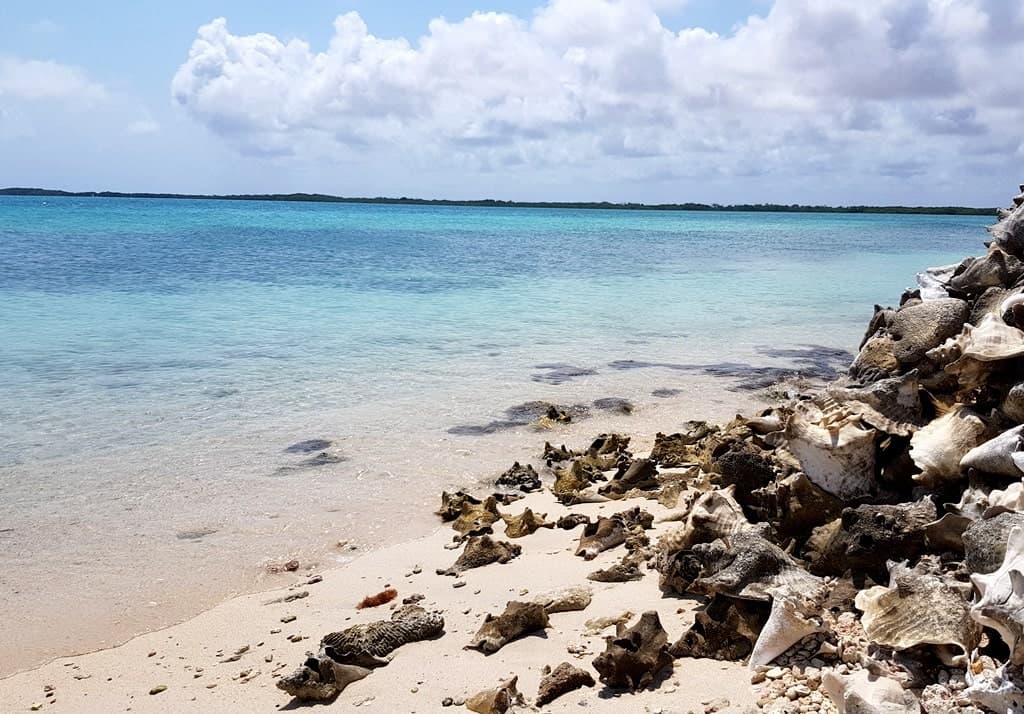 Te Amo Beach – This is the closest beach to the Bonaire cruise port (around 3 km/1.8 miles away from the pier), located on the southwestern part of the island. It is perfect for snorkeling, so make sure you bring your

water shoes

,

mask

, and

snorkel

! In case you get hungry or just want to refresh yourself, you can get some delicious food and drinks at the food truck at the beach. A very nice and relaxing beach with an outstanding view of the capital of Kralendijk and gorgeous sunsets.
Palu di Mangel beach – 3.5 km/2.2 miles away from the Bonaire cruise terminal and only 500 meters further down Te Amo Beach, Palu di Mangel beach has a lot of natural shade, which makes it perfect for families with kids and locals. It is great for snorkeling activities as well, so make sure you bring your

snorkeling gear

, including water shoes as the shore is quite rocky. The Bonaire Airport is right by, so you'll often see airplanes flying over and landing nearby. This beach is also called Donkey beach, due to the great number of donkeys on the island, and the Donkey Sanctuary located in the vicinity of the beach.
Bachelor's beach – This secluded beach is located 4.5 km/2.8 miles away from the port of Bonaire, and it takes less than a 10-minute drive to get there. It is located further south of Palu di Mangel beach and is known for its thin strip of sugar-white sand from where the divers can easily access the coral reef. A beautiful place to relax if you want to avoid crowds and have more privacy.
Divi Flamingo Beach Resort & Casino – Within 600 meters walking distance from the cruise terminal, Divi Flamingo resort offers a lot of facilities such as pools, casinos, dining areas, bars, a spa, scuba diving, and snorkeling activities… If you enjoy this type of resort, you'll have a fun-filled and amazing day here! There are a few more resorts located in the vicinity of the pier (2-3 km, less than a 10-minute drive) that you can check out, such as Coco beach club, Spice beach club, Eden beach resort, and others.
No Name beach – This beach is located on the Klein Bonaire islet that belongs to the protected area of the Bonaire National Marine Park. The beach doesn't offer any facilities, but the snorkeling site is absolutely extraordinary! Make sure you bring your

Go Pro camera

 because what you'll see underwater will take your breath away! You can reach Klein Bonaire islet by water taxi that you'll find outside the pier, in the vicinity of your cruise ship. Some cruise lines also offer water taxi services, as well as shore excursions to the Klein Bonaire.
3. Catamaran Sail and Snorkel
Catamaran sailing and snorkeling in Bonaire Marine Park are a must if you are visiting Bonaire for the first time. The cruise lines normally offer catamaran shore excursions, but these are usually fully booked, so if you want to join your cruise ship shore excursion, make sure you book in advance!
There are various boat/catamaran tours offered (with/without lunch, drinks, etc.) and each tour stops at popular snorkel sites where you get to discover Bonaire's fascinating sea life. Whether you choose to book a tour with your cruise line or with an independent tour operator, make sure it's cruise ship friendly and that you return to the ship by All aboard time.
Insider tip: These tours' activity level is moderate. You need to be able to walk around 10 minutes to reach the dock where you'll embark on your catamaran. Snorkeling is optional – you don't have to snorkel if you don't want to. Stops for snorkeling are usually in the open sea and you will use a ladder to go down into the water.
See the list of the best catamaran and snorkel tours in Bonaire
Book a Private Catamaran Tour of Bonaire
4. Island Sightseeing 
Bonaire is a very scenic island boasting a variety of natural treasures and rich flora and fauna. Below are the main Bonaire attractions:
Goto Lake (Gotomeer Lake) – Located in the north of the island, 22 km/14 miles (a 30-minute drive) away from the Bonaire cruise port, Goto Lake is a saltwater lagoon and one of only a few pink flamingos nesting places in the world. If you book a guided tour, the guides usually take you to the observation point from where you can see flamingos in their natural habitat. From there, you can also enjoy the views of the Washington Slagbaai National Park, an ecological reserve covering a large area of the northern part of Bonaire.
Rincon Village – Situated in the north of Bonaire, around 19 km/12 miles (a 25-minute drive) from the Bonaire cruise port, and only a few kilometers away from Goto Lake, Rincon is the oldest village on the island, founded by the Spanish in the 16th century.
1000 Steps – This is a beach that you can reach by a steep staircase, but don't worry, it doesn't have a thousand steps! It is a beautiful sandy beach surrounded by limestone cliffs that you can also visit if you are into diving or snorkeling – sea turtles can often be spotted in its crystal clear, shallow waters! This is a frequent stop in the sightseeing tours of the north of the island due to the gorgeous views of the coast. The beach is located on the way between the Bonaire cruise port and the Rincon village (9.5 km/6 miles away from the cruise dock).
Slave Huts – Old slave huts are located in the south of Bonaire, 12.5 km/8 miles from the Bonaire cruise terminal (a 15-minute drive). The Bonaire slave huts were constructed in 1850 during the slavery time, and are located along the main road in the vicinity of the salt flats, another Bonaire attraction. The huts were built for the slaves who were extracting salt from the salt ponds, which was exported from Bonaire as one of the island's major export products. Six slaves used to share one hut – they slept here and kept their personal belongings and working equipment. The huts represent an important historic heritage of Bonaire and are impressive to see, but the story behind them is dark and sad.
Salt Flats – Located in the southern part of Bonaire, less than a 15-minute drive from the Bonaire cruise port, salt flats are a truly stunning place to visit. Some of the purest salt has been produced in the Bonaire salt flats, and in the distance, you can see white salt pyramids. There is a Flamingo Sanctuary a few kilometers away, and sometimes you can spot these fascinating birds as well, although they are quite far. On a sightseeing tour, the bus normally pulls over and you get some free time to take pictures of the area.
Explore Bonaire sightseeing tours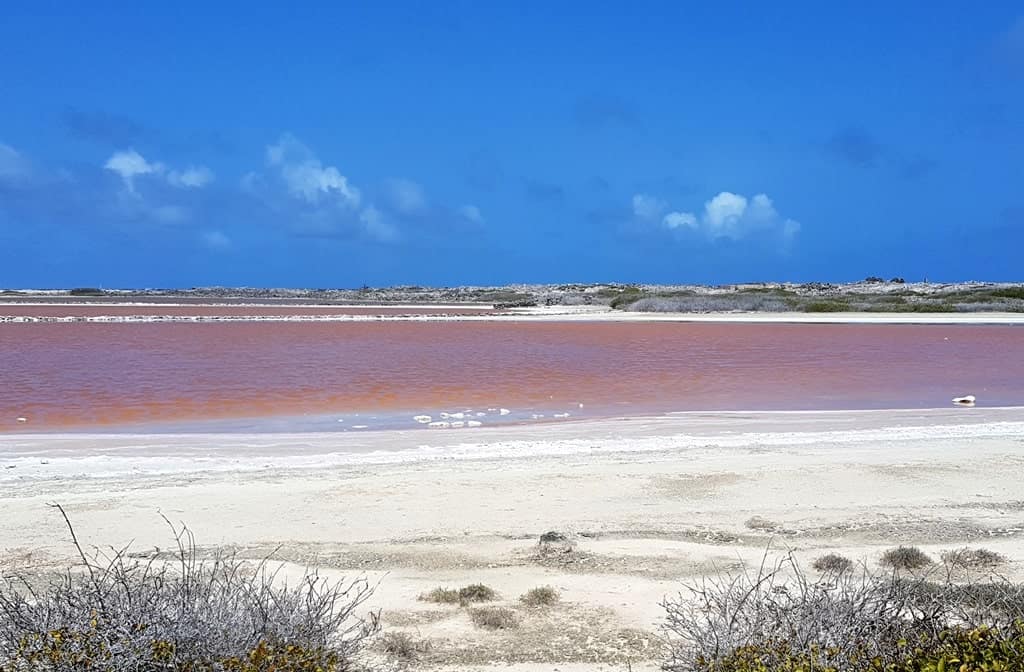 5.
Washington Slagbaai National Park
Established in 1969, Washington Slagbaai National Park was the first ecological reserve in the former Netherlands Antilles. This fascinating wildlife sanctuary covers a large area of northern Bonaire and boasts impressive flora and fauna that you can explore in the presence of a tour guide.
The reserve can only be accessed by 4×4 vehicles, so get ready for an off-the-beaten-track exploration of the nature reserve, with stops at the visitor center museum, secluded bays, beaches, lighthouses, and blowholes.
See the list of Washington Slagbaai National Park tours
6. Lac Bay Lagoon 
Bonaire boasts a mangrove reserve that is part of the Lac Bay National Park, located a 20-minute driving distance from the cruise port. The 700-acre lagoon is an area of unspoiled nature that you can enter only with a professional tour guide. The underwater marine life in Lac Bay is truly fascinating to explore, and the place is perfect for those in search of a tranquil oasis away from the hustle and bustle of the town.
The most popular excursions to Lac Bay include clear-bottom mangrove kayaking, snorkeling and swimming. The tours are usually organized in small groups, which makes the whole experience more comfortable and personalized.
See the list of Mangrove reserve kayak and snorkel tours
7.
Bonaire National Marine Park 
Bonaire National Marine Park (aka BNMP) is one of the top-rated snorkeling and diving destinations in the world. It is one of the oldest marine reserves in the world covering 2700 hectares (6700 acres) of coral reef, seagrass and mangrove vegetation. Klein Bonaire, a small uninhabited islet off the coast of Bonaire, is a world-class scuba diving spot that will amaze you with its mind-blowing underwater treasures.
There are more than 85 scuba diving and snorkeling spots in Bonaire. Cruise lines, independent tour operators and local vendors offer a wide range of snorkeling and scuba diving tours, and you can choose between snorkeling, professional scuba diving and "discover scuba diving" (scuba diving for beginners).
For professional diving, a PADI Certificate is required, but for the second option, you normally don't need it. Some of the private independent scuba diving tours include equipment, but most of them don't. That's why I recommend booking a scuba diving tour with your cruise ship because you can get all the necessary information from the Shore excursions department and a diver onboard.
Explore Bonaire National Marine Park tours and activities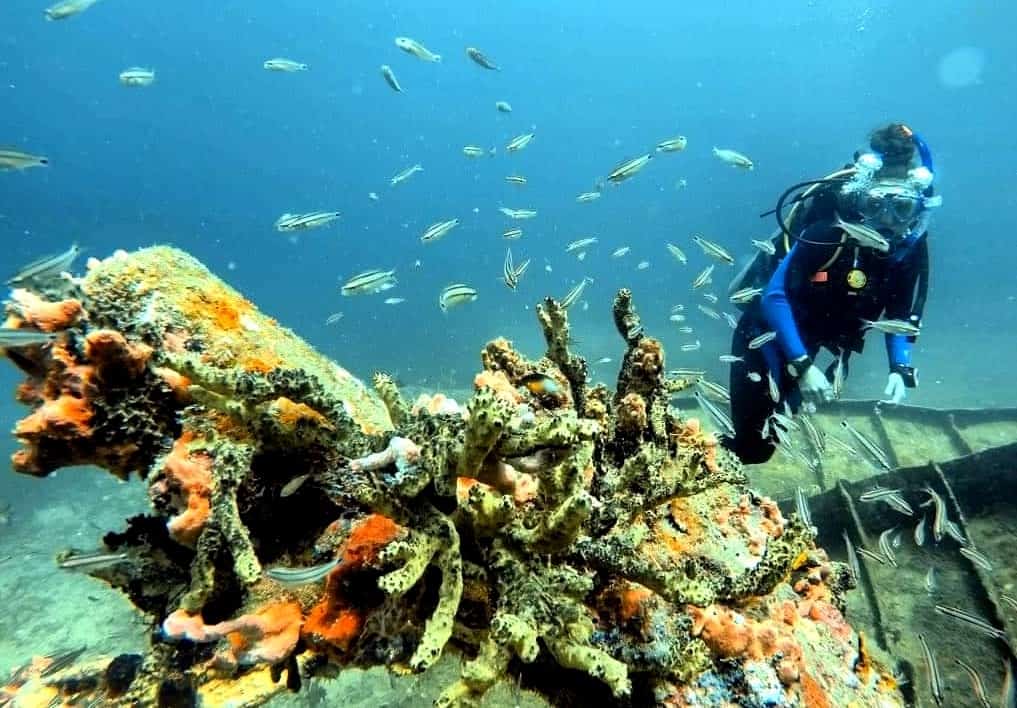 8. Land Sailing Experience
This adventure guarantees a fun, memorable, and absolutely one-of-a-kind stay in Bonaire! I haven't done it myself, but I've had so many guests coming and saying they had a hilarious time on their land sailing tour. You get to discover the wild side of Bonaire and enjoy a unique land sailing experience. The best part is – the tour is family-friendly and everyone can join it, as you control your own speed and it's super safe! You are provided with the helmet, gloves, safety equipment and briefing, so all you have to do is relax and wait for the adventure to start!
Check out the Bonaire Landsailing tours
Wrapping Up
Although small in size, Bonaire is such a wonderful place to visit, full of natural beauties and an incredible underwater marine world. All the attractions of the island are within a short driving distance from the Bonaire cruise port, which makes it an attractive Caribbean cruise destination and easy to explore in one day.
Visit also our cruise guides to Curacao, Aruba, Falmouth, Cozumel, Costa Maya, Grand Cayman, Perfect Day at CocoCay, Labadee, St Maarten, Bermuda, Barbados
---
You May Also Like:
25 Top Shore Excursion Packing List Items
What to Pack for a Cruise – Top 50 Cruise Essentials
Snorkel Gear and Scuba Diving Equipment – Tips by a Pro!
Don't forget to subscribe below and get my exclusive SHORE EXCURSION GUIDE FOR FREE!