Top 10 Things to Do in Cozumel Cruise Port
Cozumel cruise port is one of the most visited cruise ports in the Western Caribbean offering a wide range of things to do and see. From animal interactions and incredible snorkeling and diving to off-road exploration and visiting Mayan ruins, Cozumel has it all! Your cruise ship will dock in one of the three Cozumel cruise terminals, and from there you can either do your own thing or book a shore excursion. In this article, I give you an overview of the 10 best things to do in Cozumel port, including island and mainland tours and activities. If you want to read about the cruise terminals and facilities you can enjoy in each of them, check out my Ultimate Guide to Cozumel Cruise Port
10 Best Things to Do in Cozumel Cruise Port
1. Swim with Dolphins
There are a couple of locations in Cozumel where you can interact with these fascinating mammals. I've been to Chankanaab Adventure Park and Dolphinaris, both located within a 5-10 minute drive from the cruise terminals.
Chankanaab Beach Adventure Park
This is where I've had one of the best dolphin swim experiences ever! The staff is so friendly and helpful, and the dolphin interactions are done in their natural habitat (not in pools).
The dolphin trainers will teach you about the dolphin's life, behavior, and preservation, and you'll get to choose between several dolphin programs that usually last up to 30 minutes each: Dolphin Encounter, Dolphin Swim, and Royal Dolphin Swim. Some of the programs include manatee interactions as well.
Chankanaab Adventure Park includes many other attractions and facilities, so for those of you who don't want to interact with dolphins, you can simply

book a day pass

and enjoy the park's facilities, such as the bar restaurant, beach, showers, beach chairs, umbrellas, hammocks, nature trails, archeological replicas, sea lion shows… It is highly recommended to book the Chankanaab day pass in advance, as it might be crowded at the entrance. The park can generally be crowded as all cruise lines offer shore excursions to Chankanaab.
There are various

Chankanaab tours and packages

you can choose from, and the prices vary. The main attractions are Zipline,

Diving

, Kayaking, Eco-archeological tours, sea lion show, manatee interaction,

snuba,

sea trek and

snorkel tours

, tequila tours, dolphin interactions, spa services, and more.

The park covers a vast area in a beautiful, natural setting. It is family-friendly and suits people of all ages.
Check out Chankanaab Adventure Park tours and activities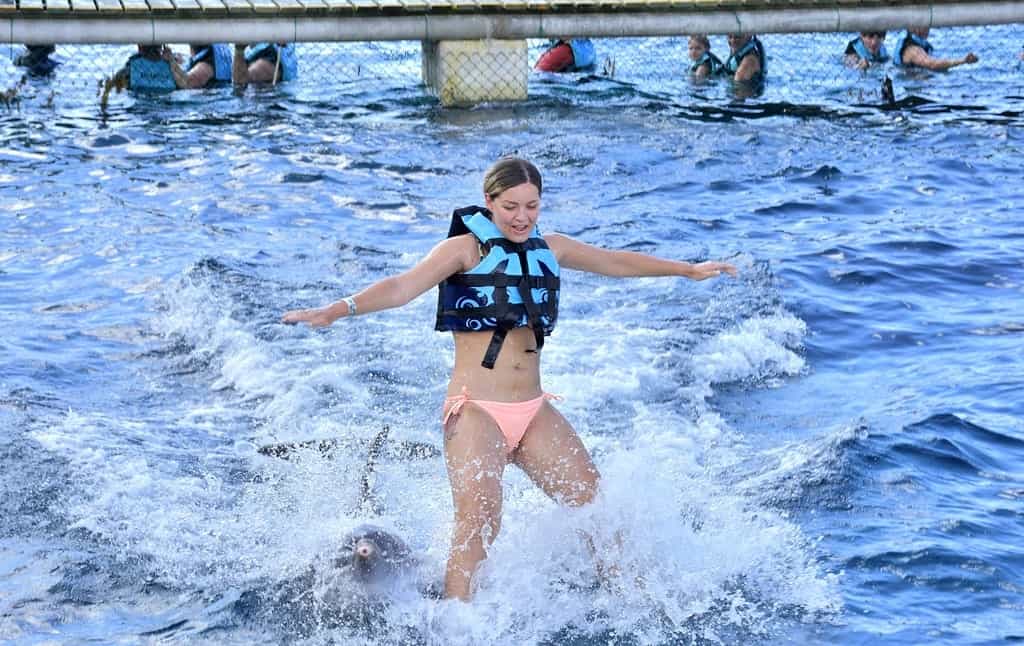 BLU by Dolphinaris
Another place where you can spend an amazing time interacting with dolphins is Bly by Dolphinaris resort, set along the western coast, a 5-minute drive from the cruise port and Chankanaab Adventure Park. This dolphin park offers fewer facilities and attractions compared to the Chankanaab but still guarantees an unforgettable dolphin experience.
There are various dolphin interaction programs you can choose from (Dolphin Encounter, Dolphin Swim, Dolphin Royal Swim, Dolphin True Connection & Virtual Reality Experience), and the activity normally takes place at the vast pool by the sea.
Besides dolphins, here you can enjoy the Tequila Mexology experience, an interactive margarita-making lesson where you learn how to make different types of margaritas, Mexican cocktails, guacamole, and some other local dishes. The activity takes place at the bar overlooking the pool with great sea views, so the whole experience is unique. Once you are done with tequila mixing, you get to treat your taste buds with light bites and drinks you made.
Within the resort, you can enjoy other facilities such as unlimited food and drinks, a pool, kayaking, and snorkeling. There are different packages you can purchase and the price depends on what is included.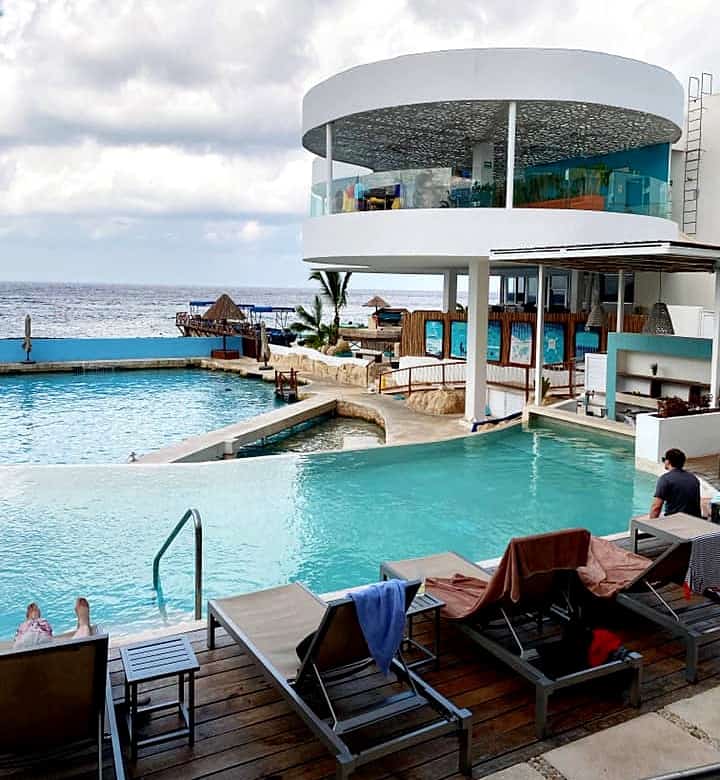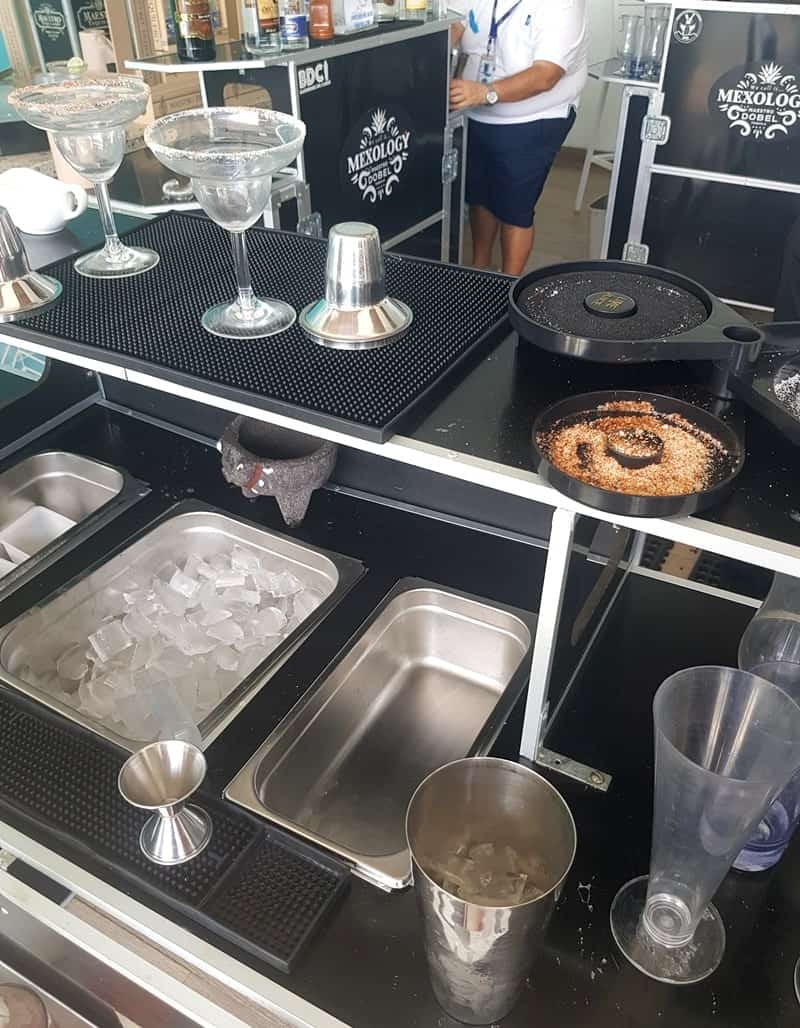 2. Off-Road Adventure
If you seek an unconventional, adrenaline-packed way to explore Cozumel, you should hop on an ATV, Jeep, or Dune Buggy and set off for an unforgettable adventure! The off-road trails will take you to hidden Mayan ruins and villages (El Cedral), Jade Cavern – remote cenote (the natural underground pools considered sacred by the Maya), secluded beaches, ecological parks, Mexican jungles, and caves.
Explore Cozumel off-road tours
3. Cozumel Beaches
If you want to spend a relaxing day at one of Cozumel's beaches, you have a few options. Most of the beaches in Cozumel are located on the western coast and are maintained by beach clubs offering all-inclusive service. You can choose between different packages and most of them have an entrance fee as well.
The eastern coast of the island also boasts some beautiful beaches (Playa Chen Rio, Punta Morena) but it is quite challenging to get to some of them due to the rugged terrain and bumpy roads. Waves and wind are also frequent.
Below is the list of the best beaches in Cozumel near the cruise port and those that are relatively easy to reach.
Paradise Beach – Located a 10-minute drive from Puerta Maya and International cruise terminals, Paradise Beach features an all-inclusive resort with a large pool, a restaurant, bars, beach facilities, several shops, and a variety of water sports (paddle boarding, snorkeling). The beach is sandy with a little bit of seaweed and is family-friendly as there is an aqua park that kids can enjoy.
Carlos' n Charlie's beach club – Situated near Paradise Beach on the southwest coast of the island, only a 10-15 minute drive from the port of Cozumel, Carlos' n Charlie's is a popular beach club featuring an amazing restaurant that offers a rich selection of dishes, such as Ceviche Santos, BBQ ribs, grilled shrimps, and tacos. The place has a beautiful, sandy beach, a volleyball court, a pool table, an area for kids, and a souvenir shop. It offers various water sports activities (parasailing, banana boat, wave runners, snorkeling), spa massages, and beach facilities (umbrellas, beach chairs, lockers, and showers).
Playa Mia – This lively beach club is located a 10-15 minute drive from Cozumel port, and is situated near Paradise Beach and Carlos' n Charlie's. Playa Mia Beach Park is the largest Cozumel beach resort featuring a wide range of facilities (beach chairs, umbrellas, cabanas), a large buffet-style restaurant, a pool, bars, shops, a Starbucks coffee shop, a chocolate shop, an inflatable aqua park and water sport activities (kayaks, snorkeling). The sandy beach is lined will palm trees offering a lot of shade. At Playa Mia, you can also book

Mexican cooking workshops

and learn to prepare ceviche, guacamole, tortillas, and other traditional Mexican dishes – you get to eat your specialties afterward! There is an entrance fee, and there are also different beach club packages and day passes

.

 

Check out Playa Mia tours and activities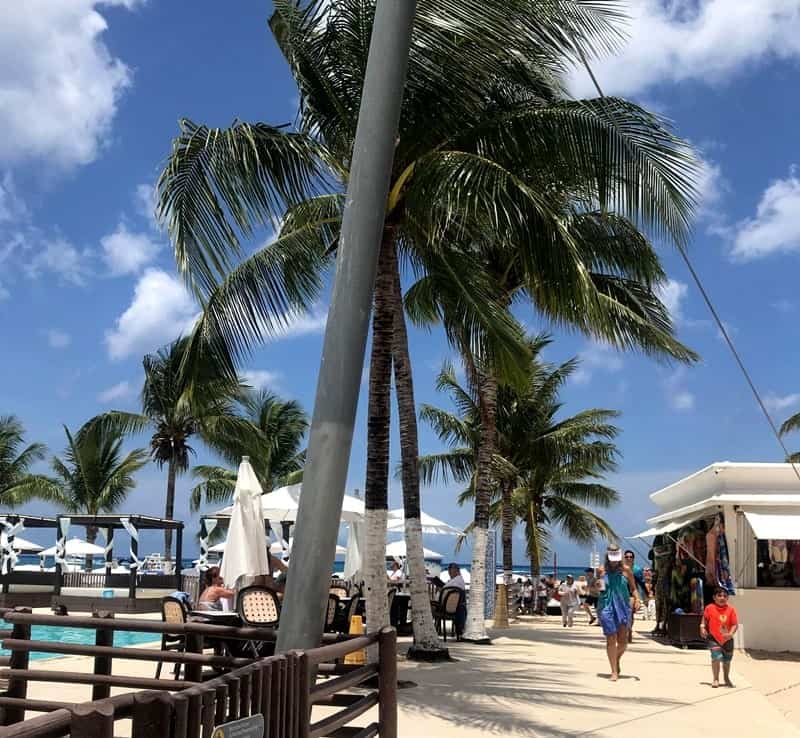 Mr. Sanchos Beach Club – This famous beach club lies on the southwest coast like Playa Mia, Paradise Beach, and other beach clubs, a 15-20 minute drive from Cozumel cruise port and San Miguel downtown. The place is set in fabulous scenery and boasts pools, a restaurant, bars, a stunning sandy beach with crystal clear water, all beach facilities, and a wide range of adventure sports (water bike, paddle boarding, horseback riding). The access is totally free, and it's not required to spend additional money. They have free Wi-Fi as well.

Explore Mr. Sanchos Beach Club tours and activities

The Money Bar Beach Club – It takes a 5-minute drive to get to the Money Bar Beach Club from the Cozumel cruise port. The beach is gorgeous, with clear turquoise water, rich marine life, and fantastic service. The beach bar offers facilities such as umbrellas, beach chairs, a bar restaurant (food is amazing!), and live entertainment.
Playa Palancar – Located about a 15-20 minute ride from Cozumel cruise port, Playa Palancar is a beautiful stretch of sugar-white sandy beach that has a nice, no-entry-fee beach club where you can get great food, drinks, a beach chair/umbrellas. It also features water sports and you can

book Playa Palancar snorkeling excursions

.

Explore Playa Palancar tours

Playa Palancar Reef – Nestled in the lush scenery, south of Playa Palancar, Palancar Reef is a long stretch of white sandy beach with turquoise water that doesn't offer any facilities except for pure nature, peace, and quiet. You can snorkel here, so make sure you bring your

snorkel gear

.

Check out Palancar Reef snorkeling/diving tours

Playa "El Cielo" – Located in the south of Cozumel, this gorgeous piece of heaven is set in scenic surroundings and offers amazing snorkeling. The color of the water is absolutely surreal and offers great photo ops! You need to

take a boat

to get there (you can

book a tour

or take water taxis from nearby beaches).

Explore El Cielo snorkeling tours

Punta Sur Eco Beach Park – Nestled in the very south of the island, a 40-minute drive from Cozumel cruise port, Punta Sur is Cozumel's largest ecological park boasting a beautiful beach with crystal clear, turquoise water and an abundance of wildlife. The beach is very clean and organized, and there are two bar restaurants offering delicious food and drinks for an affordable price. Nearby, you can admire Mayan ruins, a lighthouse where you can climb and observe the spectacular panoramic view of the island, or take to boat to see the crocodiles.

Explore Punta Sur Eco Beach Park tours

Isla de la Pasion – Lying just off the northwestern coast of the island, a 30-minute drive from Cozumel cruise port, the Passion Island is a small peninsula with a breathtaking white sandy beach and an all-inclusive beach resort. There are a bar restaurant, hammocks, umbrellas, beach chairs, and activities such as kayaking and paddleboarding. You can drive to the island, or take an all-inclusive boat trip.

Check out Isla de la Pasion tours
4. San Gervasio Ruins
If you want to explore the big Mayan ruins, I'm afraid I must disappoint you. On the island of Cozumel, there are no big ruins! There are some, but these are small so don't expect anything like Chichen Itza or Tulum. The most famous ruins in Cozumel are San Gervasio ruins, a part of San Gervasio Archeological Park, located a 30-minute drive from the Cozumel cruise terminal. The ruins are situated in the north-central part of the island and are surrounded by a lush jungle filled with iguanas and beautiful wildlife. There are several ruins to be explored, and you can either take a tour or explore on your own.
Explore the San Gervasio tours and activities
5. Snorkeling and Diving
For water activity lovers, snorkeling, helmet diving, scuba diving, or "discover scuba diving" are the best experiences you can get! The best Cozumel snorkeling and diving sites are located along the west and southwest coast of the island, as the north and east are quite rough and windy. The island is part of Cozumel National Marine Park and the water is aquamarine blue and crystal clear, offering an abundance of sea life, which makes it perfect for all kinds of underwater activities.
Snorkeling – You can snorkel from the beach, or in the open sea, depending on what makes you feel more comfortable. The best offshore snorkel sites include:
Playa Palancar – a shallow reef that is part of Arrecifes de Cozumel Marine Park, home to beautiful tropical fish, turtles, rays, nurse sharks, and sea stars.
Chankanaab Park – The popular adventure park offers amazing snorkeling in shallow water perfect for beginners and kids.
Villa Blanca Reef – This reef is located between the International cruise terminal and San Miguel, and the most beautiful part of the reef is in front of the

Villablanca Garden Hotel.

Rich marine life, sponges, and beautiful corals await you in this shallow reef. However, the sea currents can be strong and boat traffic quite dense, so this site is more recommended for advanced snorkelers.
Punta Sur Eco Park – Another great snorkeling spot, however, you need to swim a long way out to spot stingrays, turtles, and lobsters besides other tropical fish.
If you go snorkeling by boat, there are several locations you should check out:
El Cielo Reef – The magical color of the water and fascinating sea life make this site one of the most beautiful ones! El Cielo is filled with starfish and is shallow, so kids can enjoy it as well.
Columbia Reef is one of the top snorkeling and diving spots in Cozumel, situated near Palancar Reef.
Explore the top-rated Cozumel snorkeling tours
Book a Luxury Catamaran Sailing Tour
Diving – Diving in Cozumel is one of the top experiences you can get on your Cozumel cruise, and there are several wonderful sites you should check out. To go diving, you need to have a professional PADI certificate and fulfill some requirements before joining the tour. Some of the best Cozumel diving sites are C53 Wreck, Maracaibo, Cun Chacab, Palancar, Chankanaab, and Santa Rosa Wall.
Check out the top-rated Cozumel scuba diving tours
Helmet diving – One of the most exciting underwater activities I've done in Cozumel is helmet diving or sea trekking. There is no certification or experience required, so anyone who is healthy can do it. I wrote about helmet diving in my article 8 Incredibly Fun Things to Do in Cozumel, so feel free to check it out.
Discover scuba diving and snuba are two other activities you can do in Cozumel that don't require any previous experience or certificate. If you don't want to get wet or don't feel comfortable snorkeling/diving, you can book an Atlantis Submarine tour. Explore the depths of Cozumel Marine Park while sitting comfortably in this powerful, state-of-the-art submarine taking you to depths of 100 ft (30 meters).
Explore the best snorkeling, diving, and other underwater tours
6. Tulum Ruins
The iconic Tulum Ruins are located in mainland Mexico. Before I continue writing about Tulum, I invite you to read these important notes on mainland tours and activities:
I highly recommend you book a shore excursion when going to the mainland, either with your cruise ship (the best option), or with an

independent tour operator

(their tours can be cheaper), but only if their tours are cruise ship friendly (the arrival and departure time of the tour must be compliant with the cruise schedule). Mainland tours are full-day tours (tour duration is up to 8 hours) and in order to avoid the risk of missing the ship, the most convenient way is to travel with an organized group.
To go to the mainland, you need to take a 40-minute ferry ride to Playa del Carmen, where you'll meet your tour guides who will take you on a tour.
If you are joining a cruise ship shore excursion, the ferries normally come to the cruise ship's dock and you don't need to go to the ferry terminal.
The Mayan city of Tulum lies on the eastern coast of the Yucatan Peninsula, a 1-hour drive (about 64 km/40 miles) south of the Playa del Carmen ferry dock. Once an important seaport and trading center, the site of Tulum is enclosed by the 784-meter limestone wall on three sides and is perched on 12-meter-high cliffs overlooking the Caribbean Sea. The views of the ocean are absolutely breathtaking, and the ruins are beautiful.
Tulum – Useful info:
The site of Tulum is quite vast and takes at least a couple of hours to explore. Besides the ruins, you'll find many restaurants, cafes, gift shops, street sellers, public restrooms, parking, and several other facilities around the site. It can also be very crowded due to the large number of visitors.

Tulum excursions

are not suitable for guests in wheelchairs, as the terrain at some parts of the site is cobbled and uneven.
During the tour, your guide walks you around and shows you the most important Mayan fortifications, houses, and temples, and then gives you free time to enjoy the exploration on your own. The best photos are taken in front of El Castillo, the main and largest ruin, however, it's forbidden to climb it.
Check the Tulum tours from Cozumel
7. Chichen Itza
One of the world's seven wonders and a UNESCO World Heritage Site, the Chichen Itza ruins are one of the most important Mayan archeological sites covering an area of about six square miles in the heart of the Yucatan Peninsula. The main attraction is a square-based, 80-foot-tall step-pyramid – El Castillo, also known as the Kukulkan Pyramid, constructed in honor of the Feathered Serpent deity by pre-Columbian Maya civilization between the 8th and 12th centuries AD.
Chichen Itza was an important religious site and nowadays you can explore not only the central pyramid, but also other massive ruins such as the Temple of the Warriors, the Great Ball Court, and many other imposing sculptures and monuments. It is forbidden to climb the ruins, only photos are allowed.
Chichen Itza – Useful info:
The distance between Chichen Itza and Playa del Carmen ferry dock is approximately a 2 h 15-minute drive (185 km/115 miles). Therefore, if you book a Chichen Itza tour, be ready to spend at least 4 hours riding on a bus (round-trip).
Cruise passengers usually get up to 2 hours of time to spend at Chichen Itza, including both the guided portion of a tour and free time.
The archeological complex is mostly flat but has a lot of cobbled and uneven surfaces. Therefore, it is not advisable for guests in wheelchairs and mobility issues to select the Chichen Itza tour.
There are a lot of souvenir shops, street sellers, café-restaurants, restrooms, and other touristy facilities within the complex, and it is packed with tourists so be ready for large crowds.
Check out Chichen Itza tours and activities
8. Rio Secreto – The Secret Underground River
The Rio Secreto is a magical underground river located a 20-minute drive from Playa del Carmen, deep inside the tropical forests and underground caves of the Yucatan Peninsula. The river is about 1 km/0.6 miles long and the cave consists of surreal crystal stalactites, stalagmites, and other impressive mineral formations. The water is light blue and crystal clear, both shallow and deep in some parts.
Rio Secreto is part of the long Mexican cave system that is considered one of the largest in the world! The river was a sacred site of the ancient Maya and is full of history. Some rare flora and fauna can be found here, and during your tour, you'll perform some rituals that Maya used to do.
Explore Rio Secreto tours and activities
9. Climb the Coba Pyramid and Swim in a Cenote
If you want to climb the highest Mayan pyramid in Yucatan, book a Coba archeological site tour that usually includes a swim at the Mayan cenote, a natural sinkhole used by ancient Maya as sacrificial offering grounds. Coba is an ancient Mayan city located a 1-hour 30-minute drive (110 km/70 miles) from Playa del Carmen ferry dock. Set in a deep jungle in the heart of the Yucatan Peninsula, surrounded by wilderness, the Coba ruins are less crowded than Tulum and Chichen Itza and are a great place to visit for nature explorers. The place is quite big and you can visit it either on foot or rent a bike to get around more easily.
Besides the main pyramid, you can see the ruins of ancient Mayan houses, temples, ball courts, palaces, and more. The Coba ruins and the nearby village have several souvenir shops, café-restaurants, restrooms, and all necessary touristy facilities.
The Coba pyramid, known as Nohoch Mul, is 137 feet high and has 120 steps. The site is not suitable for guests with mobility difficulties, as you need to walk more than 2.5 km/1.5 miles over cobbled, uneven, and dirty surfaces. One part of the tour usually includes swimming inside the local cenote, an underground pool filled with fresh turquoise water offering some amazing snorkeling (make sure you bring snorkel gear).
Explore Coba Archeological Site tours
10. Adventure Parks – Xcaret, Xplor, Xenses
If you are looking for some adrenaline rush, head over to one of the three famous Riviera Maya adventure parks! Xcaret is one of the most famous Riviera Maya theme parks, located a 20-minute drive (18 km/11 miles) from the Playa del Carmen ferry dock. Consisting of over fifty natural and cultural attractions, Xcaret is surrounded by lush jungle and features underground rivers, Mayan archeological sites, and a village, water activities such as snorkeling in a natural lagoon, swimming with dolphins, nurse sharks, stingrays, snuba, helmet dive and so much more!
Check out Xcaret tours and activities
Xplor – Set in the heart of the lush jungle, Xplor is another popular Cancun and Riviera Maya adventure park situated only a 10-15 minute drive (7 km/4.3 miles) from Playa del Carmen ferry terminal. Zip lines, underground caverns, rafts, amphibious vehicles, and hammock splash are only some of the attractions you can enjoy in this theme park.
Xenses – Another popular outdoor amusement park with sense-themed activities, and optical illusions, a very family-friendly place where kids love spending time!
---
Visit also our cruise guides to Belize, Nassau, Freeport, Roatan, Falmouth, Ocho Rios, Costa Maya, Grand Cayman, Perfect Day at CocoCay, Labadee, St Maarten, St Thomas, San Juan, Barbados
---
You May Also Like:
25 Top Shore Excursion Packing List Items
What to Pack for a Cruise – Top 60 Cruise Essentials
Snorkel Gear and Scuba Diving Equipment – Tips by a Pro!
This article may contain affiliate / compensated links. For full information, please see my disclaimer here.